2 adults - 0 children - 1 room
Ariva Ivy Servizio Thonglor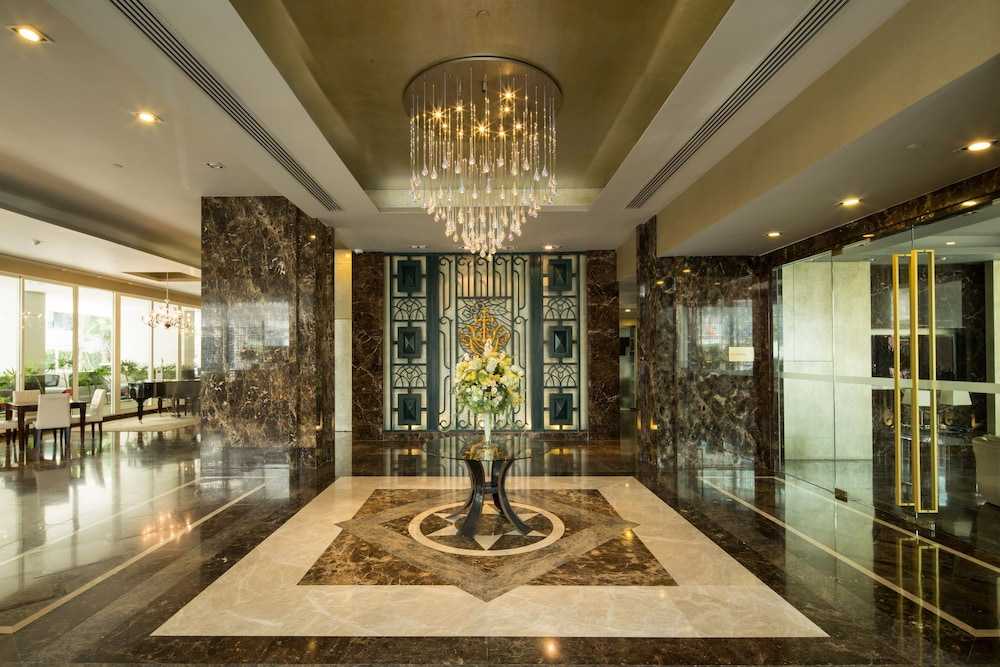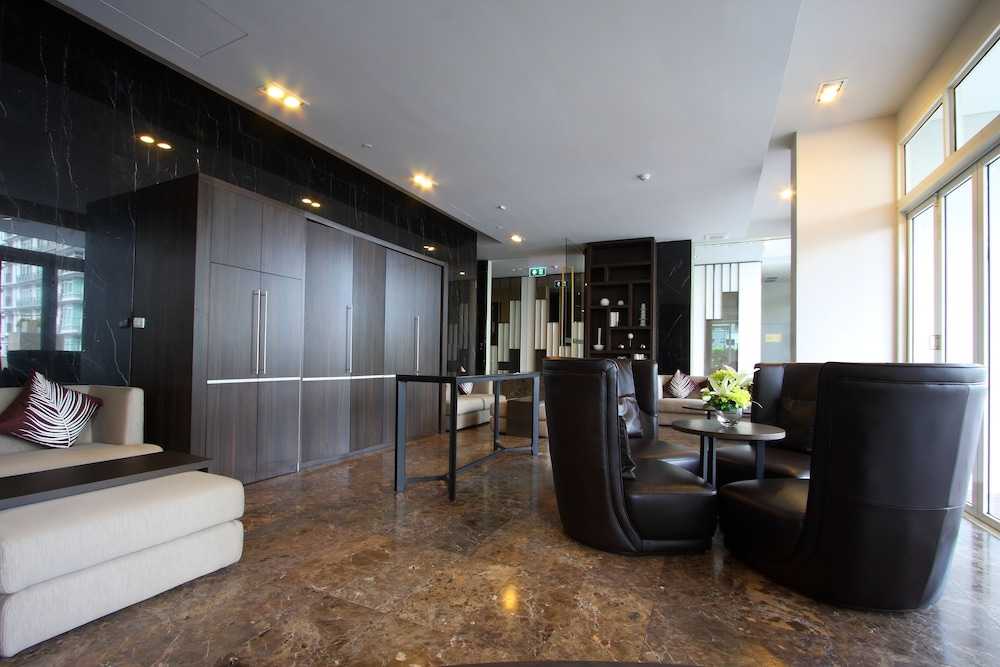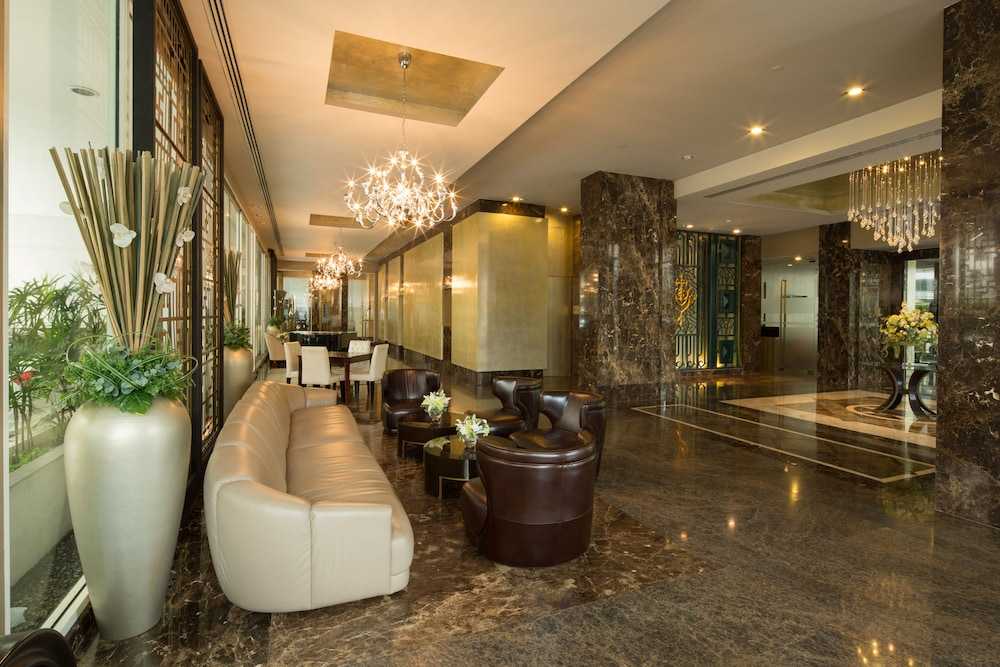 63 TripAdvisor Reviews
See all
According to guests, it's ideal for:
With a stay at Ariva Ivy Servizio Thonglor, you'll be centrally located in Bangkok, within a 15-minute drive of Victory Monument and Terminal 21 Shopping Mall. This 4-star aparthotel is 4.1 mi (6.7 km) from Siam Paragon Mall and 7.1 mi (11.4 km) from Lumphini Park.Make yourself at home in one of th...
More details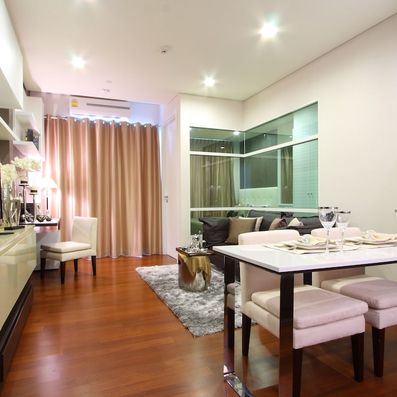 1-Bedroom Executive
1 King Bed
570-sq-foot soundproofed room, balcony with city views
Layout - Dining area and sitt...
See more details
Cancellation Policy
Amenities in this room:
Max 2 adults
Max 1 child -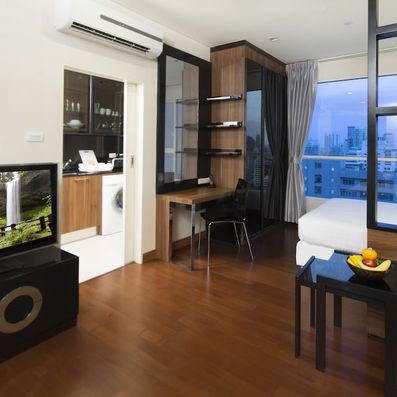 Estúdio executivo
1 Queen Bed
409-sq-foot soundproofed room, balcony with city views
Layout - Dining area and sit...
See more details
Cancellation Policy
Amenities in this room:
Max 2 adults
Max 1 child -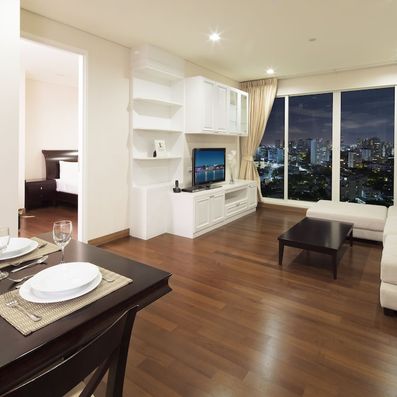 2-Bedroom Executive
2 King Beds
915-sq-foot soundproofed room, balcony with city views
Layout - Dining area and sit...
See more details
Cancellation Policy
Amenities in this room:
Max 4 adults
Max 3 children -
Property Info
With a stay at Ariva Ivy Servizio Thonglor, you'll be centrally located in Bangkok, within a 15-minute drive of Victory Monument and Terminal 21 Shopping Mall. This 4-star aparthotel is 4.1 mi (6.7 km) from Siam Paragon Mall and 7.1 mi (11.4 km) from Lumphini Park.Make yourself at home in one of the 50 air-conditioned rooms featuring kitchenettes with refrigerators and ovens. Rooms have private balconies. 32-inch LCD televisions with cable programming provide entertainment, while complimentary wireless Internet access keeps you connected. Conveniences include phones, as well as safes and desk...
More details
Check-in starts at: 14:00
Check-out ends at: 12:00
Property Amenities
several
Sauna seca
Elevador
Business center
Serviços de lavagem a seco/lavanderia
Number of meeting rooms - 1
Breakfast available (surcharge)
Academias
Depósito de bagagens
Front desk (limited hours)
Lavanderia
Estacionamento grátis sem manobrista
Terraço
Wi-Fi grátis
Jardim
Library
Traslado local grátis
Clube infantil (grátis)
Pool sun loungers
Traslado de/para o aeroporto (sobretaxa)
Number of outdoor pools - 2
Guest rating
TripAdvisor
Travelers rating
Excellent

19

Very Good

23

Good

11

Reasonable

4

Bad

6
Travelers profile
Business

10

Couples

8

Solo travel

11

Family

12

Friends getaway

14
Scores Summary
Cleanliness

Location

Rooms

Service

Sleep Quality

Value
Left with dissapointment and anger
Reviewed 5 february, 2020
Pleasant stay, till things got ugly and foreign currency stolen from our room equivalent of THB 10,000 2 days prior our departure. Staff lacked english speaking proficiency, nor where they proactive to help but proficient in scaring us and just saying you can claim from your insurance the money. Dealing with local authorities was a scare (taking into consideration how strict thai laws are), no proactiveness by the staff to make the guest feel comfortable and to help us. No cctv in the hallways of your room corridor to see who left and went inside in your absence. Even as i write this today no word or apologetic email from the management, i am left with no words. But i will travel to thailand again, but never will i stay here ever again.
Trotter85
Good Serviced Apartments
Reviewed 14 january, 2020
We had an issue with the room when we first arrived and the courteous staff instantly helped to remedy this. The reviews in TripAdvisor are good or bad. We would suggest that if you are not happy ask for help at the start rather than waiting to write a bad review. The pool was brilliant and the facilities were clean although the window cleaner banging the window made us jump- we were on the 22nd floor! There is a local 'western' supermarket but there are plenty of eateries nearby. We thought that the area had a Japanese feel to it.
rendomorph
A serviced apartment without the service!
Reviewed 24 february, 2019
The room layout was great for 4 pax since we have 2 bedrooms with 1 King size bed and 1 Queen size bed. Other than that, there is nothing I can rave about. The service from the team and WiFi are practically non-existent. The water pressure in shower is inconsistent and hot water is never available. I have a mini leaking AC every night despite conveying to the team but nothing was done to that. The location is not the best in thonglor even though we never left thonglor for the 4 days we were here. And as a serviced apartment, the houseware is incomplete. With more and more options available in thonglor, I would recommend you choose other properties than this.
oneniceday
What a Disappointment
Reviewed 2 february, 2019
I have been staying in service hotels in Bangkok a few times a year for the past five years, and I have come to expect a certain standard of care and cleanliness. I could not have been more disappointed with the Ariva Ivy Servizio. Everything about it made the experience far inferior to every other stay I have had in that great city. To be fair, the doorman, whose name I was never able to get (he spoke no English), was wonderful. Tireless and enthusiastic, he carried much of the burden for the management's failures. He especially felt the brunt of my issues in the first few days. When I arrived, the room was inadequately equipped. I had no towels, no bedding. The television and the internet were down, and I could neither provide entertainment for my young child nor offer the baby a place to lie down. The air conditioner remote was not working, and the room was hot. The washing machine did not work, so I had to go all over the place seeking change in order to use the public machines on the fifth floor. It was slipshod beyond belief. On the third day, the hotel decided that they would move me -- they could not fix all that was so clearly dysfunctional where I was. They called me early in the day and said they would move me to a higher floor. With some help from the wonderful doorman, I moved, got the kids down for a nap, and unpacked into the new room, which was way superior to where I had been. The only possible negative in that room was a noisy neighbor. I'm a New Yorker. Noise is no problem. More importantly, everything seemed to work. I was clearly in a premium place. Half an hour after the kids went down for naps, just as I was completing the task of putting everything away, reception called me. "My manager remind me we have fumigation in this room tomorrow. We must move you." I did not want to move. I begged them to let me stay where I was. "No, madam. We must move you." So the beleaguered doorman returned to help me carry my belongings to yet another room. This one had a washer/dryer that worked, a view of the City that my little one loved, and a television that got Nick Jr. That it had no internet capability, that the digital television needed constant rebooting seemed at that moment to be tolerable offenses. They were. And would have been. If not for tthe other problems in that place that became more salient. Housekeeping was ridiculously understaffed and under skilled. There was one housekeeper who was lovely, but her work was still perfunctory at best. Nothing was ever clean, nothing was ever right. Overall the management staff was pleasant most of the time, but they were never helpful. Often there was no one on duty with any English whatsoever, which seemed strange since English is the one language that connects the various world visitors to Thai staffs in all other hotels. The hotel, whose price is in no way a bargain, does not provide the least amenities one expects from a full-service hotel. The internet is weak at best -- we had to buy sim cards with data in order to stay connected to the outside world -- and nonexistent at best. There are no pool towels. (I would think that it would be in the best interest of the establishment to provide pool towels!) No drinking water in the gym. The towels we got -- and they certainly skimped on the towel allotment -- and the sheets that are used on the beds and in the bathrooms are in very poor condition. Many of them have large holes, are hopelessly frayed, and some were even dirty. Toiletries are never replenished. Furniture is old and yellowing, wallpaper is peeling off the walls.The beds are worn out and uncomfortable -- the bed in the first room I stayed in was slanted in such a way that suggested that someone very heavy had slept on it and had broken springs. Staff does not automatically change your sheets, even if you have asked them to. This is especially a problem if you are traveling with a child. The hotel has NO beds for children. They must share the bed with you. Which would seem at cross purposes with the hotel's best interests, as that means that you are more likely to need your sheets changed. I had to ask repeatedly that our sheets be changed. In at least a few cases, the housekeeping staff was unprepared to do so. They had to leave to get supplies and promised to return forthwith. Forthwith was anywhere from 5-8 hours later. Housekeeping (and I reiterate here that they are miserably understaffed -- in the four weeks I was there, I saw no more than three people, and most often it was the same sweet woman who did the once-over in my room) was terribly inconsistent in scheduling when they would be there. In the four weeks we were there, we were never able to establish any kind of a pattern. I would ask repeatedly that housekeeping come to take out my trash, and they would invariably show up late and then fail to do what they came to do. On one occasion, the staff was so late in taking out the trash that I had no where to put my baby's diapers.I called repeatedly asking that the room be cleaned, and no one came. Finally, I filled a plastic bag with the garbage and put it in the hall. Within minutes I had a call from the reception desk by someone who spoke enough English to scold me soundly for my bad behavior. By this time you are undoubtedly wondering why I did not move. I would have. Just a few doors down was a hotel I greatly enjoyed just a few months ago called the Residence on Thonglor by Ugh. They were booked solid. It was high season. Also, we were privy to a great fight between the staff and a disgruntled customer. As is expected in that hotel, he had prepaid in CASH for four weeks. He wanted to be reimbursed for two weeks.They refused to relinquish it to him immediately. He would have to wait 60 days. I could not have waited for my refund AND paid for another booking. The Ariva had me over a barrel. For the time being. Suffice it to say, I won't be staying there again. And I will never recommend the hotel to anyone. Well, maybe to someone whom I wish to punish. . . .
Carla S
Luxury Condo - Very Helpful
Reviewed 24 november, 2018
Stayed at Ariva Ivy for 5 days and 4 nights. Service was excellent at the hotel. When we entered, we were greeted by a friendly doorman who helped carry our luggage. The front desk quickly got out keys and we were able to settle in. Here are the Pros and Cons Pros: 1. Hotel staff is very friendly and accommodating. Our rooms only had two pillows, but I traveled with my friend and we each sleep with two pillows each. When we asked the front desk for two more pillows, they quickly delivered it to our room. Also, when we need help getting a cab, the front desk searched up the location name in Thai, wrote it out for the taxi driver and hailed our cab. Lastly, they were very helpful when I needed change for my money. By helping me change my larger bills, it allowed me to buy street food and tip those who gave great service. 2. Location is great. At first we thought we were too far from anything but when we arrived we noticed brand new restaurants and bars nearby. We didn't need to leave our street in order to eat or go shopping. Everything is nearby the hotel. Also if you need to take the BTS, there are motorbikes that will take you there. It only cost 20 baht per person. Any important location in Bangkok is only a 30 minute ride away by taxi (maybe an hour at most if you're stuck in traffic). Lastly, I loved that the hotel wasn't in the middle of Bangkok traffic. Because it was a little further away and not near BTS, the neighborhood was much quieter. The surroundings were not overwhelming and felt very safe. 3. Area felt safe Because we weren't in an overcrowded area, we felt very safe. Also security and doorman were located at the door the whole night. 4. Beautiful pool and common areas The common areas include a pool, laundry, outdoor seating area, indoor seating area and gym. All areas were beautiful and very clean. However if you're scared of little lizards, be aware the outdoors in their home. Don't be surprise if you see one. That's pretty normal. 5. Room was very clean and great housekeeping. Though we never saw our housekeeper, the housekeeper made our beds and kept our room clean. What shocked us the most was that our housekeeper washed our dishes! We didn't expect that service and almost bought dishwasher soap to clean the plates we used. Cons 1. Our bathroom had a few issues. Though our room was beautiful and clean, for some reason only the detachable shower head worked. We could not figure out how to get the overhead fall shower head to work. In addition, very small bugs were able to climb up the shower drain. With a little water, the bugs just fall down back into the drain so it was not a big deal for us. 2. Location If you wanted to be in the middle of busy Bangkok, Ivy isn't for you. As stated before, the hotel isn't near public transportation and you will need to hail a taxi or motorbike. However the front desk is more than willing to help. 3. Small improvements can make a big difference. While there is a laundry machine on the balcony of the room, I wish there was a drying rack. In addition, I wish they put a soap in the kitchen. 4. TV and internet isn't always consistent. Some times the TV would freeze on certain channels and the internet had short periods of lapsing. At most the internet would be out for an hour before working again. Tips 1. For Taxis or Motorbikes don't call the hotel Ariva Ivy. Instead say Thonglor Ivy. The hotel is known as Ivy to locals, and Thong-Lo is the neighborhood. 2. If your doing a long trip, Ivy is great because it is equipped with kitchen and laundry machine inside your room. For laundry detergent family mart and 7/11 is down the block. 3. If you need to buy groceries, head to the commons. There's a grocery store tuck away behind the restaurants.
Mel_Ev18