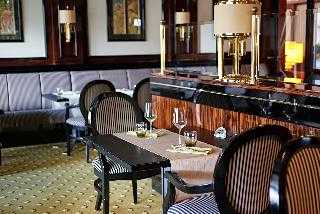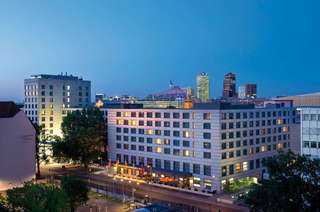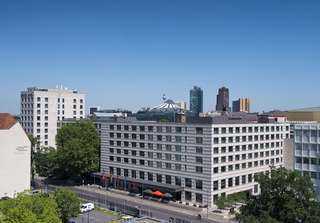 TripAdvisor Review
Based on 1682 review
See all
Located in the heart of Germany's capital, this establishment occupies a prime spot on the city's Tiergarten park in the tranquil diplomatic quarter, close to the Kurfürstendamm and the Potsdamer Platz. The luxury hotel recaptures the glamorous flair of the roaring '20s and affords business travelle...
More details
Availability
Select the date of your trip
Select the date of your trip to check room availability.
Property Info
Located in the heart of Germany's capital, this establishment occupies a prime spot on the city's Tiergarten park in the tranquil diplomatic quarter, close to the Kurfürstendamm and the Potsdamer Platz. The luxury hotel recaptures the glamorous flair of the roaring '20s and affords business travellers and guests of all kinds, all of the modern comforts. The luxurious equipment combined with the classical ambience ensures that every stay is an experience to remember. The traditional rooms feature complimentary WiFi, satellite TV and minibars. Suites add separate living rooms, one has a private ...
More details
Check-in starts at: 15:00
Check-out ends at: 11:00
Property Amenities
Reception services
Concierge
Guest rating
TripAdvisor
Travelers rating
Excellent

653

Very Good

711

Good

213

Reasonable

62

Bad

43
Travelers profile
Business

674

Couples

417

Solo travel

119

Family

194

Friends getaway

175
Scores Summary
Cleanliness

Location

Rooms

Service

Sleep Quality

Value
Convenient Meeting Hotel
Reviewed 29 december, 2021
The Maritim on Stauffenbergstrasse is within walking distance from Podsdamer Place and numerous museums and the famous Philharmonie. The hotel is not new but the rooms are reasonably spacious when compared to many hotels in other European capitals. The meeting facilites are excellent, and so was catering at a recent professional. Tip:Ask for higher room category room
shoutm2021
Very nice hotel, a few bugs need working out
Reviewed 27 december, 2021
Pros: Overall good staff lovely classic building good location nice parking garage good/fast wifi excellent breakfast buffet (including fresh egg station) partially operational lounge (self serve, non alsoholic drinks) The hotel was recently bought by marriott and is still being remodeled to bring it up to the brand's standards. The first three nights of our stay we had no heat (heaters would blow cold air out!). Brrrrr. We changed rooms twice (and checked another as well before changing), but it was always the same story. This was over Christmas and (mostly) staff did seem to be trying, but no empty rooms had heat until the fourth evening, when we finally got one that did (2 warm nights, finally!). This seems related to the remodel. Bedding is not yet Marriott quality (feather pillows which go flat instantly and hard as a brick foam on request only). I assume this will be rectified when the remodel is complete. Most of the time staff were lovely and really accomidating. one exception was when we arrived: we pulled into the drop off/check in area out front and into a parking spot there (so not blocking the driveway at all), started to get out of the car and a staff member came runnig out telling us we could not stop there. We explained we were just checking and and were told no, we had to go into the garage NOW and poitned that way. It wasn't a great first impression (and we are still baffled as to WHY....plenty of other vehicles stopped there to check in, or longer, during our stay). And not that it should matter, but we drive a nice vehicle in immepecable condition so it wasn't about not wanting somehing old in front or some such. The other issue was the first time we told staff we had no heat (the second night, the first night we had not realized cold air was blowing out from up high and thought it was just taking a long time to heat up in the first place). We used the app, staff responded to ask a short follow up question and then not agian for over 3 hours.. finally offering us a chance to change rooms at 10:30 PM. By then we were in PJs and declined. It should never take more than 3 hours to get back to guests with no heat in the winter time! We are guessing both staffing issues were due to newer people working the holidays and maybe not having the Marriott level training yet, because it was very different than other intereacitons with hotel staff.
XXHadleyXX
Long day, frustrated a bit
Reviewed 25 november, 2021
Hi hi, oder Hallo! Just landed to the hotel after a looong day. Being a Platinum, I was told, the hotel is ausgebucht, meaning, sold out. Therefore, one of the two rooms is upgraded to corned room, which I gladly gave to our other family members. But, since I cheked, Marriott website advised, there are Junior suites, even exec available, even on at this time (2158 local, as I write). Why the hotel and/or staff lies on these issues? I actually do not mind to stay here, even the table is like after small kitcen war (3010) and security on the door is poor (no security lock). But the person, who lied to me on the Reception, should think, or the management should think a bit of how to go with these things. As I have been told, you should be JW Marriott soon. If and if, but start with the honesty. Another thing is, if the management sees, no upgrades to given. I have seen that as well in Marriotts earlier, especially in Germany. But state that outloud for Gods sake. Well done folks this time. Please do not bring any presents to our rooms, please do not call. That train went already. Well spent 170 euros per night w/breakfast. 170 euros per night for this customer service........
Heikki H
Lost and founds are repeatedly never found and hotel management does not care
Reviewed 9 january, 2021
Even though I visited this hotel little bit more than a year ago, I never quite grasped how this can be a four star hotel. It was left in my to-do list for quite some time and it still makes me mad. I spent two nights there in December 2019. The rooms are pretty spacious, beds were comfortable. Rooms, wellness and the whole hotel looks a bit dated, but still fine. What is mesmerizing is level of service! After about hour after we left the hotel, I realized, I forgot something. I immediately called the hotel, that certain items were forgotten in the room. I got the information, that my items will be secured and ill get a call back. Because I was worried, I even sent an extra email with reminder to the hotel email some 20-30 minutes later. I called again in the evening, the next day, the day after with no reaction. Once I was transferred a to a lady, that refused to talk in English and simply hung up. When I tried again with my broken A2 German, she was just silent. So my mother who is fluent in German tried to call again and was told that it is being handled. More than a week later I call again what is going on. They said that they are going to check now. Someone else was staying at the room that day, so no check up. The next day they checked and my items are suddenly not there. Surprise surprise after more than a week. Instead of checking the very moment, before someone could even be checked in in the room, they decided to wait it out. Because they probably do not care about üntermenschen aus Tscechien. I wonder if people from Western Europe would get the same treatment. I called numerous times, tried to explain why this is a very bad service and how their process do not work. Not worthy of the starts hotel has. But hotel manager said it is ok and he is very sorry.
Puppo1996
Nice hotel in central location
Reviewed 20 december, 2020
A nice warm welcome from the staff. We arrived late at the hotel cause we came in with the last flight from Frankfurt. Upon arrival, we received a courtesy doggy bag with sandwich, water, fruit and musli bar in it, since room service was not available! Very nice and friendly gesture!!! Spacious rooms, nice bathroom. Location is great...only a few steps away from the Tiergarten in Berlin. Potsdamer Platz with it shops, stores and different subway lines in walking distance! Was a very pleasant stay! Thank you!
flyair340