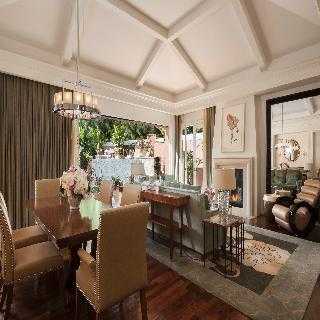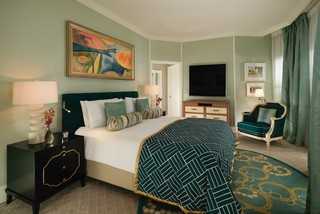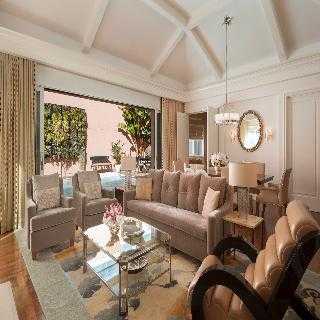 TripAdvisor Review
Based on 1476 review
See all
Located in Beverly Hills (Beverly Hills - West Hollywood), The Beverly Hills Hotel is close to Paley Center for Media, Westfield Century City, and Whiskey a Go Go. Also nearby are University of California Los Angeles and Museum of the Academy of Motion Picture Arts and Sciences. Bookings of 7 rooms ...
More details
Availability
Select the date of your trip
Select the date of your trip to check room availability.
Property Info
Located in Beverly Hills (Beverly Hills - West Hollywood), The Beverly Hills Hotel is close to Paley Center for Media, Westfield Century City, and Whiskey a Go Go. Also nearby are University of California Los Angeles and Museum of the Academy of Motion Picture Arts and Sciences. Bookings of 7 rooms or more will be considered a group booking and are not applicable to FIT rates.
Check-in starts at: 15:00
Check-out ends at: 11:00
Property Amenities
Reception services
Concierge
Guest rating
TripAdvisor
Travelers rating
Excellent

1237

Very Good

149

Good

52

Reasonable

24

Bad

14
Travelers profile
Business

180

Couples

503

Solo travel

80

Family

400

Friends getaway

122
Scores Summary
Cleanliness

Location

Rooms

Service

Sleep Quality

Value
Spectacular, but read on for fine tooth comb details
Reviewed 16 november, 2021
For anyone who's been to the BHH, you already know, it's fabulous, 5 star, luxurious, world class, if it was a flavour it would be decadent. With that being said we have to hold places like this to higher standards, so I'll point out their shortcomings during our stay rather than shower them with too many compliments. The main area where they fell short was housekeeping on several occasions; chocolate stain on the curtains - which they cleaned immediately after I brought it up. Ripped carpet threads at the entrance. Microscopic spiders in the corner of the water closet. For 3 days they left a dish and cutlery left over from in-room dining in the room until I finally put it on the bed for them to clear. I asked for something one evening around 5PM and was told they'd bring it right away, nothing, figured they would bring it at turndown, nothing, so called again the next morning and they brought it promptly. Asked for a bucket of ice to be brought into the room and have the bottle of champagne that was already inside the room put inside the bucket and specified to disregard the privacy light if it was on because we weren't in the room, but found the bucket outside the door - in other hotels they usually call if you ask for something and the privacy light is on. Asked for a regular sheet one night because the duvet was too warm, they put it on at turndown, but they removed it the next morning, so I had to ask for it again. Drilling noises starting as early as 7:30, along with clanking metal noises that sounded like they were putting up scaffolding as early as 7:30. Comfy beds, very comfortable room, but the sun shines right through the border of the door, I imagine insects get in as well. The service by the pool was heavily lacking earlier in the week, one day we were completely ignored and setup our own chairs. They did get progressively better the more people started showing up. Walked into the gift shop and two employees continued talking, was not acknowledged until I asked a question. Found it very bad form that they allowed people to smoke RIGHT outside to doors of the Polo Lounge. Had to walk through clouds of smoke every time I went to my room. Friendly staff in all dining venues, especially Angela during brunch. Tony at the bar was also nice. The green wall at the bar has way too many flies on it. We sat at the bar 3 nights and each night there was at least 10 bugs similar to fruit flies on the wall. Polo Lounge restaurant - sat in a booth for dinner our first night and there were crumbs on the cushion. Sat at the exact same place the next morning and the same crumbs were there. Brunch was divine, loved it! "Bebida de los muertos " cocktail is Way Too Sweet and a restaurant of that caliber, for those prices, knives should not have water stains. Breakfast items are all excellent- I didn't know I needed smoked salmon on my avocado toast 👌🏼 Gym was good and well equipped for its size, but skipping rope is broken and needs to be replaced, and the elliptical machines are not ergonomically friend; odd movement. Valet was quick and always friendly. Front desk and concierge always very friendly, knowledgeable and informative and quick to reply to emails. Great dining suggestions too. The only short coming I can mention from front of the house is that we arrived on the day of the LA marathon and were not notified. We were called around 11AM with the announcement that our room was ready. At this point we had not hit real traffic yet, but I told the person on the phone "we're trying to get through marathon traffic, be there in 15-20 minutes " and I was not given suggestions on how to best avoid traffic…that failure and the failure of the hotel to tell us about the marathon led to driving around in circles for 2 1/2 hours before we finally made it to the hotel. Not a great start to our trip. Clean, immaculate grounds and common areas. Great birthday amenities in the room and at the restaurants. Room was ready early and they even let us stay passed out late check out due to a red eye flights. Just excellent all over. Would definitely stay here again during our next stay in LA. Great location for Beverly Hills, 20 minutes to PCH and Hollywood. Courtesy car was always available, clean and friendly. The things I pointed out are 100% nit picking and hyper detailed, but paying attention to the detail's details is what the BHH is all about.
DinedThereSippedThat
Classic elegance at it's finest!
Reviewed 30 october, 2021
We enjoyed every minute of our 4 night stay in the pink palace! There is something truly magical about being here .... the history and glamour collide into so many special and joyful experiences! The hospitality is world class here. Caroline checked me in with a gracious welcome! Ryan from reception as well as all the front desk staff were friendly and very helpful during my stay! Special thanks to the Concierge Angels for their expert assistance before and during my stay!! Great recommendations and were able to secure last minute bookings at some of the most sought-after restaurants. Thank you Randy, Mark, Marco, Mitchell, Jesse, Bethany, and all the team!!! Loved loved loved all my cocktails, dinners, breakfasts, etc.... in the iconic Polo Lounge - everyone was so nice even though they are so crazy busy all the time and having to wear the masks while running service marathons. Thank sou Peppe, Eric, Sherry, Angel, Simon, Mario, Alexia, Rafael, and all the team!!! Also thank you to the kitchen for the amazing food!!! Great to see Geraldo and Ruth again at The fountain Coffee Shop. Love going there for a healthy juice followed by a home-made sticky bun warmed up to perfection - so yummy!! I think Geraldo makes the best Cortados (double espresso Cappuccino) in California! My journey in the spa was just amazing! Brooke, my therapist, surpassed all my expectations! She is so talented and provided a therapeutic and healing wrap and massage. I will never forget it. She really knows how to relieve tension from the body - which I needed after my 12 hour transatlantic flight. I loved my room - it was gorgeous! Housekeeping were fantastic!! Thank you!! The in-Room dining team took such good care of me! Provided service with excellence!!! And thank you to Dino and all the Guest Relations Team for taking care of all my detailed room requests before I arrived and for your kind assistance during my stay!! This is definitely the best hotel in Beverly Hills. I've stayed at others and I know I will always come back here in the future. Thanks to all the teams for your gracious hospitality!!
BambinaRosa
Luxe Layover
Reviewed 9 october, 2021
A haven in the midst of a city, from the time my Uber pulled up in the driveway I immediately relaxed and knew this place was something special. Service was too notch as expected, bed was extremely comfortable, and the balcony off my room was wonderful to relax outside. Room service was better than expected, including some of the best hummus I have ever encountered. Cannot wait to return to the palm lined hallways.
Maranda S
Hospitality and Elegance of Our Dreams
Reviewed 9 september, 2021
In Beverly Hills where indulgence and top quality service are an expected norm, delighting guests at the Beverly Hills Hotel is no small feat. This was accomplished flawlessly by a team that though we were not regulars or celebrities, made us feel like both. Dino Rudolf, the Guest Relations Manager, though a young man, exudes an old-world charm and sophistication that befits the culture of a Dorchester Collection property. Even prior to our arrival, he showed great interest in making sure we had a memorable stay. And so he did with making my mom's stay for her 95th birthday one I will never forget. In addition other members of the team from the gentleman who checked us in at Reception, to the Housekeepers who made our suite sparkle to the Valet and Bell Staff who made for a seamless departure with a cart full of luggage from the room to the trunk of our car in no time. A special thanks to the lovely lady at the Fountain who has worked there for 26 years. She anticipates the needs of her guests, most of whom are local regulars, and makes them feel like they are family. She was so engaging, we returned a second day during our visit. The regulars viewed her as a friend. I can see why as I thought if I lived in Beverly Hills, I too would want to be a regular. Even the Director of Operations, Zachary Lapidus, took the time to welcome us with a lovely note to my mom for her 95th. rounding out what may have been the best hospitality we had the privilege to experience.
EWB2015
Amazing LUX Hotel with Old School Hollywood Charm
Reviewed 2 september, 2021
This is a hotel that you get what you pay for, so be prepared to pay to get a great room. That all being said, its one of Los Angeles' iconic hotels. And unlike its sister hotel (Bel Air) this hotels renovations kept the original charm of the hotel while adding in all the modern needs. It took me a couple of room changes to get the right room, the staff was AMAZING in this. Once checked in you feel like your at home….lol a dream home…but very comfy! Staff helped with everything from car service, to dinner reservations, to helping arrange flowers for a off site house visit!! If you like to sleep cold, this hotel is for you!!! There are NO locks on the hotel thermostat, optional fans! From first thing in the morning, poolside seats, dinner, and through your last stroll to the room everyone treats you like you have been there for years!!! The front desk and concierge was incredible! Basic facts 101…..tip well in beginning and everyone is happy!! Polo Lounge is always a scene with the possibility of anyone walking in! Also the hotel is VERY pet friendly and strives to make every moment that you are there the MOST enjoyable! There are SO many room types and if you are picky, def spend a little time investigating! It's almost like the staff anticipate your wants (like the vanilla confetti Soufflé) amongst many other things….I cannot say enough wonderful things about this hotel and would DEF stay many times again…..if you want modern and sleek, this might not be your hotel…..if you want ****5+ LUX and glam with detail service and attention….this is your hotel!!!
Jack E