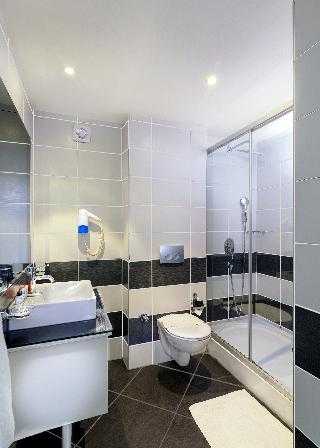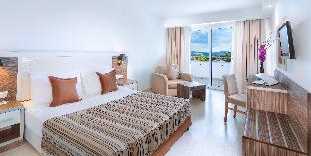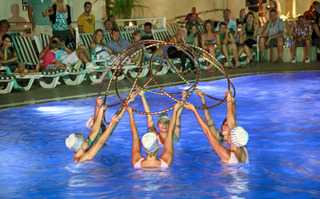 TripAdvisor Review
Based on 1026 review
See all
This lively hotel complex is located in the heart of Gümbet, a popular tourist destination on the Aegean coast of Turkey. The nearest beach can be found within 500 metres and this establishment is also close to bars and entertainment venues. St. Peter's Castle is some 3 kilometres away and can be ea...
More details
Availability
Select the date of your trip
Select the date of your trip to check room availability.
Property Info
This lively hotel complex is located in the heart of Gümbet, a popular tourist destination on the Aegean coast of Turkey. The nearest beach can be found within 500 metres and this establishment is also close to bars and entertainment venues. St. Peter's Castle is some 3 kilometres away and can be easily reached with public transport. Bodrum airport is 42 kilometres from the resort. This award winning hotel offers a host of comfortable rooms decorated in soothing tones to encourage a restful night's sleep. Guests will appreciate the stunning wellness area equipped with Turkish bath and sauna, i...
More details
Check-in starts at: 15:00
Check-out ends at: 11:00
Property Amenities
Food & Beverage
restaurant
Pool and wellness facilities
.
Reception services
Luggage storage
Guest rating
TripAdvisor
Travelers rating
Excellent

497

Very Good

291

Good

133

Reasonable

58

Bad

47
Travelers profile
Business

10

Couples

373

Solo travel

34

Family

182

Friends getaway

286
Scores Summary
Cleanliness

Location

Rooms

Service

Sleep Quality

Value
Super holiday on shark hotel
Reviewed 30 september, 2021
this hotel cannot be described in words from the owner of the hotel to the staff, the rooms, the food is very, very nice an incredibly beautiful hotel for a holiday, very close to the bar street and the sea as a location if i go on holiday again i will definitely go to club shark hotel We would like to thank the owner of the hotel and all our staff who contributed to the beautiful holiday you had for us. see you again…. Xx Emrah . Kseniia
leoemrah
The best hotel we have ever stayed in
Reviewed 22 september, 2021
In our opinion, Hotel Club Shark is one of the better choices in the category of four-star hotels due to its very good location with a picturesque view of the bay. When it comes to rooms and room service, they are of a high standard and we have often found a beautifully made bed with scattered flowers on it. We managed to find a room with a balcony that overlooked the pool and was surrounded by palm trees and pink flowers. The swimming pool was distinguished by crystal clear water, the sauna was well-kept and spacious, the Turkish bath made it possible to get acquainted with traditional methods of body care. The hotel provided a GAME ROOM with a pool table and table tennis with equipment. The most important aspect of the entire hotel is the well-trained and friendly staff of both the bar and the restaurant. The receptionists were always helpful, friendly and chatty. The best atmosphere was created by the hotel staff, who were always friendly, you could talk to them, joke with them, they created a family atmosphere thanks to their approach and attitude towards hotel guests. Many Poles come to the hotel, which gives the opportunity to create new acquaintances, a good atmosphere, meet interesting people with whom it will never be boring. We wholeheartedly recommend staying at the Club Shark Hotel, it is a HOTEL worthy of recommendation and we will definitely visit it more than once.
AR2357
Nice stuff here
Reviewed 28 july, 2021
We stayed here 10 days. Emre, the guy on the reception was one of the nicest guys we met here. He helped us whenever we neeeded help or got questions. Very proffessional. The stuff was so nice..we realy enjoyed the time. Thank you for the great time
zlnz2021
Great hotel
Reviewed 2 june, 2021
Fantastic place..very hygienic..food great...restaurant people there amazing and friendly 5 star from me..... Night time bbq delicious............never know place cleaning that many time....great work guys. Recommended highly..
gurkant953
CAN'T FAULT ANYTHING HERE
Reviewed 25 october, 2020
COVID-19 visit Been here a few times now and return because it is more than adequate and always a great price, good food and very nice staff. Usually with Easyjet but this time had to book with Love Holidays who were constantly trying to cancel our holiday but only the accommodation and blamed the hotel for cancelling but as we spoke to the manager who confirm our booking was good, we informed Love Holiday and they stopped trying to relocate us prior to the holiday. There were covid-19 measures in place and all were easy to understand. Temperature checks and hand sanitizer was everywhere within the hotel and in most of the shops. But this is simple to manage, don't put your fingers in your mouth and wash your hands more often hehehehe. Facemasks were mandatory in and all around the streets and shops. I'd say 99% of people were wearing them. I noticed more Brits without than Turkish. The pool area was as one can imagine very difficult to manage the social distancing measures but the easy solution here was don't go there, go to the beach and find your own space. If you wanted a sunbed cleaning after someone has moved all you had to do was ask. ROOM Our suite was spot on as always. The maid was great, room was always made up. If we wanted anything all we had to do was ask. Not always was the refreshments in the room replaced but then all we did was go to the bar or vending machines and get the drinks and stuff we required. Not a problem to us if there was say only 3 tea bags instead of 4 or no water, HOWEVER we did have water replaced daily. A handle came off the door, these things happen and within the hour it was fixed. STAFF The staff in every area of this hotel were absolutely brilliant, Emra and his team at the reception, Mehmet and his team in the dining room, Shamus and his team at the bar and all the other helpers here were always so so polite EVERY time they seen us. LANGUAGE BARRIER Yes there is a language barrier but most of them understand basic English and if not you can as we did result to hand signals. Like left a bit, right a bit, next one, next one, up, down and so on. This was particularly helpful when choosing food items. Obviously due to covid we were served instead of serving ourselves but that was all working well; sometimes you need to just ask for more if you wanted it, in a polite way hahahahahaha FOOD We found the food here as always perfect. But you do need to have a bit of an understanding that they do not do bacon and nor do they do HEINZ beans. WHAT YOU'RE GETTING IS TURKISH INGREDIENTS, WELL AFTER ALL YOU HAVE TRAVELLED TO TURKEY SO ACCEPT THAT AND ENJOY. Breakfast, some moaned was different everyday; this is both true and false. Most part the items at breakfast were the same; the only thing different was the way in which they cooked the fresh eggs. Obviously they are trying to give a different choice on a daily basis. One-day omelette, one fried eggs one-day pancakes. I am not a lover of the cooked breakfast nor do I like pancakes but there were plenty of other things to choose, including freshly made to order cheese toasties. You will, as I never did, go hungry here. Lunch and dinner is pretty much the same process. Dark meat, white meat, chips, vegetables, soup with fresh bread and salad. Desserts and fresh fruit. You can have as much as you want, just ask. 3pm there is burger and chips at the bar until 5pm then there is afternoon cake or a pastry thing. There is no cheese for the burgers so I suggest you get your own if you prefer it. You can get it from the red and yellow shop called 'SOK' go right past the windmill restaurant now called Dream lounge and it's opposite the pharmacy. It was 35 pence for a large pack of burger cheese slices. IF YOU WANT MORE ON YOUR PLATE THEY WILL GIVE IT TO YOU. It is not hard to indicate what you actually wanted putting on your plate. All the food was and is always identified by a name card in front of it. REMEBER TO CHECK THE BBQ OUT EVERY NIGHT AS THERE IS ALWAYS SOMETHING EXTRA COOKED THERE. SPACE As said socially distant measures were in force, which was good. In the dining room you got a table and no one else from out of your bubble or group was allowed to sit with you, which was great. POOL The pool area was far to busy for us but then again it always is. The beds were a bit close but what do you expect? There is not a lot of room and the hotel wants everyone to enjoy their holiday so get a sunbed where you can. BAD BIT IS, THE BRITISH KEPT PUTTING THEIR TOWELS OUT WAY BEFORE THE POOL OPENS AT 8.30am. Would be nice if there was a non-smoking sunbed area but that's not to be I'm afraid. Sunbed reservation is not permitted but people are so selfish. The hotel should sort that out but for us we did not sit by the pool anyway. SELF SERVICE Due to covid-19 restrictions, the food was not self serve this time. The chefs, about 5 or 6 of them worked tirelessly to serve each and every individual guest at meal times. The must be knackered after their shift. This also helped me to not over indulge and waste food. ENGLISH EXPECTAIONS We heard some English people complaining about the fact that the food was not English. UM HELLO YOU'VE TRAVELLED TO TURKEY, A POOR AND MUSLIM COUNTRY, THEY ARE DOING THEIR BEST HERE. SOME EVEN COMPLAINED THAT THE FOOD WAS TOO TURKISH NOT ENGLISH FFS. Okay, there is no bacon and some of the meat is a bit spicy. The baked beans at breakfast are a bit hard but that's because they are Turkish baked beans not Heinz baked beans. But 99.99% of the time everything was hot and cooked. Occasionally I got a few cold chips, but hey ho. Put them to the side and go ask for some more. EGGS CHOICES You got boiled eggs every day and there was a freshly cooked choice of fried, scrambled, omelette OR pancakes. They're just mixing it up a bit offering a difference choice for the pallet each day. The cereals are NOT English and therefore you may not like them but do what we did and take your own. PEOPLE PICKING FAULT Some were complaining about the food and I honestly could not see why here. I am so so fussy with my food and always got a nice hearty portion of food that I enjoyed. Meat, veg, pasta, salad and bread. I would prefer my spaghetti to be swimming in bolognaise but this is not the way the Turkish make it so I just, well you know, when in Rome and all that. The food is cooked, its hot, its plentiful and you can pick and choose what you want. The salad selection was fantastic. A mixture of English and Mediterranean salad with and without dressings. The desserts are not to my liking. The cakes are all soggy and I like the traditional English desserts but the ice cream was tasty and I made do, after all I am/was in Turkey. There is a PROPER waffle café in Gumbet and Bodrum so we went there. The full monty waffle was only £2. EXCHANGE RATE WAS 10L TO THE POUND. Which meant in comparison, a can of coke cola was 30 pence and a litre of fuel was 60 pence, so really good value here for our pound. Transfer was TWO POUNDS by the MUTTAS public coach service (see my other reviews on this) and we were in Bodrum bus station from the airport within 40 minutes. Then a 0.30p minibus ride to the hotel which took 10 minutes. REMEMBER you have travelled to turkey so it will be different to what you are used to in England. Saying that, I feel you will have a great time here and enjoy everything that the Club Shark and the teams have to offer you. The easy jet flight was awful with no social distancing and they even put a passenger next to us whom we didn't know. IMPORT TO KNOW, THE DOLMOOSH WHICH IS THE PUBLIC MINIBUSES NO LONGER ACCEPTS CASH FOR THE 34p FARE. YOU CAN PAY BY CONTACTLESS CARD THEN PURCHASE A BUS CARD FROM A SHOP TO SAVE BANK CHARGES.
fmsam