Holiday Inn Burbank-Media Center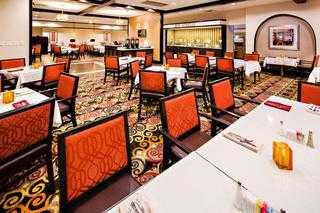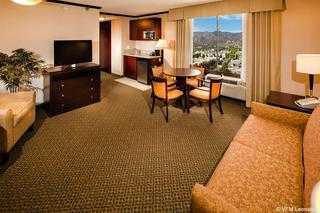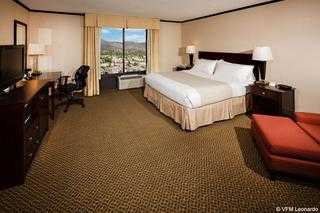 TripAdvisor Review
Based on 864 review
See all
This comfortable hotel is in Universal Studios / Burbank Area. There are a total of 485 units on the premises. In addition, Wi-Fi access is offered at the hotel. The reception is open 24/7. This hotel does not offer cots on demand. Holiday Inn Burbank-Media Center understands that accessibility is i...
More details
Availability
Select the date of your trip
Select the date of your trip to check room availability.
Property Info
This comfortable hotel is in Universal Studios / Burbank Area. There are a total of 485 units on the premises. In addition, Wi-Fi access is offered at the hotel. The reception is open 24/7. This hotel does not offer cots on demand. Holiday Inn Burbank-Media Center understands that accessibility is important to all guests. For this reason, it features wheelchair accessible accomodation units and is fully adapted for easy access. Guests arriving by car may leave their vehicle at the accommodation's parking spaces. This environmentally-sustainable hotel has achieved the certification. Conference ...
More details
Check-in starts at: 15:00
Check-out ends at: 11:00
Property Amenities
Reception services
Concierge
Guest rating
TripAdvisor
Travelers rating
Excellent

244

Very Good

304

Good

154

Reasonable

65

Bad

97
Travelers profile
Business

226

Couples

140

Solo travel

52

Family

283

Friends getaway

74
Scores Summary
Cleanliness

Location

Rooms

Service

Sleep Quality

Value
Not worth the money
Reviewed 14 january, 2022
Rooms were in poor repair and small. Elevator was very slow. Rooms were never cleaned fir my 4day stay. The check in process was so bad! I arrived early they refused to check me in because their systems were being switched over to a new one. Then when I returned 6 hours later I waited in line for 45 mins just to check in. The room cost $350 a night! Not worth the money! The area is nice with shopping and restaurants. But many restaurants were closed. Covid has been hard on the businesses I'm the area.
Ktras
Clean, very nice staff! Easy access to airport
Reviewed 11 december, 2021
Loved my stay here check in was easy as well as checkout. Very nice clean rooms. Very comfortable beds. I had everything I needed to relax. Wish I was staying longer. I will definitely stay here on my next adventure.
carolmQ6427FQ
Long stay, frustrated with poor WiFi.
Reviewed 10 december, 2021
Been here since July. So frustrated with the POOR WiFi. The WiFi for me is top of the agenda for work and keeping in touch with family. So let's talk about the hotel in general. Somewhat dated in decor but more importantly very clean. The staff are brilliant and extremely helpful. Parking is easy at $19 a day. Pubs and restaurants are less than a 2 minute walk. New owners in January. Priority sort the ******* WiFi out.
263martynw
The Twin Towers
Reviewed 24 november, 2021
Airport Hotel miles from the airport. Your not missing much staying here. If you like airport hotels you'll love this one. Elevator have been out of commission for weeks. It goes up but not down. Today in Tower One, I had to walk down 8 flights of steps. Little did I know a service elevator is at the other end of the hallway. Lighting in the room could not be worse. Pale cold and bright make one look like a ghost. Why the bathroom have bulbs and the room those pretzel looking excuse for a bulb heaven only knows. If you like ghosts try sleeping on the 18th floor tower one. I visited this floor and goose bumps immediately covered my body. The ghost visits other floors too. So beware of an eventful night restless sleep Over half of the occupants are airline personal so there is little concern for the amenities of kindness and politeness one would normally expect. Front staff is like microwave food. Uncaring for the needs of regular guests. For instance missed the wake up call. Management offers 25 percent discount or 20k points. Funny I did not check in with points and they would the sell a room for 25 percent. Yet they feel this is fair. Beware of smiling faces. I thought it wise to wait until the front desk manager who helped me last night to remedy the problem. I waited all day as missed travel connections on Thanksgiving Eve. When he examined the lack of a dial tone, the clock blinking on and off and no a/c working he disappeared into an office. Reappearing said your lucky to get 25 percent we usually give 20 percent. As to the points offered 20k dies not buy you a room!!! Feeling I had lost finally gave in. But low and behold the owner got involved, he also manages the property and an apartment building. NOTHING COMING, as the manager who I was told was not in today appeared and told me so!!! Definitely airport in attitude as he never expects return guests other than airplane personal. After all air crews just go to sleep. There is really nothing to do in Burbank. As Johnny Carson would sign off, "Goodnight folks from beautiful downtown Burbank." Bob Hopes name is on the airport but this is hopeless. The airport is small. The elevator that only works going up is odd. One has to insert the room key, not just touch a sensor as in every other hotel I have stayed at. Beware if you leave the lobby and forget your key you cannot get back in without ringing the doorbell in hopes of catching the eye of one who works at the front desk. This procedure is in place 24/7. In broad daylight kid with families are stranded. No formal dining. Just grab and go. As I said the owner has his office at the hotel. He is a business major, not a hospitality Cornell minded chap. Dollars and cents are all that matter. If green is your favorite color green lights light up the top of the tallest building in town. Bigger is not always better. With two identical towers one loses sight of problems he can not see. I have been told that the hotel is going to be remodeled. Just when and too what extent is unknown to the many of the staff. Your rolling the dice to enjoy your stay here. Room door needs to be physically closed. Last night I slept with the door ajar. No closer, just an open rod with hangers. Carpeting is plain Jane. Not very comfortable to walk on. Housekeeping leaves carts unattended in the hallways. Today, Javier the head of housekeeping tried to solve my dilemma, I didn't get anywhere near what I payed for. Don't be fooled by the three shuttles parked outside, all dedicated to crew. You squeeze in with them. No dedicated van of your own. Holiday Inn corporation is a Paper Tiger when it comes to customer complaints. They route your grievance back to the manager who already told you NO. NO police power of enforcement. Strange too that the owner would domicile his corporation in a hotel. All other hotels have a management company attend to the needs.of the guests. Guest or not you will not be happy complaining. Across the street is The Hilton Garden Inn whose motto is, "We will make it right.". The motto of this hotel is, "We will ignore the facts, we decide the facts.". The owner does not know how to run a hotel. It is a piece of cake to run a boarding house for contracted airline employees. So fasten your seat belt your in for turbulence when you land with a problem. Remember it is your problem and not management.
jfkson1
Outstanding Service
Reviewed 16 october, 2021
Second time to this location. Customer service is AMAZING. Absolutely worth every dollar. Great central location. Breakfast is served all day as an added bonus. Will definitely stay here next time I'm down for a visit! Thanks!
Loud-Lisa