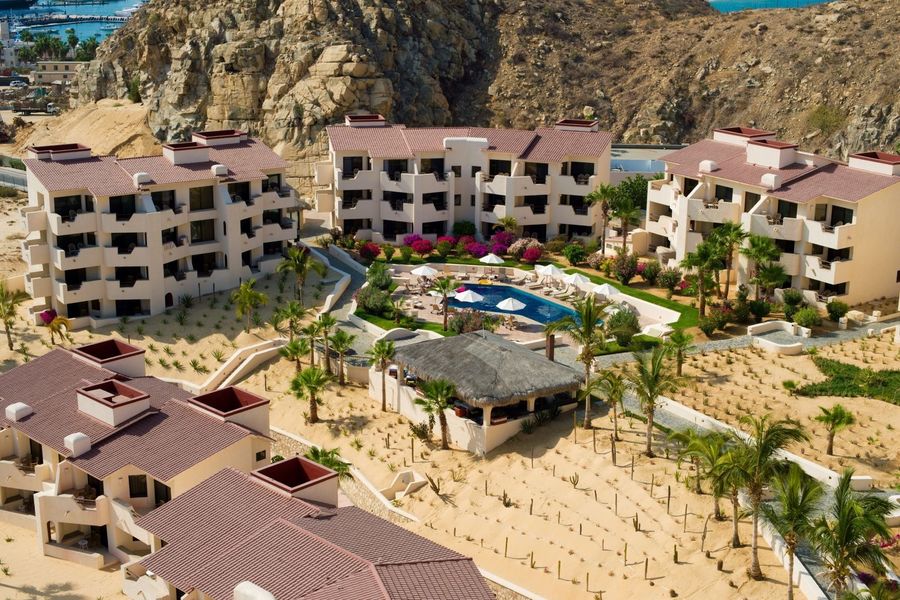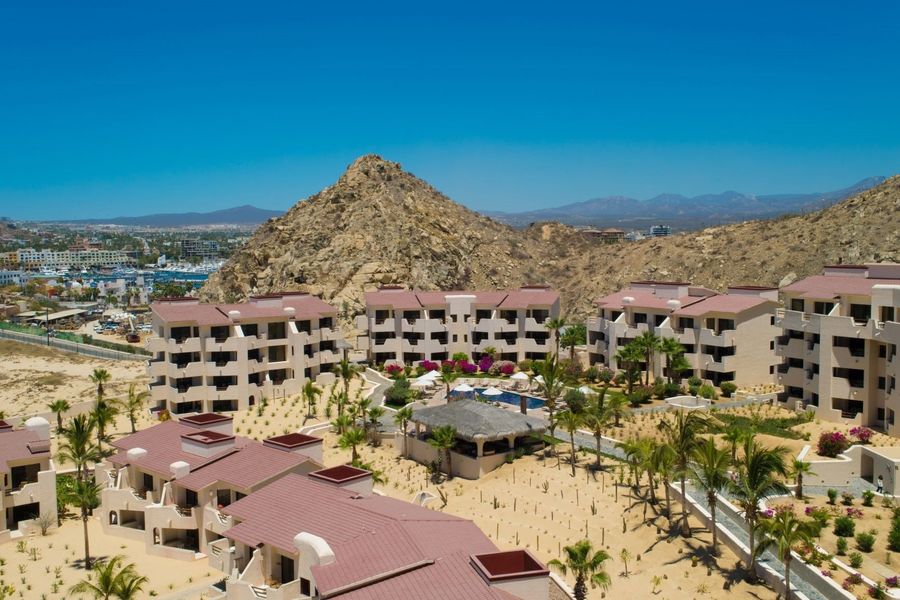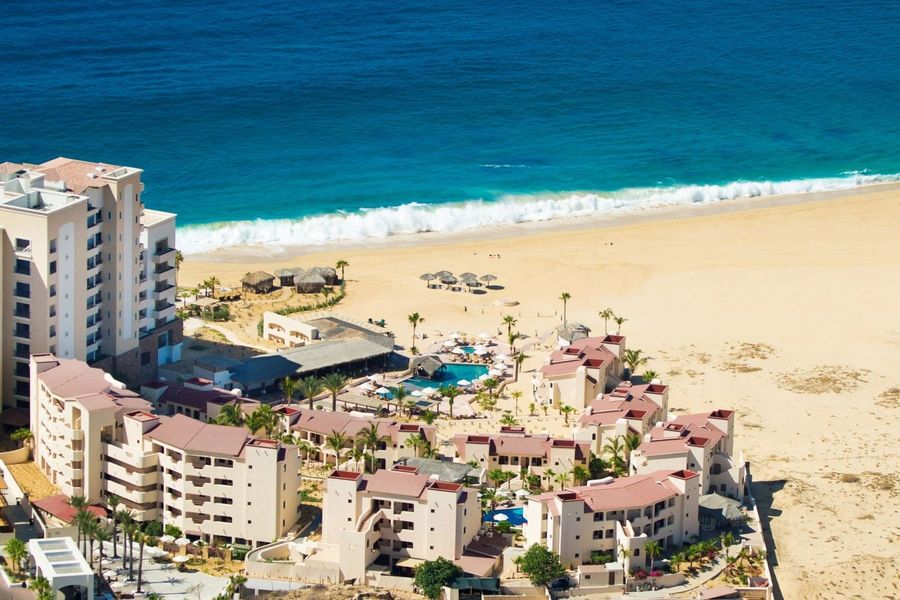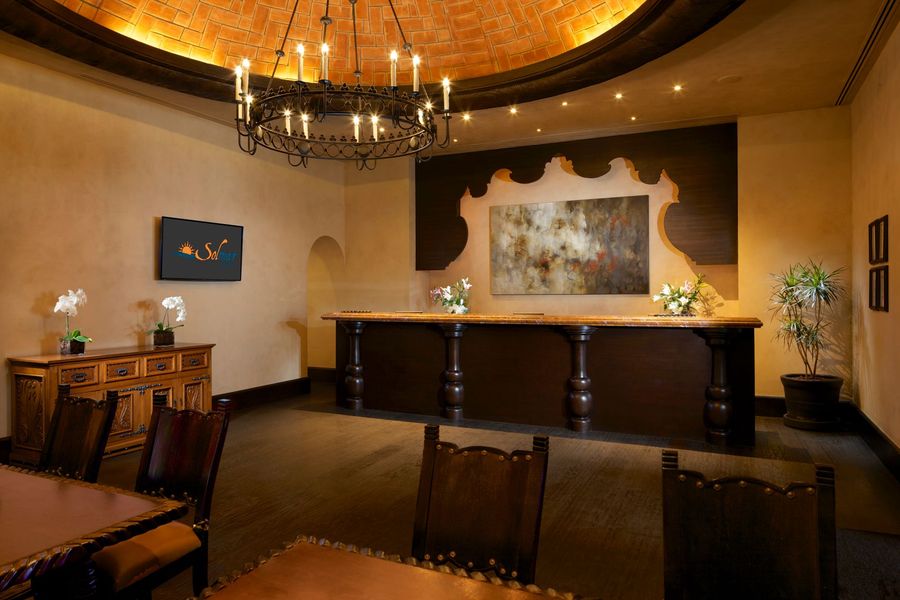 Atreva-se e descubra o espírito da natureza, o encanto de Cabo San Lucas no Solmar Resort. Isolado entre falésias majestosas e com vistas espetaculares do Oceano Pacífico, nosso resort é uma jóia no paraíso. Desfrute das nossas espaçosas suites e deixe-se mimar pela nossa hospitalidade, tranquilidad...
More details
OpenWeather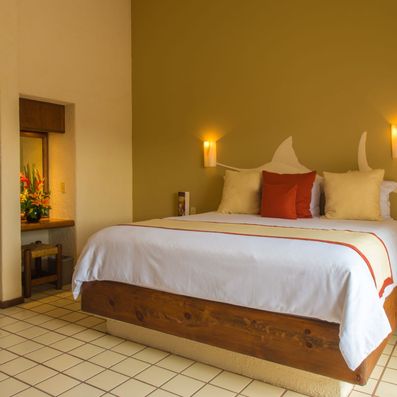 Estúdio
This Studio is equipped with kitchenette with all necessary utensils. Air conditioning, King bed and Queen size sofa bed, security box and t...
See more details
Cancellation Policy
Amenities in this room:
Max 3 adults
Max 2 children
- by 4 years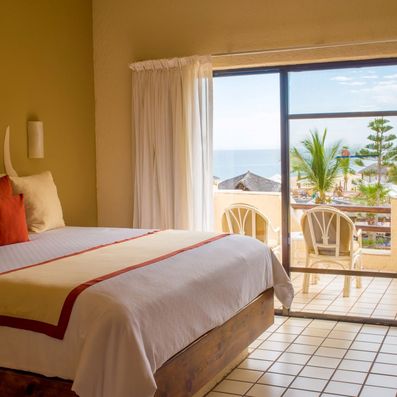 Suíte Deluxe 1BR
With an impressive view of Solmar Beach and the Pacific Ocean, the Deluxe Suite has the capacity for four adults with a King size bed and a ...
See more details
Cancellation Policy
Amenities in this room:
Max 4 adults
Max 3 children
- by 4 years
Property Info
Check-in starts at: 16:00
Check-out ends at: 11:00
Atreva-se e descubra o espírito da natureza, o encanto de Cabo San Lucas no Solmar Resort. Isolado entre falésias majestosas e com vistas espetaculares do Oceano Pacífico, nosso resort é uma jóia no paraíso. Desfrute das nossas espaçosas suites e deixe-se mimar pela nossa hospitalidade, tranquilidade e a melhor vista para o mar. Mergulhe nas nossas piscinas com um requintado cocktail do surpreendente Pool Bar. Convidamo-lo a apanhar o espírito do Cabo no nosso spa exclusivo, onde recuperará o equilíbrio e a harmonia. Visite-nos hoje e rejuvenesça. Mime o seu corpo no centro de fitness e o seu ...
Av Solmar 1, Marina - Cabo San Lucas, Baja California Sur - Mexico - 23450
Property Amenities
Check-in starts at: 16:00
Check-out ends at: 11:00
Guest rating
TripAdvisor
Travelers rating
Excellent

1528

Very Good

694

Good

243

Reasonable

115

Bad

96
Travelers profile
Business

21

Couples

1178

Solo travel

77

Family

581

Friends getaway

457
Scores Summary
Cleanliness

Location

Rooms

Service

Sleep Quality

Value
Awesome off-season stay!
Reviewed 20 september, 2022
Our one week stay at the beautiful Solmar property was fantastic! All staff were so friendly and helpful, we felt spoiled and hated to leave. All staff were great at their jobs and always made sure we had what we needed. I wish more Americans had their work ethic. Noé in Concierge was very patient with me on booking our tours before we arrived. Definitely contact him before your trip or see him as soon as you check in. I found that booking the tours through the resort worked out better financially for us because we wanted to do so much. All Tejaban Restaurant staff were great, the food was delicious and entree portions were large. Definitely try the guacamole. Breakfast, lunch, and dinner were always plated so well. We did all-inclusive and don't regret it. We did eat off-property a few times but still ended up saving a lot of money with the all-inclusive. Hubby's only complaint was that the mixed drinks were weak. The only downside for me was that many activities at the resort were not available due to low occupancy. Our suite with two balconies was very spacious and housekeeping came every single day. We really didn't need it so frequently but appreciated it, and made sure to leave a generous tip in pesos each morning. My tips if staying at Solmar or even Grand Solmar: use Uber for short trips if you don't rent a car; we paid less than $4 USD per trip we took when we didn't want to walk far or in the heat. Although the beach isn't swimmable and I'd read other reviews that you could walk to Lover's Beach pretty easily by climbing over the rocks, we could not do that due to the rough waves. We ended up walking to the public beach near the marina and had a blast. Instead of walking all the way down the hill, you can cut through the employee parking lot on the right and go right, this will lead you straight to the public beach. There were even people renting out umbrellas for really cheap. We had brought our own snorkeling gear so we snorkeled and swam and watched the boats. The water was so clear and cool, I preferred it over the resort pools because the pool water was always too warm for my liking due to the sun shining down on them. It's fun shopping and haggling to get a good deal in town, but we first went to the Walmart (very clean and organized), via Uber, and checked out the souvenirs they had before we bought anything not available at Walmart on the street. I'm all for supporting the locals, but a lot of those items are poor quality. We froze a few bottles of water (free at the restaurant with all-inclusive) and always took some with us in our backpack when we left the resort. Remember to also keep bottled water in your room for rinsing your mouth and toothbrush.
LSpivey
Excellent staff
Reviewed 11 september, 2022
Today we leave the SolMar Resort after a week, overall the experience was great, very nice settings and very friendly staff, the bellboys Cesar and Aquiles always were very attentive and with the best attitude towards us and our needs or inquires.
lorenzomaga
Not Happening Again!
Reviewed 24 august, 2022
Just don't bother. I booked 2 rooms back in February for our stay in August. I paid the balance a week before the trip. When I arrived I was told that they couldn't verify the deposit I made in February or that I had paid the remaining balance. I showed them proof of both because I printed and saved the documentation for all payments. I was told by the front desk staff (Abraham and Itzel) that they close payments take a day to show up. When I told them I paid a week ago then the story changed. After them rudely telling me multiple times I had to pay $529.47 as an incidental fee whilst the lady next to us was told $200 for her incidental fee, I had enough. They said that they had to call Reservations to confirm which was conveniently closed at the time even though i called reservations 3 times that week to confirm what was needed for check in. My friend brought up to them that their contracts said $100 for incidental fees that we signed and they said their solution for us was for us to hold $200 on one card and $300 on another card implying that they thought we didn't have the money. The whole time the two of them were conversing back and forth in spanish as if I didn't understand them as they did not know that Spanish is actually my first language. At this point I opted to speak to her in Spanish to which she stared at me baffled and then called her manager Michael. Michael told us that they couldn't verify the deposit so we had to pay the money. I asked him why and he said they closed the nooks monthly so it wasn't showing on their screen. I informed him that we paid it in February and showed him proof. Therefore if you close books monthly then you have it. I informed him that I was here and heard Abraham tell the woman next to us that the fee was $200. At which point he told us that we had to paid incidentals of $200 per room and that was all. Upon getting to my room I was disappointed with how dated it was. The restaurant ans bar staff were amazing. I had a great time and much better customer service next door at the Grand Solmar. We came for a group event and all the people at the event had the same or worse experiences. At check out they had their ducks in a row on everything though in order to get money they thought was owed to them. Upon leaving the resort I discovered that I and several others are covered in rashes that appear to be bug bites. I will never stay here again.
Intlrunwaydiva
Delightfully Fantastic
Reviewed 20 august, 2022
Received by one remarkable and outstanding door man named Marco. The room was great. With three balconies all having fantastic views of the Pacific Ocean. Room was very clean, and staff was wonderful. Restaurant and staff were wonderful. Food was very good and tasteful. With all said, one thing stood out a mile. The attention and genuine care given by Marco towards the guests. That on its own reassured me. I will return.
gumb2924
Wonderful Resort
Reviewed 18 august, 2022
We stayed for 3 nights. The resort was very nice. The grounds are well kept. The staff was extremely friendly and helpful. We ate almost all our meals on the resort and the food was very tasty. If anything only the deserts were maybe a touch below the rest of the food. We forgot some jewelry and the resort offered to send it to us as well.
Andy F