2 adults - 0 children - 1 room
L'Ambasciata Hotel de Charme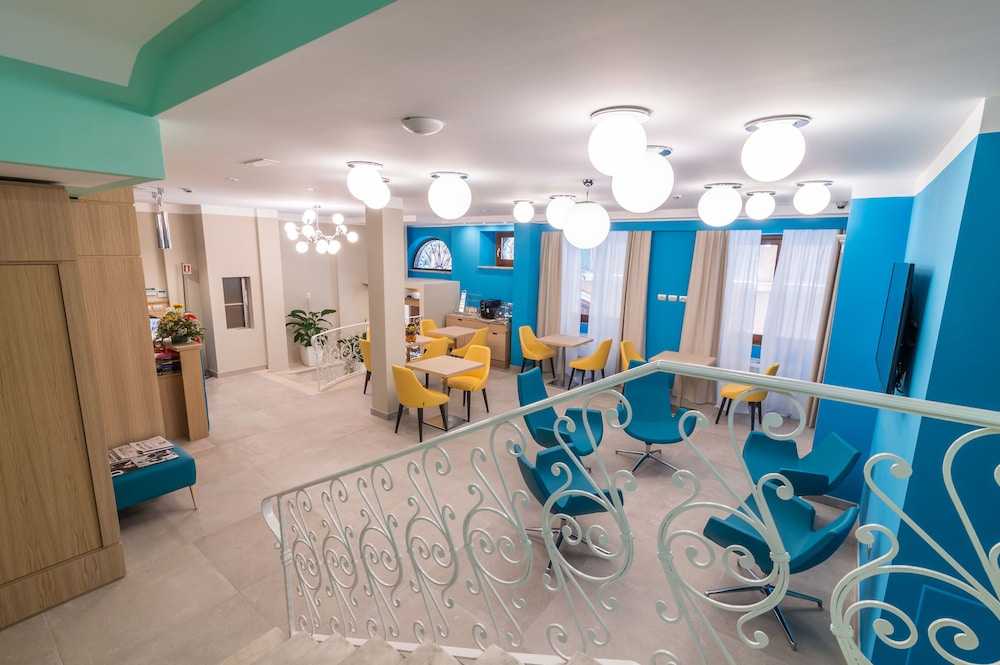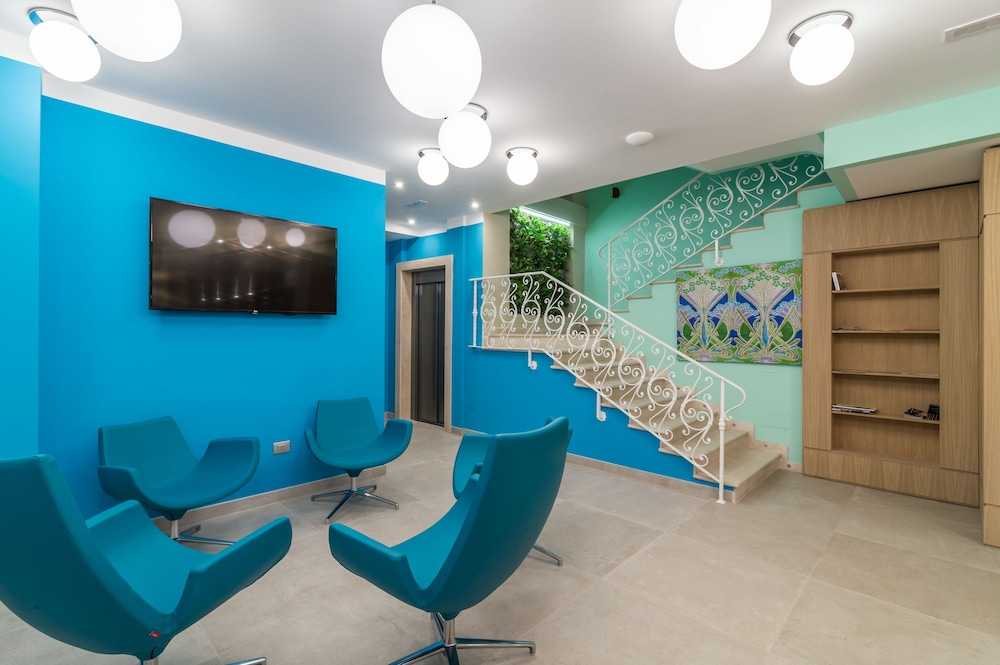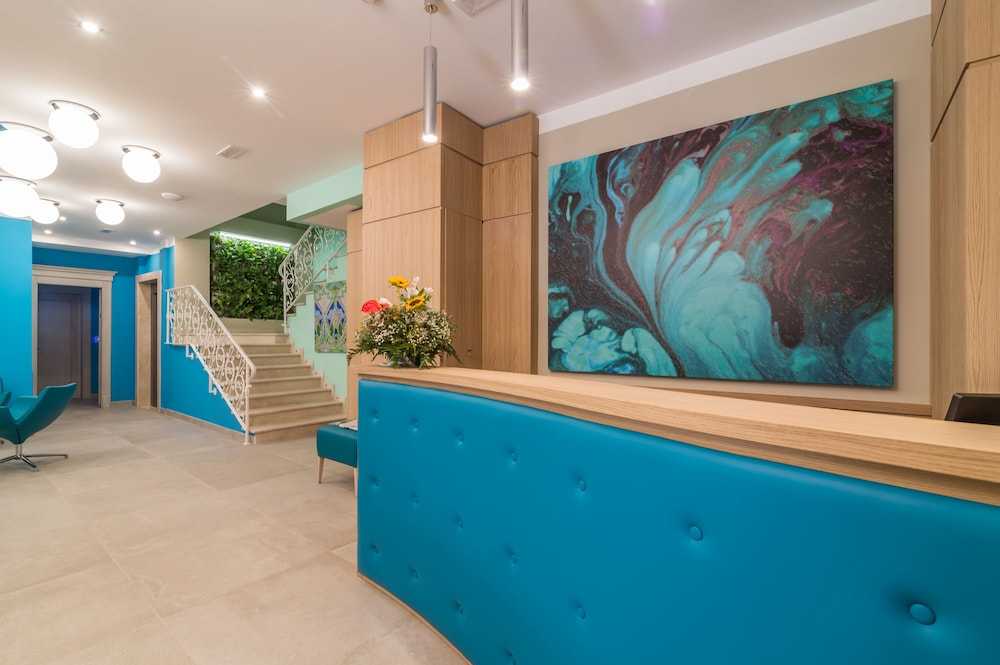 182 TripAdvisor Reviews
See all
According to guests, it's ideal for:
When you stay at L'Ambasciata Hotel de Charme in Cagliari, you'll be in the historical district, within a 5-minute walk of Sant'Eulalia Archaeological Site and Treasure Museum and Cagliari City Hall. This hotel is 0.5 mi (0.9 km) from Bastion of Saint Remy and 0.9 mi (1.5 km) from National Archaeol...
More details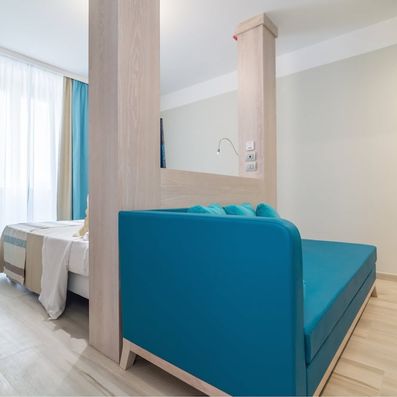 Quarto luxo
1 Queen Bed and 1 Twin Sofa Bed or 2 Twin Beds and 1 Twin Sofa Bed
215-sq-foot room with city views
See more details
Cancellation Policy
Amenities in this room:
Max 3 adults
Max 2 children -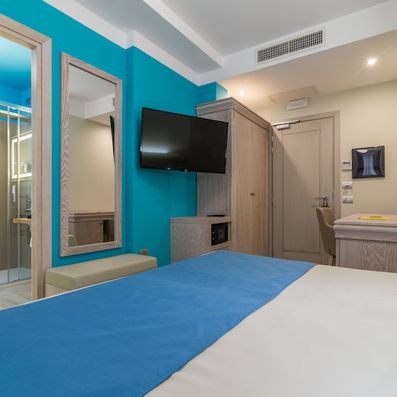 Quarto casal standard
1 Double Bed or 2 Twin Beds
161 sq feet
Internet - Free WiFi
Entertainment - 50-i...
See more details
Cancellation Policy
Amenities in this room:
Max 2 adults
Max 1 child -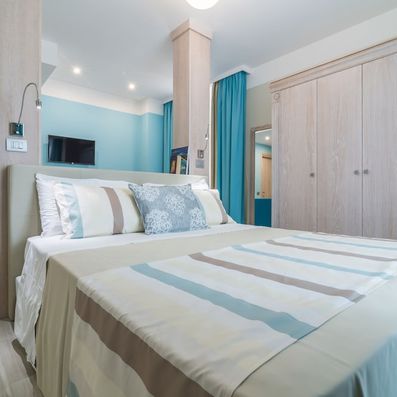 Quarto casal econômico
1 Double Bed or 2 Twin Beds
161 sq feet
Internet - Free WiFi
Entertainment - 50-i...
See more details
Cancellation Policy
Amenities in this room: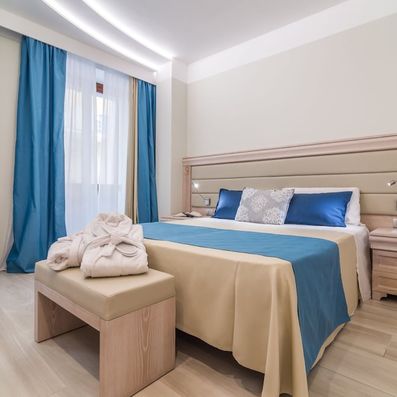 Quarto casal superior
1 Double Bed or 2 Twin Beds
205 sq feet
Internet - Free WiFi
Entertainment - 50-i...
See more details
Cancellation Policy
Amenities in this room:
Max 2 adults
Max 1 child -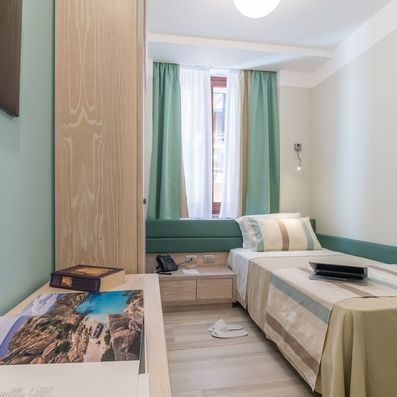 Quarto solteiro
1 Twin Bed
108 sq feet
Internet - Free WiFi
Entertainment - 50-inch LED TV with s...
See more details
Cancellation Policy
Amenities in this room:
Property Info
When you stay at L'Ambasciata Hotel de Charme in Cagliari, you'll be in the historical district, within a 5-minute walk of Sant'Eulalia Archaeological Site and Treasure Museum and Cagliari City Hall. This hotel is 0.5 mi (0.9 km) from Bastion of Saint Remy and 0.9 mi (1.5 km) from National Archaeological Museum.Make yourself at home in one of the 8 guestrooms featuring minibars and LED televisions. Complimentary wireless Internet access keeps you connected, and satellite programming is available for your entertainment. Private bathrooms with showers feature complimentary toiletries and bidets...
More details
Check-in starts at: 14:00
Check-out ends at: 11:00
Property Amenities
several
Elevador
Equipe multilíngue
Estabelecimento para não fumantes
Television in common areas
Cofre na recepção
Não acessível para cadeira de rodas
Traslado de/para o aeroporto
Assistência para passeios/bilhetes
Breakfast available (surcharge)
Serviços de concierge
Número de bares/lounges: 1
Depósito de bagagens
Front desk (limited hours)
Número de restaurantes: 1
Wi-Fi grátis
Free parking nearby
Chuveiro com barras de apoio
Traslado de/para o aeroporto (sobretaxa)
Snack bar/deli
Número de cafeterias: 1
Traslado do aeroporto (sobretaxa)
Guest rating
TripAdvisor
Travelers rating
Excellent

128

Very Good

43

Good

6

Reasonable

2

Bad

3
Travelers profile
Business

45

Couples

80

Solo travel

14

Family

16

Friends getaway

8
Scores Summary
Cleanliness

Location

Rooms

Service

Sleep Quality

Value
Beautiful Gem of a hotel!
Reviewed 31 october, 2020
Me and my partner stayed here for 2 nights at the end of October and we were more than happy with our stay. We stayed in the Chia room which was beautiful and spotlessly clean! The mattress and pillows were so so comfortable, we had the best nights sleep in a long time, we even asked reception where they buy their bedding from and I purchased the same memory foam pillow from the Dorelan store in Cagliari to take home. Breakfast was really good value, there is quite a big menu which a number of choices for everyone on there, such as croissants, boiled eggs, pastries, cold meats etc. The hotel is right in the centre of town it is in a great location close to a large number of bars and restaurants. The staff all spoke very good English and were always on hand to help you in any way they could. If we ever decide to visit Cagliari again we would defintley stay here again. I recommend to anyone! :)
Q6306WTmelissaj
Good value. Clean, spacious and friendly staff
Reviewed 14 july, 2020
This hotel is very well placed and newly refurbished. Very clean. Helpful staff. We got a good rate and was very pleased. Would happily return. Perfect for walking. A little less perfect for car but manageable.
jesperzac
A disgusting and avoidatble experience-NOT A HOTEL OF CHARM BUT OF LIES!!
Reviewed 12 october, 2019
THE TRUTH - Maureen & Gordon a couple of honest genuine & able 73year old able Italian Speaking Scottish Pensioners # Having spent 7 glorious days staying in Hotel Relais Du Foyer in Valle D'Aosta (superb quality multi-choice ITALIAN breakfast including a wide range of homemade breads/paninis[/cakes, an abundance of fresh fruit cheeses & meats, attended by lovely non-smoking genuine staff) we flew to Olbia in Sardinia where we spent a further 4 super days in L'Essenaza Hotel again receiving a good ITALIAN multi-choice quality "fresh" breakfast again served by lovely genuine staff (the true Italy), we took the train to Cagliari to spend 3 nights in L'Ambiasciata Hotel De Charme in anticipation of spending & enjoying a further three nights in Italy especially having paid £320 for B&B for the three nights# .Having spent our evening of arrival at the Sardenga Arena watching the football where we only consumed a bit of Italian Street Food it was with a fair degree of hunger, happiness, and eager anticipation as we left or room for our first breakfast especially given the top rate breakfasts we had enjoyed in the previous hotels as mentioned above but also that having paid £120.00 per night this breakfast experience was sure to be good.# The place for breakfast was outside but attached to the building & as we rounded the corner of the hotel to enter the room we noticed this character hanging about outside the entrance drawing heavily on a cigarette. On seeing us and realising we were about to enter for breakfast he quickly bent down picked up his lighter from the entrance step put in his pocket and wandered back to the centre of the street to continue smoking as we entered the breakfast room. We looked at each other and thought looks like bit of a dodger out there!# On looking around our hopes were immediately dashed we looked at each other and our hearts sank. A small table with absolutely nothing fresh all plastic packed all artificial very very limited choice of disgusting food including the dry toast bread, two small loaves of supermarket bread open, half used, both hard and dry, two warm cartons of supermarket juice, jug of water, three plastic containers of cereal, a few plain only joghurts, some plastic packs of sweet biscuits etc There were knives and forks by the way to eat the nice watermelon etc etc – HA-HA-HA AN INSULT TO US ALSO TO ITALY AND ITS FOOD No fresh fruits of any description just a small disgusting looking white plate containing tinned fruit salad in its artificial syrup No fresh breads, paninis, pancakes, cakes, biscuits etc No cheeses, mozzarella, proscuito, cooked ham, mortadella etc No hard boiled eggs, no tomatoes No hot choices No proper chilled fruit juice selection# Well this guy as we were to find out some minutes later after the cigarette was finished was actually "the breakfast person" who came in stinking of smoke hands unwashed breathing all over us hands unwashed delivering the hot drinks we ordered and bowl of cold milk for which my wife had as the best of the non existent breakfast choice! He returned directly outside to continue smoking not once asking if everything was fine and did not even acknowledge us as we left the breakfast room! No big deal but it is common courtesy.# I tried the joghurt with some muesli – ate half of it – tried the croissant with crema – one bite was than enough not fresh - hard - a drizzle of dry hard unappetising custard in the centre----also handled tb the breakfastman UNEQUIVACALLY THE WORST EVER BREAKFAST EVER ENCOUNTERED IN 60 YEARS OF HOLIDAYING# Went to receptionist we told her the breakfast was disgusting – nothing fresh all prepacked - for £360 for 3 nights expect a proper Italian Breakfast - served by the smoking waiter all not at all good!! She told us she did not eat her breakfast there as she got a much better one at a bar/cafe down the hill – she suggested we go there!!!!! She said she would go and speak to the breakfast man also ensure there would be fresh produce for next day – (This would turn out to Lie No1 & Lie No2) I indicated that If nothing changed I would not eat the breakfasts again & would be looking for a refund – She told me not possible – I asked for manager – She told me she was manager with responsibility for the breakfast food – I asked to speak to the owner – # She told me he was away and would not be available for another three days – (Lie No3) Next morning on passing the reception on our way to breakfast I asked if there was a complaints form as I still was unhappy – the manager gave me some hotel headed paper – I asked for the owners name and again if he was available to speak to us - She told me Mr Gigi was away and unavailable for 2 days – (Lie No4) – I then asked If there was fresh selection for breakfast this morning – She (the so called Manager responsible for breakfast) said did not know as she had not yet been down to see!!- I said it is your responsibility – We turned away and went out to the breakfast room! What did we see - exactly the same plastic garbage with the centre piece again being the same disgusting looking plate of tinned fruit salad– and the breakfast man sitting in the very seats that we had occupied the previous day eating his breakfast – He got up approached us his mouth full of food and before he spoke I said (all in Italian) – nothing has changed no fresh fruit no cheeses no cold meets no fresh pastries no fresh bread what Is going on here – he looked puzzled – so I said again nothing has changed the manager assured us yesterday she would come and speak with you about changing the breakfast this is not good we are very unhappy very angry – He then apologised and said It was not his fault as no one has come to tell him or spoken to him to change the breakfast content – I said OK it is not your fault I'm going up to have it out with the woman up stairs "All of a sudden this very rude angry man burst through the front door, interrupted the conversation I was having with the breakfast man, and in a very loud voice announced -- "I'm the owner this is the normal Italian breakfast (Other Lie- BugiaNo5)- did not ask any of us what the problems were and repeated at least 4 times this is the normal breakfast in a very threatening way. He shouted you tell us what you want. My wife a very nice lady said that we are guests this is not fair" At some point and in some detail I told the owner exactly what we expected (ho should know by the way) just as I had told the manager the day before with deaf ears." All of a sudden he shot into a side room and came back with a watermelon in one hand that he thundered down on a table pushed a small plastic package of a kind of supermarket cold meat under my eyes with his other hand and shouted all in Italian here you are is this what you want.# What an ignorant person he was!!! "Then I told him in Italian something he did not want to hear - Here no communication other than falsehood - Yesterday the manager agreed with my wife and me that the breakfast was not great and would definitely change for today and finally that the manager herself did not take part in the the hotel's breakfast as it was so bad and that if we wanted good Italian breakfast to go to the cafe down the hill that she herself uses. # The owner looked at me as if he was about to explode, immediately grabbed his cell phone to call his manager at which point we left to the breakfast man's voice repeatedly saying his is not my fault. No more contact with the no words staff of appology what so never nothing at all# My wife was very upset and in tears a we walked dowyn the road!# Everything was 100% avoidable a -if we had been presented with a proper breakfast from the beginning b -if the manager had spoken to the breakfast man and solved the problems she categorically said she was going to do, for day 2 .# In 50 years of travel in Italy we have never had a bad experience like this# They did not want[/like "challenge" hoped we would go quietly away!! Revolting breakfast Staff telling such lies The owners who shouted at us almost to the point of bullying -- he is also a miser We were not treated as guests. We were a nuisance. I don't like people who openly tell lies and try to extract the urine# We say it as we see it - we will not be trampled on by nasty people Thankfully the other 99.9% are fine# This is not a hotel - lacks ambience its like appartments!! OK for reasonable sleep is central but very expensive for what is on offer!!
viborneveloce07
Great stay!
Reviewed 16 september, 2019
Centrally located and modern hotel. The rooms are modern and spacious. Gigi was friendly and accommodating. It is close to the main part of town and most importantly close (walking distance to train station which offers 1.5 euro one way trips to airport!). We loved place the only thing I would say is be sure to let staff know when you are checking in as at certain times of day the staff may be away (they are reachable and accessible by phone .. . we arrived earlier than our scheduled arrival time as we had a rental car and I wanted to check in and drop off my wife but when we arrived door was closed and no one answered doorbell. .. we ultimately reached them via phone and Gigi came immediately so no problem). Lastly DO TAKE TRAIN to hotel. Its cheap and frequent and we took a CAB FROM HELL who drove like madman when we dropped off car at airport. I had read about train and figured cab would be better I was so wrong. taking train from airport is way to go! Highly recommend this place!
ledezmacjl
Perfect
Reviewed 28 may, 2019
Centrally located in Cagliari. No complaints whasoever. Would go again. The Partner who mans the reception is a very friendly, helpful and gregarious. His name is Gigi, short for Luigi and his signature statement is "ofcourse". The hotel has an adjoining restaurant where one gets breakfast.
analytic10