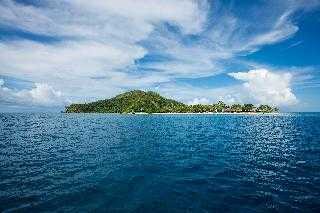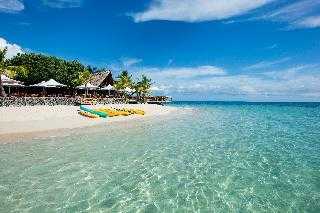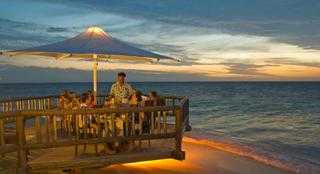 TripAdvisor Review
Based on 1256 review
See all
Castaway Island Fiji is an iconic private island resort surrounded by white sand beaches and vibrant coral reefs / perfect for romantic couples with or without children. Located in the Mamanuca Group of Islands and can be reached via boat / sea planes or helicopter travelling West from Nadi Internat...
More details
Availability
Select the date of your trip
Select the date of your trip to check room availability.
Property Info
Castaway Island Fiji is an iconic private island resort surrounded by white sand beaches and vibrant coral reefs / perfect for romantic couples with or without children. Located in the Mamanuca Group of Islands and can be reached via boat / sea planes or helicopter travelling West from Nadi International Airport. Welcome to our private island. Its our pleasure to greet you with songs-generous smiles and a happy Bula Welcome home. Our traditional bure bungalows styled with vaulted ceilings of hand-painted tapa cloth offer air- conditioned comfort. Stroll brilliant beaches scuba dive to divine d...
More details
Check-in starts at: 15:00
Check-out ends at: 11:00
Property Amenities
Reception services
Concierge
Guest rating
TripAdvisor
Travelers rating
Excellent

945

Very Good

214

Good

68

Reasonable

22

Bad

7
Travelers profile
Business

9

Couples

210

Solo travel

13

Family

818

Friends getaway

64
Scores Summary
Cleanliness

Location

Rooms

Service

Sleep Quality

Value
Review of Castaway January 2022
Reviewed 18 january, 2022
We booked 7 nights at Castaway Island just after New Year. We would normally only stay at an adults only resort, however none in our budget were open yet. We chose Castaway (a) because they had their act together with the Covid testing requirements and (b) they have an adults only pool The arrival Unfortunately I pulled my calf muscle getting on the ferry to take us to Castaway. This meant I had to somehow get off the big boat, into the little boat and then up the beach when I was not able to walk. The Castaway staff soon saw I was in trouble and carefully helped me up the beach, into a comfy chair in the restaurant and procured a big bag of ice. At least 14 anxious faces came to make sure I was ok; In between my acute embarrassment I immediately felt a warmth for the wonderful staff. You can't fake that level of caring The Bure After a few hours of ice and elevation and some lunch, I was able to limp to our bure which, as luck would have it, was at the far end. We actually didn't mind as it was very private. The bure was really lovely; effective and whisper-quiet air-conditioning, a big comfy bed, large bathroom and walk-in shower and two comfy chaise-lounges in the sitting area. There was a good size table for playing cards too. Also (joy!) a plunger and really nice ground coffee that was replenished every day. The rooms are beautifully made up every day. The only issue we had was the drinks chiller did not work. We carted beer, soft drink and water from the mainland and needed a fridge to cool it down. The gentleman who showed us to our bure (I'm sorry I have forgotten your name) said he would look into getting it fixed or replaced. We heard nothing all day and found Aseri at dinner time who immediately went and check it out, saw that it was not fixable and said she would ensure a replacement asap. Sure enough, lunch time the next day there was a knock on the bure door and a replacement fridge was installed. It was very effective and we appreciated the prompt help as I'm sure replacement fridges are not easy to come by on the Island. The restaurants The main restaurant (Water's Edge) was just ok. We are avid cooks so I don't feel it fair to closely review as it has to cater for a large range of palates including children. One example, though, is the thai beef salad. The noodle salad was fresh and light and the beef tender; but it was dry and tasteless. It just needed a good splodge of sweet chilli sauce and it would have been great. Stand-out meals here are the Chinese chicken spring rolls, the butter chicken and the lobster The Adults only Restaurant 1808 was sensational. It is Asian fusion and every dish (with the exception of the lamb cutlets) beautifully spiced, full of flavour and delicious. Sadly it was only open twice during our stay as they do not open if it is windy as the chefs cook outdoors The Sundowner Pizza bar: absolutely delicious pizzas. Light and crispy with the just the right amount of toppings The staff Can I just mention the staff again as they constantly bent over backwards to keep their guests happy. I want to especially call out Aseri as she helped me so much. I stupidly left my phone on the plane and she helped me by calling Fiji Airways and working out what I needed to do when I returned to Nadi airport to fly home. She was instrumental in getting our fridge replaced and she asked every day if my leg was ok and did I need any help. Also Elenor who was always so friendly and helpful The 'Adults Only' pool Oh dear, here is our big bugbear. The first time we walked up to the pool we stood there with our mouths open in abject horror. There were so many screaming toddlers in the spa you couldn't have fit one more in. Then there were 10-15 kids running around or in the pool yelling at the top of their lungs. The parents? Either actively ignoring their offspring in a sun-lounger or sitting at the swim-up bar. I realise being school holidays exacerbated this. This was the case every day unless we went early (before 9.30am). Instead we were able to walk (limp for me) up to the far end of the gorgeous beach for some quiet time. I find it hard to blame the resort as to enforce it would upset so many people and I guess a lot of these families are oft-returnees. There were three big signs practically begging for everyone to 'respect the adult nature of this pool area' with big arrows pointing to the family pool. Summary Castaway is a perfect place for families but not for couples who are looking for some peace and quiet. We wish that you would take down the reference to the Adults only pool if it can't be enforced as it was one of the main reasons we chose Castaway. Thank you to the staff for your help and wonderful service
Robyn A
Great for families, really nice place
Reviewed 16 january, 2022
We have stayed on a handful of the islands now and Castaway is great. One of the closer resorts to get to you can fly or go on a boat. The rooms are great and have AC. The staff is great, kids club is great and the island is beautiful. There are tons of activities and the pools (considering they are on an island) are great too. Good solid coffee and bar. One suggestion to travelers is drink your own bottled water. There is treatment for the regular water they pour you in the restaurant but long story short we recommend sticking with bottled to be safer. We never got sick but it's safer. Dive shop is super and kids club has tons of activities.
DaddyShark-d-do-do-d
Magical Island Getaway
Reviewed 8 january, 2022
From the moment you approach the island with the people singing and saying 'welcome home' to the moment you leave - this place is magical. They have the covid protocols down pat which is great, pools are lovely, Bures are very nice and helicopters arriving each day was a touch of luxury.
Panda2010
Incredibly welcoming, relaxing and healing
Reviewed 6 january, 2022
We loved every minute of our stay at Castaway Island, which was kicked off by the most incredible and moving welcome on arrival... can't overstate how exciting and healing it was to be greeted by the traditional greeting - both by boat, on the beach, and all the way to our room - by the Fijian staff of Castaway. Left all our troubles behind. Highlights for us - the incredible welcome, and stunning prep of our Island Bure room - walking out of our bure, 20 metres under palm trees, straight into crystal clear, calm, warm water - snorkelling off the beach out to beautifully protected coral reef - the pool bar - dangerous! - kayaking around the island, 45 minutes of bliss - the hobie catamarans - so much fun - our lovely, clean and smart room - the buffet breakfast, yum - the scuba dive master - such a pro - the Wednesday night show, took our breath away, how incredibly cool are Fijian rhythms, I had no idea. - the staff! Wow, genuine kindness, compassion and welcome - Bula vinaka!! Hot tips: - bring sunscreen and drink lots of water, its hot! - bring mosquito repellant and sting relief, we never had a problem when sleeping in our rooms, but when we sat at dinner, sometimes had our ankles nibbled... hey, its the tropics - choose a meal plan that covers all meals, we're so glad we did as it was (a) we just didn't want to think about it and (b) it worked out much, much cheaper - take the morning ferry from Port Denarau, which meant we got the incredible island welcome. Sure you can chopper in, or get your own boat, but it won't compare to the stunning welcome, (and goodbye) the team gives ferry arrivals & departures every morning. Things we did that worked out: - brought our own masks and flippers, snorkelling on an island in the middle of the pacific is a big part of why we came, so we made sure we had great gear - got great massages - found a secret beach... went kayak-snorkelling, put our gear on the back of kayaks and went looking for dive spots arounds the back of the island. Oh yeah, wow. - did a trip to Cloud 9 bar. Pricey, but super-fun. We didn't have young kids, but if we had, wow - they were having an absolute ball - wish we'd brought ours when they were young! Can't praise the staff enough for making us feel welcome. Just come, you'll understand.
tmprsns
WE WILL BE BACK!
Reviewed 3 january, 2022
What can I say... it is going to be very hard not to return here on our next trip to Fiji! An absolute paradise that continued to deliver magic each day from the moment we opened our eyes to when our heads hit the pillow. We were lucky enough to come to Castaway when the Australian Bula Bubble was announced. We took our 2 kids - 5 and 1 - and once we stepped foot on the sand, we knew we did not ever want to leave. The staff were phenomenal - welcoming, helpful, caring, friendly, and genuine. They took to our kids like their own. Mickey and the Kids Club crew were like no other. The kids never wanted to leave! We really did feel like we were welcomed in to a family. We spent the time we were there eating, dancing, laughing, swimming, sleeping... what better way to spend a holiday! You could swim in the clear tropical waters that was the perfect temperature (I need it like chicken soup!). The snorkelling was phenomenal - right in front of our beach bure I swam with clownfish and a stingray! My husband paddle boarded most days. There's an adults only pool with a swim up bar, and a kids pool with an over-head waterfall. Music filled the air from the musicians based in the main restaurant. The food was fabulous - we never got bored with the choices. I could go on and on... we were transported to a very special place where the rest of the world did not exist. And we were able to focus on the present, our children and having a good time! Something we have missed and not had the pleasure of in such a long time. What a way to re-ignite the soul! Thank you to Steven the GM and Castaway for the 'welcome home'... we will be back! BULA! x
Cazmichka