2 adults - 0 children - 1 room
Ece Saray Marina & Resort - Special Class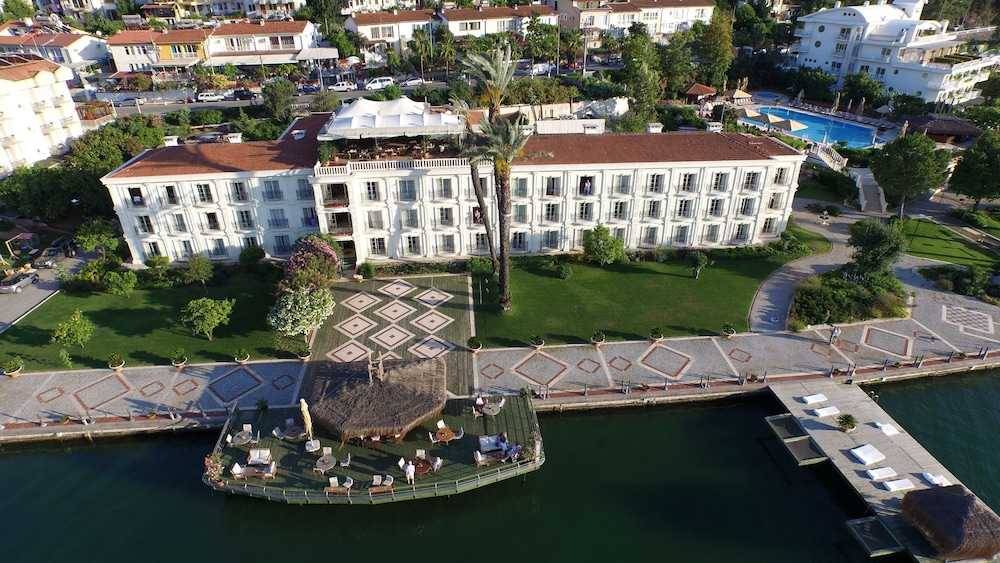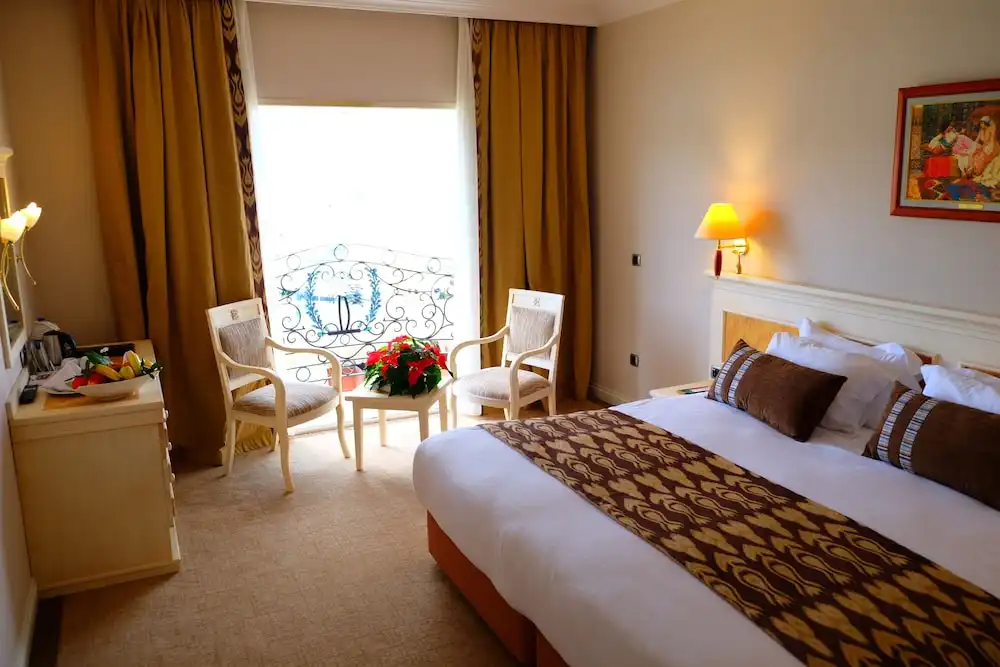 482 TripAdvisor Reviews
See all
According to guests, it's ideal for:
With a stay at Ece Saray Marina & Resort - Special Class in Fethiye, you'll be by the sea, within a 15-minute drive of Calis Beach and Fethiye Fish Market. This spa hotel is 9.5 mi (15.3 km) from Oludeniz Beach and 14 mi (22.6 km) from Butterfly Valley Beach.Make yourself at home in one of the 48 a...
More details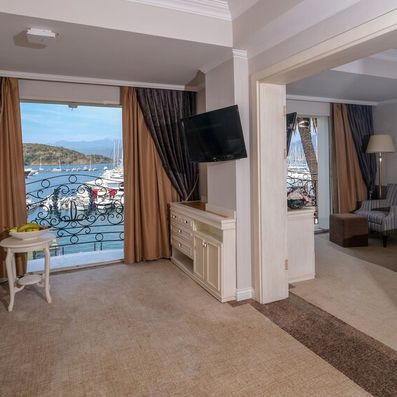 Suíte
1 Double Bed
495-sq-foot room, balcony with sea views
Internet - Free WiFi
Entertainm...
See more details
Cancellation Policy
Amenities in this room: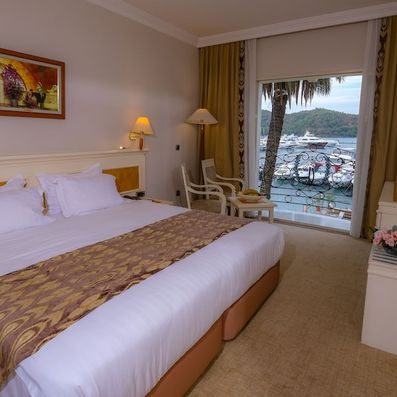 Quarto casal ou duplo standard
1 Double Bed
248-sq-foot room, balcony with sea views
Internet - Free WiFi
Entertainm...
See more details
Cancellation Policy
Amenities in this room:
Property Info
With a stay at Ece Saray Marina & Resort - Special Class in Fethiye, you'll be by the sea, within a 15-minute drive of Calis Beach and Fethiye Fish Market. This spa hotel is 9.5 mi (15.3 km) from Oludeniz Beach and 14 mi (22.6 km) from Butterfly Valley Beach.Make yourself at home in one of the 48 air-conditioned rooms featuring minibars and LCD televisions. Rooms have private balconies. Complimentary wireless Internet access keeps you connected, and satellite programming is available for your entertainment. Private bathrooms with showers feature complimentary toiletries and hair dryers.Satisf...
More details
Check-in starts at: 14:00
Check-out ends at: 12:00
Property Amenities
several
Sauna seca
Salas de reuniões
Wheelchair accessible (limitations may apply)
Banheiro acessível
Elevador
Business center
Café da manhã incluído
Cofre na recepção
Não acessível para cadeira de rodas
Café/chá em áreas comuns
Serviços de lavagem a seco/lavanderia
Free buffet breakfast
Número de bares/lounges: 1
Academias
Depósito de bagagens
Número de restaurantes: 1
Designated smoking areas
Lavanderia
Recepção 24 horas
Terraço
Wi-Fi grátis
Jardim
Library
Todos os dias
Turkish bath/Hammam
Spa de serviço completo
Children's pool
Serviços de spa no local
Bares à beira da piscina - 1
Traslado de/para o aeroporto (sobretaxa)
Marina no local
Number of outdoor pools - 2
Guest rating
TripAdvisor
Travelers rating
Excellent

301

Very Good

134

Good

25

Reasonable

13

Bad

9
Travelers profile
Business

28

Couples

278

Solo travel

10

Family

75

Friends getaway

41
Scores Summary
Cleanliness

Location

Rooms

Service

Sleep Quality

Value
Great Hotel, I would certainly return... But.....
Reviewed 11 may, 2022
We have stayed in Fethiye quite a few times, trying a few different hotels, but of late this place has been on my radar. In terms of appearance and location it is the premium option in town, every time I looked though the price was not attractive enough to tempt me. I'm not going to pretend that it was cheap this trip, but actually cheaper than my second choice so I'm going to try to convince myself that made it good value… The hotel looks like a stately home but actually was built in 2002. The faux Ottoman design disguises that this is a modern, well designed hotel. Most rooms (only 48 of them apparently) seem to face the hotels biggest asset which is the stunning view over the marina and sea beyond. The back of the hotel appears to be mainly devoted to the admin "stuff" – offices, meeting rooms, reception etc. Check in was painless. There is a single, rather small lift, the stairs are pretty shallow, but it might not be fun with luggage if that was to break down. Upon arrival our room had the brilliant views we expected. The room was a nice size without being exceptional. A "balcony", which is actually just a small ledge which houses the railing to make the full size patio doors safe to open. The TV has international channels (I turned it on for long enough to check), the mini bar has enough room for a few bits of your own to keep cold. The bed is a good size and firm enough to be comfortable. The pillows we had on arrival suited us, but there is a pillow menu in the room in case you want to change. Breakfast was from 7.30am until 10am as it was explained to us which struck me as a bit early for Turkish breakfast which tends to be a later more leisurely affair, but I forgot that this is Turkey – I would feel obliged to be gone by 10, Turks will happily arrive at 10.30 (Or later) and expect it to be open, which apparently it was. This is served at the terrace on top of the hotel – so arguably the best views. We were just before the summer season, arriving just before Eid (Bayram) yet the terrace was never too busy. Service is super attentive – possibly a bit too much, a few times I had a water or fruit juice glass I intended to refill, but before I got the chance it was gone, but all done with a smile. What was apparently once the standard buffet style breakfast is now behind glass and staff serve you – seemed a sensible Covid precaution versus other places we have stayed where repeated requests that guests wear masks were ignored. They were a little bit tight with the portions, but I could have gone back for more and never did – possibly I am a bit too generous as opposed to them being tight! The hotel lists 4 bars: -Tamarind – a 5 minute walk but fantastic. -Jetty bar – less than a minute away, but the staff seem to be covering various other areas, so quite hectic. -Reception bar & Pool bar – both shut. Potentially open in high season, but neither looked as if they had been open for a while. There is a large fish restaurant on site, just below the pool but this is now independent. I did wonder why a hotel with 48 rooms, therefore presumably approx 100 guests would need 4 bars, but it appears that the facilities are also open to the marina users, potentially multiplying the number of guests by a significant factor. Other positives, water pressure was fantastic in the shower, the cleaners (I only ever saw one) did a superb job and did I mention that the hotel both looks fantastic from the outside, and the view of the sea / marina is amazing. We were sat at the jetty bar when a giant turtle swam around to investigate. I was aware that there are nesting grounds on nearby beaches but that still surprised me. Unfortunately with the good is some bad. Learning that the building was 20 years old was not a huge surprise – maintenance had clearly been done well, our room had a shower that could only be a few years old and an LCD TV which was certainly not common in 2002 but the majority of it seemed tired. The colours of the décor were dated (I'm no interior designer, but even I understand some things), there were cigarette burns on the desk; where the shower had been replaced the tiles had been patched rather than replaced - so there were numerous holes and gaps filled with grout and the room generally looked tired. The Air conditioning didn't work. We had engineers up to look at it twice and they appear to have set it to recirculate the warm air – there may have been a minimal cooling effect, but that is me being generous. If you are hoping to whack the temperature down to 18 degrees and snuggle up under the duvet you will be disappointed. In early May this saw us a bit sticky and missing out on a great nights rest – in August I dread to imagine what it would be like. (I actually think that the thermostat in our room was faulty and/or it was switched off prior to high season). The third floor has probably got the best views – but if you are offered rooms 307-310, unless you are an exceptionally heavy sleeper, ask for an alternative. They are right under the breakfast terrace. I was awake at 6am every day as they shifted the tables and chairs ready for breakfast, and the first customers arrive an hour later and do the same. I have a great deal of respect for the staff at the hotel and the job they do, but I don't go on holiday to wake up this early. The wifi was OK – I hesitate to be too critical because in our first days it was pretty dreadful, but seemed to improve towards the end of our visit. Having to sign back in with your passport number was irritating. There was still no coverage whatsoever at the pool which these days is a big deal. I hadn't mentioned the pool until now – it's a decent size, mostly shallow and overly child focused, the sun loungers are very close together – not a problem when we visited, but at peak season likely to be claustrophobic. An attendant appeared occasionally but generally if you wanted a cover for your lounger or a towel it was self service – not a problem, but a sign would have been nice, having to rummage through cupboards felt like we were stealing. ` This comment is one I have wondered about the wisdom of writing – There are two Parrots in a (fair size) cage in reception – it appeared to me that they live in this cage pretty much full time. Parrots are intelligent animals, keeping them in a cage full time is not desirable. It is entirely possible that they are out of the cage at times I didn't pass through reception, hence my uncertainty about including this. Final observation – on one side of Ece Saray is Yacht Boheme (which we have stayed at a few times), this could do with a lick of paint but was renovated a few years ago, on the other side is the newly refurbished Yacht Classic which used to be very drab, but if it has been redone by the same people who "did" Yacht Boheme, could make Ece Saray look dated, which for such a fantastic building would be a shame. We had a great stay and when we next come to Fethiye, Ece Marina is certainly on the very short list of hotels I will look at and would be happy to stay here again – never under the breakfast terrace though!
boringgit
Nice Hotel to stay
Reviewed 20 november, 2021
Very good hotel at the Marina rooms has sea view rooms are big with french balcony, very clean and strong covid prosedure its very safe . Comfortable rooms nice breakfast room with sea view very friendly staff. A very good breakfast buffet with a rich choice of food and drinks. A realy good Hotel to stay.
Timucin D
Ece Saray hotel
Reviewed 5 october, 2021
Wonderful hotel , nothing is too much trouble, fantastic breakfast with great views of the harbour, the swimming pool and outside restaurants are top class 5star without question . All the staff are friendly and helpful it will be our first choice in the future.
Philip M
What a fab experience!
Reviewed 4 october, 2020
What a lovely hotel..a really comfortable room, with a fab view - overlooking the Marina, sea and land opposite. You would never tire of that view every morning. The breakfast was very enjoyable too. The staff were pleasant in reception, especially Deniz, who assisted us re emails prior to our arrival. We really enjoyed the Spa re our massage but the pool was the best experience. It quite a large pool and again the service of 'Hassain' at the pool bar and towel manager etc was exceptional! I would definitely recommend this hotel (Also the GIRIDA restaurant, next the hotel...this served exceptional sea food, with great and pleasant service, sat next to the water, feeding fish!).
Chrisbudgen
Excellent view
Reviewed 10 august, 2020
It's just amazing excellent view excellent service excellent food massive swimming pool very good location I would definitely come back to this hotel rooms are very big we stayed in a family suite room it was very clean. Family friendly spa is very good must try.
388sunau