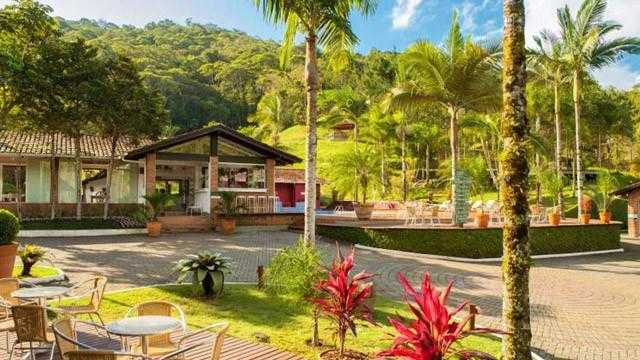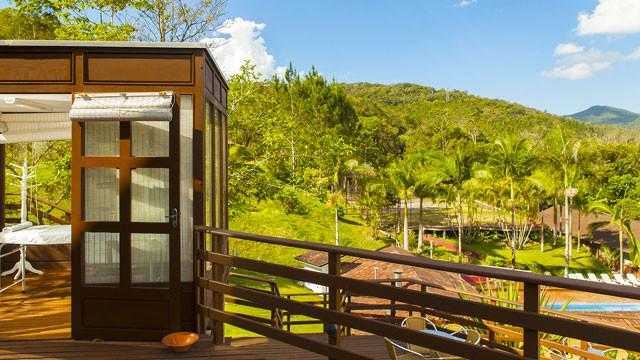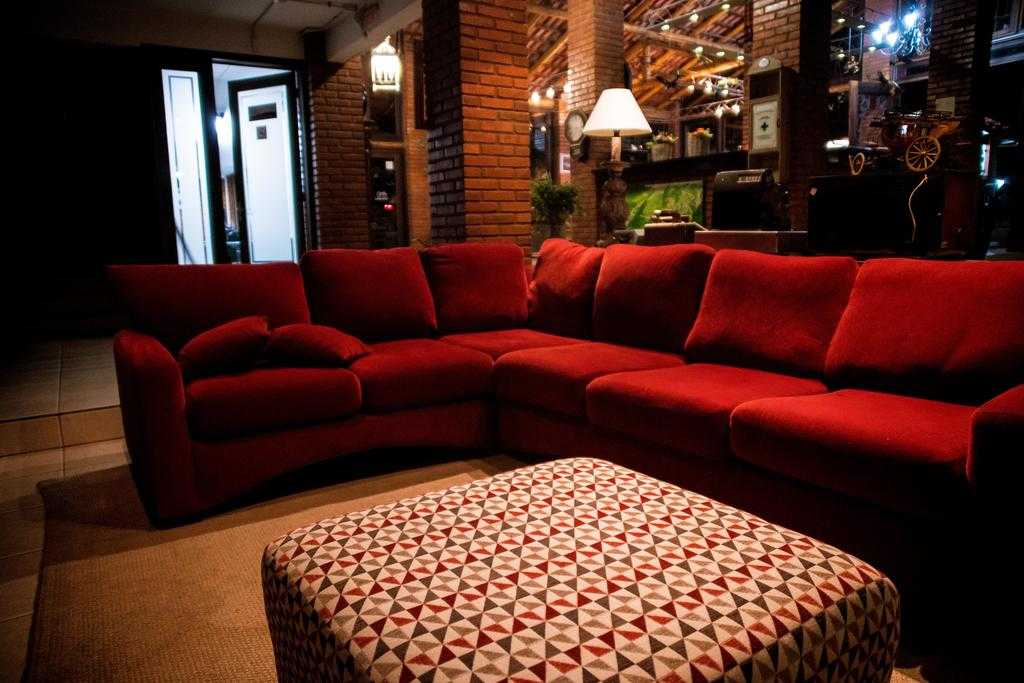 TripAdvisor Review
Based on 84 review
See all
Cercado pela Mata Atlântica, a Pousada Arraial do Ouro é onde você encontra diversão e descanso em plena harmonia. Trilhas com cachoeira, piscina, sauna, hidromassagem, fitness center, quadra de tênis, vôlei, futebol, sala de jogos, de leitura e TV – tudo faz parte de um espaço feito especialmente p...
More details
Availability
Select the date of your trip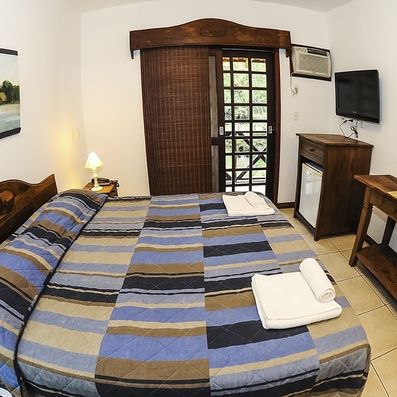 Apartamento Luxo Duplo
Double Luxury Apartment...
See more details
Cancellation Policy
Amenities in this room: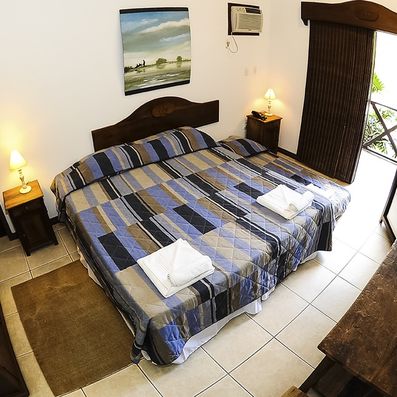 Apartamento Luxo Triplo
Triple Luxury Apartment...
See more details
Cancellation Policy
Amenities in this room: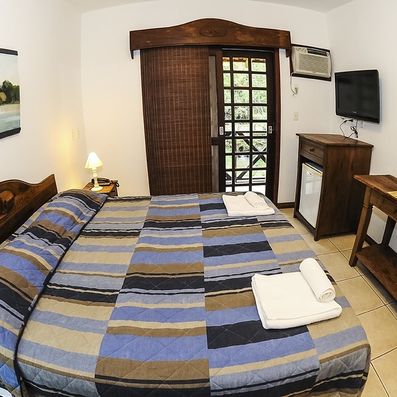 Apartamento Standard Duplo (Morada da Lua)
Standard Double Room (Moada da Lua)...
See more details
Cancellation Policy
Amenities in this room:
Max 2 adults
Max 1 child -
by 10 years
Property Info
Cercado pela Mata Atlântica, a Pousada Arraial do Ouro é onde você encontra diversão e descanso em plena harmonia. Trilhas com cachoeira, piscina, sauna, hidromassagem, fitness center, quadra de tênis, vôlei, futebol, sala de jogos, de leitura e TV – tudo faz parte de um espaço feito especialmente para quem quer relaxar o corpo e a alma e curtir a natureza. Em todos os detalhes você percebe que está num lugar especial, no meio-ambiente preservado, no atendimento cordial, na deliciosa gastronomia, na decoração que resgata histórias. Toda a estrutura da Pousada está integrada num projeto de pais...
More details
Check-in starts at: 15:00
Check-out ends at: 12:00
Property Amenities
Guest rating
TripAdvisor
Travelers rating
Excellent

26

Very Good

32

Good

10

Reasonable

10

Bad

6
Travelers profile
Business

4

Couples

21

Solo travel

1

Family

30

Friends getaway

12
Scores Summary
Cleanliness

Location

Rooms

Service

Sleep Quality

Value
Beautiful location, great swimming pools, lots of greenery. Upgrades needed.
Reviewed 13 april, 2020
LOCATION & ATTRACTIONS NEARBY *** Pousada Arraial do Ouro is located few kilometers away from Gaspar, on a pavement road away from the main road. Access is from both sides: Gaspar and Blumenau (I've done it during the night and it was fine). It's quite out of beaten track location (especially for international travelers), but if you're in the area and you have a car, it's definitely worth it. On the way you can see absolutely amazing green fields and forest and also picturesque river/stream. Quite nice for a quiet relaxing break. However, if you do not have a car, it might be difficult as you'd need to rely on taxis/uber from Gaspar (on check-out I gave a lift to one guy who stayed there, but could not get any transportation back to Gaspar for more than hour). There's plenty of complimentary, secure parking spaces. HOTEL OVERVIEW *** Pousada Arraial do Ouro itself has a bridge and a secured gate (buzzer & camera to enter when closed) and also some buildings are on the hill. Lovely location and it's surrounded by nature. Loved all colourful trees, greenery, birds and other animals in the area. The road (which was actually just outside of my balcony) did not bother me at all. Some of the parking spaces and rooms are on the hill, same as fancy glass & wood gym. The entire place looks really cool and it's fun for taking photos as well. I loved the fact that they had few friendly dogs in the property and they always come to me to play (and get some treats of course). All doggos were happy to accompany me when I was walking around the property. PURPOSE OF THIS TRIP *** Leisure RESERVATION *** Booked directly on their website as they had the best price. I booked Full Board rate (which I didn't notice, my fault). LENGTH OF MY STAY *** 1 night – Nov '19 CHECK-IN *** Easy and hassle-free even with me speaking very limited Portuguese. The rate I booked required a deposit (they have good options for payments in instalments, but it didn't work for me) and they could not confirm transaction on my card in advance. Luckily, they agreed for me to pay at check-in. Everything was perfect and I was able to use my card for it. Thank you. LOBBY & RECEPTION *** Loved it! Huge space filled with millions of collector's items: old plane models, writing machines, bottles and many many more. You could actually spend hours looking at this small hoard. But it all worked and looked well and it did not bother the elegance. It was fun. There's plenty of space and you can see everything. Reception is in the middle and you can see everything what's going on. ROOM *** I booked a standard double room - #22 (Apartamento Standard Duplo, Morada da Lua) and it was in the main building. As I didn't plan to stay long there, I did not go for any upgraded options. This room was located in the main building, facing the stream, gardens and the main gate/bridge. Sounds boring, but it was actually lovely room location. Room itself was OK, but I felt that with small changes it will improve standard massively. It was spacious enough, bright, clean. It was kind of old-looking, rustic, which was fine, but small details were not matching. With small changes it will give a more luxurious feeling (for example, some wooden door cover for the fridge – cheap and easy solution and it will change the style completely). Some bottled water and coffee/tea making kit (kettle) would be nice in the room (especially that the price isn't the lowest). Even so, would be worth adding it as extra to the room (which probably many guests would even pay in advance). Also, there is no lights switch near beds, only at the entrance. Very little of electric sockets, which we all need now for all chargers. Near bed, you can use one, but then you have to unplug your lights. Not ideal solution. The main door to the room and also doors to the bathroom were probably never cleaned. Once again, very easy (and should not be even mentioned) to do during daily cleaning process. BATHROOM *** Did not match the style at all. Pity, because it would be really easy as well to make it more stylish and for quite a low cost. It was clean however. I also did not like the quality of cosmetics they were providing (I'm not picky, but I had an impression they're the cheapest of the cheapest). BREAKFAST *** It was quite basic, but fair. They had some freshly baked tasty cakes and good, strong coffee, so I was very happy with it. SPORT *** Loved the swimming pool. It was cleaned, well maintained and with plenty of sun lounges, sun chairs and tables around. This is what I needed after busy and hot day. Pity the evening came and it became too cold to stay there. The bar is just next to it, so you can have some drinks or food (I had my late lunch/early dinner and it was really nice). There's small boxed gym with a view over the entire property. Nice idea and it looks very cool. INTERNET ACCESS *** Complimentary and easy to log-in. Wi-fi connection was stable. CHECK-OUT EXPERIENCE *** It was quick and efficient, but I thought there's some confusion with my bill (my restaurant bill wasn't added). As it looks, it was my fault, as I pre-booked Full Board option (and didn't even realize it even if they clearly say on the confirmation). My fault. But we manage to agree and they did not undercharge me. STAFF *** Professional, very helpful and natural. I really liked them and all of them were very friendly. OVERVIEW *** Lovely location with plenty things to do around. Not far from the main attractions, however car is required. Rooms stylish, but need some small changes and upgrades to be on top (easily done). Also, worth mentioning, rooms and corridors in the main building are very acoustic (you can hear people walking and entering their rooms). Would I stay there again? Yes, definitely. I will go this time with some upgraded rooms.
marqoos_pl
Muito bom
Reviewed 22 august, 2021
Muito bom hotel , as áreas comuns bem cuidadas é muito aconchegante , decoração linda , a área externa do hotel é maravilhosa . Custo x beneficio muito bom , as refeições são simples porém muito saborosas . Atendimento é maravilhoso . A única observação é para os aptos que são antigos , porem limpos , e com básico . Adorei e recomendo .
pattyslinhares
hospedagem em meio a natureza
Reviewed 23 march, 2021
muito bacana voce se hospedar junto a essa bela natureza, acordar com os cantos dos passaros e realmente incrivel, fazer as refeiçoes nessa linda vista, realmente e muito relaxante, e as caminhadas nas matas, sem comparaçao
Brisadomar123
Natureza exuberante, instalações limpas e funcionários super atenciosos
Reviewed 10 january, 2021
Estivemos em família no hotel e ele "entrega" muito mais do que parece. As instalações são como "fazenda", tudo que precisamos e muito limpo. A natureza é exuberante, você é acordado ao som dos pássaros. Porém o que mais chama a atenção é a equipe. Todos muito queridos e atenciosos, sempre com um sorriso no rosto e prontos para atender nossas solicitações. Preço justíssimo para o café da manhã, almoço e jantar servidos. Nota 10!
MarcelaHng
Caro pelo preço
Reviewed 3 january, 2021
O hotel nos forneceu um quarto para quatro pessoas sem capacidade para essa quantidade. Ficamos amontoados e eles não encontraram outra solução. No café da manhã, as comidas não foram sendo repostas, ou seja, quem chagava mais tarde pra comer encontrava a mesa com poucas opções. Nosso pacote de 3 dias era com pençao completa. Cobraram uma taxa de R$ 198, 00 no final da estadia pq no primeiro dia chegamos antes do check-in e almoçamos. Detalhe que fomos convidados e não sabíamos que pagariamos depois de ter pago caríssimo pelo pacote.
676mayaraf