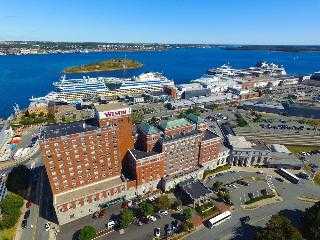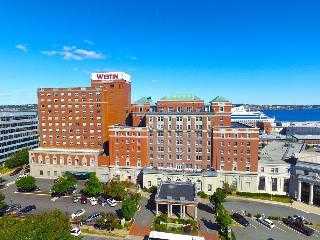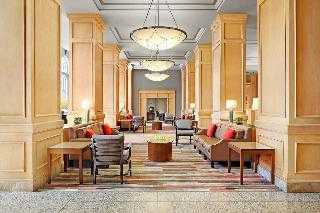 TripAdvisor Review
Based on 2135 review
See all
The Westin Nova Scotian is located in the Seaport District on beautiful Halifax Harbour, just steps away from the boardwalk, museums, and shopping, dining and entertainment venues. Each of the 310 spacious guestrooms offer the Heavenly Bed and Heavenly Bath, dual-line phones, voice mail, in-room saf...
More details
Availability
Select the date of your trip
Select the date of your trip to check room availability.
Property Info
The Westin Nova Scotian is located in the Seaport District on beautiful Halifax Harbour, just steps away from the boardwalk, museums, and shopping, dining and entertainment venues. Each of the 310 spacious guestrooms offer the Heavenly Bed and Heavenly Bath, dual-line phones, voice mail, in-room safe, high speed internet access (wired & wireless), Jack Pack connectivity, refreshment centre, windows that open, and in-room movies. The Westin also offers guests a fully equipped Westin Workout facility with indoor pool and hot tub, Sykea Salon Spa, full business centre and fabulous dining at Roy's...
More details
Check-in starts at: 15:00
Check-out ends at: 11:00
Property Amenities
Reception services
Concierge
Guest rating
TripAdvisor
Travelers rating
Excellent

807

Very Good

658

Good

381

Reasonable

184

Bad

105
Travelers profile
Business

531

Couples

770

Solo travel

126

Family

421

Friends getaway

147
Scores Summary
Cleanliness

Location

Rooms

Service

Sleep Quality

Value
Our "go to" in Halifax
Reviewed 21 november, 2021
We've stayed here a dozen times in the past half-decade. TripAdvisor prevents me from mentioning the other hotels and AirBnBs that we have used, but I've always found them wanting against this hotel. The location is ideal. The condition of the rooms improve each time we stay. The staff are just fine. I would strongly recommend booking a "Harbourview room". The extra dollars are worth it to take advantage of this hotel's fantastic location.
WestNovaJerk
Average hotel for above average price
Reviewed 8 october, 2021
We stayed at the Westin 24-25th September 2021. My wife had stayed here pre-Covid and had fond memories of the place. We had maybe overly high expectations and unfortunately those were not met. We arrived for a notified late check in at around 8:30 pm, hungry and tired after a lot of driving. The info sheet we got at the front desk advised us of a limited room service menu after 9pm. This wasn't the case. There was NO room service or food service in the bar. We did go into the bar (which was closing at 9pm) for a drink before closing. We were seated and then the one bartender on duty disappeared. After 5-6 minutes of no service we left. I did go to the desk but the staff there had difficulty understanding my version of English (I'm from the UK) and with the masks it was a difficult conversation. I do think front desk staff should have decent verbal communication skills and this was a constant theme with many staff less than proficient in English. I managed to get snacks etc. from the nearby supermarket before it closed at 10pm. The room was adequate if a bit dated. Not super clean but acceptable (not by my wife though!). The over riding theme on any deficiencies identified seems to be staffing issues due to Covid. While I sympathize, we were still paying pre-Covid rates. Below par service and accommodation should incur a meaningful discount. On the plus side we did room service breakfast both mornings. While not exactly a bargain at $50 plus , it was pretty good! I had the cod-fish cakes which were definitely as good as those served in any decent Halifax restaurant. As Covid protocols go, the lift/elevators are the Achilles heel of this hotel's efforts. Tough to police the lifts but several sports teams were in the hotel and they just jammed into the lobby elevators at will. The '2 per elevator' posted notice was universally ignored. We are all pretty sick of the Covid measures but the lack of proper protocols is worrying despite us being double jabbed. We won't be coming back to the Westin. We will pay the extra and stay at the Cambridge suites next time. I'd give this hotel a shade below 3 stars. Not quite 'poor' but barely average. There are better alternatives out there in the plus $200 category.
Chris C
It's seen better days
Reviewed 1 october, 2021
This used to be my favourite hotel in Halifax, circa 2007-2012. Unfortunately, this property is very much showing its age and legacy of essentially being a bunch of buildings haphazardly cobbled together, and is in desperate need of a complete top to bottom renovation. While the rooms have been updated in recent years with things like new carpets, wallpaper, and headboards, some things remain woefully out of date. The bland beige bathroom tiles are reminders of the 1980s, the grout and caulking dirty and stained, the paint trim on the bathroom and closet door frames chipped and peeling, the frosted elements of the bathroom mirror slowly disintegrating, and the toilet seat lid scratched and significantly worn. The hallway floors have weird bumps, lumps, joins, seams and general unevenness — evidence of where the various pieces of various additions have been poorly attached to each other. The supplied hair dryer seems like it was the cheapest thing Westin could buy in bulk from Walmart 15 years ago and has never been replaced since. I don't expect a $500 Dyson hair dryer in the room, but something that actually blows hot air with more force than a toaster oven would be nice. Although I enjoyed my previous stays here, even then the one weak point was having only two elevators for the whole building. With COVID restrictions limiting elevators to two people at a time, the wait for elevators was excruciatingly long. Luckily I'm able bodied and my room was on the fifth floor, so I didn't mind taking the stairs. But navigating the seemingly infinite number of stairwells in this building was not ideal. One day, wanting to leave my room and exit to the street, I went down the closest stairwell, only to find that once I got below the second floor there were multiple signs indicating that this exit was a fire exit only. At the ground floor, a notice was displayed that the fire alarm would sound if I exited through the door. So I had to work my way back up and find an alternate stairwell to just leave the building — which I still had to do by passing through a stairwell that exited to the lobby, even though I had no need to be in the lobby. The stairwells are a hideous shade of pink and dimly lit, and probably haven't been maintained in decades. Given the significant elevator limitations, serious attention should have been given to improving the state of the stairwells as soon as COVID became a problem. Additionally, during non-COVID times, I'd suggest this property needs triple the number of elevators to operate properly (six in total) and accommodate the large number of rooms and guests. My room was also perpetually damp. Yes, it was a humid summer, and yes, the hotel is at the seaport, but no amount of air conditioning was able to dehumidify the room. The sheets, the carpet, my bath towels — everything was damp all the time. Speaking of the A/C, it never shut off the entire time I was there. No matter what temperature I set the thermostat to, the A/C never achieved the set temperature and shut off — the fan and cold air was blowing constantly, 24/7, throughout my entire three day stay. The closet door stuck and had to be shoved hard to close. A very strong yank was required to open it. The light inside it was so dim it might as well have been a candle. The desk and desk chair are not suited for working on a laptop. Either the desk is too high or the chair too low (even at it's tallest setting) for typing on a keyboard with any sort of comfort. The chair, in fact, sunk down to it's shortest height mere seconds after setting it to its tallest height. All that said, there are still some good things: * Fridge in the room (though even its coldest setting was still only "mildly cold") * Good location. Right on the water next to the market, next to a gas station and Superstore, and within walking distance of everything. * Parking is easy and convenient behind the building, with a direct access hotel entrance. The parking rates were fair for the city. * Decent artificial lighting. The two lamps and one overhead light in the room were very bright, and the ringlight-style light embedded the bathroom mirror was good. Small windows though. * Ample outlets for plugging in all your devices * Nice park across the street that has been recently updated with a new playground and lighting
ryanstefan
Amazing experience
Reviewed 26 september, 2021
Had another wonderful weekend at the Westin. The new menu is amazing! Outstanding food. Even better service. Every staff member went out of their way to be helpful. We were very impressed. I recommend coming here even for just a meal and a cocktail when in town but nit staying here. Excellent, unique and creatice menus.
447petraa
poor service
Reviewed 25 september, 2021
This is the worst hotel I ever stayed at. No housekeeping service what so ever, even when requested a day before. On the third day when our room was not made up, the trash was not emptied and no fresh towels or face cloths, I phoned down and complained. I was told they would send someone up. when we returned from dinner, a bag with towels, toilet paper etc was just dumped outside of our door. I would never return to this hotel again.
M782YRkathyb