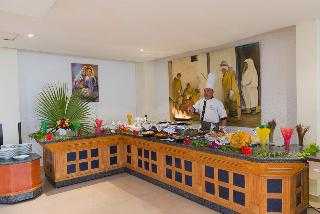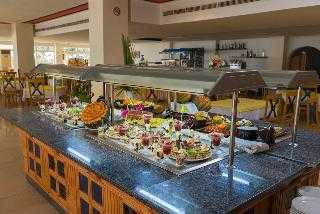 TripAdvisor Review
Based on 404 review
See all
This charming hotel boasts a strategic position, halfway between Nabeul and Hammamet tourist resorts in Tunisia. This beachfront hotel is located directly on a beautiful golden sandy beach and surrounded by a green garden, offering a true retreat for rest and relaxation while on holidays. The hotel ...
More details
Availability
Select the date of your trip
Select the date of your trip to check room availability.
Property Info
This charming hotel boasts a strategic position, halfway between Nabeul and Hammamet tourist resorts in Tunisia. This beachfront hotel is located directly on a beautiful golden sandy beach and surrounded by a green garden, offering a true retreat for rest and relaxation while on holidays. The hotel offers several types of accommodation, ranging from standard rooms to larger bungalows, all of them with a private bathroom, as well as heating and air- conditioning system. The property also offers a wide variety of services and facilities such as a big restaurant serving delicious dishes, several ...
More details
Check-in starts at: 15:00
Check-out ends at: 11:00
Property Amenities
Guest rating
TripAdvisor
Travelers rating
Excellent

108

Very Good

121

Good

47

Reasonable

47

Bad

81
Travelers profile
Business

18

Couples

94

Solo travel

25

Family

164

Friends getaway

73
Scores Summary
Cleanliness

Location

Rooms

Service

Sleep Quality

Value
Good but needs more improvement
Reviewed 1 march, 2021
3 days in the hotel was good. The food was delicious also the employees were welcomed and cheerful. There were sanitary protocols for covid Food was delicious but theres too much options Rooms good but not cleaned well Overall its not bad
104salimt
An overall good stay
Reviewed 1 march, 2021
The food was delicious The staff was very welcoming Maybe the rooms need to be more checked on for electricity, air conditioning and equipment problems for the stay to be perfect. Thank you for the great service.
ZaynebBA
Good
Reviewed 1 march, 2021
My visit was for a conference that the hotel was kind enough to let us organize. All sanitary protocols were respected. Great service, responsive staff, clean rooms. Thank you for your service and i advice you to go there.
798maryema
Great Hotel
Reviewed 1 march, 2021
I spent two nights in this hotel and they were amazing. People there are so friendly and cheerful. Rooms are good, clean and tidy. the food is so delicious. The conference room is also great. It's very good overall ♥
ghofranea339
Sana was A* the other hotel staff & hotel was F-
Reviewed 29 october, 2019
I will start with the positives. The rooms were clean and tidy. All rooms had a seating area or balcony outside. Sana from the animation team was excellent. She arrived a week into our holiday. She made a big effort with us. She usually runs the kids club but as there were very few children there she looked after us. Playing games, chatting etc. It was a pleasure to see her every day. We will be staying in touch with her. Now onto the rest of the holiday. We arrived at the hotel at 5am in the morning after a 6.5 hour flight delay. The hotel reception area was in complete darkness. The gentleman on reception was shocked to see us. After a good half hour we eventually were shown to our rooms. FOOD The food was either cold or just warm. There was a lack of choice on the buffet. The food was recycled from one meal time to the next. The Only dessert they did was cake which was the same day in day out. There were no snacks between meals. We paid for all inclusive abd it was full board with drinks included. We asked for omelettes which were undercooked. When my mother in law asked for chips she was told that she needed to order them the day before. We witnessed waiters picking up food from the buffet with their fingers and eating it. We witnessed staff drop food on the floor then pick it up and put it back into the buffet. One night we asked for pizza. The waiter went to get it. He spoke to the man making the the pizza who said they had stopped making it. The waiter then proceeded to take pizza from someone else's table and give it to us. He found this acceptable which to us it was not. The waiting staff were overbearing continually hovering over the table. They were unprofessional asking my husband to be about the size of his manhood. They openly told us about the sex life and how many times they had had sex the night before either with their wives/partners or with guests at the hotel. I personally found this unacceptable. One eveing I had to go and get something out of our room as I walked past one of the waiters who had been saying inappropriate things to us at the table he asked me if I wanted him to come to our room with me. I said no but this totally shocked me as I had given no indication that this was acceptable behaviour. Bar When we arrived we were told the bar was open from 8am to midnight. This was not always the case. Depending on the bar staff and managers depended on the time you were served from. There was a few occasions that we were told they did not serve to 10am. There were also occasions when they wouldn't serve me and told me to go back at 10am but then they would serve my husband to be. The bar staff openly told him that they were looking for English girlfriends so that they could come and live in the UK. They only place you could get bottled water from behind the bar. There was no other place you could get it. ANIMATION STAFF As I said before Sana was fantastic and we cannot fault her at all. One of the male animation staff continually asked us for cigarettes and continually went on about wanting to get out of Tunisia. He did t shirts which was a nice touch but 2 of the t shirts were wrong and it took him several days to sort them out. The t shirts were £10 a time. The manager of the animation team did not do much at all. The Only thing we saw him do was strut around. He did not do anything. I wish we could have his job. STAFF IN GENERAL My future mother in law was propositioned by several members of staff ranging from 18 to 60 both single and married. One of the managers asked her to lend him 120 dinars which was unacceptable. We didn't realise untill day 11 that the hotel had put us in the wrong rooms. We were in the cheapest rooms in the hotel but we should of been in the deluxe rooms. We had paid £450 extra when we booked the rooms for the upgrade. Even though we were moved on day 11 they hotel did not apologise and they did not reimburse us any money for the room. The lady on reception charged my mother in law £30 for changing her roon. She did nit give her a receipt. When my mother in law told us we immediately went to reception and they called her a liar and said the money she had given to the girl was a tip. This was not the case. They did give us the money back and we were told that the girl and the male member of staff on reception were sacked. This did not happen and they were still working there when we left the hotel. We paid for towels for the sunbeds up until we left the hotel. 2 days befire our departure we had a knock on the door demanding the towels back. We took the towels back. At this point nothing was said to us. Later in the day we were approached by another member of the reception team asking if we had got our money back for the towels. We said no and he told us we were due money back. The following morning we went to receptiona and the female member of staff who apparently had been sacked was there. She asked for our receipt for the towels which I gave her. She then looked us both in the eyes and said that that wasn't the correct receipt. She was shocked when we informed her that yes it was as we had had the receipt translated into English for us by another member of staff. She reluctantly gave us 20 dinars back. This should of been 24 dinars. I know its not much but when you add it up with all the guests going through there it would be a fortune. We also paid 60 dinars for a safe but we did not get any of this money returned. On top of this we paid for what they called a mini bar. Thus was a dirty fridge that they took to the rooms. What we then found out is that if you wanted any soft drinks to put in it you had to pay for them. The loft which is there nightclub is sublet to another company and you have to pay for it. During high season the hotel let out one of the pools and a bar area. This was noy open when we we're there. This area does parties, music foam parties etc but it all has to be paid for including the food and drink in that area BEACH I must say all in all it was nice although the bins on the beach were not emptied for 10 days. During the second week there was a storm and the amount of bottles, nappies, cans etc washed up along the coast was unbelievable. Further down the beach away from the hotel there were syringes on the beach. We also witnessed people with their dogs that were fowling on the beach away from the complex and the people did not clean up after the dog abd just kicked sand over it. This is not good if you have children. I know this was low season for the hotel but the hotel was supposed to be all inclusive and it wasn't. We found that most of the staff had a good understanding of English until you had a complaint then they could not understand you anymore.. We ended up having to buy snacks from outside the hotel and he had to eat put 3 times which is something we have never had to do before.
gaynor l