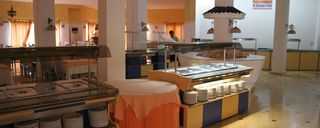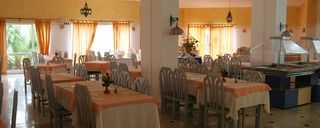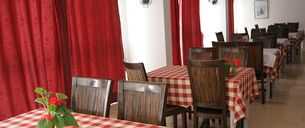 TripAdvisor Review
Based on 595 review
See all
The hotel is set in the famous resort area of Hammamet North. Only 200 metres from the magnificent sandy beach, it is conveniently located just 6 km from Hammamet and the centre of Nabeul. It also has convenient access to attractions, recreation and entertainment venues. The bus stop is within easy ...
More details
Availability
Select the date of your trip
Select the date of your trip to check room availability.
Property Info
The hotel is set in the famous resort area of Hammamet North. Only 200 metres from the magnificent sandy beach, it is conveniently located just 6 km from Hammamet and the centre of Nabeul. It also has convenient access to attractions, recreation and entertainment venues. The bus stop is within easy walking distance and Tunis-Carthage International Airport is approximately 75 km away. With its traditional architecture, this well-equipped hotel, located within verdant gardens, was renovated in 2010 and offers 135 rooms in a 4-storey building with a lift. Fully air-conditioned, it features many r...
More details
Check-in starts at: 15:00
Check-out ends at: 11:00
Property Amenities
Food & Beverage
restaurant
Non-smoking establishment
24 hour reception
Without elevators
Multilingual team
Take time to pamper yourself with a visit to the full-service spa. This pousada also features complimentary wireless Internet access, tour/ticket assistance, and barbecue grills.
Take in the views from a terrace and a garden and make use of amenities such as complimentary wireless Internet access. Additional amenities at this apartment include a picnic area and barbecue grills
Take time to pamper yourself with a visit to the full-service spa.
Relax on the private beach or enjoy other recreational amenities such as an indoor tennis court and a sauna. Additional features at this campground include complimentary wireless Internet access, tour
Take in the views from a garden and make use of amenities such as complimentary wireless Internet access and concierge services. This hotel also features babysitting/childcare and gift shops/newsstand
Guest rating
TripAdvisor
Travelers rating
Excellent

117

Very Good

183

Good

99

Reasonable

96

Bad

100
Travelers profile
Business

2

Couples

146

Solo travel

30

Family

197

Friends getaway

143
Scores Summary
Cleanliness

Location

Rooms

Service

Sleep Quality

Value
Don't go, look at all the recent reviews, they are true!!!!
Reviewed 22 march, 2020
Terrible, All inclusive "premium" is soft drinks only had to pay £150 extra to get upgrade to hotel, cash only and they were very reluctant to give a receipt. hurrah now i'm upgraded I go to the bar... no beer, this is a daily occurrence with lager being available for about an hour from the one solitary keg they buy for 400 people! All spirits, brandy vodka gin etc all come from the same bottle, interesting! Staff - Rude, full stop. Food- expression poisoning on a plate springs to mind, we eat out everyday it was safer. Rooms - we always maintain if you have clean sheets, towels and hot water you can't go to far wrong. shame this place didn't have the first two, and we actually kept our flipflops on to get into the shower. Complained to our holiday provider but they could not get through to the hotel to cancel our booking and move us somewhere else as the phone line was dead to the hotel. £200 of mobile phone calls to achieve nothing!!! We have been to this hotel about 5 years ago, it was amazing then, hence we went back, never again!
RUTH P
All inclusive is terrible
Reviewed 24 july, 2019
We are currently at this hotel. The hotel itself looks nice and the garden/pool area is lovely. The entertainment staff are nice and friendly. Some of the bar/food staff are friendly. The bad points are: 🔘 All inclusive, the beer is AI for around 1 hour per day from the small hut in the garden. They seem to get 2 kegs of beer per day which is serving probably around 400 guests so you are lucky to get 2 tiny plastic cups per day. If you want more than 2 tiny drinks you must pay at the Zenith Bar inside the hotel. (See my pics) 🔘 Food queues, you have to queue for at approx 20 mins in each queue. Ie; pizzas are freshly cooked and just serve 3 or 4 people. You get 20 people queuing up so it takes forever to get food. By the time you have got your chips from another 20 min queue (if there are any left) then your pizza will be cold. 🔘 Russians, the hotel is full of them. Some of the Russians think it's ok for them to push in front of everyone that is queuing and give abuse in their language when you try telling them to get to the back of the queue. (Not the hotels fault, but the staff don't seem to care about them pushing in. 🔘 night time entertainment isn't the best, but they do try to put on shows. 🔘 Bedroom, smallest room I have ever had on holiday. They are not very good standard. We have trouble sleeping because of the heat because the air con is too noisy to leave on during the night. Other than the above pints the holiday is ok. Would I come back ? If the food/drink situation was improved yes, otherwise no.
RayR247
do not go
Reviewed 11 november, 2018
on arrival you were meet by guards at the front on the hotel in the reception there were a lot of people waiting to check in we were told our rooms wasn't ready and were shown to the lounge bar to get a drink we waited about 15 mins at the bar when the bar tender came he said it was closed so we ended up going back to reception then the receptionist told us to go to the pool bar which we did we stood there for 10 mins before anyone new we were there then the bar tender told us no beer I thought omg what have we come to he was very rude and came across aggressive so we went back to reception were the manager came with us and said something to the bar tender who then gave us a drink.we then went to our rooms abit like a shabby block of flats very smelly and dirty had to ask for more towels as there was only 2 between 3.we went back down to the pool and was told by the bar tender they had run out if beer and to go over to the lounge bar were we had to pay we did this 5 days out of 7 allinclucive not a chance the only spirts they had was all out of 3 bottles a clear liquid which we witnessed being filled up every day with there local spirts and tap water the bars had all different spirt bottles but they were all empty and only there for show.The food well it was like a mass brawl if you were queuing which we did every meal time people would just jump in no manners at all loads of flies and ants crawling over the food wasn't hot no cutlery and no bowls my husband had rice pudding on a plate with a fork.After eating out for 5 days and paying for all our drinks we confronted the manager and he said he would compensate us when we got home but it was a lie I contacted travel republic and they said the hotel got back to them and said none of this happened please please read all the reviews before going.A few more points Albanians snorting cocaine round the pool and getting into arguments goats and sheep room pool drinking the water we had a dead cat the back of our sunbeds dirty pool area.
karonh1
Oh Dear - but we had a good time :)
Reviewed 8 september, 2018
This hotel itself leaver quite a lot (for us) to be desired. It is not a 3* AI that we, and most other people that have experienced 3* AI before are used to at all. I'm not sure it will be for quite some time. Were it not for the Animation team and some of the other staff then we would not have been able to enjoy ourselves so much. We were a family group with varying ages and we had a good holiday regardless and the animation team helped a lot. Positives - the staff (although they are very poorly treated by some of the management). There were constant games in and around the pool area and staff happy to chat and joke with you all the time - without being pushy or intrusive. That's about it for the positives! Negatives - rooms are shabby although not dirty as such. The cleaners do their best but do not have much to work with. ONLY THE POOL BAR IS ALL-INCLUSIVE! Go to any other bar and you have to pay. So if you are down in the theatre area you need to walk to the other side of the pool area to get an all inclusive drink, or pay. 5 days out of our 7 the AI bar had no beer until 5pm. All 'spirits' seem to be poured from the same bottle so not sure what that was about. The restaurant - food, cutlery, cups and coffee etc constantly run out. Whilst waiting for a spoon, having already waited for a soup bowl, an overworked waiter will arrive with just 3 spoons! The food is ok (unless you are vegetarian) and does vary slightly daily. We never starved and it wasn't so bad that we felt we needed to go out to eat. It was just hit and miss whether you would get what you wanted before it ran out or whether it would stay warm whilst you waited for cutlery to eat it with. The hotel as a whole is poorly decorated and badly maintained. None of this ruined our holiday. Some of it was a source of amusement - for instance watching a goat take two sheet for a run around the grounds each morning! As I say, we had a good holiday regardless. Would we go back? To Tunisia yes, to Zenith no probably not. Take it at face value, and enjoy your holiday.
Nanovate
Absolutely Awful - Worst Hotel Ever Stayed In
Reviewed 16 august, 2018
Rude receptionist on arrival - no air con in reception lobby - kept waiting for nearly 2 hours for our room even though we arrived at around 1.30 pm. Temperature of lobby at least 35 degrees! Finally got a room and needed re-rooming within 5 minutes - air con broken, tv broken, door handle broken, we had to wrestle with the door for ages to go down & make our complaint! No drinking water available for guests, any bottled water had to be bought from local shops. All inclusive drinks does not include the hotel bar even though we booked all inclusive with the hotel!!!! Hygiene - non-existent - toilets were hardly ever clean of other peoples diarrhoea, paper was rarely available unless you asked for it, floors were always wet & dirty. Food - we both had diarrhoea, my husband was on the toilet at least 4 or 5 times a night as well as frequent trips all day. We had to take toilet roll from our hotel room and keep it in our day bag as we could never find any when required! Tables when laid were dirty, tablecloths were dirty, cutlery plates etc - dirty! Cutlery, cups, bowls etc always in short supply and long queues were formed waiting for stocks to be replenished. Condiments - we spotted 3 salt shakers - dirty & full of rust on the chrome! Pool bar - ran out of beer on a daily basis, also ran out of lemon, coke & sprite! No ice was ever seen at this bar. One hot drinks machine there, never maintained, when we yet again had to ask for them to refill the milk powder my husband had to show them how to clean it as all the internal pipe and dispensers were blocked and congealed!!! I could go on but it would take all day ..... Plus points - Animation Team were amazing, they helped us retain our sanity and did their best to keep us amused.
Debbie T