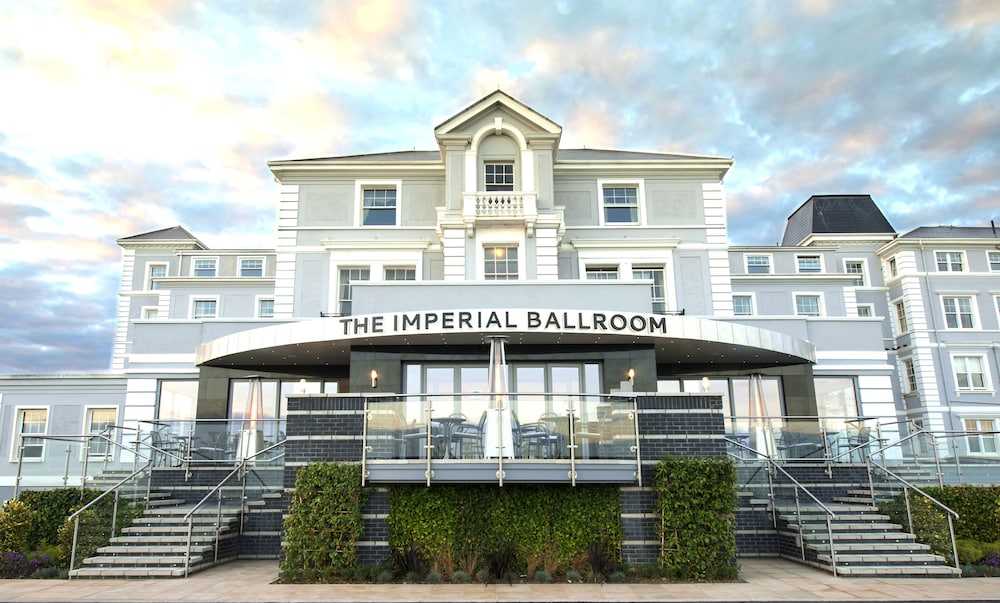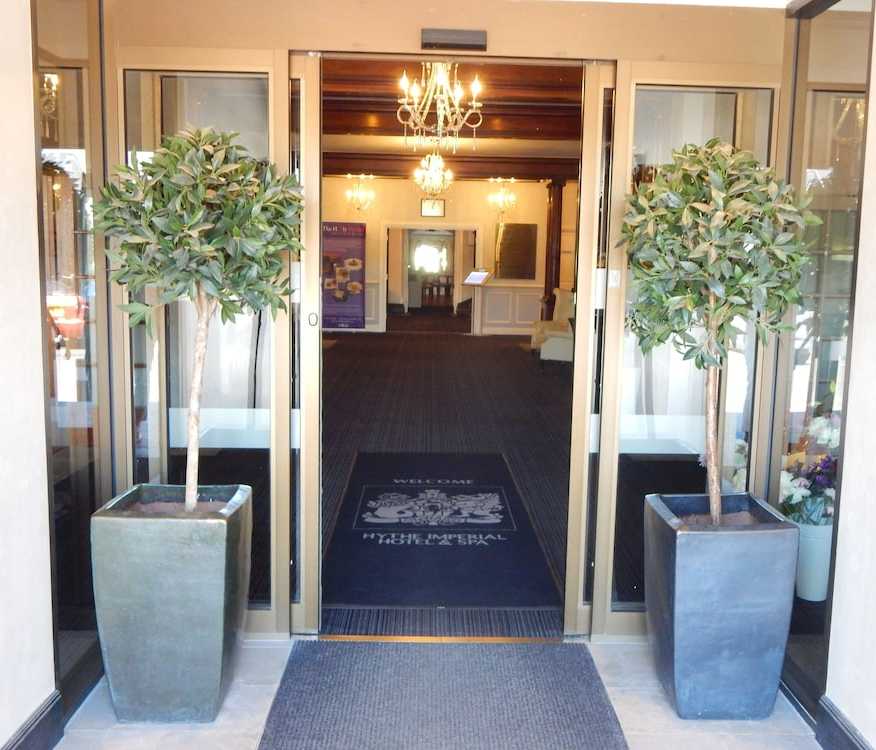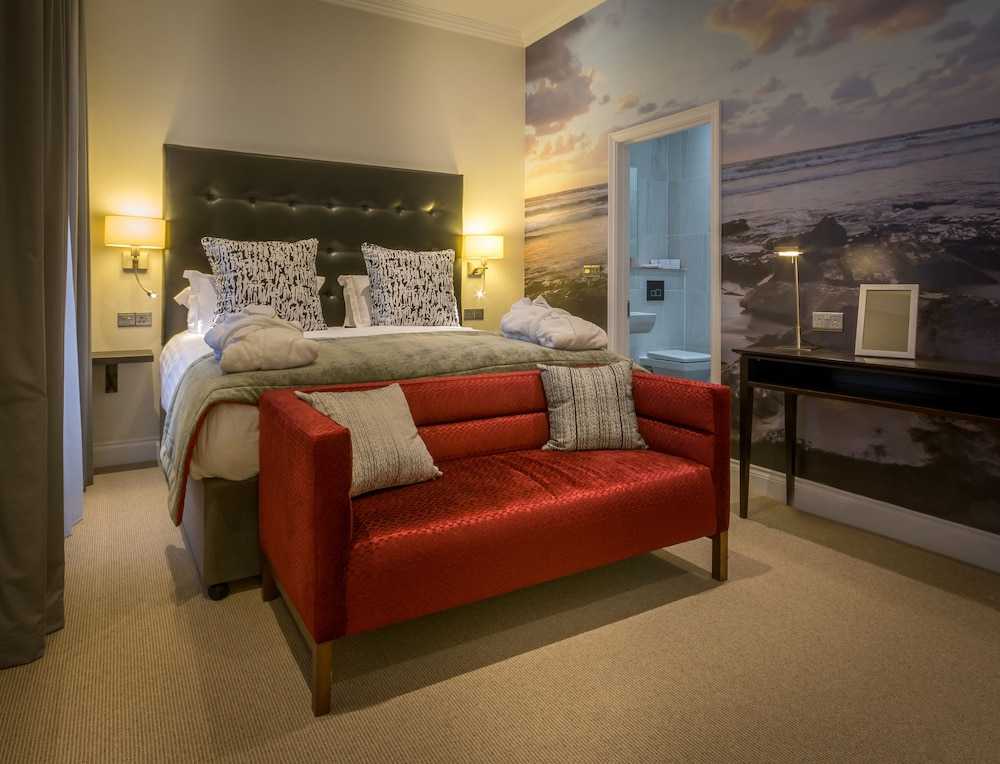 TripAdvisor Review
Based on 2586 review
See all
Enjoy stunning Victorian grandeur on the seafront in Hythe. Soak up the spectacular views of the Kent coastline and English Channel. The Hythe Imperial's enviable position puts it in close proximity to Dover Ferry Port, Eurostar, Ashford International and Canterbury. Rooms are individually designed,...
More details
Availability
Select the date of your trip
Select the date of your trip to check room availability.
Property Info
Enjoy stunning Victorian grandeur on the seafront in Hythe. Soak up the spectacular views of the Kent coastline and English Channel. The Hythe Imperial's enviable position puts it in close proximity to Dover Ferry Port, Eurostar, Ashford International and Canterbury. Rooms are individually designed, many with sea or golf course views and all with free Wi-Fi. Fresh fish and seafood features on the menu at the Coast Restaurant. Uniquely, the Hythe's leisure club, with heated indoor pool, offers a comprehensive fitness class timetable. Plus, there's an ESPA spa with a hot stone relaxation area an...
More details
Check-in starts at: 15:00
Check-out ends at: 11:00
Property Amenities
Business Facilities / Facilities
Meeting Rooms
Guest rating
TripAdvisor
Travelers rating
Excellent

839

Very Good

773

Good

485

Reasonable

262

Bad

226
Travelers profile
Business

164

Couples

1165

Solo travel

66

Family

561

Friends getaway

366
Scores Summary
Cleanliness

Location

Rooms

Service

Sleep Quality

Value
Disappointing
Reviewed 25 october, 2021
I booked this hotel with two months notice and on arrival we were told there was no reservation for us despite the fact we had a confirmation email! The receptionist was rather dismissive and almost didn't believe we had a reservation, despite showing the confirmation number etc. Nevertheless, we persisted and she went to speak to the manager. First impressions weren't great. We went and had a drink at the bar while we waited for the receptionist to resolve the issue. The bar itself was filthy, covered with used glasses and half eaten meals, which surprised me as there were two bar staff standing around chatting! If they can't look after a very visible part of the hotel, I only wonder what the rooms would be like! The receptionist came back over and told us that our reservation hasn't been logged on the system and that they can't give us the room that we had booked. They did however offer us an alternative room, but we declined. I'm sure this hotel can be made into something special as it is located in a brilliant position but lacks the grand experience you'd expect to have with such an impressive building.
JpW2211
Great location, friendly staff, but pool / spa needs work
Reviewed 25 october, 2021
The good: Family room was perfect for a short-break, 2 bedrooms with a sea-view. The Indian restaurant in the basement! the food was delicious. Decent buffet breakfast Staff were very friendly and attentive Room for improvement: The pool / spa area (including changing rooms) is in serious need of an upgrade. The pool itself was clean and we had a great time in it with the kids. The area with the spa, steam room and Sauna is actually really depressing, and needs a serious overhaul. Also not enough chairs / loungers in the pool area and the changing rooms were well below par for a "luxury" hotel.
Major1753
Honest review
Reviewed 21 october, 2021
I stayed here with my mum for a spa treat overnight , my mum has had a stroke and uses a mobility wheeled Walker , So this review is from the view of an abled bodied person and a disabled person Firstly the staff were all very friendly and helpful in all areas of the hotel So when we arrived we found a nice big car park but with only 5/6 disabled spaces , there was a choice of steps or a ramp into the hotel , The reception area was roomy and well lit The staff at the reception were helpful Unfortunately because of Covid check in is now 4-5 pm in the evening which after a lot of traveling or being disabled is not ideal. We went down to use the spa and we were advised to get changed in the powered room toilets upstairs as they had more room , which we did but found we would have had more privacy in the spa changing rooms than the toilets where all guests and staff were coming in and out for a four star hotel this didn't feel right being sent to a public toilet to change ! The spa staff again were helpful and friendly there are lockers which reception give the keys to you so no coins needed. The spa was super slippery ! I had trouble walking around let alone a disabled person ! I wish I had been told to bring flip flops as the slippers I was given made it worse ! The pool is a nice size and temperature however there are no railings to hold onto in the pool itself and it slopes up at the side so made it unuseable for my mum she could only sit on the steps of the pool , then to get out there was a big piller in the way of the steps and handle to get out which made it very difficult , the jacuzzi was just completely unaccessible for my mum , but for able bodied people the steam room , sauna and jacuzzi are nice and clean There was very limited places to put your belongings by the poolside there was three chairs which we managed to grab one just to put our towels and Robes on , thankfully it was not busy The shower and changing area in the spa were a bit dirty a lot of hair in the showers and on the floors , The one thing that really let the spa down is the fact that have opened up an Indian restaurant right next to the swimming pool and the treatment rooms so instead of having a relaxing ambience of aromatherapy oils and the associated smells you have with having a massage or your nails done et cetera it's just a super strong smell of curry which for a four-star hotel I found extremely disappointing. The treatment area itself is very nice again the staff were all lovely and very accommodating my mum had a manicure which she really enjoyed I had a facial and a back massage which again I really enjoyed the only thing that let it down was there was nowhere to get a drink downstairs , because I went with my mum and I needed to keep an eye on her we were in the treatment are for two hours in total, I couldn't get a coffee because I wasn't allowed to go and get one and bring one from upstairs , there was no drinks machine in the beauty therapy area nowhere to go and get a drink of water even although I was offered a glass of water at the end of my treatment but by that point I was gasping , It would make it a much nicer experience if they had a tea and coffee vending machine over water machine actually in the treatment area We had a disabled room It was lovely and big , Nice and clean with all the facilities you could want, there was robes , slippers , a fridge , a safe , TV , hairdryer , ironing board , tea and coffee , big comfy beds , windows that open , it had air-conditioning and heating and obviously a walk-in shower wet room as well. However the walking wet room was very slippery and the water flooded the whole thing there seemed to be a problem with the water draining away and this really let the room down , there is a seat in the shower but not really many handles to lift yourself up or hold onto if you're standing for a shower my mum found this very difficult, The toilet is also a rectangle shape which is very hard to sit on and Uncomfortable again for a disabled person, There with the red Pall cords in the room which my mum did accidentally pull one off thinking it was the light switch reception run within a couple of minutes to check that we was okay which was very reassuring , The restaurant was nice clean quiet well set out the waitresses and waiters were nice and friendly the food itself was a bit too fancy it would be nice to see some English classic food , it would've been much more enjoyable, Breakfast was a buffet style help yourself good selection of food every think you'd expect from a full English continental options toast fresh fruit yoghurts et cetera et cetera although the yoghurt's were very warm they needed to be in a bowl of ice like most hotels do instead they were just plonked in a bowl , everything was refilled regularly there was a choice of tea coffee fruit juices water We had to use the lift to get down to the spa found this very small only just fitted in my mum walker myself are now bags so avoid if you're claustrophobic We had a nice time but felt it was very rushed as it was a spa break because of the late check-in times we didn't get much time round the pool before having Our treatments before having to go back to our room to get sorted to go to dinner so I wouldn't recommend it on that basis, The curry smell by the spa really put me off Not being able to have a drink while we were having a treatment really spoilt that experience Although dinner and breakfast were lovely good size portions no complaints there whatsoever Some things that could improve the experience would be to be able to book in earlier to put extra handles in the wet room so it's easier for disabled people to supply drinks down in the spa to maybe tone the smell of the Indian down somehow it's such a shame it's there it would be so nice if there was just like a smoothie bar or something in the bottom of the hotel not a stinking restaurant I wouldn't go to use the swimming pool or have a spa treatment because of that. I felt like I was walking down a dirty High Street on a Saturday night This can't be nice if you are using the gum either To put a safety bar around the swimming pool like you do in public swimming baths and other private hotel swimming pools that I've been in To supply flip-flops instead of slippers that are absolute danger when you're walking around the spa area To put out more things to put your belongings on in the spa area I appreciate due to Covid a lot of lounges and things have been taken away but little tables that you can put things on or more places to hang things on so you don't have to put your dry towels on a soaking wet floor Make the swimming area safer for people in general Up the cleaning of the changing rooms Checkout is at 11 am so not even much chance to really use the pool in the morning either I've been to a lot of other hotels and midday is your check out even throughout Covid and that's a much nicer time for you to be able to enjoy the facilities of the hotel if you're only staying for one night Overall a nice hotel I felt it was expensive for what you actually got considering everything that I've stated , I stayed here seven years ago the day after my wedding I also came here seven years ago for my hen do and the hotel was so much better then, Unfortunately now I wouldn't go back again I think there's a lot nicer places to stay a lot nicer spas to go to which is a shame I feel for a 4 star hotel it really needs to improve
61jodip
Superb Stay!
Reviewed 20 october, 2021
Couldn't be happier with our stay at the Hythe Imperial. We visit once a year as we love Hythe, the beach, the walk down to Sandgate and the sunsets on the way back to the hotel. The room we were allocated(401) had a separate lounge, a bottle of fizzy and a birthday cake waiting for us. It also boasted a stunning sea view. We popped into town for a meal at Thailand Tom (delicious),, a pub stop on the way back followed by a G&T nightcap at the hotel bar. Sadly the Champagne bar was closed, maybe that was a good thing. The wife enjoyed a swim and spa in the morning and then we went straight to breakfast and then out for another stroll. Terrific value all round - can't recommend enough... Thanks to all the staff for making us feel so welcome. We'll be back again next year!
jryskowski1
40th Birthday Weekend
Reviewed 18 october, 2021
I booked The Ballroom for my 40th Birthday party and stayed overnight as well. Had such an amazing time. Rob was so friendly and helpful, nothing too much trouble. Young chap behind the bar was great and finally my Room was absolutely amazing too. Best weekend Ever. Thank you so much to an amazing team. Can't wait to go back again.
Miche V