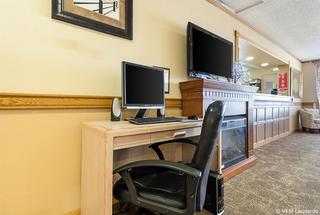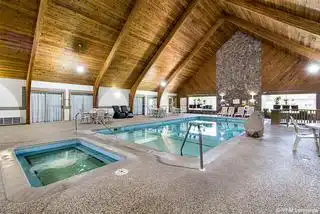 TripAdvisor Review
Based on 78 review
See all
The Econo Lodge hotel in Jackson, MN is an easy stop on the road. Our hotel is near attractions like Kilen Woods State Park, Lake Okoboji, Loon Lake Golf Club and Fort Belmont. Amenities include free Easy Starts continental breakfast, free WiFi, an indoor heated pool, a hot tub, sauna, access to cop...
More details
Availability
Select the date of your trip
Select the date of your trip to check room availability.
Property Info
The Econo Lodge hotel in Jackson, MN is an easy stop on the road. Our hotel is near attractions like Kilen Woods State Park, Lake Okoboji, Loon Lake Golf Club and Fort Belmont. Amenities include free Easy Starts continental breakfast, free WiFi, an indoor heated pool, a hot tub, sauna, access to copy and fax machines, a 250-person meeting room and more. Rooms include flat- screen TVs, coffee makers, hair dryers, irons and ironing boards. Also, earn rewards including free nights and gift cards with our Choice Privileges Rewards program.
Check-in starts at: 15:00
Check-out ends at: 11:00
Property Amenities
Guest rating
TripAdvisor
Travelers rating
Excellent

11

Very Good

11

Good

15

Reasonable

9

Bad

32
Travelers profile
Business

15

Couples

14

Solo travel

4

Family

25

Friends getaway

7
Scores Summary
Cleanliness

Location

Rooms

Service

Sleep Quality

Value
My friend book a room 9/4/21 for a girls night.
Reviewed 5 september, 2021
The front was furniture sitting out side, glass all over the parking lot. I got there first and the smell was horrible and the same in the room, The refrigerator was moldy and they had car air fresheners on the unit, The dresser and table was broking, Then looked at the pool and hot tub area and was tore apart. We to get ice and the ice machine was dirty. I waited till my friend got there to show her because she booked the room. She said no way we are staying here and asked for our money back and they would not give our money back.
679kristinar
SLEEP IN YOUR CAR..JUST NOT HERE!!!
Reviewed 23 july, 2021
Needed a room for a week. saw this room and the pictures online looked great. so, we booked it. WHAT A MISTAKE!!! went to the room, it looked like the beds were slept in. the door to the hall was missing the door knob. the lobby was filthy. the hotel smelled of mold. no breakfast due to covid. pool (as advertised) was roped off, broken windows. the (very rude) manager came and changed the sheets, explaining that someone was in there, did not want the room, and decided to leave. so, basically, i got a used room. i was so frustrated, we left. but, i decided i would get our money back. manager was very rude, said i had the wrong card (i didn't), said i could not get a receipt since i booked it on priceline and was just awful. a call to priceline remedied the issue, but she refused the refund on the 1st night. based on false advertising, she should have refunded the entirity of my stay. but, i'll take what i can get. we ended up in an air bnb and are fine, but please DO NOT STAY HERE. other people were getting refunds for the same reason while i was there.
949tylac
Do NOT stay here
Reviewed 20 july, 2021
We booked online sight unseen. When we arrived, we went in to view rooms before staying. This hotel is disgusting! The lobby smelled badly, the carpet was filthy at the front desk. The steakhouse had obviously been closed for years, the pool was not working, and the rooms were disgustingly dirty and smelly. I think Choice needs to send someone to check out this location. It does nothing for your Choice program. We stayed at many other Choice hotels that were wonderful on our trip. This one is BAD! We did not stay but went to the Super8 next door.
JoH080213
Nasty
Reviewed 20 july, 2021
We found this hotel on line. It advertised a pool, sauna, breakfast as well as a restaurant attached. The room was nasty; everything was unplugged & the owner's child was sent down to connect the TV. There was a small table but no chairs. There was a desk with no chair. The only chair was a stuffed chair in the corner with stains on it. The hall was filled with old furniture and used appliances. The pool was out of service and looked like it hadn't. been in use for years. The advertised pool was the reason we chose this hotel. This hotel should NOT be listed on line,,
marykW1110EQ
Run away. Sleep in your car before staying here
Reviewed 29 june, 2021
This is the most disgusting hotel I have ever stayed at. There aren't enough words to describe how horrible this place was. If it wasn't such a long driving day and we hadn't prepaid we would've turned around and walked out. Run away. Far far away. Ed~ in response to your response on your FB page. My husband and I stayed at the Econolodge in Jackson, MN on Saturday 6/26. We booked it late in the evening while on a roadtrip for a place to stay for the night so we can get some rest. Based on the pictures and some of the reviews, we went ahead through Priceline and reserved a 2 queen room, costing $142.99 after tax. We arrived at at 12:30 at night beat tired. When we pulled up we noticed the outside landscape in disarray, with broken bags of soil everywhere, and the awning torn from weather damage. Went inside, no attendant. Had to dial zero. The front desk area was also extremely messy. After about 20 ring finally someone answered, very irritated. She eventually came to check us in. She was rude, saying how she didn't think we were coming still because it was so late. Even though we booked about 3 hours prior. She was saying how the another hotel would drop us but since she already has our money (since it was prepay/non-refundable) she didn't care if we showed up or not. She was also in her pajamas. We got our room keys and left to grab our overnight bag. We followed her instructions to our room. Literally looked like we walked through a maintained storage area. The pool was obviously not working, with it yellow taped off and drained. The hallway looks like it hasn't been updated in about 40 years, with lots of wear. When we got to our room, needless to say we were shocked. The bathroom was dirty, the overhead light for the bathroom wired to a heat lamp with a dial, the chain on the door broken, car air fresheners hanging from lights and a Febreeze car freshener attached to the heating/cooling vent. The chair and lamp were broken and the room smelled of formaldehyde. We checked for bedbugs immediately and didn't see any. We were so exhausted we just decided to stay to be safe. When we woke up and examined the room better we found what looked like blood splatters on.the wall and holes in the ceiling. Nothing was plugged in and the TV didn't work. We didn't shower because of how dirty the bathroom was. When we left we saw a smoke detector hanging from ceiling with holes around it and missing ceiling tiles. My husband also went outside the back to put our bags away in our car and noticed that all the grass was torn and a possible vegetable garden planted. When we went to check out we again had to dial zero for the attendant and she wasn't going to come check us out, just said to leave the keys. We added it to the piles of 10 plus other envelopes that were also left, so obviously no one had been there for awhile. She said she wouldn't print me a receipt for the services because we booked through priceline. There was no breakfast offered (not like we would trust it) and the supposed restaurant next to was all shut down and the windows had blankets covering the windows. Everything about this hotel is the opposite of what is advertised. I was throughly disgusted. We have no problem paying money for a good room. We travel often and just was coming home from a 3800 mile roadtrip. This has completely turned us off of Choice Hotels. If this is what you put your brand on, then you have no standards. I will include pictures.
letsgobernie16