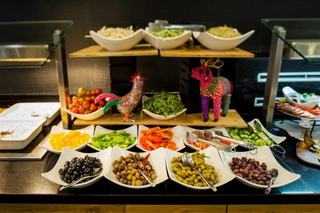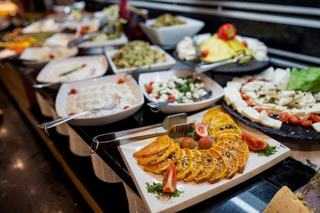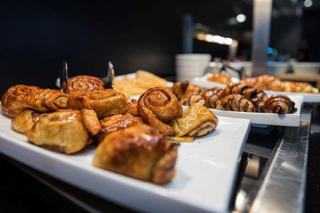 TripAdvisor Review
Based on 945 review
See all
If you are looking for an authentic vacation in Jerusalem, you need to pick your hotel carefully. The Eyal Hotel is located in Shamai St., which is just off Ben Yehuda St. The property has recently been renovated and this project has allowed for the implementation of advanced technologies in order t...
More details
Availability
Select the date of your trip
Select the date of your trip to check room availability.
Property Info
If you are looking for an authentic vacation in Jerusalem, you need to pick your hotel carefully. The Eyal Hotel is located in Shamai St., which is just off Ben Yehuda St. The property has recently been renovated and this project has allowed for the implementation of advanced technologies in order to ensure that the hotel will be environmentally friendly. The Eyal Hotel offers 68 newly refreshed rooms with modern amenities and perfectly-finished design. The hotel includes, among other facilities, sublevel guest parking (Subject to availability), event and dining halls, a spacious solarium with...
More details
Check-in starts at: 15:00
Check-out ends at: 11:00
Property Amenities
Reception services
Concierge
Guest rating
TripAdvisor
Travelers rating
Excellent

550

Very Good

272

Good

65

Reasonable

28

Bad

30
Travelers profile
Business

50

Couples

403

Solo travel

89

Family

198

Friends getaway

125
Scores Summary
Cleanliness

Location

Rooms

Service

Sleep Quality

Value
There was no buffet breakfast. Worst breakfast ever served , bought from outside. see photo.
Reviewed 4 september, 2021
we a couple stayed 1 night here, paid for buffet breakfast but We were so dissapointed by the breakfast we got. At checkin we were told breakfast at dining room between 7 to 10 am. when we went there dining room was closed and no breakfast. Reception said they forgot to tell us buffet breakfast was cancelled because of few guests in hotel. They ordered poor and worst breakfast we ever had. We had no option, either to stay hungry or eat what they give. NOT recommend to anybody.
Oody A
Terrible. An absulot shame! 10/10 will NOT reccomend
Reviewed 15 august, 2021
I gave this hotel 1 star but I wish I could give it a lower rating. The service me and my friend got from this hotel is a disgrace. We set a check in on a Saturday at 3 p.m. and booked a room for the night and a breakfast the next morning. That morning at 10:30 a.m. we got a call that they won't have a room available for us at the time we ordered, and we could check in around 9:30 p.m. They called us a few minutes with an alternative, to stay at a different hotel, Jerusalem Inn from the Smart Hotels chain that is 5 min away. We agreed. 3 hours later we get a call from Jerusalem Inn saying they don't serve breakfast and to get the breakfast we ordered we'll have to walk to Hotel Eyal to get it. Having no other choice, we agreed. About an hour after that call, we get another call from Jerusalem Inn telling us they don't have parking and we'll have to park at Hotel Eyal's parking, check in there and walk to Jerusalem Inn. As we arrived to Hotel Eyal that afternoon, we couldn't park at their parking lot. The gates were old, rusty, and opened just barely. Thank God I had a small car, so I managed to get through. In the middle of the descent there were two cars blocking the way and preventing me from going down. Again, thank God I had a small car, so I just barely managed to turn around, drive out of the parking lot and park on the street. When we walked into Hotel Eyel's lobby to check in the receptionist told us we have 3 options: 1. To go to Jerusalem Inn, rest there and at 9:30 p.m. go back the Hotel Eyal. 2. Stay at Jerusalem Inn for the night and come to Hotel Eyal the next morning for breakfast and check out. 3. Wait and check in at Hotel Eyal at 9:30 p.m. It's important to note that me and my friend only came to Jerusalem for a friend's birthday party that night. We hoped to have a quite & calm afternoon, to rest, shower and freshen-up before the party. The options given to us were ridicules and included a lot of hassle that won't let us have to quite and calmed afternoon we hoped for. Me and My friend thought about taking the second choice only so we could rest before the party. But, as we walked to Jerusalem Inn, we realized the distance between the two hotels might be short, but it includes walking through alleys we don't know and crossing light rail tracks. When we got to Jerusalem Inn, we saw it was completely empty, the lights were off and there were absolutely no employees and The straw that broke the camel's back was the fact that there was no elevator. At that point it was evening, we were tired and neither of the hotels did anything to try to make our stay feel welcome and wanted. We really feel as they got our money and that's all they care about. We ended up skipping the party and we just went home, tired and disappointed. We tried to talk to both the hotel and Booking and both said the other is responsible to give us our money back. We ended up getting 20€ from booking "out of the kindest of their heart", which isn't even close to what we paid. In a mail back I got from Smart Hotel, I was made aware, that apparently, at the very bottom of the page, in a very small font, it says that on Saturdays the check in is after Shabbat exit. I had to go back to the order and spend a few minutes specifically looking for that sentence. I would expect a proper customer service to notice a head of time a contradiction between the time a customer chose to check in on a Saturday and the fact that on Saturdays the check in is after Shabbat exit. The website shouldn't give the option the check in before Shabbat exit on a Saturday or the hotel should notice it a head of time and let the costumers know about it as soon as possible. If we knew about it a head of time, we would know to look for a different hotel or to plan our day accordingly. At the end we feel disappointed and cheated on. We got a crappy evening and nothing else. If you come to Jerusalem, I'm begging you, please, chose any other hotel. Not this one or any Smart Hotels hotel!
Netagal03
So bad and disappointing
Reviewed 8 august, 2021
The room was dirty! hairs in the shower, used and unclean cups. The room was very noisy and the view was directly into a construction site and full of drunks under the room at night. Very unpleasant area. In addition I forgot belongings in the room that was Were found by the hotel and then when I wanted to pick it up they "couldn't find it"!!!! and the service of the hotel management was horrible. They just kicked me off the stairs and cut off conversations in my face. The food was reasonable .. a very unfortunate experience overall. Recommend going to another hotel החדר היה מלוכלך- שיערות המקלחת, כוסות משומשות ולא נקיות. החדר היה מאוד רועש והנוף ישירות לתוך אתר בניה ומלא בשיכורים מתחת לחדר בלילה. איזור מאוד לא נעים. בנוסף המלון העלים לי חפצים מהחדר והשירות של הנהלת המלון היה מתחת לכל ביקורת. פשוט בעטו אותי מהמדרגות וניתקו לי שיחות בפרצוף. האוכל היה סביר.. חוויה מאוד מצערת בסהכ. ממליץ ללכת למלון אחר
708omerg
Great hotel excellent service in the best spot
Reviewed 1 may, 2021
We stayed for the weekend and were very pleased by the room and the service. The spot is perfect for hiking in the desert or enjoying the city. The staff made us comfortable with every request. The room was perfectly furnished and high tech for our needs and we got a view to the local animals, very exciting! We are planning on going back:)
Pathfinder671244
Good location
Reviewed 12 march, 2020
Very good location of the hotel, close to the Old Town. The staff at the reception was very helpful, we were allowed to check in early in the morning. The room was nice, beds very comfortable. Good breafast.
IlonaDD