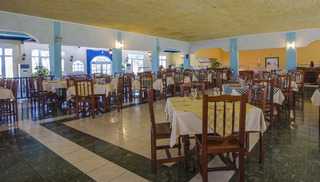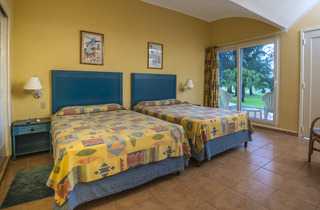 TripAdvisor Review
Based on 1403 review
See all
An hour¿s drive from both Havana and Varadero, the natural beauty here is the result of eons of Mother Nature¿s handiwork. The limestone-covered seabed offers good snorkeling and the forested rocky cliffs covered in pine and palm trees invite explorers. Here, nature¿s bounty abounds. Just 50 meters ...
More details
Availability
Select the date of your trip
Select the date of your trip to check room availability.
Property Info
An hour¿s drive from both Havana and Varadero, the natural beauty here is the result of eons of Mother Nature¿s handiwork. The limestone-covered seabed offers good snorkeling and the forested rocky cliffs covered in pine and palm trees invite explorers. Here, nature¿s bounty abounds. Just 50 meters offshore is a 3-kilometer long reef, reached by swimming or in a pedal boat (included). Reef shoes are recommended and take some snorkel gear to explore the underwater wonderland. The hotel has a diving center offering several off- shore dives. The beachside hotel complex is backed by picturesque cl...
More details
Check-in starts at: 15:00
Check-out ends at: 11:00
Property Amenities
Guest rating
TripAdvisor
Travelers rating
Excellent

264

Very Good

629

Good

340

Reasonable

105

Bad

65
Travelers profile
Business

6

Couples

563

Solo travel

122

Family

357

Friends getaway

224
Scores Summary
Cleanliness

Location

Rooms

Service

Sleep Quality

Value
The worst place in Cuba
Reviewed 26 november, 2021
WORST EXPERIENCE OF MY LIFE IN CUBA!!!!!! Worst hotel ever. People who works in are terrible and make u feel disgust. I'm never gonna try this place again. Terrible service, the check in was the worst experience of my life in Cuba. They doesn't deserve even a pay check and even left a tip.
sharoncH6864RC
beatiful place Noting to eat
Reviewed 7 january, 2021
J wos there for tre week about cristmas and for two week j prefer to pay an other hotel disgusted of the food J eat liver for une week , day and nigth ,the first days have some black beams to put on the rice , after just water of beams, the two first day have some donats at breakfast , after cut the donats et put in water and sugar I m a peaple that eat everytingh but is my first time i was disgusted to go to eat .the beach is fantastic and the worker perfect.I relly dont understand how the boss can make this in a so beatiful place
Sightsee582729
Great staff but too many locals
Reviewed 3 april, 2020
This was my second trip to this charming resort. The site is beautiful with a lot of trees and flowers. The jardeners work hard keeping things clean. My bungalow was clean, confortable and compared to last year I had hot water.The staff is amazing. The buffet is ok however not as nice as last year. The lack of getting goods reflects on the selection of food offered. The cooks do their best but many basic things were missing. We only had butter for breakfast, etc. The locals cut through lines and empty all of the fresh dishes before you can get to them. The buffet is slow and the food isn t always hot. Talking about the locals, last year the local families would come in for the weekend. However, this year they were everywhere and stayed much longer then just a couple of days. I m not against them joining us. The problem is that they were just impolite, loud, drunk, rude and with no manners.etc. This fact really bothered me since I was there to relax. The beach is beautiful and I was happy they changed the beach chairs. There are now many places to sit even in the shade. A great place for those who love snorkeling.The animation team did a good work organizing different activities. Much better then my last visit. There were also way to many stay animals in the site, the manager needs to do something about this. I saw a lady got attacked by a dog..Yikes! In general, this is a nice resort if you re travelling alone because it s easy to make new friends. I'm not sure I'll go back next spring because of the change in the clientele and because of the lack of basic food items.
ClaudineRus
What a place ...
Reviewed 21 march, 2020
We traveled & stayed at this resort during what was the early days of Covid 19 until the final days of repatriation & we didn't for a moment feel abandon by the people who worked at the resort or the AMAZING support we received from the Air Transat rep - Anne Marie. We were in constant contact with Anna, she put our worries at ease and assured us that our flight home would go as planned. Thank you Anne-Marie, to what extent you will never know. To ALL the workers on the resort; always a smile and a supportive word even when the uncertainty of our world was weighing heavily on their hearts and minds. Your strength and kindness should never be and will not be forgotten. When our world becomes more certain and our borders allow us to visit your beautiful Country again: The beach: lovely, clean and welcoming The food: As always ... it's Cuba & we don't come for the food. In saying that, they always had tasty baked goods and one could always find something to enjoy. The pool: well cared for & clean Pool bar & restaurant: the service was perfect, always a cold drink to be had and the most amazing Mojito this side of Havana! The lady that served us in the restaurant was always singing a tune and served us with a smile .. what more do you need? The grounds: impeccable - we have been to Cuba (4 & 4.5 star) and never have I see grounds so well cared for and tidy! Rooms: what you expect from a 3 star - basic but clean. The bungalows are a gem! You can open your door and sit on your porch and enjoy an ocean view and warm breeze. Overall: if your looking for fancy or high end, keep scrolling. If you want a great place to land, welcoming & clean surroundings...this is your place. *If you happen to come across a resort dog - she has black fur and looks like a very small black lab, take care of her, pleas. We fell in love with her & called her "Lola" please give her love and some food & water. We were heart broken to leave her, but we trust that when things pick up again ppl will be there to take care of her. We will be back too. Enjoy.
Nvrstopexploring
Very enjoyable experience
Reviewed 13 march, 2020
I've lived, worked & traveled extensively in numerous countries. This was my first trip to Cuba and my first "package vacation" experience. I went with a number of my siblings and we had a blast together. If you're looking for a 5 Star resort, Villa Tropico is not it. Having said that, you are not in a fish bowl, separated from the local people. In fact, numbers of Cuban families come on the week-end. Though not the most modern resort, the facilities are clean and the architecture has real character. The twin pools are a great social area. The beach area is very good and the reefs just off the beach offer real surprises. In spite of what I've heard about Cuba, the food during meal times, was good. And what can I say about the staff? Cubans are fantastic people. From reception, to the bar staff, our servers, our tour guides, the grounds staff...the people of Villa Tropico are the best reason of all. There is a very good reason why there are so many who return to Villa Tropico multiple times. I plan to return again sometime, as well :).
G7326JFrandyt