2 adults - 0 children - 1 room
Fives Hotel Johor Bahru City Centre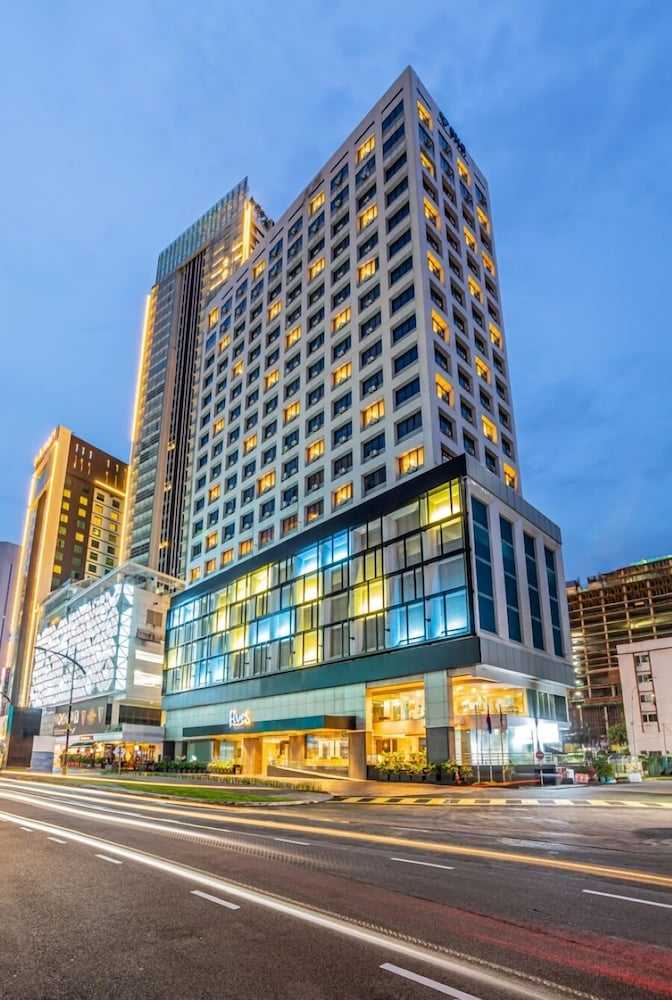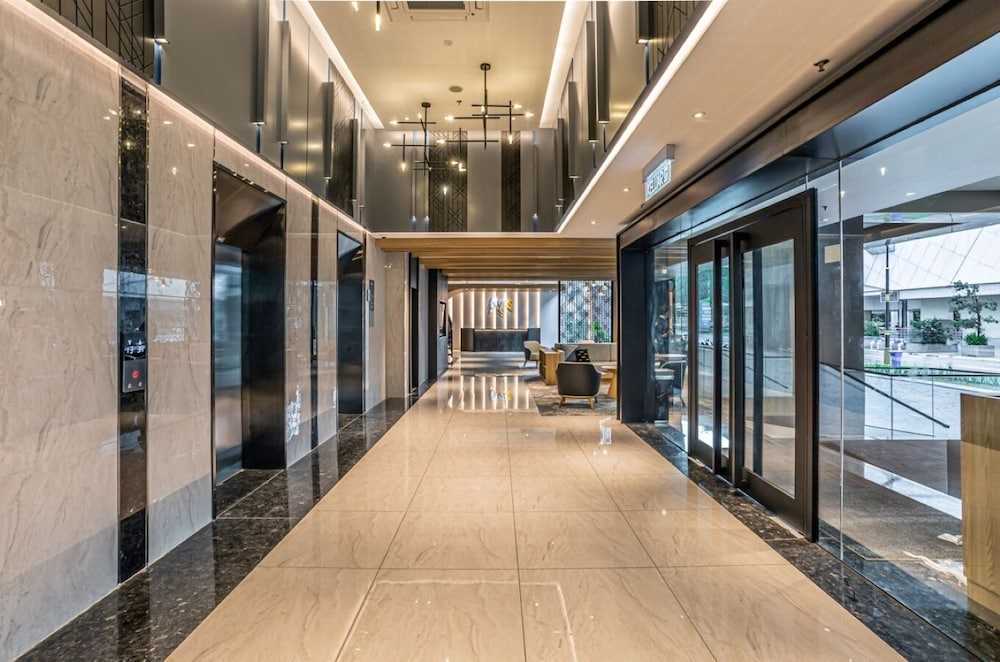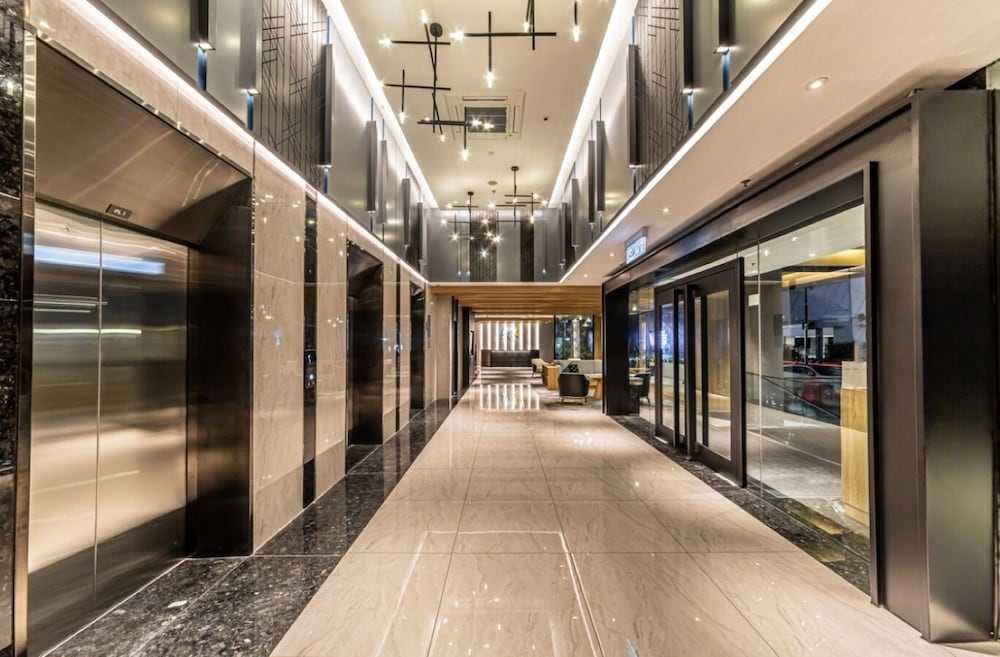 5 TripAdvisor Reviews
See all
According to guests, it's ideal for:
With a stay at Fives Hotel Johor Bahru City Centre, you'll be centrally located in Johor Bahru, a 2-minute drive from Johor Bahru City Square and 13 minutes from Paradigm Mall Johor Bahru. This hotel is 1.8 mi (2.9 km) from KSL City Mall and 4.1 mi (6.6 km) from Woodlands Checkpoint.Make yourself a...
More details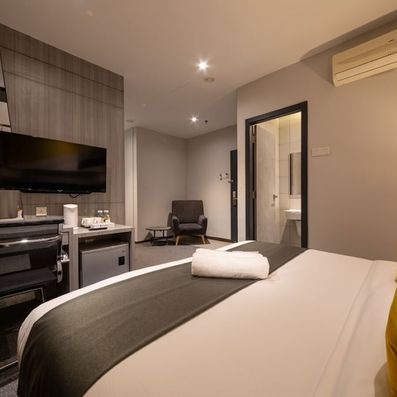 Suíte família
1 King Bed and 2 Twin Beds
303 sq feet, located on the top floor
Layout - Bedroom and sitting a...
See more details
Cancellation Policy
Amenities in this room:
Max 4 adults
Max 1 child -
Quarto casal luxo
1 King Bed
151 sq feet
Layout - Separate sitting area
Internet - Free WiFi 500+ Mb...
See more details
Cancellation Policy
Amenities in this room: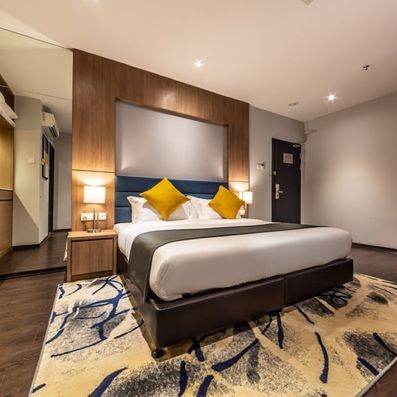 Quarto casal executivo
1 King Bed
255 sq feet
Layout - Separate sitting area
Internet - Free WiFi 500+ Mb...
See more details
Cancellation Policy
Amenities in this room:
Max 2 adults
Max 1 child -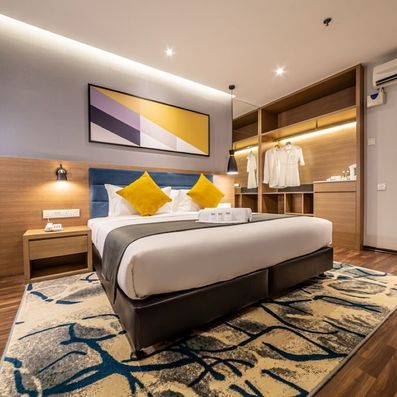 Suíte executiva
1 King Bed and 1 Large Twin Sofa Bed
422 sq feet
Layout - Bedroom, living room, and sitting are...
See more details
Cancellation Policy
Amenities in this room:
Max 2 adults
Max 1 child -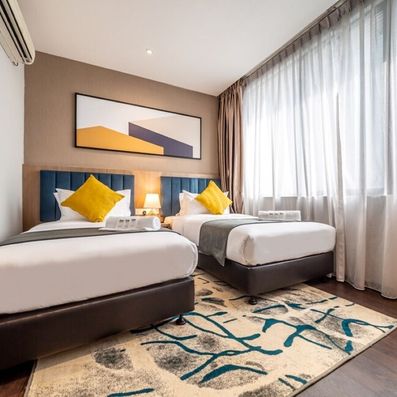 Quarto duplo luxo
2 Twin Beds
150 sq feet
Layout - Separate sitting area
Internet - Free WiFi 500+ M...
See more details
Cancellation Policy
Amenities in this room:
Max 2 adults
Max 1 child -
Property Info
With a stay at Fives Hotel Johor Bahru City Centre, you'll be centrally located in Johor Bahru, a 2-minute drive from Johor Bahru City Square and 13 minutes from Paradigm Mall Johor Bahru. This hotel is 1.8 mi (2.9 km) from KSL City Mall and 4.1 mi (6.6 km) from Woodlands Checkpoint.Make yourself at home in one of the 243 air-conditioned rooms featuring minibars and LED televisions. Your room comes with a memory foam bed. Complimentary wireless Internet access keeps you connected, and cable programming is available for your entertainment. Private bathrooms with showers feature complimentary t...
More details
Check-in starts at: 15:00
Check-out ends at: 12:00
Property Amenities
several
Wheelchair accessible (limitations may apply)
Elevador
Estabelecimento para não fumantes
Cofre na recepção
Wheelchair accessible parking
Balcão de recepção acessível para cadeira de rodas
Breakfast available (surcharge)
Acessível para cadeira de rodas (pode haver limitações)
Well-lit path to entrance
Depósito de bagagens
Número de restaurantes: 1
Lavanderia
Estacionamento grátis sem manobrista
Recepção 24 horas
Wi-Fi grátis
Estacionamento (vagas limitadas)
Rota acessível para cadeira de rodas
Business center/espaços para reunião acessíveis para cadeira de rodas
Estacionamento coberto
Cadeiras de rodas disponíveis no local
Guest rating
TripAdvisor
Travelers rating
Excellent

2

Very Good

1

Good

0

Reasonable

0

Bad

2
Travelers profile
Business

2

Couples

0

Solo travel

0

Family

0

Friends getaway

0
Scores Summary
Cleanliness

Rooms

Service

Sleep Quality

Value
The worst experience I had from a hotel in JB
Reviewed 20 may, 2022
I've checked in to Fives Hotel 15th of May for my business trip and stayed there for 5 days and 4 nights. Upon arrival at 5.30 pm for check-in I was told by the receptionist to wait for my room to be make up by housekeeping and she can't promise me how long must I wait. I ask her I need my room as soon as possible cause of driving from KL and she said that she still can't promise me. (5.30 pm room still not done yet!). I urged her to call the manager and she told me manager was upstairs. I ask her to call the manager down and she quickly go into the reception office. (Means the manager is nowhere to be seen at that time). Suddenly she said she upgraded my booking to family room with no extra charges. (I was alone and ask to stay in family room! What a good hospitality ethics by the hotel!!). Next day I have no problem staying there. By the third day when I came down to 6th floor for breakfast. I was told that my booking does not include breakfast. (I booked via agoda with breakfast for everyday and pay extra for breakfast!!). The man at the coffee house double confirm with reception and reception told that NO BREAKFAST FROM MY BOOKING!!! I show him my booking and he admit maybe there is a mistake from the system. (system make me ashamed to others guest at breakfast!!). He asked me not to worry and enjoy my breakfast and he will correct this matter personally. (A good employee, Hope he get the best employer in the near future). After I finish my business matters I back to the hotel about 3 pm and my room still not make up yet (even though I put PLEASE TIDY UP MY ROOM sign before I left my room at 7 am). So I take my choice to get some coffee at the mall in front of the hotel (because I don't enjoy my breakfast that morning) and back to my room at 7 pm, my room just tidy up PARTIALLY! cup that I used to drink coffee is not washed and garbage bin is not been emptied. The third day I still TRAUMATIZED FROM BOOKING WITHOUT BREAKFAST. So, I make my choice to take a light breakfast in my room. The last day I check-out early at 7 am. And ask the receptionist to clarify to me does my booking with breakfast or not? She said YES with breakfast. How come I go to the coffee house and inside the list don't have my room number for breakfast? I ask her don't apologize but ask the management and executives to look deeply in this matter (By the way still I don't see the manager in sight. Maybe he/she work as a grab driver in the morning. Who knows?!). For me this is the worst hotel for a stay. Majority of my experience is bad staying in this hotel. From my experience the best employee in this hotel is the man at the coffee house that assist me and the boys at the parking booth (they are very nice and humble people who need ATTENTION FROM THE LAZY MANAGER AND UNCOMPITENT EXECUTIVES IN HANDLING WORK ETHICS AMONG STAFFS). So, for this hotel if you read my review don't apologize to me. I had enough with this hotel even to hear the hotel name I still can't hear it.
keyfuns
Fives Hotel for Fantastic Service
Reviewed 19 may, 2022
Recommended room to stay: If anyone would like to stay on this property, kindly, proceed to make a reservation via the official website and choose Executive Room - King Size bed with Breakfast. The room is spacious and comfortable for the couple. I really like the room. Once again, thank you so much, everyone. See you in July 2022 for the forthcoming staycation! Take care. Regards, Dziauddin Mahamud. Room 1518 16th May 2022 - 18th May 2022
Dziauddin M
First Time Stay
Reviewed 15 may, 2022
Quite satisfactory with the pricing of 2N-stay. Left with not many choices as it was a last minute booking, hence gotten a twin bed room. It is a just-enough space room, with a good-spaced bathroom. Simple and yet suitable for a simple short stay-over experience. The online bookings for 2N-stay were split into 2 bookings. I was not aware that the first booking was payment over the counter; while the second booking had already been paid during the online booking time. Quite confused over a more competitive package. The bed and duvet are comfortable. Need to improve on the cleanliness of the flooring (with a carpet in the middle). Perhaps, a carpet might not be necessary for ease of a good cleaning. Toilet bowl needs a good scrub inside-out. I had told the Housekeeper to service my room at 2.30pm, however, she did not service, when we came back to the room. Duvet cover was stained with not-washable old blood stain upon check-in. However, it was found out only the next morning, when I would like to tidy up our beds. Make-up room and Do-Not-Disturb signage are not found in the room. Exhaust fan in the bathroom is quite noisy for the night. The toothbrush can be a better quality. The bath dispensers were empty. The front office staff were well-groom. However, abit disappointed when the front office staff did not understand what did toiletries and duvet cover meant. And the room was under my name during reservation, however, the second guest's name became the main occupier. I will try the breakfast for my next stay, as the breakfast hall looks beautiful.
SO_WSFS
Cleanliness need to be improved
Reviewed 3 march, 2022
i had book 2 night for executive room on 02/03/22 - 05/03/22 . i was an unpleasant experience after check in (around 5pm). I found the bed sheet and pillow cover is dirty and the carpet too. thus, i had call to receiptionist to make a complaint, they response will ask someone over, i was tired and keep waiting in the room without do anything. after around 10min, i called again to receiptionist they say will response me in a short while. and i keep waiting in the room…… i went to lobby and look for someone to response me after some time of waiting in the room. The manager had come to serve my problem. he follow me to my room and check for the matters i complaint, i request to cancel my booking and get the full refund, he offer me to view on others room first before decide and give him another 10min….. so i wait again! after the 10min, i go to view the others room which was just cleaned, unfortunetely to say that, the floor was dirty. so i reject to stay at this hotel. Hotel only agree to do a partilly refund for 1 night. The reason they given is i had already check in and stay there sometime…..I think this is so funny and ridiculuos. The stay ' time' they mention to agoda is the ' time' i keep waiting in the room! At the end i had decide to forfeit the fee and move to other hotel. No only the bed is dirty, the toilet bowl not flush well, under the bed have many rubbish hidden . the carpet is the worst hair and dirty stain on it.
ALSANG129
Excellent Stay But Tiny Room
Reviewed 15 february, 2022
Date : 12 Feb - 14 Feb 2022. Room : 1511. Location : The hotel is located right at the heart of JB, in Jalan Wong Ah Fook right opposite JBCC. There is only one way to stop by at this hotel, driver has to go thru city centre at Jalan WAF and it is on the left. Clearly signed and easily spotted. A taxi shouldnt have problem locating this hotel. Totally unbeatable location. Check In : Quick and swift. I prepaid using Trip.Com hence the process is smooth. The Indian lady doing my check in is super helpful. She explained clearly about the rules and regulations and also the deposit is just RM 50.00. The lobby area is spotless and shiny. The waiting area has a couple of cushy sofas. Facilities : There are parking provided. The road entrance signage is confusing, luckily I was driving the one way without anyone driving on the opposite direction. The way sliding up is so small, I bet 2 cars cant go side by side on the opposite direction. The turning is so sharp. The parking space is also too small. Of course it fits my car but I had to make myself thin to exit my car. Plus I was hoping no car crashed my car on the way down. Haha. Room : I booked for Deluxe King. The room is clean and smells nice. However, for such price, the room is particularly small. There are minimum space for me to move on my side of the bed and my partner to move around on his side of the bed. When I pull the chair to use the table to do my work, there are literally no space for someone to walk behind me. There are no wardrobe in the room. I have no idea if all the rooms dont have wardrobe, but I think you should put at least one wardrobe inside the room. The AC location should be changed. The AC in room 1511 basically shoot cold air directly our face. We have to sleep with the Ac around 27degree just to make sure our face isnt too dry of the cold air. Amenities are complete. And towels are fresh. Breakfast : The first day breakfast is just so-so. Guests were served with spicy nasi goreng kampung, lumpy yee mee, ayam masak merah, sausages, hard boiled eggs and popia. But the second day breakfast was perfect. Nasi Lemak, Mee Hoon Singapore, Kari Ayam and nuggets. The salad station is nice. And the porridge is sufficient. The area of breakfast is spacious and clean. Satisfactory ; I consider everything to be perfect except for the size of the room.
NizamMasood