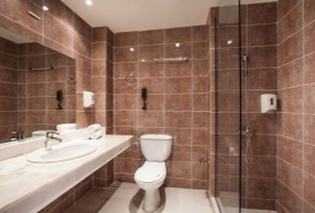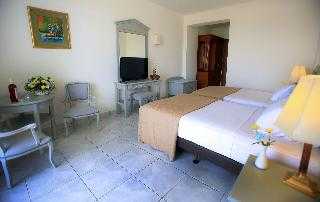 TripAdvisor Review
Based on 4656 review
See all
This resort is located right on Saint George's beach and just 10 m from Lefkimi beach. It lies just 200 m from Ag Georgios village and 30 km from Corfu town and Corfu Airport. Renovated in 2009, this apartment hotel is suitable for elderly and disabled guests and the whole resort enjoys a united, bo...
More details
Availability
Select the date of your trip
Select the date of your trip to check room availability.
Property Info
This resort is located right on Saint George's beach and just 10 m from Lefkimi beach. It lies just 200 m from Ag Georgios village and 30 km from Corfu town and Corfu Airport. Renovated in 2009, this apartment hotel is suitable for elderly and disabled guests and the whole resort enjoys a united, bonding atmosphere. Here guests can take advantage of facilities as a hairdressing salon, an open-air theatre, a games room and the younger visitors will enjoy letting off steam in the kid's club or the playground. The resort features 2 outdoor swimming pools with children's swimming area and a fully ...
More details
Check-in starts at: 15:00
Check-out ends at: 11:00
Property Amenities
Reception services
Concierge
Guest rating
TripAdvisor
Travelers rating
Excellent

1467

Very Good

1534

Good

886

Reasonable

433

Bad

336
Travelers profile
Business

9

Couples

1341

Solo travel

33

Family

2251

Friends getaway

406
Scores Summary
Cleanliness

Location

Rooms

Service

Sleep Quality

Value
Ms Nichola scorah
Reviewed 4 december, 2021
Great staff! Lovely food! Pools were great. Drinks were as you expect in all inclusive. Recommend taking a 20 min walk up the road towards linea cafe which is run by Harry and his coffee is amazing!! Well worth the walk! All round great stay! Rooms could do with upgrading... just changing the colour schemes would help massively. They are a bit drab. Overall thoroughly recommend 🙌🏻
Nichola S
Brilliant family holiday
Reviewed 7 november, 2021
This resort is huge!! It was our 2nd visit. It is definitely geared up for families, it's not for couples or young groups. All the activities are for all the family to join in. Great animation team, pool aerobics, darts, volleyball, quizzes etc. We had early morning strolls on the beach as we had to get up early to avoid ques in the restaurant for breakfast. Food was nice, all left with full bellies each night. Found some great bars and tavernas down the road too. Also used the shuttle bus outside to Corfu Town and that was a great day out. Room was spacious and clean. Staff very friendly and we found them really helpful as we needed an extra bed in our room, was not a problem at all. If I had one complaint it would be the main pool with the slides should be heated at certain times of year. The weather was lovely, we landed lucky but the pool was freezing and all the kids were shivering. We would defo return, we had a great time 😁
2Bernie6
Good but 3 stars at most. A little disappointed.
Reviewed 4 november, 2021
Well, that´s an enormous resort complex with hundreds of rooms in several buildings. There are some golf carts to help you with you lugagge (very handy) and the premises have pretty much everything you might need or want. However it is a family friendly property. Do not expect any kind of peace or relaxation. Kids yelling and running everywhere even in the hallways during nighttime and parents there apparently think others should have to agree with it. No peace at the pools or restaurants as well and in peak times expect queues anywhere, despite there are hundreds of seating. For 2 nights in a row they kept playing loud music in the ampitheatre up to 11PM. Very annoying and disrespectful. Well, food and beverage are really included in the price and I must assume everuthing I ate or drank was very good. The sunset time is a must, don´t miss it! The room itself is huge with plenty of space for your belongings and even in the bathroom 2 people can coexist without bumping each other. In my bathroom there were 2 sinks, very helpful. My shower was a disappoitment. One glass door was missing and they placed some nasty plastic curtain for your privacy but it doesn´t touch the ground so water spills everywhere. TV with plenty of intl channels and wifi works only in the rooms, do not expect wifi signal anywhere in public areas ans even in the room the speed is really low. Anyway, for a family it´s a great place bur for couples or a romantic getaway don´t consider. Very important: The property is far South Corfu island, around 45 mins driving so rent a car or book a shuttle service as the airport, ferry and Corfu downtown (Old City) are at North, close to the airport. A cab will cost you no less than 100 euros.
OrlandoJunior
Was a ok holiday
Reviewed 2 november, 2021
Not long been back from stay here. On arrival all okay we arrived at lunchtime check-in was nice and easy staff seemed friendly. Our first room wasn't far from reception. when we arrived in the room all seemed ok yes a little dated, needed upgrading but was happy we dropped off our belongings unpacked a few bits we noticed outside the balcony there was a hose pipe that was on and water was coming out didn't think anything of it we then headed out to look round the grounds and have a drink. When we arrived back To the room we noticed a really nasty smell we then opened the back door to the balcony again to realise that it was the water coming from the hosepipe the smell was horrendous, it made myself and son sick. My other half went to reception to ask to be moved as with two young children the room was awful they sleeping to be told they were fully booked and may not be able to move us we wasn't having this and stayed put until we were moved. They sent over some maintenance guys who said the problem was the water and they would switch it off however the smell was already in the room. They did manage to move us and the hotel staff helped us to move from our old room to our new room which looked just like first one, needs updating. luckily we did move when we did as a couple of hours later it rained so heavily so you can imagine what it would of been like the smell. The beds are so uncomfortable it is like sleeping on the floor. Our room was cleaned daily and fresh water left. The next couple of days the weather was awful there was nothing to do in the hotel but to stay in the room luckily we had cards. we got absolutely soaked walking to and from the restaurant for breakfast lunch and dinner. To buy ponchos or umbrellas or even a bag of crisps in the shop the prices were ridiculous. Such a shame there isn't indoor area big enough to cater for everyone to have entertainment on during the day/eve when there is poor weather. On the first evening of the rain we went to a bar upstairs above reception where they held mini disco this definitely is not big enough to hold the amount of guess that was. We normally go abroad in October and I've never seen such a busy resort ever. Apart from mini disco the basic entertainment after this is a quiz or some sort of Greek dancing! The second night of rain didn't go out as how busy it was put us off however our third night onwards we went back for mini disco for our youngest The music and dances are exactly the same towards the end of our holiday definitely was a little bit boring and went back to room straight away. If you're looking for a holiday with entertainment or activities to do during the daytime/eve this definitely isn't the hotel they do basic things like table tennis tournaments a little bit of workout that is it. We went out for a walk along the beacg as the hotel is right on top of the beach and that is about it there is nothing else apart from a few shops and a few pubs but most has been closed you are practically in the middle of nowhere. I can't grumble at the food as there is a great variety every day and it wasn't repeated, we especially like the Chinese night there is always a great selection to choose from plus your bulk standard staples such as chips and spag bol. Covid standards with the hotel very good you couldn't enter unless you had a mask on and gloves to dish up your own food every time there was a spillage or something was dropped they were straight on clearing it up. Yes dinner was crazy busy in the restaurant considering it was October when we stayed but we tried to change the time we attended dinner and towards the end of the week it definitely got a lot quieter. They definitely need a bigger hotel restaurant or two restaurants to dine in. We were told when we checked in that we could use the Al la carte restaurant Greek and Italian and we could book the morning we wanted to go so on the Wednesday we went to book to be told there was no availability to the Friday unfortunately this was the day we were leaving never got to experience the food there. Yes the pools are cold and not heated but that is October bad no indoor. the water signs were a great hit for our eldest. There are two snack bars it's a shame they only offer burger chips or hotdog as most of the hotels we have been to offer other things. you have to pay extra for cocktails and ice cream (apart from restaurant) We paid to go on the hotel train that goes out of resort and back round which was quite nice. The small amusement arcade was also a great hit with both of our kids however when it did rain there was not a chance of getting in there. Wasps and mosquitoes are a big problem here my other half has never ever been bitten when we've been abroad before however he was badly bitten from head to toe with almost 50 bites in total it's swelled quite badly when he went to see the hotel doctor he was told he would have to pay £50 upfront claim it back from our travel insurance and then travel insurance to pay up the rest sorry £50 plus the extra to see the doctor that is crazy. At the most I would give this hotel a 3 star. Just a shame as could be such a lovely hotel
Littlebrightsunshine
Very, very bog standard all inclusive.
Reviewed 30 october, 2021
Ok, first off, if you're expecting anything that resembles the pictures or the description of the hotel put out by tour companies, you're going to be bitterly disappointed. Lobby- The staff were friendly and always happy to help with any issues. Thats probably the best I can say about it. The lobby itself is in desperate need of a makeover. The furniture is worn and dirty and it isn't big enough to accommodate guests who don't wish to participate in the entertainment. We had one pretty bad day of weather and had to sit in our room as there was nowhere else under cover. Rooms- when we first arrived it was very late at night and the whole family were exhausted, we had think sheets and 2 blankets between 5 of us. I think when the staff are wearing coats and fleecesduring the day it surely must tell them that the Rooms need more than a thin sheet to sleep with. Especially as the rooms are extremely damp. We had to remove our things from the wardrobes and place them back in closes suitcases as when we were waking in the morning our clothes were actually damp. There were even damp watermarks on the pictures that were hung on the walls. The rooms are very tired, again, in need of a makeover. When someone had a shower the whole hotel room flooded. The smell of drains, especially in the children's room was absolutely awful. The shower was hanging off the wall, nobody had a hot shower all week and we had an ants nest. I'm not opposed to insects, but this was ridiculous. The pools- I can't complain about the pools. Yes, they were cold but we were well aware that they would be like this as it was the end of October. The lifeguards are great. They are on the ball with everything. The slides were enjoyed by the whole family. They also look really pretty at night. They do put barriers up around the pools at 6pm so they can't be used. I'm not sure if this happens during summer too, if so this would be a bit of a pain as the sun would still be really high during peak season. Snack bars- so, there's 2. Not sure if there's more in peak season but basically if you don't like burgers, hotdogs or chips then you will have to use the main restaurant. Main restaurant- I actually started to dread our evening meal every night. I have travelled to many all inclusive hotels from Greece to Turkey to the Caribbean to Egypt and in all the years I have never had such an unpleasant experience. Two of my children are teenagers and in the end I was having to go with them to get their food as there were adults pushing and shoving people out of the way to get to the food. It was chaos. Far, far too small for the size of the hotel, I actually dread to think what it would be like during the summer. The food wasn't too bad once you got to it but it was very samey. We ate out a couple of times to avoid the carnage which was lovely. Do try Panorama and the Sunset bar. Fabulous views, especially at sunset and the staff are brilliant. Bars- if you're ok having all your drinks in plastic party cups then crack on. But in my opinion this is not acceptable in a supposed 4* hotel. We stayed at the grecotel daphnila bay in corfu 2 years ago which is rated the same but its in a completely different league to sandy beach. We did a wonderful trip to the blue lagoon and paxos with kostas tours which is absolutely amazing. It was definitely the highlight of our holiday. To conclude, we got a really cheap deal for the week, so we just got on with it and enjoyed the sunshine and the beach (which is lovely). Looking on the Facebook group for this hotel I think many people felt felt same. Someone even had a rat trying to get into their room the day after we left. Would we return? Absolutely not in this lifetime.
817AngelaB817