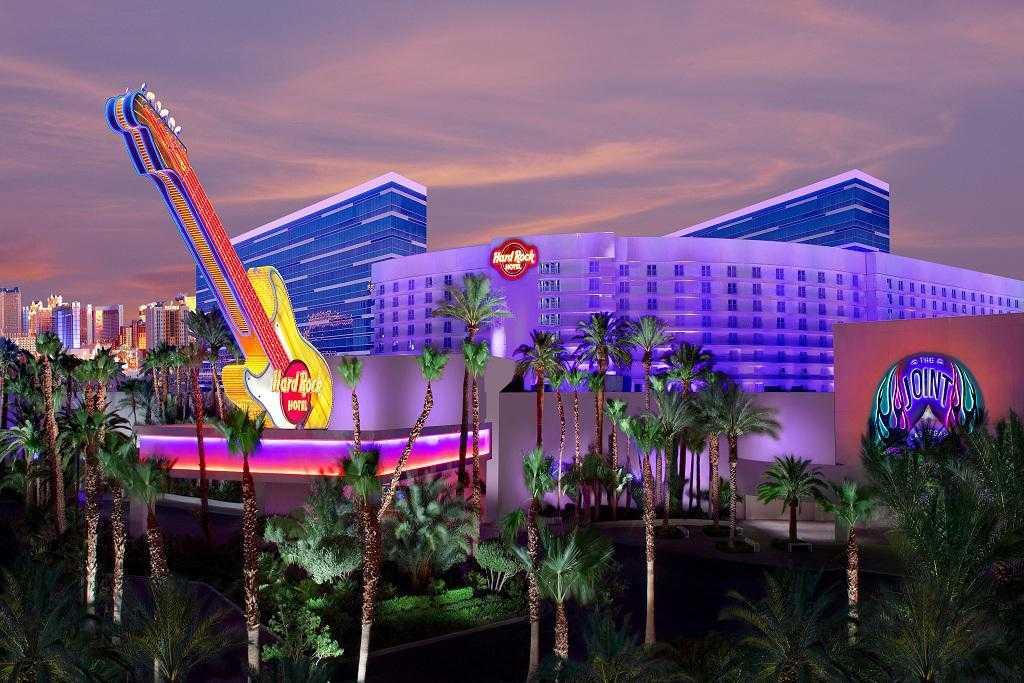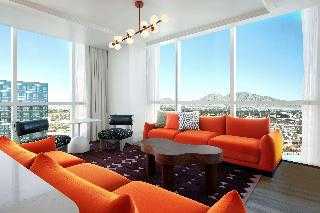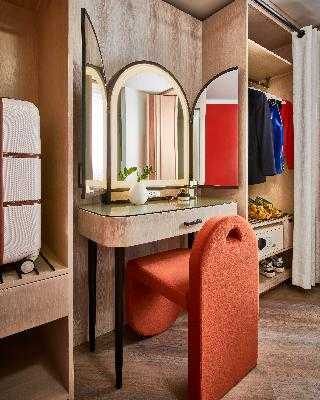 TripAdvisor Review
Based on 197 review
See all
Virgin Hotels Las Vegas is bringing the party to Vegas – a fresh destination catered to the curious. If you crave an experience served straight up, filled with fanciful perks, and good times, the time has come to cross it off your bucket list. Heartfelt delights meet seductive style at the charismat...
More details
Availability
Select the date of your trip
Select the date of your trip to check room availability.
Property Info
Virgin Hotels Las Vegas is bringing the party to Vegas – a fresh destination catered to the curious. If you crave an experience served straight up, filled with fanciful perks, and good times, the time has come to cross it off your bucket list. Heartfelt delights meet seductive style at the charismatic Virgin Hotels where Everyone Leaves Feeling Better. Step inside our hotels and find your new favorite space—where the doors are never closed and the minds are always open. These captivating lifestyle hotels are all you'll ever need with the best restaurants, bars and lounges so work and play are ...
More details
Check-in starts at: 14:00
Check-out ends at: 11:00
Property Amenities
Reception services
Concierge
Business Facilities / Facilities
Business Center
Balcony
Guatemaltequa
Protective screen or physical barriers in appropriate areas
Restaurants
All local calls
Guest rating
TripAdvisor
Travelers rating
Excellent

75

Very Good

39

Good

37

Reasonable

20

Bad

28
Travelers profile
Business

30

Couples

32

Solo travel

7

Family

21

Friends getaway

11
Scores Summary
Cleanliness

Location

Rooms

Service

Sleep Quality

Value
Nice updated hotel off the strip
Reviewed 28 november, 2021
Nice hotel just off the strip. The rooms are updated and are very comfortable. Bath is very nice and the bed is comfortable. Couldn't figure out how to use the rainfall shower feature. Besides that it was a nice stay. I would come back to this hotel if I return to Las Vegas.
JGCRUISE
A Few Issues
Reviewed 28 november, 2021
This was our second stay as we were there in late April, but I never wrote a review. We arrived just after noon and were given a room immediately. We got a great rate, under $100 a night on average, including tax, for King Chamber but were upgraded to a Ruby Tower King 1 Bedroom Suite due to our Hilton Diamond status. We were only on the 4th floor but no problem since it was quiet except the last day when someone left their dog in the adjoining (connecting) room, and it barked for over a half hour non-stop. It was quiet at night (or we slept through it with our CPAP machines?). We received the same upgrade in April. My room pictures that I am posting are from April since I didn't take any room pictures this time since same layout. Everything was clean and fresh. I really enjoyed the bathroom with huge tub and separate shower plus private toilet room. There were two back to back TVs with separate, but very sensitive, remote controls, which were sometimes difficult to get the TV on as wished, but they worked eventually. There were 2 charging pads, but only use them for the remote controls. Last time, it fried the battery in my other half's cell phone so he had to replace his phone. I didn't realize that this was the cause and almost ruined mine the first day-it was very hot after charging overnight and then I was reminded and only used my cord afterwards to charge??? There was a mini-bar fridge which was too full for any of our stuff. The prices may be street prices for the mini-bar, but that still is overpriced in my opinion. My only issue was housekeeping. We were there 5 nights so we left the green "housekeeping requested" light on the first day and returned 5 hours later to an uncleaned room. I went down to the desk in our part of the hotel and was told it had to be requested. We weren't told this at check-in. I found a guy cleaning room about 8-10 rooms away, and he stopped what he was doing in the unoccupied room and cleaned ours in less than a half hour. The next day, I made a request as we were leaving and returned to a clean room. The 3rd day, there was a line at the desk so I asked the concierge at the next desk and was told it would be done right away. Over 6 hours later on our return, nothing had been done so I went down to the desk, received an apology and a room credit. The housekeeper came about 30 minutes later, and we told her we just needed clean towels and more bathroom supplies. She was a whirlwind and actually cleaned the bathroom. The last full day, I found 2 housekeepers on the floor and didn't bother with the people at the desk. One said it was her assigned room. Although she didn't leave us as many towels or bathroom amenities, she did clean the room so when we returned after our "huge" Thanksgiving dinner at the Garden Court at Main Street Station for only $31 a person, we found a cleaned room. The bed was very comfortable, but the 2 pillows on each side were huge. 1 was not enough and 2 were too much. They need a smaller pillow to go along with the huge one! We had a table with 2 chairs in the living room part of the room so we ate in the last 2 nights. Avoid Joe's across the street as we got reheated (and cold by the time we walked back to eat 20 minutes later) food. We had bus passes so we could see other parts of Las Vegas without high cab fees. The northbound bus leaves in front of the Embassy Suites, but the southbound bus is next to the hotel on Paradis. $8 a day, $20 for 3 days, and we could get to/from the airport and around Vegas to decent restaurants and downtown, although we did see some interesting people on the bus!!! We don't have Jack in the Box in Florida so we took a bus ride up to the one at University and Flamingo and back and had much better food (and warmer) than the pizza place! Due to our Diamond Hilton status, we receive a $12 per person daily breakfast so we ate breakfast all 5 morning at the Kitchen restaurant. They have a Virgin Continental for $12 so if you have that, it's only tax and tip to pay for. My other half had that since he's not a big breakfast person, but I would have something for $17 or $18 each day: a Ham and Cheese Omelet, a build your own omelet with meat and 2 veggies, Eggs Benedict, and a Virgin breakfast with bacon or ham, 3 eggs, toast and potato. So with my $5 or $6 extra plus tax and tip, breakfast was about $14 a day after discount. So for 5 nights, after the hotel credit for housekeeping issues, breakfast each day, and the room, we paid less than $110 a day in total. Great bargain for modern, spacious room. One issue for some would be no coffee maker, no fridge or microwave plus no fridge space, but we survived. If we return to Vegas, which is unlikely since strip had become pot paradise, I would definitely stay here due to easy access by bus to/from airport and location off the strip. There are still pot smokers outside of the hotel, and once there was someone at the next slot machine who had recently enjoyed a joint and smelled like a dead skunk, but overall, this was a great stay. Remember to request housekeeping at check-in and follow up as you leave each morning. Breakfast is good but a little pricey if you don't receive a kickback for status. This is definitely one of the best hotels in Vegas plus I did well at the slots here and paid for at least one night with my minimal gambling. Enjoy! If you like dogs, they are everywhere, just hope for a quiet one in the next room!!!
BerlinG-ParisF
RUINED VACATION
Reviewed 28 november, 2021
HORRIBLE!! When we arrived the checkin line was out to the doors. Instead of adding more staff they took a bunch of us and walked us to the opposite end of the hotel to checkin. Our room was poorly insulated and all night the honking of cars, revving of truck engines and aircraft flights overhead kept us awake. But the WORST thing was the big smooshed dog crap in the lobby. It REEKED. Clearly some poor guest had walked through it. I will NEVER choose Virgin hotels again.
kimras1
Nice room
Reviewed 28 november, 2021
Nice room…good sleep quality…very clean except floor could be cleaner (floor was sandy)…the door between bed and bath was very nice and helped keep bedroom dark and quiet…overall I would stay here again
conniele26
Wonderful
Reviewed 28 november, 2021
Awesome view, room's interior design was lovely as well as hotels' vibe. Lots of indoor and outdoor places to hang and chill. Clean, quiet and cosy rooms! Helpful and friendly staff. Overall wonderful experience!
AbTnA