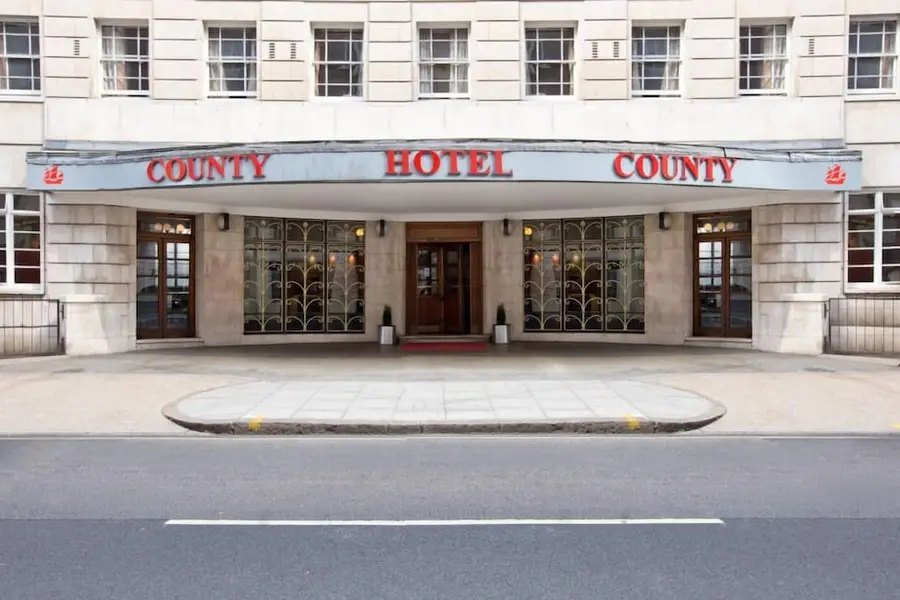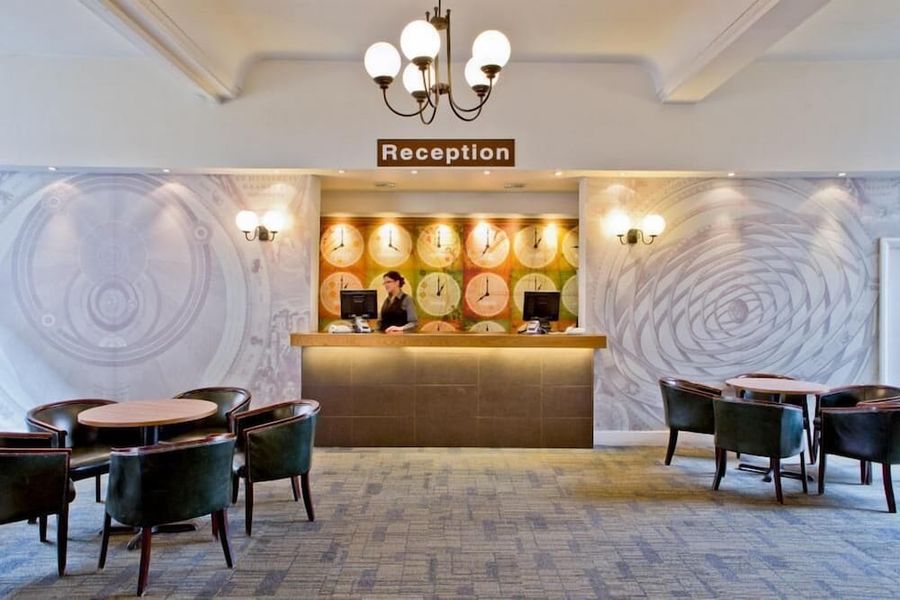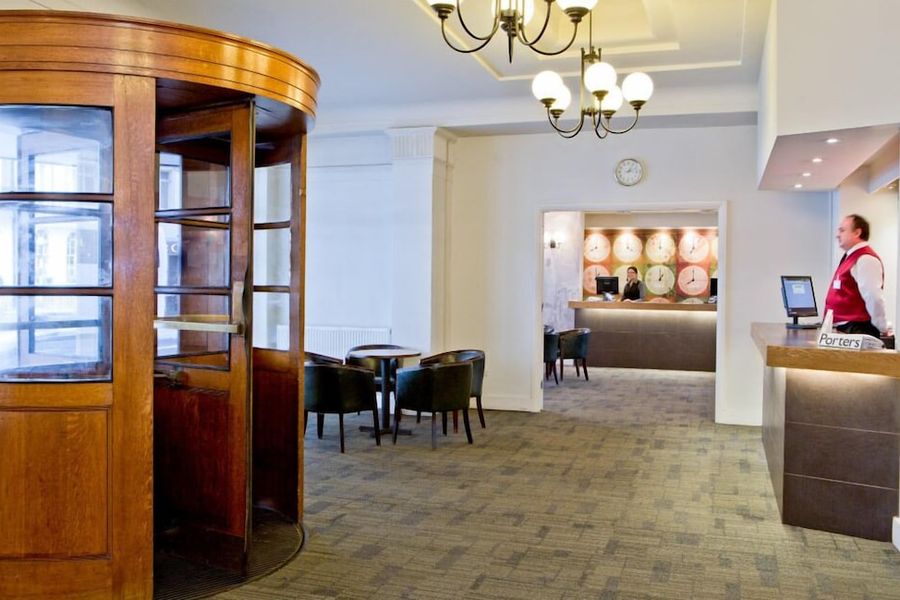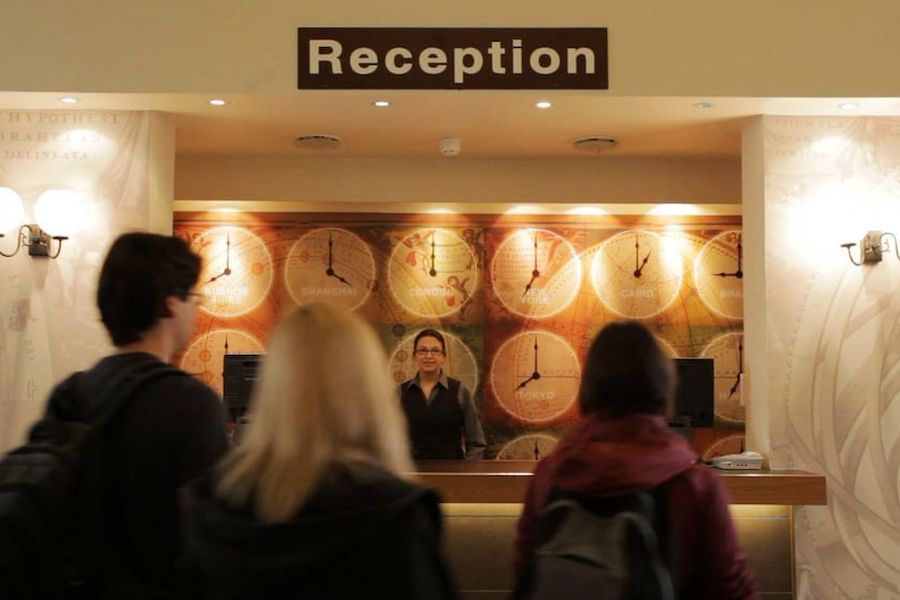 Property Location Located in London (London City Centre), The County Hotel is within a 10-minute walk of Russell Square and Tottenham Court Road. This hotel is 0.7 mi (1.1 km) from The British Museum and 0.8 mi (1.2 km) from Shaftesbury Avenue. Distances are displayed to the nearest 0.1 mile and k...
More details
OpenWeather
Select the date of your trip to check room availability.
Property Info
Check-in starts at: 15:00
Check-out ends at: 11:00
Property Location Located in London (London City Centre), The County Hotel is within a 10-minute walk of Russell Square and Tottenham Court Road. This hotel is 0.7 mi (1.1 km) from The British Museum and 0.8 mi (1.2 km) from Shaftesbury Avenue. Distances are displayed to the nearest 0.1 mile and kilometer. - Russell Square - 0.7 km / 0.4 mi - Tottenham Court Road - 0.8 km / 0.5 mi - The British Museum - 1.1 km / 0.7 mi - Shaftesbury Avenue - 1.2 km / 0.8 mi - Oxford Street - 1.4 km / 0.8 mi - Theatreland - 1.4 km / 0.8 mi - King's College London \- 1.5 km / 1 mi - Regent Street - 1.6 km / 1 ...
8-11 Upper Woburn Pl, Kings Cross, London WC1H 0JW, UK - London, Greater London - UK - 10
Property Amenities
Check-in starts at: 15:00
Check-out ends at: 11:00
Guest rating
TripAdvisor
Travelers rating
Excellent

7

Very Good

3

Good

0

Reasonable

1

Bad

26
Travelers profile
Business

4

Couples

9

Solo travel

8

Family

3

Friends getaway

8
Scores Summary
Cleanliness

Location

Rooms

Service

Sleep Quality

Value
MY HOTEL ROOM WAS BROKEN INTO AND MY BELONGINGS STOLLEN - DO NOT GO INTO THIS HOTEL
Reviewed 31 july, 2022
I stayed in the County Hotel after I went to a concert. My friend and I returned at around 3am in the morning, when I packed my backpack ready for the morning (which had my car keys, purse, medication and all essential items in). When I woke up at 11am, my bag was gone. The door to the room, even when locked, could be pushed open and, even when my friend and I had ensured the door was shut (and what we thought was secure!) someone had managed to break into my room while I was sleeping. They took my whole bag with my purse, car keys etc in and spent £80 on my card before I was able to block my account. I am completely put off staying in hotels at all because of the psychological damage of having had someone enter my room while I slept. This hotel has absolutely no security - hotel room doors that do not lock properly, no CCTV on the 7th floor (and probably every other floor too!) and no way of checking that only people staying in the hotel are using the lifts. The police are now dealing with my stolen goods at this hotel. Don't stay at this hotel, unless you're okay with anyone being able to enter your room, steal your stuff and maybe even worse!! ABYSMAL PLACE.
katytravels24
S.H.F.H. S**t hostel from hell
Reviewed 23 july, 2022
Hostel from hell. Hookers, druggies, s**t hole no bathroom no shower. No toilet. No air conditioning. No curtains on my window that closed. Feel like I need to go get tested from walking through the door. THIS PLACE IS NOT WORTH A CIRCLE!!! THIS IS NOT A HOTEL BY ANY MEANS POSSIBLE!!!
garypE606PK
Absolutely awful place
Reviewed 20 july, 2022
I stayed here for one night on July 19th as heatwave resulted in massive travel disruption and I was stranded on my way to Suffolk. Booked through booking.com so expected it to be in a reasonable condition. Absolutely awful place and can't believe they have the nerve to charge £90. The public areas have an overwhelming stink of air freshener no doubt to mask any other unpleasant odours. The carpet is ancient. The door into the rooms on my level (7) were substandard and no thought to their customers' security. Mine had a catch that wouldn't lock and a bolt that had only two screws and I had to push it in and hold it in place to bolt it. I felt totally unsafe in the room. Everything in the room apart from the towels and the bedding was ancient, dirty, broken, rundown and unacceptable in any guest accommodation, no matter what level. The curtains must have been there for decades and it was no longer possible to know what colour they originally were. They were hanging off the hooks and I had to get up on a chair and hang them on to have some privacy from the building opposite. The sink unit was broken and not very clean. The bed frame was unstable and felt like it would break when I lay on it. I'm five feet 2 and 10.5 stone so not a large person. But I didn't feel secure or comfortable lying on it. The heat was overpowering and I was constantly running with sweat all over. Even though it was high temperature in the city, it felt like 10 degrees hotter again and was much hotter than the rest of the building and outside in the street. I had to put a towel on the floor and try to sleep on it but it was hard to breathe so I barely slept at all. I was constantly running the cold tap to cool myself and eventually went down to sit in reception for some relief, even though I was exhausted and needed to sleep.. The bathroom and toilet are separate and communal. The bathroom was OK and I was able to shower but no cleaning materials were available to make it hygienic for the next user, and the shower curtain was very old and not clean. The toilet had no cleaning materials either and it had faeces inside the bowl after others had used it. Limited tea and coffee and a kettle were supplied but no cups so I had to use the paper cup the tea bags came in. The milk was not long life and in yesterday's temperature would have been curdled so I didn't risk it. The window is the original single glass pane from decades ago and only one tiny panel could be opened for air. Definitely wouldn't pass fire safety and no way out if there was a fire. The only positives were the friendliness of the staff and clean towels and bed linen but that's not enough to make up for all the negatives. I've attached photos so you can see what I mean. You couldn't pay me to ever stay here again. I left as early as I could the next day and just sat in the train station to cool down so I wasn't cooking alive in the hotel. I only stayed because I couldn't get anywhere that I could afford as other hotels available were charging 200 pounds upwards and that was more than I could afford. However, I strongly believe that even for 90 pounds they should be meeting safety standards and making more of an effort than this.
Dreenbeen
Nasty
Reviewed 11 july, 2022
If I was possible to give a hotel less than one star I would without a doubt. A filthy and disgusting place no more no less! By the time you leave, you've developed claustrophobia among other diseases. A deliberate rip off without any conscience. Do not stay there and give away your money just for the sake of the location.
h_dim2022
Inhumane hotel- STAY CLEAR!!!
Reviewed 9 july, 2022
A group of friends and myself stayed at this hotel just over a week ago and it is safe to say we will not be returning! The staff were welcoming and friendly so it is a shame the rest of the hotel was not. As we entered our floor, there was a smell of smoke throughout the corridors and into our room- not at all pleasant as a non-smoker and definitely not child friendly! In our room, it appeared as though the only thing that had been changed were the bed sheets, other than that, there were crumbs, hair and all other kinds of bits and pieces coving the floor, as well as marks all over the walls, some of which looked to be old blood stains. The place had clearly not been cleaned which is extremely disappointing when paying £80 per night! We were well aware that the showers and toilets were communal which we had no problem with at first, however when seeing the states of them, we had major concern. The toilets and toilet floors that weren't out of order, were covered in urine and overflowing with faeces and sanitary products, there was no way that these could be used (unfortunately my phone was uncharged to take photos of the toilets when we arrived however I have got a photo from the morning after, although not as bad as the previous day, it paints a brief picture!). The showers had dirty towels on the floor that had not been moved the duration of the stay, proving that regular cleaning is not completed. After our stay, I emailed the manager to make him aware of the awful state of the hotel, asking for his opinion and intentions to make other people more welcome- I have not heard a thing since, hence my review. I would not recommend this hotel to anyone- STAY CLEAR!
mworgan11