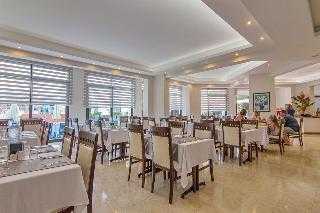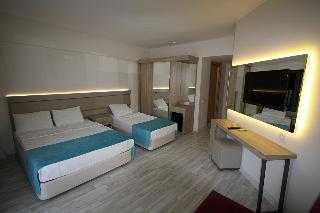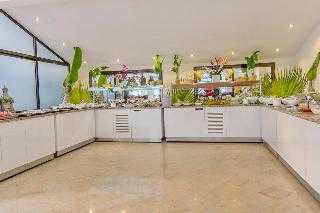 TripAdvisor Review
Based on 309 review
See all
Our hotel is located in beautiful Marmaris also known as the 'Pearl of the Aegean' ' Famous for its coastal scenery and picturesque beaches. Our guests are accommodated in modern rooms where you will enjoy all the comforts of an incomparable vacation. Our hotel has two restaurants. The outdoor resta...
More details
Availability
Select the date of your trip
Select the date of your trip to check room availability.
Property Info
Our hotel is located in beautiful Marmaris also known as the 'Pearl of the Aegean' ' Famous for its coastal scenery and picturesque beaches. Our guests are accommodated in modern rooms where you will enjoy all the comforts of an incomparable vacation. Our hotel has two restaurants. The outdoor restaurant has seating for 200 and our indoor restaurant for 100. Both Turkish and international cuisine is offered. A range of beverages are available from our 3 bars. Our hotel with4 star standart is 150 meters from the beach. The town center is 2 km away and Icmeler 5 km. The distance to the airport i...
More details
Check-in starts at: 15:00
Check-out ends at: 11:00
Property Amenities
Reception services
Concierge
Guest rating
TripAdvisor
Travelers rating
Excellent

129

Very Good

51

Good

51

Reasonable

32

Bad

46
Travelers profile
Business

3

Couples

94

Solo travel

17

Family

81

Friends getaway

91
Scores Summary
Cleanliness

Location

Rooms

Service

Sleep Quality

Value
Good hotel
Reviewed 3 september, 2019
We stayed in this hotel one week(my sister and me) and every body was nice. it is true that most of ppl are Rusian but we did not have any problem with that. they were lovely. all of stuff were kind and helpful.they speak English less or more. i can not name all of them but we will remember them: the information desk, house keeper lady always smiling, the old man in the restaurant(he was like kind father), bar man, the technical man who helped us to fix our locked luggage and the young boy who carried our luggage with his smile :) the free shuttle to the bar street is a great idea. thank you guys. also we have some suggestions: 1- please change some things in menu because the food is repetitive. for example fried fish and other kinds of food is needed. 2- the glasses are not washed well in the restaurant(the glasses are clean in the bar only). 3- if you do some things about cats, it will be better because they come from outside and sit on the chairs...even they come inside of the building where we eat food :( 4- some times they turn off the air conditioner in lobby. please let it work more. 5- wifi needs to be improved. i did not have internet for 3 days and i tried so much for connecting. maybe the reason is the password which you put it on the desk and every body can uses that. and why the safe box needs to be charged in a 4 stars hotel?! thank you again and hope to see you in the future :)
Tahmineh A
Russian Hotel
Reviewed 16 august, 2019
We stayed here this month and I read the reviews and noted that people were complaining about Russians as per usual in reviews. I think it's true as Brits we don't share the same customs, manners or friendliness but I believe we need to be accepting of others so I booked anyway. What I didn't realise upon arrival was that we were the ONLY Brits there. Every other guest was Russian. We got on with the holiday anyway but everything from food, entertainment (lack of it really), communication was all geared towards Russians...understandably. It made it difficult for my daughter who is 6 to make friends or for us to even communicate with anyone. The hotel is really quite small and you don't get this impression from the pictures. There is a tiny slide for kids but I'd say that is really it. No kids entertainment and no kids club. The hotel is clean and the staff were nice enough and worked really hard. The manager of the hotel believes that the air conditioning in the hotel should be rationed. I don't know if this is a money saving idea or what but there was a bunch of people waiting around in the lobby after 5pm in the blistering 38 degree heat because they had to be out their rooms at noon. The hotel wouldn't allow anyone to keep their room on because they said they were too busy. Yet the manger still turned the AC off. There is a room to leave your case but we were told by reception that we had to shower at the pool shower outside and dry our hair in the sun.....no lie. With all the space they have like the huge conference room that's barely used, they could at least turn this into a waiting room where people can shower and dry their hair and wait on their transfer instead of having folk lying around in sofas in a roasting hot reception area. Meal times were like being back at school with long lines and waiting around for a table. Dinner wasn't until 7pm, I'm unsure why it's so late so there was a rush of people all hungry at the same time. If they made it 6pm maybe it wouldn't be so busy all at once!? There are 2 pools. The one with the slide and one without. Pretty much identical except the slide. However if you sit at the pool without the slide you need to walk away round to the bar at the other pool to get a drink.....madness. It stakes a while to get a drink at times too. I don't know why they don't allow people to pour their own soft drinks. It would save the queue waiting on one bar staff is a bit silly. They have lots of local alcohol but they only do one cocktail which is a shame. But the beer was nicer he location was pretty good once you got through the little windy streets but I wouldn't stay here again. Pay just a little extra and go to a nice hotel where the guests speak English
lifeisforliving3
Aviod
Reviewed 22 july, 2019
Me and my cousin spent 10 days here and never again will I stay here again. This hotel is basically for Russians only! Me and my cousin and another english couple was the only English there. Food was disgusting,drinks was shocking no diet coke no fanta full fat coke was flat. Rooms was cleaned daily but cleaner never changed our towels daily had to ask staff for clean ones which was hard to ask as they hardly understood english. Shower was a hazard as had no glass door round shower so water was soaking the floor which was a slip hazard also in our room there was nowhere to be seen where to meet if there was a fire as it was hidden in wardrobe because it had fallen of door and clearly couldn't be bothered to put back on door!! On our last night someone was kicking the door down so we used the room phone to complain but our response back was dont understand and put the phone down on us. On information board there is no English on there which I think is bang out of order! Dont bother wasting money I've stayed in more better places in marmaris and definitely wont be returning this hotel!
Kellye1991
Palmea June
Reviewed 28 june, 2019
Stayed here 15th june-22th june with my fiance.Staff made us all welcome and we had a nice treat on the arrival, in our room. Rooms nicely decorated and satff are so friendly.Variety of food and goo location for the seaside,shops and excursions.already booked to go back end of september for a week again.see you again guys
Nasufmht
Holiday
Reviewed 12 june, 2019
I stayed here with my partner 4th to 11th of June... I was actually very anxious of going after reading reviews.. Cant believe how bad some of the reviews are definitely are far wrong ... I can not fault this hotel from the manager reception staff cleaner.. Food was nice ..just like any other all inclusive after a good few days u get fed up eating around the same things ... Our room was cleaned every day with clean towels and sheet room was spotlessly clean... Manager could not help you enough so polite and helpful ... Would definitely return and would recommend...
carolineandbilly