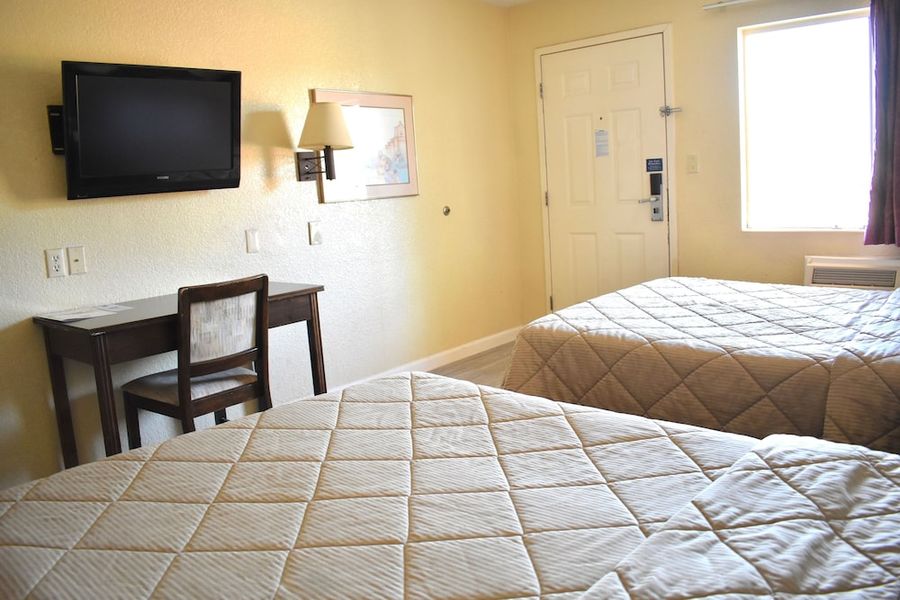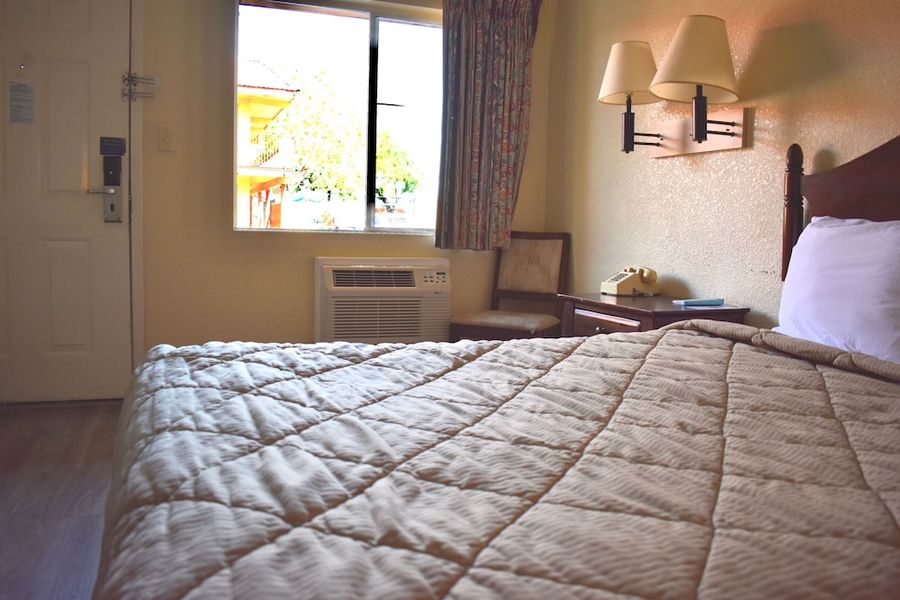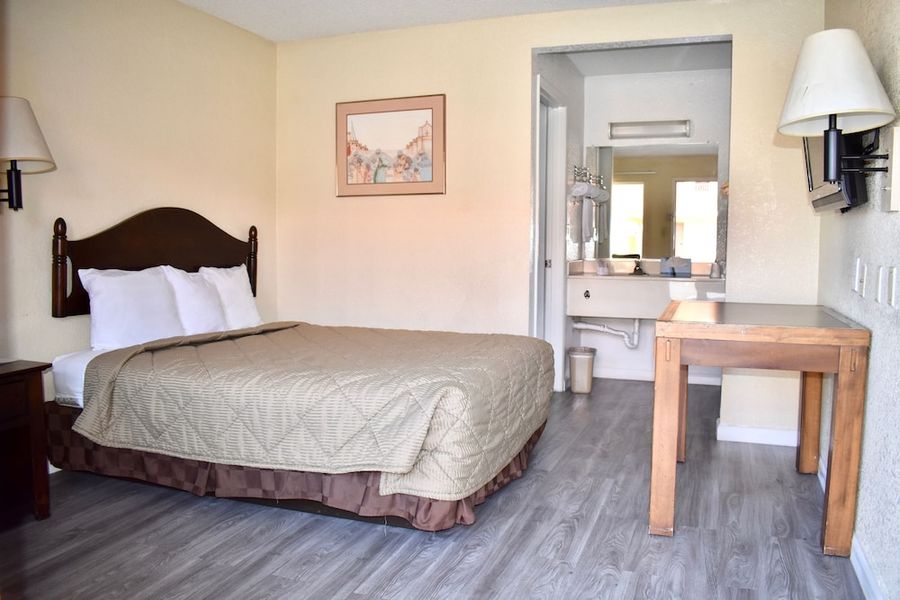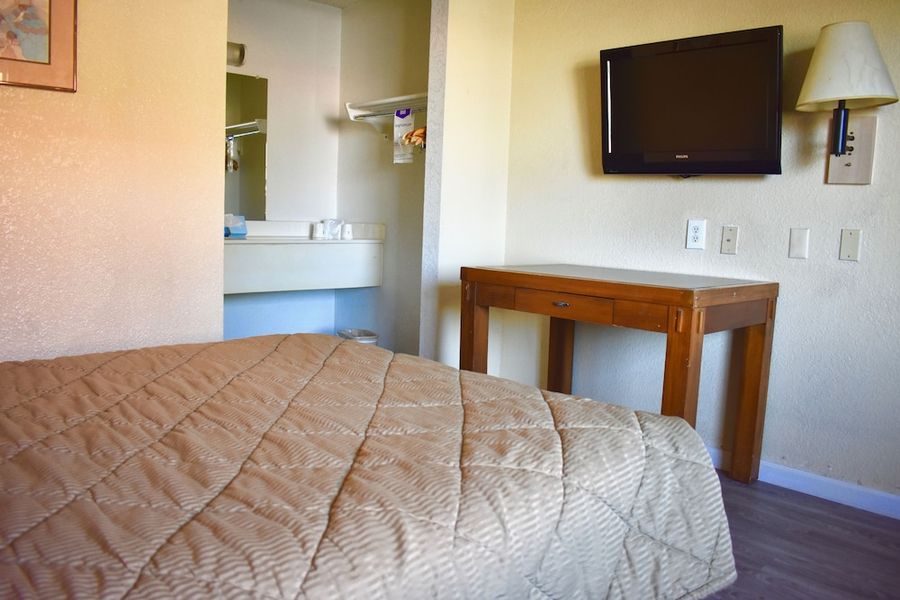 Ubicación del establecimiento Si decides alojarte en Knights Inn Mesa de Mesa, estarás cerca del aeropuerto y a menos de cinco minutos en coche de Mesa Arts Center y Anfiteatro de Mesa. Además, este motel se encuentra a 7,6 km de Arizona State University y a 9,8 km de Casino Arizona. Las distancia...
More details
OpenWeather
Select the date of your trip to check room availability.
Property Info
Check-in starts at: 15:00
Check-out ends at: 11:00
Ubicación del establecimiento Si decides alojarte en Knights Inn Mesa de Mesa, estarás cerca del aeropuerto y a menos de cinco minutos en coche de Mesa Arts Center y Anfiteatro de Mesa. Además, este motel se encuentra a 7,6 km de Arizona State University y a 9,8 km de Casino Arizona. Las distancias se expresan en números redondos. - Museo de historia natural de Arizona: 1,3 km - Mesa Arts Center: 1,3 km - Centro de Convenciones de Mesa: 1,7 km - Anfiteatro de Mesa: 2,1 km - Mesa Mormon Temple: 2,5 km - Golfland Sunsplash: 3,9 km - Estadio Hohokam: 3,9 km - Mesa Riverview: 4,6 km - Parque de ...
630 W Main St, Mesa, AZ 85201, USA - Mesa, Arizona - U.S - 85201
Property Amenities
Check-in starts at: 15:00
Check-out ends at: 11:00
Guest rating
TripAdvisor
Travelers rating
Excellent

16

Very Good

10

Good

16

Reasonable

18

Bad

72
Travelers profile
Business

15

Couples

17

Solo travel

24

Family

34

Friends getaway

11
Scores Summary
Cleanliness

Location

Rooms

Service

Sleep Quality

Value
FILTHY
Reviewed 9 may, 2022
This place is filthy. I was very uncomfortable - really didn't want to touch ANYTHING - and would have refused the room except it was late and I had booked through trip advisor - not the hotel. Figured it would be a hassle to get my money back. Feces splattered in toilet bowl from a previous guest. Broken furniture, duct taped A/C unit, holes in the wall. Dead bug shells clinging to the ceiling - UGH. Additionally - no pool as advertised. Absolutely HORRIBLE.
673shellyw
WORST PLACE
Reviewed 14 march, 2022
This does not look anything like the pictures on website. Room was so dirty we didn't want to touch anything. Black mold in bathroom. Curtain ripped. Only 1 electric outlet worked - but even that sparked. Shower head only dribbled. No hot water. Door to room had previously been pried open with something.
BStrot
Wow, A lot has changed
Reviewed 8 march, 2022
We were scheduled to stay here a few weeks back. We'd stayed here about 5 years ago. We knew it was a low end (maybe 2 star) place. But we didn't plan to spend any time except sleeping, so we were ok (we thought). Our plane got in about 10a, so we figured, we'd Uber over, drop our bags, maybe check in and go do our thing. We figured we'd better call. 1. No answer - Learned why in 2 2. Arrival: We got out of the uber. The manager was sitting on the curb outside the office. The phone in the office was ringing, and ringing, and ringing... 3. We told Mgr we'd like to check in, were any rooms ready? She said, "no checkin until 3P". We asked if there was somewhere we could leave our bags. "You can't leave bags if you are not a guest" (refer to 3P rule) Then, "You can't leave bags anyway." 4. We said then, "well, it's a nice day, we'll just hang out and do some work on our computers until 3p" Mgr: "non-guests are not allowed on the property. You will have to leave." I asked if there was any way that perhaps an exception could be made. Mgr: "it's corporate policy: No non-guests on the property at any time." So, that's enough with the sequences. Now I'm going to paint a picture. It was then that I realized that I was trying to check into a "hotel" that would most likely see 3 or 4 visits from the police once the sun went down. Imagine about 20 people, mostly under 30, sitting around the outside of the motel grouped around the office. There are babies, teenage moms, Kids from 3 to 16 (guess), and other males. The majority of them were in the 20-30 range as far as I could tell. 20 years ago, they would all be smoking. Now, I'm guessing that smokes were too expensive for this crowd. The Mgr had her smokes. The impression I had was that I'd walked into a convention from a trailer park. The manager bolstered that impression. She had absolutely no desire to work with a new guest, especially one that really didn't belong there. She continued to sit on her curb, not moving and repeating that it was corporate policy that we had to leave until the checkin time of 3P. We walked on the the "public" sidewalk and went to sit in the shade at the end of the hotel property. (not ON the property, mind you, still on the sidewalk). 30 seconds later, some of the older males in the group took up residence about 15 feet from us on the stairs of the hotel. We called a new driver and left. At the same time, we called priceline and cancelled the 2 day stay. We had to pay the first day since we were too late for a real cancellation. We booked a stay at our favorite Marriott for the stay. I was incredibly grateful that Marriotts existed at that point. Now lest you think I just had high expectations, I'm 70+, I've traveled the world and currently live in Ecuador. I'm used to rat hole hotels and hostels. This was not one of those. This was a level under that. I don't have a description that applies to this place. From the management to the grounds, the only way I'd stay there is if I were in the market for the type of product you would expect to find in a place like this when the sun goes down. Stay away. This is not somewhere you want to stay.
716darwinp
Cluster You-Know-What!
Reviewed 2 march, 2022
Where do I begin? I booked this hotel on through Agoda on 2/27/2022 for check in on 2/28/2022 for one night which was $82.26. I received an email from Agoda hours later at 4:55pm advising that due to a "highly unusual error" my booking was not completed, and they were refunding my money which could take up to 30 days. This was annoying but like any rational person I rebooked the room but for an additional night - check in at 3pm on 2/28/2022 and checkout on 3/02/2022 after 11AM for 2 nights at $228.51 (robbery for the quality of room which I had yet to find out). Btw, you also have to put down a card for a small deposit, which is fine, but this isn't mentioned anywhere when booking and I had paid in full online prior. I checked in at this hotel and to call it a dump would be putting it lightly. Of course, the pictures online make the inn look 10 times better than it actually is - long story short, the check-in is through a window outside, the bed is hard and creaky, the room smelled like dank, humid mold, there is plenty of bathroom mold around the interior of the shower, the shower curtain was filthy and the someone drew a phallus on it (would it be too hard to change the shower curtain?), the floor was dirty and made the bottom of my feet dirty when I took off my slides and walked around, the sink drained slowly, and the shower water was lukewarm at best. I stayed the night (with much regret, ignoring the overhead banging/thuds above my room) and left in the morning. The area is shady, so I got up about half a dozen times that night to make sure my car was still there. I returned late at night, Tuesday, March 1, 2022, at approx. 11AM ready for one last night in hell (had I cancelled I would've lost my money as it was nonrefundable) and my key cards don't work. I go to the "office" (outside window) and I'm informed my cards don't work because I was supposed to check-out this morning and that all my personal belongings have been bagged up and put into lost and found which I cannot retrieve until the next day because "lost & found" is a room on the second-floor and the MOD, Jose, gave the only key card to access the room to a housekeeper who was currently at home. Mind you, I have been up since 7AM and worked until 10:40pm. I'm tired and all I wanted to do was close my eyes while taking a shower and pretend I was at the Hilton I almost booked instead and put this saga behind me, but alas. To say I was furious was an understatement, not only did Agoda/Knights Inn majorly screw up my reservation, but they took my things and denied me access to them all because the manager figured it was a smart idea to give the sole key card to lost and found for the entire motel to an employee who leaves after their shift. Brilliant idea. Now, I'm back in my car trying to make emergency arrangements for a place to stay tonight. I get on the phone with Agoda as the Manager, Jose, informed me in not so pleasant terms there was nothing he could do. I speak to a representative to explain the whole debacle in a call that from beginning to end took 57 minutes and 59 seconds. I was on hold for 2/3 of that time. My representative advised me that the hotel never received my 2nd reservation somehow (mystery of mysteries, eh?) which resulted in me being locked out of a room that I paid in full for at 11PM at night by myself in shady downtown Mesa after being up since 7AM and scrambling to make other plans last minute at midnight. Needless to say, I don't recommend Knights Inn or booking through Agoda because the blame clearly lies with both parties. I will say, the rep from Agoda I spoke with was pleasant and sympathetic but that's where it ends.
Anonito
cockroaches are fast!
Reviewed 10 january, 2022
cockroaches are fast! walls have stuff all over them, bed frame protrudes creating chance of serious injury, dirty, hot water not hot, run! hide! enough said but they want 200 characters. Oh NO Blankets! Gave me 2 sheets instead.
mal959