2 adults - 0 children - 1 room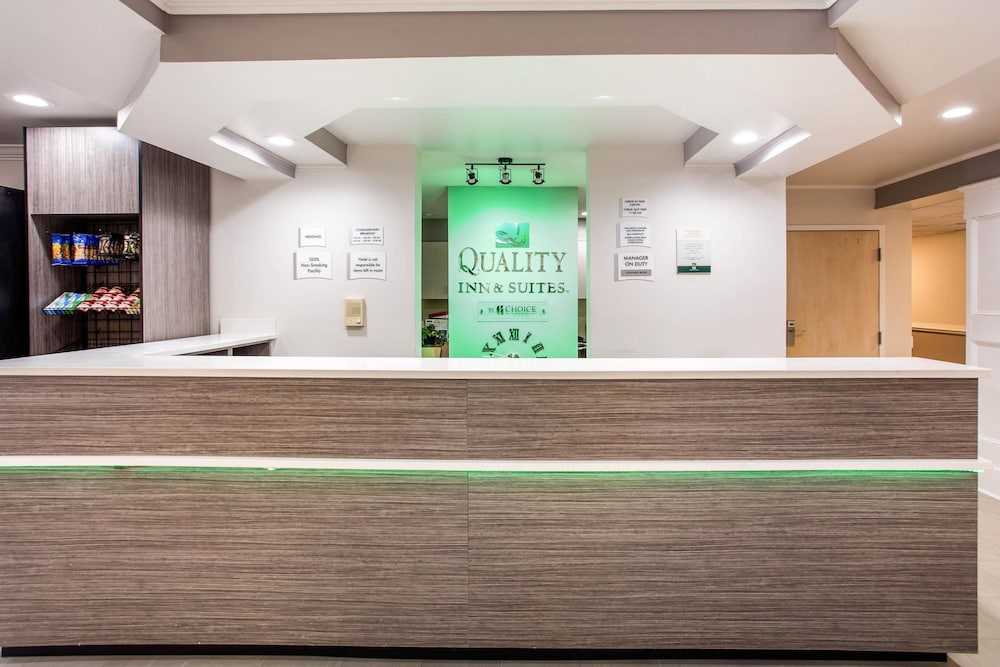 108 TripAdvisor Reviews
See all
According to guests, it's ideal for:
When you stay at Quality Inn & Suites in Myrtle Beach, you'll be in a shopping district, within a 10-minute drive of Broadway at the Beach and SkyWheel Myrtle Beach. This hotel is 6.6 mi (10.6 km) from Myrtle Beach Boardwalk and 0.1 mi (0.2 km) from Myrtle Beach Speedway.Make yourself at home in on...
More details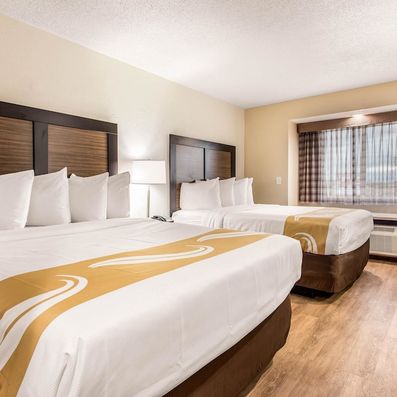 Quarto standard, 2 camas Queen, para não fumantes
2 Queen Beds
Soundproofed room
Internet - Free WiFi
Entertainment - 40-inch flat-s...
See more details
Cancellation Policy
Amenities in this room:
Max 4 adults
Max 3 children -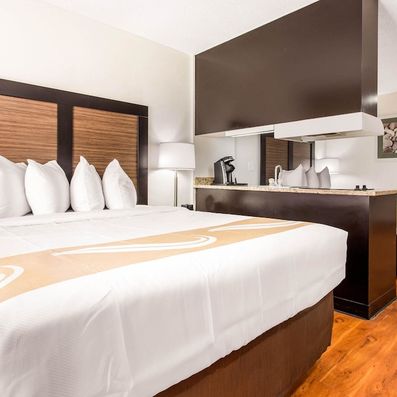 Quarto, 2 camas Queen, para não fumantes
2 Queen Beds
Soundproofed room
Internet - Free WiFi
Entertainment - 40-inch flat-s...
See more details
Cancellation Policy
Amenities in this room:
Max 4 adults
Max 3 children -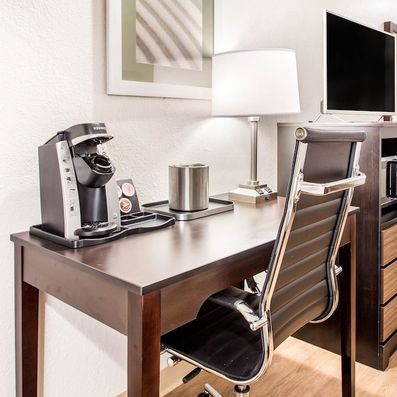 Quarto, 1 cama King, Acessível, para não fumantes
1 King Bed
Soundproofed room
Internet - Free WiFi
Entertainment - 40-inch flat-scr...
See more details
Cancellation Policy
Amenities in this room:
Max 2 adults
Max 1 child -
Property Info
When you stay at Quality Inn & Suites in Myrtle Beach, you'll be in a shopping district, within a 10-minute drive of Broadway at the Beach and SkyWheel Myrtle Beach. This hotel is 6.6 mi (10.6 km) from Myrtle Beach Boardwalk and 0.1 mi (0.2 km) from Myrtle Beach Speedway.Make yourself at home in one of the 96 air-conditioned rooms featuring refrigerators and flat-screen televisions. Your pillowtop bed comes with down comforters and Egyptian cotton sheets. Complimentary wireless Internet access keeps you connected, and cable programming is available for your entertainment. Private bathrooms wi...
More details
Check-in starts at: 15:00
Check-out ends at: 11:00
Property Amenities
several
Shower with grab bars
Check-out expresso
Áreas para fumantes (sujeitas a multas)
Estacionamento sem manobrista grátis
Serviços de lavagem a seco/lavanderia
Máquina automática de vendas
Espaço para conferências (em metros): 33
Recepção 24 horas
Elevador
Espaço para conferências
Check-in expresso
Número de salas de reuniões: 1
Áreas para fumantes
Business center
Lavanderia
Acessível para cadeira de rodas (pode haver limitações)
Quartos acessíveis
Lareira no saguão
Banheiro acessível
Depósito de bagagens
Equipe multilíngue
Caixa eletrônico/banco
Espaço para conferências (em pés): 355
TV em áreas comuns
Wi-Fi grátis
Chuveiro com barras de apoio
Guest rating
TripAdvisor
Travelers rating
Excellent

8

Very Good

13

Good

10

Reasonable

11

Bad

66
Travelers profile
Business

8

Couples

20

Solo travel

3

Family

41

Friends getaway

15
Scores Summary
Cleanliness

Location

Rooms

Service

Sleep Quality

Value
Do Not Go To Sea Dip
Reviewed 4 august, 2021
Worst place I've ever stayed! I have never been so disrespected my whole life! Our key cards Wouldn't work. The 4th time I go down there to exchange for a new set of keycards, the lady who works evenings immediately got an attitude and said, "I don't know what y'all are doing with these cards! They are working for other people now blah blah ..." I was taken Back and I looked over to the other guest standing there andI replied, "Oh so we are doing it on purpose,!??" I went on ... "This is an inconvenience to US!" Well I remember a few days before this, the Housecleaner had to let us back in our room, after the door slammed behind us while getting groceries. As soon as she swiped it the light immediately flashes green. She did it a few more times, and it did the same. I noticed that because every time we got a new key card from the office, when I would swipe them the light would not light up. Sometimes it would show a red light, but most of time I had to swipe many many times before I would see the green light. I wasn't the only one having issues w the key cards not working, but she made a huge deal of it as if we were doubt this on purpose, when in reality this was a huge inconvenience. That same evening (our last night at this place) I was just siting at the picnic table by the playground area, that sits out in front of the Towers building. I was just on my phone listening to the waves. I kept hearing what sounded like hail falling from the sky but randomly. As I sat there, this girl came out from I think the beach, it was clear she was on drugs, well she sat down in one of the lounge chairs near me. Suddenly we saw a piece of cut up apple land on her chair. Things kept falling around where I'm sitting being thrown by someone in the towers. It was hard to determine from which exact room though with the harsh glare of the pool light, and the balconies do not have lights. There was more than one balcony w people sitting in them. At one point I hear a loud sound like fireworks but not a lot of light, but the sound definitely got my attention. That came from the sand dunes. Saw a container of pizza sauce land on the ground and some other food items. Suddenly felt something hit my back really hard!! That's when I went off. I yelled up at the towers whoever it was to leave me alone! So I then go to sit on the wooden bridge that is over the sand dunes. I then start really feeling items being thrown close by where I am sitting. You can hear the sound as they would hit the wood from such a distance and also feel the vibration it would make. I decide to go and tell the hotel lady working nights what was going on just so she was aware of it. Well the girl on drugs was lurking around and she too did witness some of it so she walked up to also back up what I was saying. The hotel lady wanted to know if she was with me I told her no. The hotel lady told the girl to leave then she says to me, "You are lucky she's not w you because one more thing, and you'd be on Your way home tonight. I know you are leaving tomorrow, but I'm just letting you know." I was like "Whoa, what did I do?" She went on about how people like her you can trust them blah blah but she never fully answered my questioned. Then she said she wanted to see what was being thrown near me, while I was sitting out front. I showed her all the food thrown about, but when I go walking on the wooden bridge and describe how things would vibrate when they hit, and you can see two full bananas splat from being thrown from such a distance, also a full orange sitting right beneath where my feet were where I was sitting—she says "Oh no one could thrown that far from up there!" So now she was basically calling me a liar. The next morning I was discussing everything w my husband and we found it strange she even knew we were leaving the next day because she never seemed to know anything about anything else. I had asked her if anyone turned into my shoes and swim coverup I left by the pool she didn't know anything about that. I would think they would have a hotel lost and found? I also asked her one day about if housekeeping cleans the mattress cover that is zipped up on them or not, she didn't know that either. Well we thought it strange and even my 16 year old son witnessed how she spoke down to me so I told my husband we need to talk to manager before we leave. Well my older son and husband had everything packed up to leave in the car; however, he needed to change our two year olds diaper. There is no bathroom in the hotel lobby and he didn't want to have to drag him back up 6 floors to our hotel room again. (The elevator is extremely slow and it scared my toddler anyway) so my husband said he's be right back. Well I leave the hotel room because it's check out time and head down to the lobby. I go into the lobby to wait for him and the two women in the lobby make me feel uncomfortable and Iike I need to leave. When I walked in it wasn't "Hi, how may I help you?" It was like what do you need. It was like what do I have to do so I can do something d more importance. I explained how we were checking out and he was supposed to be waiting but had to change the baby. I scrunched my wet curly hair w my hands (but I must have not realized it honestly) because the older lady says, "If you want to dry your hair, you can do that outside." I remember being confused by the off comment. They ask what room number and then ask me to step aside for the next guest. I stand over as far out of the way I can possibly be, they are making me feel so uncomfortable. One gets on the computer and the old lady tells me my husband already checked out so I can leave now. I told them my husband was supposed to let someone know that we wanted to speak w someone first before we leave. My husband did tell someone but then they never relayed the message apparently. Well he pulls in and when he comes in the older lady looks at me and makes another comment about me and my hair. She looks at me and Says, "If you want to fix your hair, go outside." We stand there and she stands there it was awkward. Most good hotel managers would introduce themselves, and ask how our stay was. She just stood there like Ok what do you want? My husband starts off by saying this lady was rude to my wife. I interjected and said well it's a little more than that, she had it out for me. ...Well she stopped me right there and said, "Well if you had a problem you should've addressed it sooner. ". I said, "this happened literally LAST NIGHT! She just bluntly says, "There are many other hotels, if you don't like it you can leave and go stay somewhere else. She didn't even take the time to hear me out. The rooms in the older building are super small and it stayed so uncomfortably hot in the room, and I just dripped of sweat in the bathroom! The room got super sandy, but no house keeping in the rooms. Housekeeping will bring more towels, toilet paper and give u a trash bag to change out yourself . We asked for maintenance twice to come and check our ac unit. The ac unit was running when we got there, and it sat on 60 degrees the entire time. It did not shut off once. The room does smell of weed. Now with the reaction I got over the inconvenience of the keycards, just imagine if we had actually complained about something? Terrible treatment of customers! I left crying I've never had a hotel make me feel like this! Manager did not take the time to even hear me out! Maybe I need to be looking into calling lawyers over their negligence where I could've been hurt by the idiot throwing things at me and they should up their security!!!
crystalcG3283XE
TERRIBLE SERVICE
Reviewed 20 july, 2020
If i could give this place 0 stars i would. the manager was COMPLETELY RUDE. I got charged like 300$?!? I was suppose to stay 4 nights but only stayed one bc the manager was horrible & did NOT work with me at all. the ONE NIGHT that i stayed I got NO SLEEP bc of other guests & the next morning i told the front desk & the management did absolutely NOTHING about it & after arguing he basically tried to kick me out. I asked for his name to file a complaint & he was VERY HESITANT about giving it to me. Its ATTACHED TO THIS REVIEW. I have a picture of where he wrote his name on my receipt for me after asking LIKE FIVE TIMES. this place was THE WORST. I ended up getting charged 156$ FOR ONE NIGHT THAT I BASICALLY DIDNT EVEN GET ANY SLEEP FROM. I PAID 156$ FOR NOTHING. I felt like he was profiling me & was being very racist. IF YOURE THE MANAGER OF A HOTEL THEN ACT LIKE ONE. WORK WITH YOUR GUESTS & DONT TRY TO KICK THEM OUT. YOU WOULD THINK HE WOULD KNOW ABOUT CUSTOMER SERVICE BUT HE OBVIOUSLY DOESNT.
Jenny S
Terrible customer service!
Reviewed 6 may, 2020
We had a Friday and Saturday booking for March. Due to the Covid-19 pandemic they had to shut down and cancel the booking. All completely understandable. When I contacted the hotel they told me at first that the Manager would be issuing a refund for all canceled hotel stays. I waited for over 3 weeks for my money to be returned. When I was finally able to get someone on the phone after almost a month they informed me that they would NOT be returning the money but instead would be honoring those 2 days anytime prior to the end of the calendar year. So, today we tried booking 2 days in June. The customer service rep informed me that I would have to pay the difference. When i explained to her that i was told they would honor those days at any point she informed me that the manager now says he will refund the money soon. I insisted that it get done today since I had already requested a refund and was denied and that they have been sitting on my money for over 2 months! She spoke with the manager and came back to inform me that they would refund it today minus an $8 charge because of a bank fee they incur for cancelled stays. I stated that why was i incurring the fee since it was their business that had to cancel along with the fact that my money has been earning them interest the last several months! The woman was rude and not helpful. I told them I would definitely not stay at any Quality Inn and Suites in the future especially since their customer service leaves much to be desired!
JJDerek
Never again!
Reviewed 12 april, 2020
We needed a place to stay for one night so we read some reviews and checked in and found this property to be in extremely poor condition- no breakfast -no beverages -toilets stacked outside elevators. The room was dirty with stains, a few bugs on the wall, empty soda bottles in the bathroom. upon check-in coffee machine not working no remote stained bed sheets never again!
CaptainBluewater
Freaking rude
Reviewed 3 march, 2020
When we first checked in the guy was rude and he kept giving us a nasty look and when we finally got to the room it wasn't very clean and it was very big it was small and when I looked down on the floor there was a field mouse in my room and there was rat poop all over the floor it was nasty we had to move rooms but the 2nd room was alittle better, the breakfast was ok not really good the sausage links were nasty and the eggs and sausage gravy was ok the bagels were good and the juice was ok , when we paid the room they claim my fiancées debit card didn't work and made us take out cash out of the atm and then the changed the rate of the hotel for one night and made us take out more out of the atm I had a guy sexual harass me at this hotel outside when I came back to store followed me and my fiancée to the room don't recommend for families at all
Lillesbianmama86