DoubleTree by Hilton Hotel Newark Airport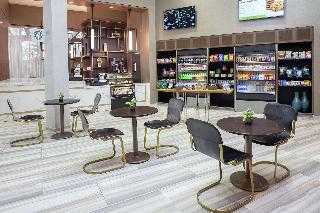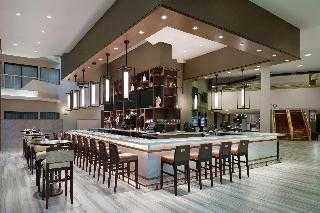 TripAdvisor Review
Based on 2280 review
See all
The following services and amenities are available, but with reduced service: Airport Shuttle, Breakfast, On-site Restaurant(s).The following services and amenities are currently not available: Executive Lounge, Fitness Center, Pool, Room Service.Welcome to our newly renovated hotel, DoubleTree by H...
More details
Availability
Select the date of your trip
Select the date of your trip to check room availability.
Property Info
The following services and amenities are available, but with reduced service: Airport Shuttle, Breakfast, On-site Restaurant(s).The following services and amenities are currently not available: Executive Lounge, Fitness Center, Pool, Room Service.Welcome to our newly renovated hotel, DoubleTree by Hilton Hotel Newark Airport. The hotel is ideally situated next to Newark Liberty International Airport (EWR), minutes from downtown Newark, and just 10 miles from NYC. We offer a complimentary shuttle to EWR every 15 minutes for your convenience. Our hotel is the ideal place to stay pre or post-crui...
More details
Check-in starts at: 15:00
Check-out ends at: 11:00
Property Amenities
Reception services
Concierge
Guest rating
TripAdvisor
Travelers rating
Excellent

591

Very Good

625

Good

448

Reasonable

305

Bad

312
Travelers profile
Business

750

Couples

453

Solo travel

193

Family

563

Friends getaway

120
Scores Summary
Cleanliness

Location

Rooms

Service

Sleep Quality

Value
Horrible!
Reviewed 1 december, 2021
There's just so much that went wrong. It all started with a total system failure when we arrived - which I understand wasn't really anyones fault, but it was the start of it all. Wifi wasn't working at all for the first 12 hours and truth be told it wasn't really any better after that either. My phone and tablet barely connected and when they did the connection was very weak. Due to the failure we couldn't be properly checked in and therefore didn't get any room keys the first day. An employee of the hotel escorted us to the room, which she couldn't seem to find and we walked up and down the isle with four suitcases until she finally found the right door to our room. I was travelling with a friend and we could only leave the room separately, because otherwise we wouldn't be able to get back inside without keys. The room was ok, but very dark, because the windows faced into the lobby and not outside. So there was only little light coming into our room from the lobby window ceiling. The bathroom was rather dirty, the shower curtains had a blood stain on them! Gross! It was difficult to take a shower without flooding half the bathroom. We had to use our towels to dry the floor and left them on the floor to be exchanged afterwards. The next day we came back to the room and expected to find new towels, but nobody had checked or cleaned our room. We went to the front desk to ask for new towels. We had to ask three times until they wer finally brought. My friend had specificaly asked them to leave in front of the door ans NOT knock, because I wasn't feeling well and was trying to sleep, but they did knock. Also we were told for economical reasons the rooms only get cleaned every 3 days. Don't get me wrong - i totally support that linens and towels don't need to be changed every day. BUT I think the least is to check the room once a day or at least every other day to see if anything needs cleaning right away or if the toilet paper needs to be restocked. After three days we came to the room at night, hoping to find new towels, toilet paper and a cleaned bathroom - but again, nobody had even been in our room. Once again we went to the front desk asking for new toilet paper and towels and also we wanted to know why our room hadn't been cleaned. Apparently you have to order the cleaning service a day in advance, which we didn't know and we were wondering why they hadn't told us when they told us they're only cleaning after three days. We stayed at the hotel for five nights and had a rental car for the last four. When you enter the property you need to collect a parking ticket that states the date and time you entered the parking lot. Before we left the parking lot each day we handed over the ticket to the front desk to have the charge (we were told $25 per night, when in fact it was $30 incl tax, but this might be our fault, because in Germany they always tell you the actual price you pay incl tax) added to our room and they validated the ticket so we could leave the lot. During the first night my credit card was charged and I asked the front desk what that charge was for. They said it was for parking. They had charged us for the first two nights even though we only had a car for one night! The lady at the front desk said since we were there for five nights they added 5 nights of parking to our room and already charged the first two - even though we didn't have a car the first night. I mean I even handed them the tickets every day with the time stamps on them, so how can they just charge something that's not even there?! One of the reasons we booked the hotel was because of the large indoor pool. However the pool was closed during the entire stay. I get that it might be closed because of Covid, but it would be good to inform guests! On the website it still says 'Enjoy our fitness center and indoor pool'. Last but not least on the last day of our stay the cleaning lady knocked on our door at 6am! Opened the door, saw that we were still sleeping, apologised and left. Then around two hours later she knocked again and opened the door. Still half asleep I told her we were sleeping!! She then said 'oh I'm so sorry, I'm so sorry. When are you leaving!' I couldn't believe she'd actually asked me that while we were both in bed obviously SLEEPING. And AGAIN she asked "when are you leaving?' i was so upset I didn't even want to say anything else (check out is 11am btw! It was around 8). I ignored her until she left apologising. During those 5 nights no one ever checked whether anything needed to be cleaned or exchanged, but they day we left they came twice to check if we were gone already!! Place smelled like Marijuana!! When checking out we asked for a partial refund or at least a discount on parking, but that was, of course, refused. One or two of the ladies working at the front desk were really sweet, but others were rude or simply didn't care. We also never received an actual bill for our stay. Now that I'm back home I realised that my credit card had been charged with around $150 and I don't know where they come from. So I called and was rather rudly told that she doesn't know, but it's probably parking and the security deposit. However the security deposit was charged on our second day (they couldn't charge it the first night due to the system failure and so stopped us on our way out the next day, we had an Uber waiting outside and kindly asked to do it when we return, but they wouldn't let us leave) and four days of parking only equals $120! She said' she'd redirect me to the accounting department, so I could leave a message (they're closed till Monday) but then she hung up. We will absolutely not be coming back here!! I do not recommend this hotel at all!!
Pandaeule03
Love this place!
Reviewed 29 november, 2021
The employees are so helpful and pleasant and the hotel is very clean. Great location at a reasonable price. With the train just downstairs it's a quick easy trip into Manhattan or Newark airport. I'll be back!
AlaskanGlobeTrotter9
The worst staff in the hospitality business
Reviewed 28 november, 2021
Staff (African lady) was so awful to speak to I am shocked she has a job. She would stare blankly at me when asked a question and then ignore. She actually did the same thing to someone else in my group which makes me wonder if it's a psychological problem or if she just has no manners. It was a pain getting parking and even a room from her. Both times I had to end up speaking to someone else.
jarabhuiyan88
No point in being on Hilton Honors member!!!
Reviewed 27 november, 2021
Mistakenly booked my stay at Double Tree Newark Airport, instead of Double Tree MIA. I quickly got on the phone within 2 min of the booking as it was booked via Honors account. I thought that the hotel would be considerate in my request to have my credit moved to another Hilton hotel, but they simply refused as it was a same day booking. I was wrong to think there was any benefit being a loyal Hilton Honors member!!! Just to note that I travel quite frequently, as stayed at Double Tree MIA as recent as last week...but won't be making Hilton choices moving forward Marriott Bonvoy from now onwards!!!
suniljogie
Disappointed
Reviewed 26 november, 2021
My flight landed at 6:30p. Waited for shuttle for almost 2 hour with repeated calls to hotel saying " 6 min away. Ended up calling an Uber and was finally in my room 3 hours later. No compensation was offered. The ice machine was broken. No refrigerator I. Room. Noise started at 6:30 am. 75.00 deposit on credit card for incidentals is still pending 3 days later.
chenecooke