Tierra del Sol Resort & Golf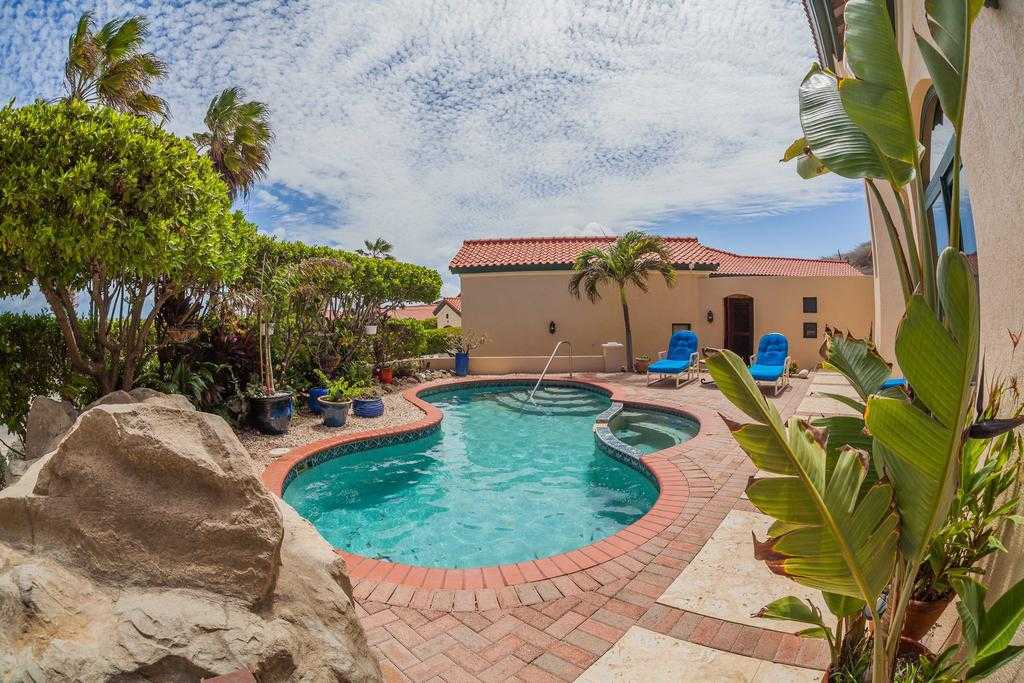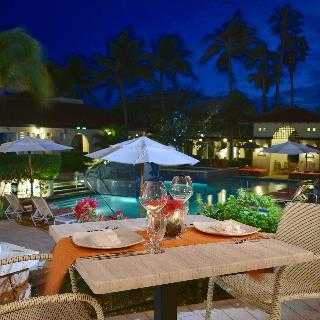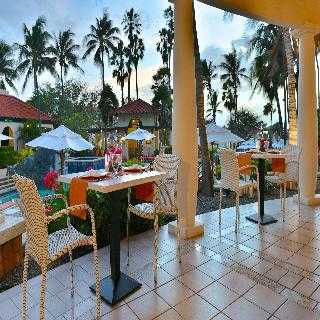 TripAdvisor Review
Based on 208 review
See all
Tierra del Sol Resort & Golf apartments and villas are located on Aruba's northwest tip of the island coast no more than a 10-minutes taxi ride from most major resorts. This gated community is surrounded by exotic wildlife including salamanders, parakeets, and wild burrow that serve as distractions ...
More details
Availability
Select the date of your trip
Select the date of your trip to check room availability.
Property Info
Tierra del Sol Resort & Golf apartments and villas are located on Aruba's northwest tip of the island coast no more than a 10-minutes taxi ride from most major resorts. This gated community is surrounded by exotic wildlife including salamanders, parakeets, and wild burrow that serve as distractions from the strategically placed bunkers and water hazards of the only 18-hole professional Golf course on the island. Oranjestad tourist centre is roughly 5 km away, as is its metro station. While enjoying the accommodation of your condominium or villa, we hope you will take a moment to enjoy what mak...
More details
Check-in starts at: 15:00
Check-out ends at: 11:00
Property Amenities
Reception services
Concierge
Guest rating
TripAdvisor
Travelers rating
Excellent

124

Very Good

32

Good

21

Reasonable

10

Bad

21
Travelers profile
Business

9

Couples

74

Solo travel

8

Family

55

Friends getaway

26
Scores Summary
Cleanliness

Location

Rooms

Service

Sleep Quality

Value
Amazing wedding at Tierra del Sol
Reviewed 15 november, 2021
Friday 12/11/21 we had our wedding at Tierra del Sol. It was amazing!!!! The location is super beautiful; we had enough space at the poolside for welcome champagne, dinner, dancing and chill space The total staff was super friendly and professional And special the help and service of Emilio Geerman was tremendo. The food was super; delicious, more than enough and lot of variety The drinks were super: premium brands, fresh and on good temperature Actually everything was amazing all guests enjoyed But ehmmmm would we recommend this place?….. Definitely yes: go there they are the BEST Masha danki pa tur Emilio and staff
Adriaan R
Absolutely incredible views, decent course, below average service
Reviewed 16 october, 2021
Played 9 holes at Tierra del Sol (was not a resort guest). The views are absolutely amazing. The real challenge is managing the wind, added 2-3 clubs on some shots. Backshop guys were great but the pro shop staff could have been a little friendlier. Didn't get any instruction about where the 1st tee was either. Thankfully a resort guest was around to tell us because its quite the trek. If views and challenging wind are what you're after then definitely recommend this course but if you're looking for overall experience go to Divi.
mattdS8358MT
Our dream wedding became reality no matter the weather.
Reviewed 9 october, 2021
We had one month to plan our wedding when we sat with Mr. Emilio at Tierra del Sol. This is one of my favorite places on the island. I love to dine and take my spa day there. When I introduced my husband to the place he felt immediately in love with the view and at that moment we decided that we would get married here. Due to the pandemic we had already postponed our wedding 2 times, and we had planned to get married in Curacao. Everything went really well planning the wedding with Emilio, he is the best. I also got to meet Ghislaine who gave me valuable advise. Thank you very much Ghis. When it was the day of the wedding the weather turned really bad. When they had everything set up for our dream garden wedding outdoors it began raining. Emilio called me immediately and explained to me the change of plans to do it indoors, I trust Emilio completely and I just told him go ahead. And believe me they did a wonderful job and I know they worked really hard to do the whole set up indoors. When I arrived for the ceremony I was really impressed and everything looked sharp and elegant. All of our guest had a wonderful time, everything was perfect, the food and desserts were really delicious, the drinks were top and most important the service was A+. Thank you so much Emilio and the whole staff who made from this rainy day the best day of our lives. Lots of love, Jasmin and Dennis.
jasminlacle
Planning our Dream Wedding for 2021 at Tierra Del Sol
Reviewed 30 september, 2020
"While traveling back to the Netherlands I asked my fiancé what was the tip and the top of our vacation. While he mentioned his, I was thinking what was mine... As this vacation was planned for both relaxing as wedding planning time, I immediately thought that my top was the Food Tasting (I do love eating after all...) and meeting with our vendors that afternoon at Tierra del Sol. But first, let's start from the beginning... We have to admit that since day one the communication with Emilio has been really good! We've contacted so many local vendors, and unfortunately I have to say that quick and professional communication is not really common on the island. But with Emilio, we definitely can not complain! He is quick to answer our emails and/or Whatsapp, and is always open for us if we have more questions or need any help. Besides that, we also had a very long phone call with Emilio to discuss our F&B and he was very patient and helpful the whole time. A couple of months ago we planned to have a Food tasting with Emilio at TDS to choose our Hors D'oeuvres and taste our choice of menu. We had no idea that by the time we arrived in Aruba (2nd week of September) the Covid-19 situation would be as bad as it was and that the restaurant would be closed. However, Emilio once again showed his professionalism and involvement in planning our Wedding. Emilio kindly welcomed us at the entrance and explained that the Chef did her best to cook us all the food and snacks, even though the situation was not ideal at TDS. Emilio made sure he had all the time in the world to be there with us; we walked the floorplan and discussed some ideas, followed by Food tasting. The food was really good, which made our choice for Hors D'oeuvres quite difficult! But it also confirmed our choice of menu, and we are happy with the steak and fish dishes we chose :) A big compliment to the Chef for making this happen and for cooking us great food! Later that day we had planned to meet with some of our vendors to look at the venue at night and discuss decoration/floor plans. Emilio was there with us again from the beginning till the end. He was very much involved in the discussions and had some good ideas for the set-up. We believe that we made some good progress that evening together with our vendors, and we think that everyone knows exactly what has to be done and what is expected. Not only did we make good progress on the planning, we also had a really fun afternoon in good company. The bartender (Chay) came around and we had a good laugh with him as well! It turned out that my father worked with him at Bushiri when they were younger. Aruba is indeed a small and happy island. We can't wait to bring our families and friends together at Tierra del Sol and celebrate our Marriage next year in May!" Thank you so much Emilio, and let's keep working together and with your team to make this a wonderful and unforgettable event for all of us.
DayTrip442712
Worst Aruba Experience in all of my 15 times here
Reviewed 11 september, 2020
Most Worse Unsafe Visit to Aruba in all my life.This is my first time staying at the Tierra Del Sol. Came for my honeymoon. Someone Broke into our villa in the middle of the night while me and my wife were sleeping. They Stole $600 from my drawer which i had placed it in because for some odd reason the villa doesn't come with the key to the safe ( You have to request the key to your safe for your villa once you arrive - which i was not informed - stupidity). We thought we were in a safe place. We got a 2 bedroom stay - i had only realized that they gave me the villa with one door that seemed to be locked but wasn't which had easy access to our villa from outside - such a careless mistake that could have put us in danger. Everybody is human but this is a bad mistake.There are guards in the way beginning of the entrance who stay there at night , but there's no one patrolling the streets at night. We filed a report with the police. Thank god nothing happened to us but my wife was crying and this was a beyond traumatic experience for her. We wasted 4 hours of our day working with the police ( we had plans to go to eagle beach which was pretty much ruined. No sort of reimbursement was offered by the club or change to a different villa considering ours was infiltrated. My wife and i decided to stay in the courtyard Marriott hotel for the night because we felt it was unsafe even though they still were making us pay for our stay. My wife couldn't sleep all night due to the incident. I went back in the morning to speak with the manager. He is, as the Head of Security told me " Not working and he's away". I asked for his number, he didn't give it to me. I requested to be compensated the night i had to pay for my hotel , he couldn't offer me anything or anyone's contact info that could help me figure things out here. They were very cold to the whole situation as if the break-in was as i quote the Head of Security " Not Our Problem". I never felt so unsafe and disrespected by a host. Wait to ruin my honeymoon Tierra del sol. Sidenotes about my villa - Mesa Vista 21 - Oven was dirty - my wife had to buy a sponge and scrape the living daylights out of the trays hahaha. The pool was nice and beautiful temperature but very very dirty. Dead flies all over my body when i jump in and jump out. Also many leaves... A pool guy came one day, turned on a machine for a few minutes, left , and it did absolutely nothing to clean it. The room was nice overall but would've been nicer if someone hadn't have broken in. I have been to aruba more than 13 times in my life and sadly, this trip was the worst one. Too much hassle with too little time and peace of mind to enjoy my short and uncomfortable stay here. I personally will be going back to the mariott next time i come. I am now $1100 in the negative factoring in my cash that was lost , my night at tierra del sol that was uncompensated , and my night i had to pay the marriott for. It's a nice place overall but i got royally screwed. Best of luck to whoever plans to stay here.
ABM9700