Prince de Galles, a Luxury Collection Hotel, Paris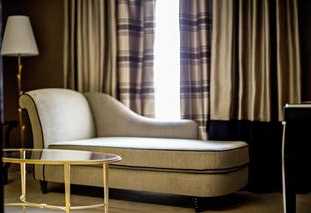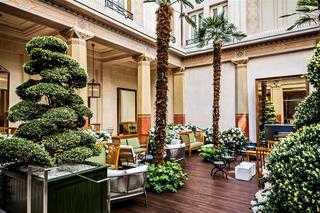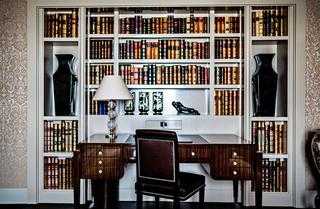 TripAdvisor Review
Based on 1129 review
See all
Located on Avenue George V and only few steps from the Champs-Elysées and its boutiques, Prince de Galles is a legendary Art Deco jewel in the Golden Triangle. The 115 rooms and 44 suites offer the traveler the authenticity of a Parisian sojourn and the luxury of a great international address. Offer...
More details
Availability
Select the date of your trip
Select the date of your trip to check room availability.
Property Info
Located on Avenue George V and only few steps from the Champs-Elysées and its boutiques, Prince de Galles is a legendary Art Deco jewel in the Golden Triangle. The 115 rooms and 44 suites offer the traveler the authenticity of a Parisian sojourn and the luxury of a great international address. Offering complimentary Wi-Fi, a 40''flat screen TV with media hub and dedicated Nespresso coffee machine, the guest rooms open over the Patio or to the urban architecture of Paris as the avenue George V, depending on their orientation. During your stay, customers can indulge themselves in our Wellness Su...
More details
Check-in starts at: 15:00
Check-out ends at: 11:00
Property Amenities
Reception services
Concierge
Guest rating
TripAdvisor
Travelers rating
Excellent

876

Very Good

164

Good

64

Reasonable

15

Bad

10
Travelers profile
Business

123

Couples

528

Solo travel

42

Family

222

Friends getaway

91
Scores Summary
Cleanliness

Location

Rooms

Service

Sleep Quality

Value
Short and excellent stay
Reviewed 29 november, 2021
Short one night stay on business Very kind status upgrade to a suite. Very spacious. Lovely decor. Super comfortable bed. Good gym - same set up as before refurbishment with good selection of cardio, machines and some free weights (max 20kg) I didn't have the chance to revisit the restaurant - room service only. Caesar salad was one of the best I've eaten Highly recommended
patgr36
The best ever stay in Paris!
Reviewed 26 november, 2021
A hotel with a Soul, where all team members are leading from the front! Best location, unparalleled hospitality and an exceptional Team with 100% CAN DO attitude! Couldn't ask for more! Love you guys…
AnshumanMitra2021
Great hotel , great location , great staff !!
Reviewed 7 november, 2021
I was so fortunate to stay with my wife at the Prince de Galles for two nights . From November 04 to the 06 .Room # 802 . As a Frenchman from NYC who also work for Marriott Group , I was very satisfied with my experience at the hotel . Nothing to complain about .I have to mention a special thanks to Ms. Erica and Ms Paula at the reception . Also for the best was Mr. Dimitri from the Engineering department who was so kind to help me with a HDMI cable ,so i could watch my Youtube videos from my Laptop to the TV . Ps : I would love someone from the management to get in touch with me for ideas how to make the experience even better. Feel free to contact me . I cannot wait to return to Paris and stay again at the Prince de Galles Paris.:))
Philippe D
Excellent!
Reviewed 22 october, 2021
This is a marriot property so I booked with points. It is located right next to the Four Seasons. The location is fantastic. It is just a few minutes walk to view the Eiffel tower or hit the main shops. The concierge has been fantastic with reservations and rides. Absolutely top notch service, and location. My room is wonderful as well. The sheets, towels, coffee in the room all perfect.
B9927PFjons
Elegant Paris hotel in a great location
Reviewed 19 october, 2021
My wife and I recently stayed at the Prince de Galles for three nights, and we had a very good stay. We thought the hotel was elegant and beautiful, an art deco masterpiece that served as a comfortable home base for us in Paris. It was even better that the location in the 8th Arrondisement was so convenient to the Champs-Élysées and Métro. The only thing that could have improved a bit was service. Service started out extremely strong, but became increasingly inconsistent as our stay went on. Pre-Arrival Experience: Choosing a hotel in Paris can be daunting, with so many options even in the five-star category. In this case, I had some Bonvoy points to burn, so I used that as a way to narrow the options down. Prince de Galles clearly stood out as being the most high-end Marriott property in Paris, so I booked it. Although it was a high number of points per night, the cash rates were upwards of 1,000 euros per night when we stayed, so it still seemed like a decent value. One thing I noticed prior to our arrival was that there really wasn't much information on the hotel's website or in the initial reservation confirmation emails about how to contact the hotel for pre-arrival assistance. We didn't really need any help with planning our trip to Paris, but if we had needed help, clearer information about how to interface with the hotel right from the start (outside of placing a phone call) would have helped. We did get an email from the hotel about a week prior to our arrival to welcome us and ask about any requests we may have, as well as to offer concierge services to plan our trip. These are exactly the kinds of things I like to contact the hotel about before arrival, but I often want to get the process started sooner, particularly for an international trip. We've now learned that the hotel can be reached at reservation.princedegalles@luxurycollection.com if you need anything sooner than the introductory email that will arrive about a week before check-in. Since our reservation on points was for the most basic "Art Deco" room, I inquired about any paid upgrades that may be available. I was offered a Deluxe Room for 90 euros/night, Deluxe Room with a Balcony for 180 euros/night, or a Mosaic Suite for 400 euros/night. These rates seemed a bit high, since it wasn't all that clear to me how the room types all differ. I declined, figuring we'd wait until check-in to see if we could get a complimentary upgrade since I have gold status with Bonvoy. Arrival Experience: We arrived at the hotel in the late morning, and had an excellent arrival experience. One of the many doormen immediately took our luggage and pointed us in the direction of the front desk, where Paula did a perfect job checking us in. Paula set the bar extremely high for service at Prince de Galles, which may be one reason why things felt like they went downhill from there. She was just so energetic, enthusiastic, and friendly, and made us feel very valued as guests. Paula is a major asset to the Prince de Galles team. I asked during check-in if they were able to upgrade our room due to my Gold Bonvoy status, and she worked very hard to see if she could find something (it didn't seem like an upgrade would have happened had I not asked). She explained that it might be difficult since the hotel was full, but after a couple minutes of looking, she shared the good news that she was able to find a Deluxe Room that would be larger than the Art Deco Room we had booked. We also appreciated that the staff at the adjacent concierge desk must have been listening as we checked in, because they immediately brought over a package that had been delivered to the hotel for us. It was great that I didn't even have to inquire about this myself. Paula told us that the room was almost ready, but apologized for the fact that it needed a final housekeeping check before it could be released. It was no problem, given that it was still the morning and we didn't expect to get a room so early. However, no more than five minutes later, Paula came over to us in the lobby to let us know that our room was ready and that she could accompany us right up. As a note - I do not believe the hotel ever checked our health passes when we arrived or at any point after that. Also, although there were signs up saying that masks were required in all public spaces indoors, I saw a lot of guests who were not following the mask rules. I saw several people just not wearing masks at all in the hotel, or taking masks off when seated in the lobby, despite not eating or drinking. I would have preferred if the hotel took Covid protocols a bit more seriously. Room: Our room was on the 6th floor (620), and I was impressed as we made our way there. I had already fallen in love with the elegant art deco lobby when we entered the hotel, with its sleek black and gold décor and lovely fresh flowers, and this theme carried through to the hallways and rooms. The hallway, although a bit long and winding (Paula informed us that the hallways are a big circle, so you can't really get lost), continued the elegant theme with gorgeous black-and-white vintage fashion photos, which we really loved looking at. Each room has a heavy gray lacquer door outlined in chrome with large chrome numbers. The first impression just from approaching and entering your room is great. The room's interior continued the art deco theme. The room was outfitted in neutral tones of cream, black, and gold with dark wood, but still had plenty of visual interest through things like the large painting on the wall when you first entered, the dramatic black marble in the entrance and bathroom, and patterned floral carpet in the bedroom. I found the décor to be very elegant and really perfect for carrying out a classic Paris art deco theme. The room had a little wear and tear around the edges, but was generally really nice and well maintained. The room was certainly not huge by any means, but I can imagine that getting upgraded to the Deluxe Room probably did get us a bit more space than we would have had in a standard Art Deco Room, both in the bedroom and the bathroom. The king bed was huge and very comfortable for sleeping (it seemed to be two twins that had been joined into a king, which made for a very wide bed). There was also one armchair and a decent sized desk, and then a couple of built-in closet units that also included the mini-bar and safe. When touring the room, Paula let us know that all of the beverages in the mini-bar are complimentary. This was a very nice touch, and included basic items: two bottles of still water, two bottles of sparkling water, a couple of sodas, and a couple of beers. The only disappointing thing was that the waters we took from the mini-bar were never replenished during our stay, although I was expecting that they'd be refilled daily like a normal mini-bar (at least small bottles of Evian were separately provided during turndown each night). Opening up the windows, our room had a very pleasant view of a quiet side street next to the hotel. For me, any view of the beautiful Haussmann architecture of Paris is a great view, so I liked it. I preferred this over the alternative of having a view of the hotel's interior courtyard. It was helpful that our room had an additional thick door that you could close between the bedroom and the entranceway and bathroom. When that door was open, I did sometimes hear a little bit of noise from the hallway, but closing it made it easy to sleep without any interruptions. More hotels should design rooms like this. We were celebrating our anniversary, so it was nice that the hotel delivered a handwritten note, celebratory dessert, and half bottle of Laurent-Perrier champagne to the room after check-in, all of which we enjoyed. Prince de Galles has free wifi that works well, and I found that both the standard speed and upgraded speed that is complimentary with elite Bonvoy status worked similarly well for basic tasks. The room was also pretty functional in having enough outlets, including some USB and regular plugs by each nightstand, in addition to more on the desk. The bathroom was lovely, and took the design up a notch, with art on the walls, lots of mirrors, and really gorgeous mosaic tile on the walls and floors of the shared toilet/shower side of the room. I thought the shower had very good water pressure from the overhead rainfall shower head. There was also a large separate tub that looked pretty deep and nice, but we didn't have a chance to use it. I would say the bathroom was pretty big for Paris standards, although still a little tight overall with the amount of things in there and the somewhat busy décor. Although the vanity only had one sink, it was functional, with a good amount of space on the counter, an extra shelf above, and a storage unit below. The bathroom did not have a normal locking door, but rather two sliding pocket doors. The ones in our room didn't actually shut fully, so there was a gap between them that should be fixed. The Lalique branded bath products were just ok, and I noticed that the housekeepers were a bit sloppy with them. For example, when we arrived, I noticed that an extra bottle of conditioner had been placed where there should have been lotion, and they never once replaced the bath products over the course of our three nights. Housekeeping as a whole was just ok here. In addition to the lack of attention to detail in the bathroom, they also completely skipped us for turndown on our last night, despite having come each of the prior nights. As I mentioned before, the mini-bar was also never replenished. I really didn't understand why, since on our last day, someone knocked on our door in the afternoon asking if he could inspect the mini-bar. He came in, took a quick look, and then left. Since he did nothing else, I assumed that someone had come into the room earlier that day to replenish missing items. However, later that day, we realized that nothing had been replenished at all. It baffled me that someone came to inspect the fridge, saw things were missing, and made no effort to get more. It's also just basic bottled water we were looking to get more of, not something particularly exciting or expensive. Dining: We had a very busy itinerary while we were in Paris, so we didn't get to try any of the restaurants within the hotel. I believe there is currently a bar and then a restaurant in the interior courtyard of the hotel. Pictures of both look pleasant, but nothing stood out about them from what I read online, so we didn't go out of our way to try either one. There is also going to be a new Japanese restaurant coming soon by chef Akira Back, which I would definitely be eager to try. Signage for the Akira Back restaurant is already up, so hopefully it will open soon. It's good they are adding a more unique, signature restaurant to supplement the bar and courtyard, which seem kind of generic. We did use room service several times. We often had early wake-ups, so we got room service every morning, and when we returned late from a tour one night, we also used it for dinner to avoid having to go out. Although room service here was generally very nice, it was a little inconsistent, both in terms of food and service. The room service menu is available through a QR code in the room, and you can order directly from the website that comes up, which is easy and helpful in theory. However, I did find that the online ordering could be glitchy. For one, we were told at check-in that since room service is offered 24 hours a day, we could get room service breakfast as early as needed, even before the advertised 6:30 am start time. However, the app wouldn't allow this, so I had to call for any earlier delivery times. In addition, another time, when I tried to order within the normal time frame, it wouldn't allow me to add coffee to the online order (an item they definitely have), so I had to call. I finally was able to order our one dinner online after the failed breakfast attempts, and it was easy to use that time, and provided an estimated arrival time. The food actually arrived about 20 minutes after the promised time. They did call while we were waiting to apologize and let me know that it was taking extra time to make my dessert. All other meals were always delivered right on time. The calls that I placed to order breakfast when we couldn't use the website were a bit inconsistent. Two of the three times when I called, the staff were super pleasant and accommodating, took the order without issue, and the service was great. However, when I called one night to place an early 6:00 am breakfast order for the next morning before we left for the airport, the person who I spoke with gave me a really hard time. She first tried to refuse to take any order to be delivered prior to 6:30 am, which I knew was wrong since we had gotten breakfast at 5:30 am on a previous day. Once I pushed her on that, she told us that the distinction was that we could not order any pastries before 6:30, because the pastry chef would not be in before 6:30. This was not an issue the other time we had early breakfast, but she wouldn't relent. The problematic item that we wanted to order was crepes, and she said it would just be impossible to get those before 6:30. Crepes aren't exactly something that you need a special pastry chef to make, so it was disappointing that they refused to offer crepes for a 6:00 am breakfast. It seemed crazy that they had no issue with making eggs benedict early, but things like crepes and croissants were off limits. I also had an odd encounter when I called one time to have our room service removed from our room when we were done, which the staff tell you to do. I called and explained that we were done with our room service dinner and wanted to have it removed. The woman I spoke with was incredibly rude. She seemed to have limited English skills, and instead of just asking me to repeat myself or admitting she couldn't understand, she kept raising her voice and yelling unrelated things at me. It was a very frustrating experience until I could get her to calm down and listen. Despite some weird encounters on the phone, most of the people who would deliver room service were nice and attentive. The best employees would always wheel the table into the room and set it up really nice with fresh flowers, linens, etc., but again, it was inconsistent, since others did less. Rather than taking each item out of the warmer and getting it set for us, some of the delivery people would just wheel the table in and leave as quickly as possible, leaving me to get the food and set things up (not a big deal, but just an observation on differences in service). The room service food quality also varied. Some things for breakfast were solidly good, like the eggs benedict, bacon, and crepes. However, we also had waffles that were hard as rocks when they arrived (we had a similar issue with pancakes at another hotel on our trip, so I'm not sure why this seemed to be common in France). Unfortunately, when I ordered French toast one morning, the order was incorrect and I ended up with a second order of the bad waffles. Dinner through room service was similarly a mixed bag. French onion soups were quite good (although very expensive, at 30 euros per bowl). The penne with carbonara sauce was just bad though, with a bright orange sauce that reminded me of Mexican queso, and nothing like a good carbonara. The dessert I had from room service was like a work of art though, and tasted absolutely delicious. Location: The location of Prince de Galles is great. The hotel is on the upscale Avenue George V, adjacent to the Four Seasons George V hotel, and you're only a block or two from the Champs-Élysées. The Champs-Élysées can get incredibly busy, so being just a little removed from it, while still in easy walking distance, was great. We're not big shoppers, so most of the great luxury shopping on the Champs-Élysées is a bit lost on us, but we still like being in that area, since it's high-end and well-located to get to other places. We didn't have a chance to walk in the other direction, but I know it's definitely walkable to the Eiffel Tower as well. The George V stop on Line 1 of the Métro is right up the street at the corner of the Champs-Élysées, so it's very convenient to the hotel. Although this stop isn't a connecting point, it's a helpful line to be on for tourist purposes, since it also makes stops at a lot of popular places like Place de la Concorde and the Louvre, and connections along Line 1 are pretty easy. Service: Overall, hotel service was very variable, which is the sole reason I am rating Prince de Galles as 4 stars instead of 5. As I said, the hotel is absolutely gorgeous and we just loved our room, the décor, and the location. It really has everything going for it. However, service varied and wasn't as much of a well-oiled machine as I would have liked. Paula at check-in set the standard for what we expected to be amazing service throughout our stay, and it just wasn't maintained at that level throughout. Most staff members were friendly, and said bonjour when passing in the hallway and things like that, but there were enough poor or inconsistent service experiences that it was noticeable. As I mentioned above, the ordering and delivery processes for room service were all over the place, and I didn't think that housekeeping had good attention to detail in the bathroom or with the mini-bar. I also noticed that the staff at the hotel entrance was a bit weak. There were always several doormen working at once, and they were not very friendly or welcoming as we came and went from the hotel on foot. Sometimes they would say hello or goodbye, but they often didn't, and just tended to stand huddled together talking amongst themselves or to drivers that were there waiting for guests. They seemed to forget that guests are supposed to be the focus. They also rarely ever held open doors for us, a basic thing you'd expect from doormen at a five-star hotel. However, service was also very good at times. For example, I had good experiences with contacting the hotel staff using the Marriott app. I was really impressed when I asked on the app if I could email them our Covid test results for our flight home to be printed. They immediately responded with an email address to send the PDFs to, and then had them printed and delivered to us literally within 10 minutes of the initial request. We didn't even need them right away, so this was impressive service. Our stay was booked as two separate reservations, and the staff was also very good about handling the artificial "check-out" and "check-in" between stays. Although they said we would need to stop by the front desk to get new keys on the transition day, I was very impressed that when I went there to get them, the keys were already made and ready to go for a very quick handoff, even though they hadn't known when exactly I'd be stopping by. There were no major issues or catastrophes during our stay by any means, but it would have been nice to feel like service was at a more consistent high level throughout. Overall: Overall, we were definitely satisfied with our stay at Prince de Galles. The physical structure, décor, and location are the biggest selling points of being here. It's just a lovely space with great rooms, in a perfect spot in Paris. However, service was a bit less consistent than I would have expected at a Luxury Collection property, which was a little disappointing. We had some great encounters, such as with Paula at check-in, but we also had multiple experiences that were a little frustrating on the service end. With a little more attention to service, this hotel will be perfect. However, even without, it's still a great place to stay.
Matthew G