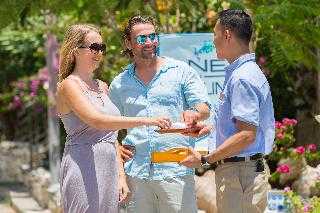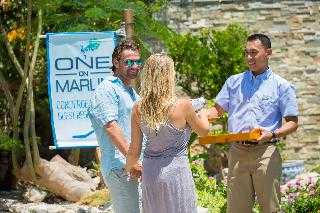 TripAdvisor Review
Based on 192 review
See all
One ON Marlin Providenciales Adults Only Sanctuary Retreat - Multi-year Certificate of Excellence on TripAdvisor Nestled in Sacred Valley, Providenciales, 8 minute drive from the world famous Grace Bay Beach, One On Marlin is a discreet off the grid contemporary boutique resort designed exclusively ...
More details
Availability
Select the date of your trip
Select the date of your trip to check room availability.
Property Info
One ON Marlin Providenciales Adults Only Sanctuary Retreat - Multi-year Certificate of Excellence on TripAdvisor Nestled in Sacred Valley, Providenciales, 8 minute drive from the world famous Grace Bay Beach, One On Marlin is a discreet off the grid contemporary boutique resort designed exclusively for adults that elicits natural calming and soothing undertones designed to bring you and your partner a subtle sense of inner balance and harmony..a sense of Oneness only found at One On Marlin. Energy running low? Folks from around the world come to One On Marlin, as a Way to find oneself and one ...
More details
Check-in starts at: 15:00
Check-out ends at: 11:00
Property Amenities
Reception services
Concierge
Guest rating
TripAdvisor
Travelers rating
Excellent

144

Very Good

33

Good

10

Reasonable

4

Bad

1
Travelers profile
Business

4

Couples

137

Solo travel

12

Family

4

Friends getaway

15
Scores Summary
Cleanliness

Location

Rooms

Service

Sleep Quality

Value
Amazing!!
Reviewed 5 march, 2020
Upon arrival I parked the car with plenty of room and no issues finding the office. The parking area and all the pathways played calming instrumental music. Then up the stairs to the office to where I was greeted and assisted in checking me in. The check in was easy and quick and I was given plenty of information. After which I was personally escorted to my suite and shown where to park if I wanted to park near my suite. The amenities in the room were great and very modern. One on Marlin was a fantastic stay with helpful staff. Peaceful and calming. 10 out of 10!
Debbie C
Marketing of a poor property at it's finest
Reviewed 27 february, 2020
Travel a decent amount for work, and this was high season on island, so we had tempered expectations. It did not even meet these expectations. Check in time was about an hour thirty. When we arrived there was another couple checking in. We were asked to wait while the one attendant checked the other couple in. We waited for 45 minutes. So much time we strolled outside and around property while waiting. This was followed by another 30-45 minute tutorial of a very simple hotel and room. All could have been in a book! I mean he even showed us how to swivel the tv! Very nice gent but don't need all the details. Location was "in middle of island", I mean nowhere, and not near beach at all. We knew that going in, but it was more than expected. Marketing implied the beach kind of "across the street". While I knew not on beach, it was a good 5-8 minute car ride and across the busiest highway on the island. You cannot walk safely to the beach. The hotel depicted a golf cart on website and a short ride to their beach club. It seemed like would be a shuttle going back and forth and relaxing quick trip. Nope, instead it's a designated cargo van with schedule times. And the beach club, beach and shuttle shuts down at 5pm. Not mentioned anywhere. Private butler was really not that at all. The butler serviced every room on property, but was also the receptionist, breakfast caterer, and everything else. Felt bad for him. Was a very nice gentleman. Room was generally ok but a few nuances, such as slats in the toilet door so you could hear every sound of other guest. Sister "resort" was not across street. Was a car ride. Pool area was ok, but I think they just opened a restaurant because the area was still under construction. Again no disclosure on this. Overall, the hotel (not a resort) has good intentions but don't live up to any of them.
musclesm123
One on Marlin Turks & Caicos
Reviewed 20 february, 2020
Great stay and great experience ! Lawrence and Staff were very friendly , professional and accommodating ! Recommend to others, quiet n relaxed setting . Close to beach . Crew is attentive and thoughtful
HSe0212
Great Potential Lots of Kinks to Work Out
Reviewed 10 february, 2020
I agree with the recent reviewers and glad to see I wasn't being too high maintenance. Although it feels hard to complain when you're on an island as beautiful as T&C AND although I came during the off season, the website, the amenities featured and the views promised were outright misleading. A couple of things of note and clarification, the place has lots of potential but, it does feel like maybe they ran out of money or opened too soon to live up to the plans in mind. Basically, you can see the vision but it is not all there yet and you aren't paying early opening prices (hopefully). The shorthand is: 3/5 stars with 1 star being solely for how friendly most staff was. I personally wouldn't travel there again given that the price vs value is greatly skewed. But if you get a booking site discount (+35%) it might MIGHT be worth it. Read on for more of my inability to write concisely. First up: The Space They call the places to stay "villas" or "suites" I think that's a little misleading, think high efficiency studios or apartments. There is a lot of nice eco-friendly and energy saving features which is great if you're someone who likes to be conscientious and leave a small footprint. Lots of nice small space saving storage and amenities. No bathtub but good shower albeit on the smaller side (again space saving). I'm not sure why this isn't played up as from that angle of things it's really nice. But this is not a luxe sprawling villa or an open and minimalist island cabin with sea views. Speaking of.... The Property: Those gorgeous lush images you see are "technically" accurate but suggest more of an open winding road long walk to the beach or scenery type deal when in reality it's a closed space. You aren't free to walk around I'd say any more than a half mile and that's only if you want to look at other people's properties? There's no extensive garden path type deal or courts or tennis or whatever else active folks do. And the beach is entirely inaccessible without the shuttle even view wise because you are not on the coast or high up enough. If I wasn't so perplexed by figuring out what exactly was going on I could've maybe convinced myself that this was a fancy wellness and health spa with really nice lodgings between treatments (except there's no spa amenities on site; no pool, sauna, hot tub, massage room, salon etc.). Actually they should do that in terms of branding maybe partner with an actual spa and run shuttles. They have a nice waterfall and soft music track running with is super soothing throughout the property but I digress... Amenities: So outside of a standard room, they boast a balcony/terrace, BBQ Grill on requests massages etc. When I arrived I had my "orientation" with another couple. They mentioned having stopped to get a cooler full of fish and seafood to grill and I literally watched Jan stumble to say something like; "we'll see if we can get that for you." My two cents, don't advertise stuff you don't have readily available. Look carefully at the apartment and studio photos they are entirely accurate however that's it. As in the vantage point of all the photos make it look like there is possibly another room off to the side or something, nope. It's as a realtor you kind of don't trust says a "cozy, updated open-concept." Balcony is at best 25 Sq Ft and I don't know about you but that's not what I think when I hear walk on terrace. They do have massages available but between you and the masseuse, assuming you can find space in the apartment or balcony don't expect anything close to even your average Groupon experience I imagine. Free smart phone is at best a 2010 droid which works as your concierge/front desk phone since there aren't any phone lines. The fridge is empty except the water which isn't free (Thanks Laurence for being honest!). I was told for an additional fee (15%) they could stock my fridge before arrival as long as I gave a general list. Cool. Except it would seem 48 hours in advance wasn't enough time and I didn't get a response confirming or declining although I asked. When I inquired about it during orientation Jan stated he "had just gotten my email." I tried to really stick to my guns and suggest maybe they purchase it belatedly ( as I was tired from my flight and could nap meanwhile) and was flat out told I'd be better off paying a taxi ($20 RT for about 4 min drive) and going myself. They also say they have "Room Service" listed as part of butler service but only drinks are available, no food and just alcohol and soda. The mysterious restaurant isn't on site but at their sister property which I was also told wasn't finished being built yet. So guess who winded up at the supermarket hungry and a little dazed at 7pm (thank goodness I always pack snacks in my carry-on)? There isn't actually a full kitchen on site which explains the tragic meal situation… Meals & Butler Service So another claim is "free breakfast," which is absolutely true it comes free of charge. But like the wellness/spa clinic reference earlier checking off my preferences on a sheet of paper should have been a warning bell right there. You may think you're signing off on what you'd like to have EACH day but it's one or the other. (ie a croissant and fruit OR cereal OR a muffin) Tea or juice is always included. I suppose you could've asked for more but I felt oddly like an inconvenience between trying to arrange supermarket visits and realizing after mistakenly calling to see if items were forgotten that that was it. I've honestly enjoyed road trip motel breakfasts more. At least you could stock up on lackluster food at an open buffet (tiny bagels would probably taste better on T&C too). I was glad Laurence was my butler as I didn't really endear myself to Jan with my requests I suppose but butler service is entirely misleading. It should be titled personal concierge because that is what they are there for. There isn't a real front desk. They have wonderful suggestions for taxis, where to shop, where to eat, and how to move around the island. But bring you a microwaved pizza minimally at 10pm they will not. They don't have the capacity for it presently. What I now understand was their "kitchen" which is part of the front desk is a; kettle warmer, microwave oven, a small fridge and pantry that provide the daily breakfast meal described above. If you don't plan to purchase your meals, you must cook them and meal delivery isn't really a fully developed option… Summary: This place isn't fully developed. That's the short and sweet of it. And for them to charge the prices they do is borderline offensive. There is nothing luxurious about this place although it IS relaxing and quiet. Staff attitudes (most of them) can only make up for misleading information but so much. I don't know if they need a GoFundMe or to shake down some more investors but this property even makes more sense as a timeshare condo deal than your typical "resort" island hotel stay. If you need a place to stay and don't care about money and have been to the island before this is one of the more upscale places to lay your head. If you're a first-timer like I was, or are planning a family vacation or are looking for the resort to "rekindle that special flame," or a honeymoon as you lock yourself inside for hours at a time, this isn't it. However, if you're self-sufficient and a person (or pair, or throuple?) that prioritizes being eco-conscious above literally everything else who would rather spend more money on security and safety (the island isn't dangerous either), AND loves to spend time 100% away from the room; go for it? I personally wouldn't stay again and wouldn't recommend it generally. For the amount of extra legwork you wind up doing I'd rather give my money to an AirBnB and commit to figuring stuff out by trial and error. And if people being nice to you matters a lot to your experience see if there's a posting for hired help somewhere for your stay, but it's a happy island so there's always a friendly face nearby.
nnennab90
Great place to stay if you're just looking for a shower and a bed
Reviewed 10 february, 2020
This was our 2nd trip to Providenciales. We visited in July with our son and stayed in a resort on Grace Bay Beach. Since we didn't travel with our son this time , my husband and I stayed here since it was one of the most affordable accommodations for the week we visited , we paid $1100 for 3 nights which included a limited continental breakfast. SERVICE : 5 Stars!!!!!! Jan and Mark were wonderful , they were so professional and accommodating , they truly understand hospitality and their talent/skills are being wasted being at this property, they should be working at a 5 star resort/hotel. ACCOMMODATIONS: If you are a self sufficient traveler and perhaps are looking to stay for an extended period of time and don't need any of the amenities of an actual resort , then this is the place for you. The rooms are fully equipped with a kitchenette , desk, eating area and plenty of storage space. However, there is no lobby, there are no property amenities , for us it was just a place to shower and sleep, which was all we needed on this trip. However , if I were to re-book this trip and I would have found a resort for $100-$150 more per night , we would have paid it just to feel more like we were on vacation and at a resort rather than feeling like we were going back to an apartment. You must have a car. We drove to the beach and to restaurants every day of our stay (Kalooki's, Coco Bistro and Bay Bistro, Las Brisas). We did not visit the sister property as it was not on the beach. The photos on their website are misleading. The beach is accessible from a public park on Grace Bay @ Bight Beach. Also, grace bay side was very windy and the waters were not calm this time of year , it was very wavy. We didn't care to visit for the small pool and hot tub. We drove to Sapodilla Bay each day and rented loungers for $40 (2 sun loungers and an umbrella). We didn't use the chairs provided in our rooms cause they were more like chairs you would bring to a tailgate at a football game. Our stay was great, the room was cozy, the style unfortunately was not to our liking , but there is nothing negative about this property. Again, SERVICE was PHENOMENAL. Thank you to Jan & Mark. If you are a self sufficient traveler , then this place is the place for you. If you are accustomed to the amenities of a hotel or resort, then this is not the right accommodations for you .
Ckamberi