The St. Regis Bahia Beach Resort, Puerto Rico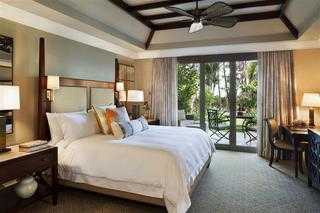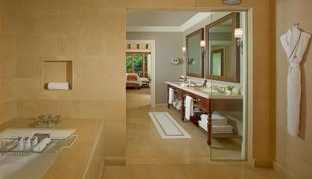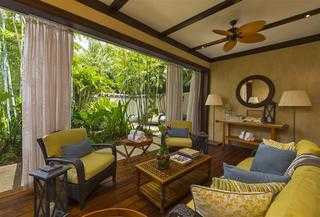 TripAdvisor Review
Based on 1721 review
See all
This hotel is the only AAA Five Diamond resort in the area. It is situated on 195 hectares of a former coconut plantation located on the north-eastern corridor of the island and at the foot of El Yunque National Forest. It is bordered by the Espíritu Santo River State Preserve and is a 30 minute dri...
More details
Availability
Select the date of your trip
Select the date of your trip to check room availability.
Property Info
This hotel is the only AAA Five Diamond resort in the area. It is situated on 195 hectares of a former coconut plantation located on the north-eastern corridor of the island and at the foot of El Yunque National Forest. It is bordered by the Espíritu Santo River State Preserve and is a 30 minute drive from the 500-year-old jewel of Old San Juan. Throughout the grounds, pleasure will be a daily mantra. Guests might tee off at the challenging 18-hole golf course; enjoy exquisite meals in the restaurant; relax in the beautiful spa; and go for a stroll along the pristine, three-kilometre sandy bea...
More details
Check-in starts at: 15:00
Check-out ends at: 11:00
Property Amenities
Reception services
Concierge
Guest rating
TripAdvisor
Travelers rating
Excellent

1099

Very Good

352

Good

137

Reasonable

74

Bad

59
Travelers profile
Business

91

Couples

775

Solo travel

17

Family

501

Friends getaway

114
Scores Summary
Cleanliness

Location

Rooms

Service

Sleep Quality

Value
Unforgettable Experience!
Reviewed 28 november, 2021
We spent 5 nights (Nov 20-25) in Bahia Beach during thanksgiving. We had an extraordinary experience, the service is flawless and the amenities are amazing. We booked at very last minute. 4am on the day of departure… they confirmed a 5pm late checkout for us. And the resort offered a free upgrade to Luxury Suite at checkin even when hotel is full. Truly impressive! Room is very specious with one of the best showers we've ever seen. Bed is comfortable and facilities are new. They said this suite is one of the best position. Butler Service helped us with everything (big or small). They made hard to get reservations for us during thanksgiving, booked tours, reserve taxi, even sent us a whole cake and a wine for thanksgiving. Food: we tried all restaurants and LOVE all of them. Daily buffet is generous. High quality food. Paros and beach club are more "fine dining" with great dining experience and tasty daily specials. Housekeeping: Spectacular housekeeping service. Made our room clean, offer nightly turndown deserts, accommodate every request and need. Resort is a rainforest, we rented kayaks, bikes and paddleboard regularly during the stay. Good beach on property, love to watch the stars! We hope to come back to St Regis Bahia Beach next year!!
Rickyyuge
Service needs drastic improvement
Reviewed 23 november, 2021
I organized a 5 night getaway for us and another couple to the St. Regis Puerto Rico in October. I love the St. Regis brand and was very excited to stay at this property. Unfortunately some of the things I listed below in itself are small but given the brand, category and summation of it all, it ended up being a terrible experience. I also organized the trip so felt extra responsibility and stress. We arrived late afternoon and were quickly taken to our rooms, which had been upgraded to ocean view! Great start! After the long journey, we were hungry and made our way to Seagrapes restaurant. We requested the food to come out as it was ready. Even after everyone's food had arrived and they had eaten, mine still hadn't come out (I ordered the roast chicken). I ended up canceling my order and we paid our check. As everyone else was pretty full by dinner, I decided to order room service, the papaya salad. 20 mins after placing the order, I get a call saying they don't have all the ingredients. I ended up ordering the salmon, which arrived half hour later undercooked so I had to send it back. Finally got dinner by almost 8:30pm. I started worrying I wasn't going to be fed properly at the resort. I did receive a call from the Executive Chef in the morning, which was appreciated. The front desk manager, Jose, on the other hand, never returned my emails or contacted me despite me having stopped by the front desk a few times to try to speak with him. Eventually I ended up working with the Ambassador team. We had continental breakfast included and while some resorts will offer a full breakfast to elite members, here your options were breads, meats and fruits. As we both have gluten sensitivities, it didn't leave us much to eat. Thankfully Chef Jose ensured we were well taken care of for breakfast. Special shoutout to Xiomara and Noel for their outstanding service! By the second night, we decided to go off resort for dinner. The third night, Friday, we opted to go to the St. Regis bar for sushi. We had been told it was delicious. Turns out that while for the first few days the resort was fairly empty, it's quite busy on the weekends! Wish someone (butler service?) had told us about this because two nights before we were the only people in the bar. We ended up getting turned away and had dinner at Paros. While dinner service was good, dessert took too long and ruined the surprise for our guests' anniversary. One oddity to note is we ordered chardonnay and by the glass was $15 versus the bottle was $65. That same bottle was $60 at St. Regis bar downstairs. At either price point, not sure how they are incentivizing guests to purchase the bottle (as usually there is 4 glasses to a bottle). By the fourth night, we thought we were well prepared with a reservation for St. Regis bar at 6:45pm. We arrived and were told it would take some time since prior guests were wrapping up. No problem, we said we would wait in our room. 30 mins goes by and when I check-in, I'm told table is still not ready. Another 30 mins goes by and table still not ready. Finally after another 15 mins, we went back to the restaurant. We're told that our table is still not vacant and that they gave the guests their check a while ago and they were just staying to enjoy the live music and there was nothing they could do. What!? While we continue to inquire about a table, we watch as those same guests are handed their check. We called this out to the hostess, that we could see the check just get handed to that table. It really came across that if we hadn't come back, we would never have been called for dinner. At that point I spoke with the manager, Jose and shared our concerns. He didn't have anything much to say about the situation, even after I mentioned I would be sharing this feedback with Chef Jose. We ordered appetizers, which my friend ended up having as her main course. She then ordered dessert before we had gotten our main course, thinking it would arrive quickly. It didn't. We got our main course, ate it and waited another 10 mins or so for dessert. I wonder how long it would have taken if she hadn't ordered it mid meal! When the waitress brought our check, she instead brought a note from the manager, apologizing and comping our meal. While that may seem like a nice gesture, the fact that he didn't bother coming over at any time during our meal, despite the fact I could see him from my seat throughout my meal, and then had the waitress hand us a note, was shocking. Needless to say we ate out our last night. Food - If you are able to get food, it's actually quite good! It is pretty pricey, as you'd expect at this category property. Champagne sabering - they have substituted a (not so good) prosecco. Typically I have seen sabering to be very timely but here it was late each time we went Housekeeping - Overall great however once I had my room cleaned and the bathtub drain was pulled out. Housekeeping drained the tub so not sure why they didn't call maintenance to repair it. I ended up having to call. The "Make my room" button is a placebo. Don't bother pressing it, nothing happens. If you want your room cleaned, you have to call. Room - Aircon is amazing! Had some issues with the room though - not all outlets worked. Balcony door lock was jammed. Pool service - Stacey was amazing and extremely helpful throughout our stay! Cindy, Anthony & Luis were also very helpful and attentive. One note though is that pool cleaning is not timely. Apparently maintenance is offsite and it took half hour just for someone to come and use the net to clean out the pool at around 11am. Surprising that the pool hadn't already been proactively cleaned for the day.
AmyS_xyz
Breathtaking
Reviewed 18 november, 2021
We just came back from our stay, there are no words you need to just go and see! But I will tell you all the fun stuff anyway! first all rooms are gorgeous and all face the ocean I actually prefer & would only get the garden view again, there is a tennis & basketball court by the wellness center with a full gym & smoothie bar, walk there don't take a golf cart, also the boat house, take out a kayak or a paddleboard we did both then cool off in the fun trampoline park in the water, ok then you need to walk around the property in the forest you feel like your in el yunque , if you wnat to go to el yunque you need a tour or a personal car taxi Uber not allowed in we learned this the hard way & missed out , also you need to go to the beach club was quiet & gorgeous they offer water activities by there , basically your gonna have a problem if you stay here... your never gonna wanna stay anywhere else! But worth it $ , We had a blast everyone is friendly just the best hotel, have fun!
BUBSTER18
If I had to describe heaven
Reviewed 9 november, 2021
We were here for a wedding and what an amazing time. From amazing, attentive, and helpful staff, to large heavenly rooms, to a great pool - a nice place for a relaxing getaway. I think my favorite was our room - the bed was like sleeping on a cloud and the shower room would have been a studio apartment in NYC. One thing I did not like was the costs of food - a little pricy when hanging by the pool. But I would go back again in a minute.
JacobFDC
Lovely stay at St Regis - Advice on what to expect
Reviewed 3 november, 2021
I stayed at St Regis Bahia Beach Resort for 5 nights in Aug 2021. Pros: 1) The beach is beautiful with really light and soft sand. The waves can be rough, but if you like to just lay on the beach, this is really the nicest beach for that. They provide you with chairs, umbrellas and towels. 2) The spa is lovely and (pro tip!) they offer complimentary mango sherbet if you ask. 3) Staff is accommodating and friendly. Front desk gave us an early check-in as I was celebrating my bachelorette party and even gave us a bottle of prosecco! Staff even came up to us after seeing our bride tribe hats to congratulate me! 4) Staff left you alone to do your own thing - We relaxed at the spa for most of the day and they gave us the space and let us feel welcomed to do so. 5) There are many amenities (paddle boarding, water jungle gym, fish feeding at the beautiful koi pond at the entrance) 6) The bath and shower in the rooms are amazing. The shower is spacious and allows you to end the night with a relaxing in-room spa bath. Cons: 1) The rooms are spaced quite far apart and as the resort is in the jungle, you're surrounded by lots of trees and your room may be a far walk from the main lobby. If you didn't rent a car, I advise getting a room at buildings closer to the main lobby. 2) Plan accordingly as it takes about a 8 minute drive to reach the main lobby from the main road, since the resort is surrounded by lots of trees and nature. 3) It's hard to call ride share (Uber) from the resort. You may be lucky and successfully call one if a driver is dropping off another passenger within the resort. 4) They don't have partnerships with taxis for some odd reason so there are no taxis readily available at the lobby if you want to leave the resort. You need to schedule a taxi a few hours in advance. We called the front desk to call a taxi for us and were told it would take an hour. We almost missed our scheduled tour due to inability to get a taxi and Uber to leave the resort. 5) The food is expensive since it's such an isolated resort. 6) The bed was kind of lumpy for such a nice hotel like this and could use a refresh. I could feel an indent of someone's body shape on the bed. 7) Spa manicure quality was a hit or miss depending on who you have. My gel manicure was expensive, yet quality was not there (edges were not even). Overall I enjoyed our stay here and look back to the trip with wonderful memories.
lilaini