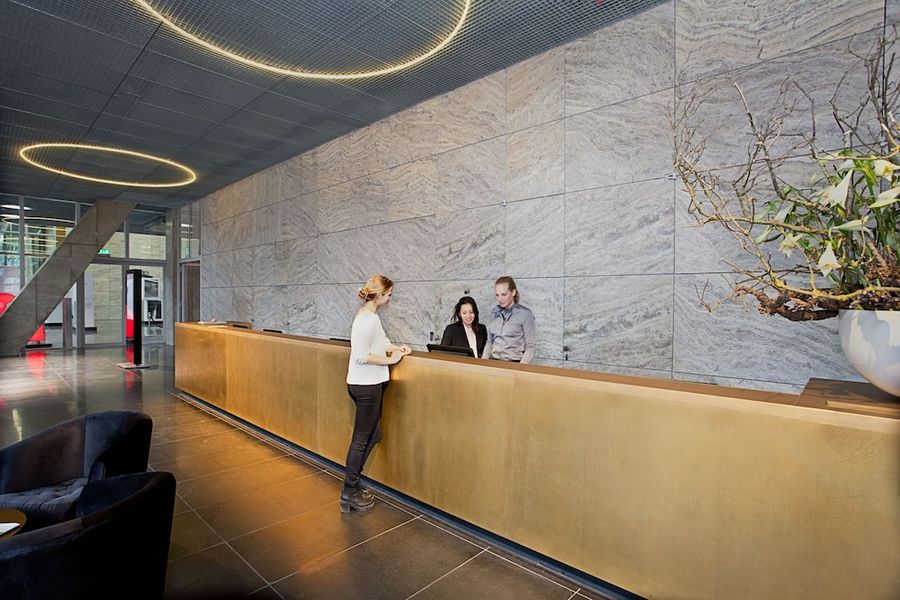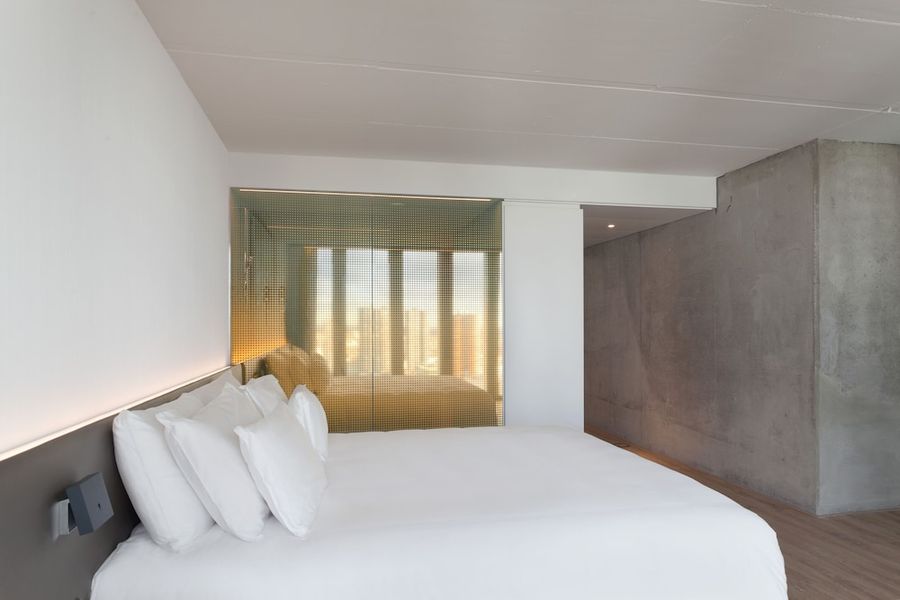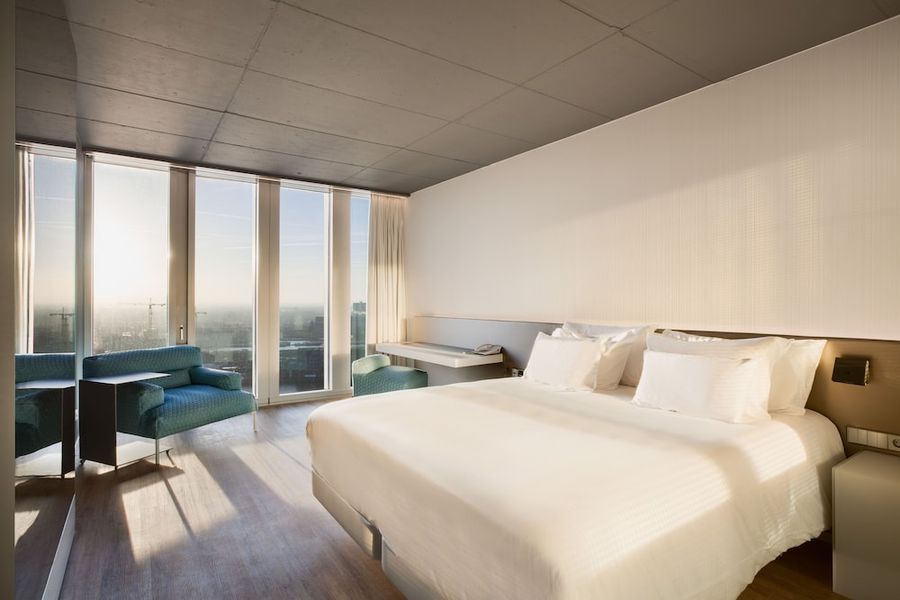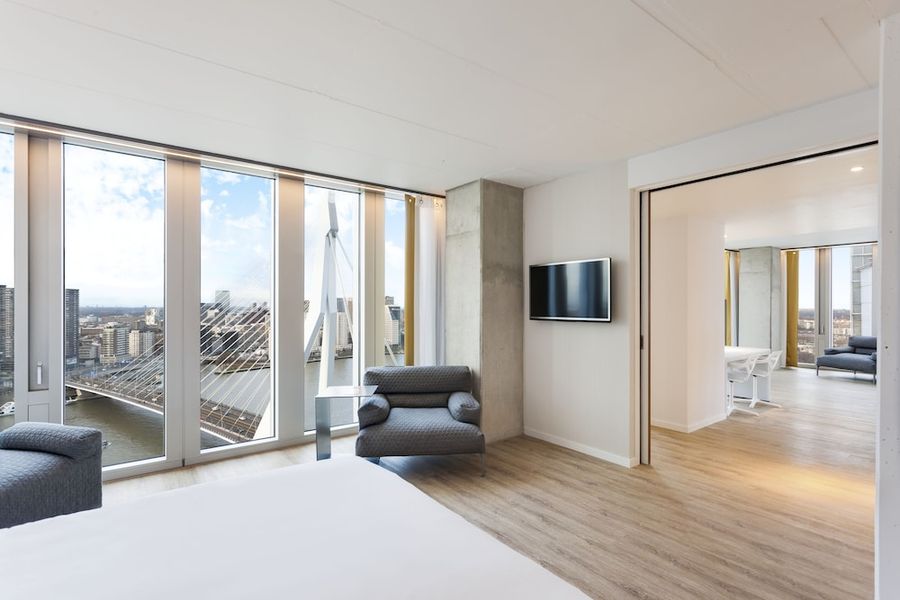 Property Location With a stay at nhow Rotterdam Hotel, you'll be centrally located in Rotterdam, within a 10-minute walk of Fenix Food Factory and Erasmus Bridge. This 4.5-star hotel is 1.3 mi (2.1 km) from Maritime Museum and 1.7 mi (2.7 km) from Markthal Rotterdam. Distances are displayed to the...
More details
OpenWeather
Select the date of your trip to check room availability.
Property Info
Check-in starts at: 15:00
Check-out ends at: 11:00
Property Location With a stay at nhow Rotterdam Hotel, you'll be centrally located in Rotterdam, within a 10-minute walk of Fenix Food Factory and Erasmus Bridge. This 4.5-star hotel is 1.3 mi (2.1 km) from Maritime Museum and 1.7 mi (2.7 km) from Markthal Rotterdam. Distances are displayed to the nearest 0.1 mile and kilometer. - De Rotterdam - 0.1 km / 0.1 mi - Luxor Theater - 0.2 km / 0.1 mi - World Port Centre - 0.3 km / 0.2 mi - Maastoren - 0.4 km / 0.3 mi - Fenix Food Factory - 0.7 km / 0.4 mi - Erasmus Bridge - 0.8 km / 0.5 mi - Villa Zebra - 0.9 km / 0.5 mi - Theater Walhalla - 0.9 k...
Wilhelminakade 137, 3072 AP Rotterdam, Netherlands - Rotterdam, South Holland - Netherlands - 3072
Property Amenities
Check-in starts at: 15:00
Check-out ends at: 11:00
Guest rating
TripAdvisor
Travelers rating
Excellent

1401

Very Good

840

Good

216

Reasonable

80

Bad

48
Travelers profile
Business

492

Couples

1271

Solo travel

90

Family

236

Friends getaway

287
Scores Summary
Cleanliness

Location

Rooms

Service

Sleep Quality

Value
All style no substance
Reviewed 8 august, 2022
This is a stunning hotel, with great staff, unfortunately the basics let it down. Notably the bathrooms. To make things short here's a list of pros and cons: Starting with the great aspects: - The location is amazing and one of the main selling points of this hotel. You're situated right beside the famous Erasmus bridge and the views from the terrace and I assume the city rooms are stunning - We upgraded to a sunrise room and liked our view, we could see part of the street and some water, the room was large and spacious - The room does not have a smart tv, but the staff allowed us to plug in our own fire stick to watch films etc and were very helpful -The tv is cool and behind a mirror which is a nice aesthetic - It was my birthday and (for a charge) the staff decorated the room and put up balloons, confetti, sweets, which was a lovely touch - The staff are very friendly and will go out of your way to help you, especially Vincent in the terrace, who gave us a list of amazing places to visit - The terrace on the 7th floor has great views of the city and the bridge and is a really nice spot to have drinks, they also have a few interesting vegetarian options -The area is very safe and I went downstairs to smoke by myself infant of the hotel at 2-3am and never felt wary - The beds are super comfortable and we slept really well - The hotel is in a landmark building and looks very impressive - The shower gel, body lotion, shower caps and shaving kits are great quality compared to other hotels - The room was cleaned to a high standard when we arrived - The lifts and lobby are really cool, with interesting art and graphics everywhere, there's a lot of great instagram pics to be had here if you're into social media - The room was very quiet and soundproof at night, despite it being very busy when we were there and a weekend - The fitness centre is absolutely stunning, spotlessly clean and has great views of the bridge and city - There's a supermarket a 5 minute walk away behind a neighbouring hotel, you can also buy coffees there - There's a large fridge in the room for snacks and drinks - Great coffee machine in room Ok now for the huge cons and the reasons we will never stay here again: - The bathroom... What can I say. If you and your partner have zero mystery left and no inhibitions around each other, book this hotel. However, nothing quite says passion killer than a clear view of your significant other going to the bathroom. I mean why. Why did someone do this? We spent a bit more on a hotel to have a private bathroom, not in a hostel, however we would find ourselves sneaking off to use the public bathroom on floor seven. Several times I chatted with women in there at 2-3am who were in the exact same position, not wanting to go for a number 2 behind a glass screen in direct view of the partner. I'm not sure what was going through the interior designers head when they did this, who knows what they're into, but this needs to be fixed. I even asked dutch friends if this is normal, nope, turns out they have doors on their bathrooms. Just invest in some walls, or black paint, it's pure style over substance. - Speaking of floor 7, just be aware this is open to the public, so expect a steady stream of people using the lifts, hanging around the lobby and prepare to clean sick off the toilet if you want to escape up there to use it. In the day the toilets would be immaculate, but at night, they clearly aren't cleaned. It was grim. Be aware you have paying guests fleeing up there to use bathroom in privacy. Absolutely insane. - Another issue of style of substance is the lighting, this might not matter for some people. But the lighting to do any kind of reasonable make-up in our room was near impossible. The bathroom has a lovely make up mirror, but it's not well lit and throws shadows all over your face, which kind of defeats the purpose of having a make up mirror there. The room is cavernous, it's dark grey, all small lamps and led strips, which just aren't sufficient. I was searching around to find overhead spotlights, as you'd expect in even the most basic hotels and there's none. It just feels rushed and unfinished. - The tv is so old and out of date, if you're going with this modern vibe, why give your customers old tvs, with terrestrial channels, again it just comes off as so stingy and cheap. Thankfully we brought our fire stick but if we hadn't getting ready etc would have been a bit boring or just chilling, as we were there for five days and not into clubbing. - no bath in the bathroom, just a shower which looks out (and in) to the bed, a very public toilet and then a huge vat of wasted space where there's literally nothing - our room was cleaned to perfection when we arrived, despite hanging the sign on the door everyday, our bed was made but never changed in 5 days and the room wasn't hoovered several days in a row. Towels were changed, but on the third day coffee wasn't refreshed either. So if you're staying for longer, just know the standards will drop after your 1st night. - The design is really silly, huge empty spaces but no adequate storage, nowhere for suitcases, yet parts of the wardrobe are blocked off and the actual wardrobe is so tiny. It's again more of the style of substance thought concept. To be honest the whole design of this hotel, on face value is very nice, but the more time you spend in it, the more rushed it feels. It's trying so hard to be cool and modern, it just comes off a bit cringe. All in all this has the makings of a great hotel, they just need to tweak some huge issues, basics you pay for in a place. The whole bathroom issue really made our stay uncomfortable, luckily we made a joke out of it, but I could see how this could be so awkward to address for a very new couple. I wouldn't recommend staying here, I would however recommend just going to the terrace to get the views
unicorngirl
The place to stay....
Reviewed 7 august, 2022
For the second time in Nhow Rotterdam...for the second time outstanding. Top hotel, top service and magnificent roofbar with view in Erasmusbridge and skyline Rotterdam. Just across the hotel you've got the foodhallen...great streetfood of all kind (Asian ,Spanish, Japanese, burgers...) Worth visting
Exoticfoodlovers
If you don't like a hard bed, don't come for a good nicht sleep
Reviewed 4 august, 2022
If you come for a good nicht sleep....very hard bed. You wil have a fantastic marveled breakfast. Nice view from the room, and a good environment . Very friendly staff and a quick check-in. The q parking is downstairs and you get a discount from 32 till 25€ for 24 h. Take the parking just on your left for 20€ a day
X3467XIjohand
Nhow hotel review
Reviewed 2 august, 2022
I completely recommend this hotel. It's one of the best experiences you can have in Rotterdam. The view room is amazing and the breakfast is tasty, healthy and various. The hotel staff is very friendly and helpful. I will definitely come back.
Irina_Tatulea
Great hotel and location!!
Reviewed 29 july, 2022
We loved the location, the Terrace Bar, the great service from Irene, the nexpresso machine in the room and the friendly room maids. Comfortable room size, king bed and shower stall. Nice perk to have free drink tickets if you don't need to have room cleaned everyday.
507leonardw