Staybridge Suites Syracuse (Liverpool)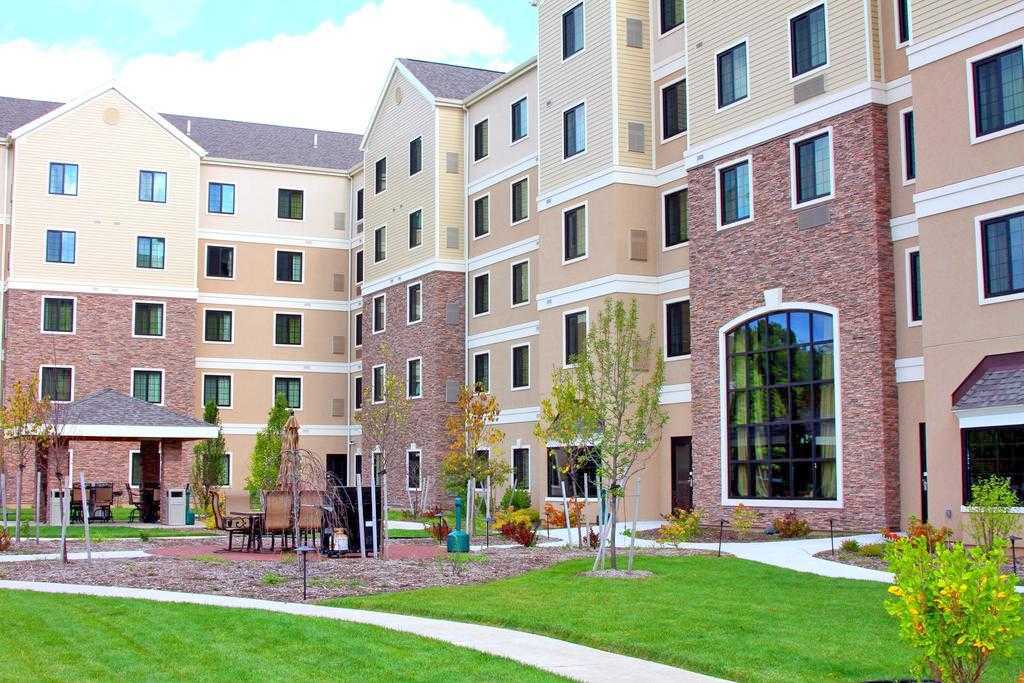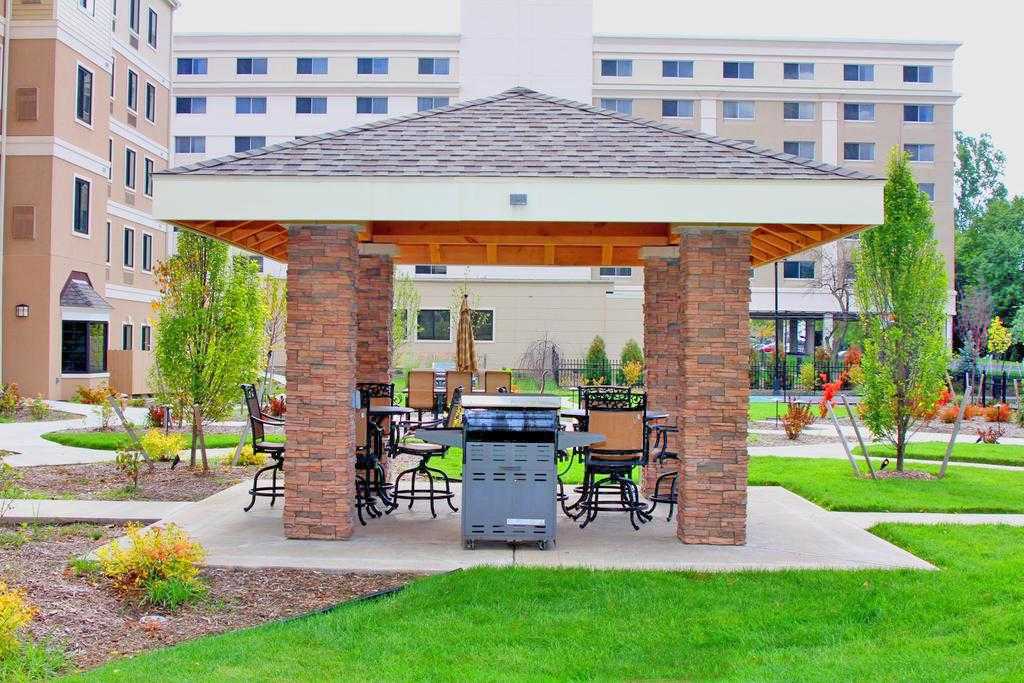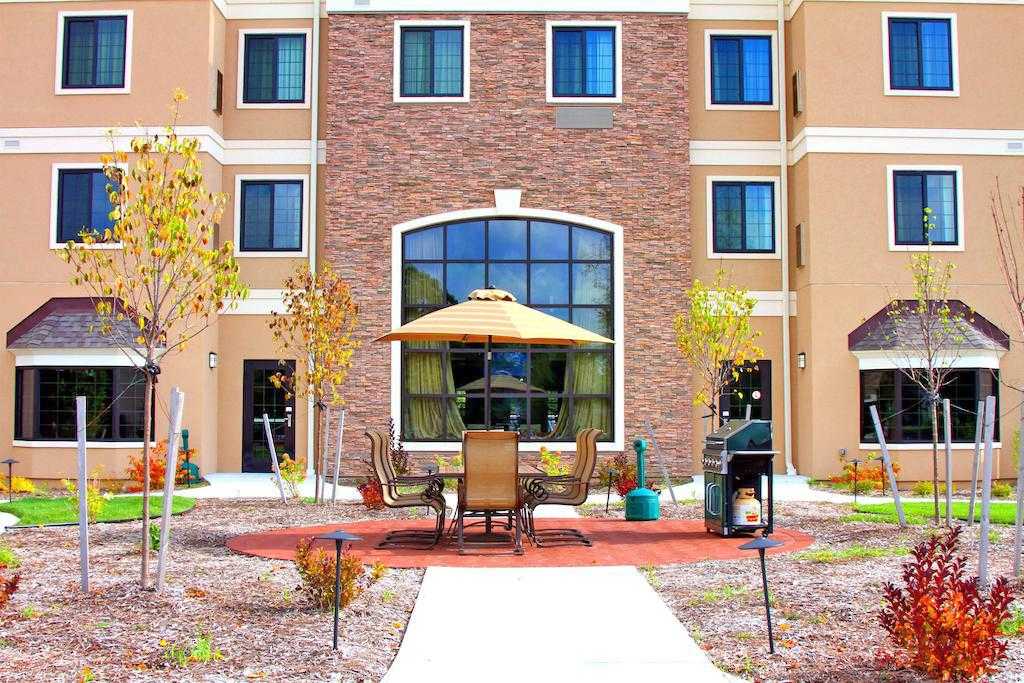 TripAdvisor Review
Based on 266 review
See all
This charming hotel is set in Syracuse. The hotel comprises a total of 122 snug units. The hotel offers Wi-Fi internet connection in communal areas. Visitors will appreciate the 24-hour reception. All accomodation units at this disability-friendly property are wheelchair-accessible. Travellers arriv...
More details
Availability
Select the date of your trip
Select the date of your trip to check room availability.
Property Info
This charming hotel is set in Syracuse. The hotel comprises a total of 122 snug units. The hotel offers Wi-Fi internet connection in communal areas. Visitors will appreciate the 24-hour reception. All accomodation units at this disability-friendly property are wheelchair-accessible. Travellers arriving by car will appreciate parking available at Staybridge Suites Syracuse (Liverpool). This hotel is committed to upholding environmentally friendly practices. Corporate travellers may appreciate the meeting and business services and facilities available for added convenience. Some services may be ...
More details
Check-in starts at: 15:00
Check-out ends at: 11:00
Property Amenities
Reception services
Concierge
Guest rating
TripAdvisor
Travelers rating
Excellent

165

Very Good

78

Good

10

Reasonable

5

Bad

8
Travelers profile
Business

48

Couples

53

Solo travel

7

Family

109

Friends getaway

24
Scores Summary
Cleanliness

Location

Rooms

Service

Sleep Quality

Value
Superior service in understaffed Covid. Outstanding!
Reviewed 27 july, 2021
Delivered much more than promised! This hotel was under staffed, but they communicated clearly and went beyond expectations. We enjoyed a clean, comfy room with great pillows and mattress. Staff was short handed, but they fell all over themselves to deliver quality service. Turned out to be better than expected. Friendly, helpful staff is key. Great value for the money. Got played dinner and breakfast. Attitude is key. Would highly recommend, and now will also look for Staybridge every time we travel. We book a lot of hotels in a year and this ranks at the top of the list.
egall467
WORST EVER - A Minus 5 is a better rating
Reviewed 10 july, 2021
I know this is very long but this is 100% truthful I sent about 30 pictures of the Ugly unit and rotten salad to the Operation Manager - @ Staybridge, SHE is the nicest young lady and has apologized a million times - However that's not doing much for this awful unit - At no time has Staybridge offered any financial consideration for this terrible unit and the countless issues - $1,704.85 was a lot to spend for this horrible unit - First given Unit #: 461 Then moved to # 473 Also Awful Here's a list of SOME of the issues with the unit ■ Furniture is dirty old and tired - We won't sit directly on the furniture as it is stained literally from top to bottom - Sitting on any piece of furniture we cover it with either blankets or towels ■ Furniture, like the dressers are chipped, and I wouldn't put anything in the drawers and the draws are as ugly as the outside of the dresser is - The wood like furniture appears to be cleaned with something oily and there are greasy lines crossing the headboards in both bedrooms - I used some soap and water to clean them off - It may have been the furniture polish they use but the soap and water did the trick ■ Didn't travel to do housekeeping job ■ We have a 2 bedroom unit - Which would sleep 8 - Master has a king - 2nd bedroom 2- full's and a sleep sofa in the living room area 2+ 4 + 2 = 8 ■ KITCHEN: ■ As for the kitchen - There are not enough plates, cup, bowls, drinking glasses for 8 people - We only have 5 of each ■ More Kitchen - Flatware - Again there are rusty forks, and knives and nothing near the amount that facilitates the occupancies of the unit ■ Only 2 steak knives and one doesn't cut and one large butcher knife that couldn't cut through butter ■ 2 Large plastic spoons and they look like a child had been playing with them in the sand box for years ■ Before I would consider using the dishes and glasses and coffee mugs I washed them twice in the dishwasher ■ BATHROOM ■ There are 2 full bathrooms ■ 1 bathroom has at least 4 large chips in the tub - showing the steel tub below the finish ■ On the back wall of the tub & shower is a shampoo - conditioner - shower gel wall hung dispenser - In the one bath that fixture had been taped to the wall and now resides on the tub floor ■ Towels - In each of the 2 bathrooms there were only 2 bath towels, 2 hand towels and 2 wash cloths - again not enough for the size unit ■ After seeing the furniture I promptly went to front desk for 4 additional towels and 3 blankets - We wanted to cover the stained furniture - At least the towels and blankets are clean ■ On Tuesday I went to front desk to ask for additional towels and it seemed that there are no clean towels and I was asked to come back later - Later that evening still no towels and I tried the following day to hear the same bla, bla, bla - Finally last evening upon our return I went again to front desk for towels and still no towels, but within an hour someone finally brought us additional towels -- Fortunately for us it's only my husband and I in the unit - But as I mentioned before checking into the unit there were not enough towels for the unit size ■ If you need anything - Like, toilet paper, Kleenex, paper towels, trash bags, towels, blankets etc. you need to go to front desk and hope they have it handy - One front desk person told me that they don't deliver If you need it come and get it - Another charming new face at front desk ■ Upon arrival I waited for the longest time to check-in as there was only one (1) girl at front desk and as I previously stated she did not make a professional appearance - Dirty greasy hair was the worst - Most hotel properties employees have a uniform of sorts and No one here has a uniform - Personnel wearing a uniform at a hotel first make themselves noticeable second everyone looks the same - Here a miss-mash of street cloths didn't make for a professional appearance or a good first impression ■ No one had a name tag to identify them as a Staybridge employee ■ Luggage carts - There were none when we checked in - I asked about luggage carts and the girl with the dirty hair said we only have three (3) - We had a lot of check-in's today I guess some people kept the carts in their room of left them in the hall - Really? ■ Finally a man brought a cart back - He told me it doesn't work it has flat tires ■ I decided to check the halls as front desk wasn't going to do anything to help and found a cart in the hall on the second floor - That cart doesn't push very well - It didn't turn and it too had flat tires - Great! ■ I mentioned this to the girl with the dirty hair and she said I'll tell maintenance ■ So anyone who wanted or needed the use of a luggage cart was at a Great disadvantage ■ The first unit we were given was #: 461 Upon entering that unit we found at first glance that handles/pulls for the kitchen cabinets were either not secured and were loose and one was only secured with one screw to leave it hanging ■ We were told that when someone checks out the housekeeper puts everything in the dishwashers and washes everything for the next guest - In this unit I opened the dishwasher and it fell out of the lower cabinet - And the dishwasher was packed full of everything in the kitchen and how in heavens name anything could get washed properly was only a guess - So I ask why didn't the housekeeper let maintenance know of these two (2) obvious problems ■ This unit had only A sofa in the living area for seating - Again I ask 2 bedroom unit 1 Sofa seating 3 - There's nowhere for anyone else to sit without dragging the tattered chair in the master bedroom to the living room or sit on the floor ■ After see the issues in the kitchen and lack of furniture I didn't venture into the bedrooms So who knows what was in there ■ Down to the front desk I went asking for another unit - A very nice and professional looking young lady (who I found out later was new) checked for another unit - It took her forever to find another unit - In her defense having found out later she was quite new - She could have used some help, actually additional training, and that's on management Not this young lady ■ Finally after some 10 - 15 minutes she found a clean 2 bedroom unit and we moved to #: 473 - At first we though this was a better unit that #: 461 - But Noooooooo ■ This unit #:473 I have begun to address it's issues and so I'll continue........, Back to the kitchen the pots consist of 1- sauce pan 1- dented steamer insert 1- large stock pot with lids - All of which I wouldn't use - They are dirty and some have food stuck in them ■ There are NO pans ■ The coffee maker in #: 473 was disgusting - The coffee pot was greasy and dirty - The coffee basket where you put the coffee was caked with white and brown residue and could be chipped off with one of the rusty knives - The portion of the coffee maker that you put the water into well it too was disgusting - I took the coffee maker to front desk and asked for a new one ■ At the same time I found the lamp in the second bedroom was broken and there was no way to turn it on or off ■ While at front desk waiting my turn - As front desk was quite busy at that time - There was another couple seemingly looking to change their unit - And yet another group of ladies complaining about their room - I have no idea what happened to these folks and hope their issues were resolved but, not of my concern - I had enough of our own to deal with ■ I asked for a manager and here is where I met AUDRA MAY - Operations manager - I asked to speak to her is a more private setting as I didn't want other guest to hear our issues ■ Within the first couple of hours at this property I went to front desk 4 times and in these couple of hours we went to the store to pick up a few items ■ Operations Manager did bring us a lamp and a different coffee maker - Well...., this coffee maker wasn't much better than the first and I haven't made coffee since our arrival and have NO intentions to do so in the future ■ Operations Manager did give us 2 tickets to the Syracuse Mets baseball game with a parking pass - A value of 2 tickets @ $16.00 each and $5.00 for parking - Totally $37.00 - She didn't have to do this and we did appreciate the gesture ■ This sofa is so hard, lumpy and sagging that even sitting on a pillow your butt falls asleep ■ The beds are also awful - I truly think a better nights sleep would be on the floor - But I'm afraid to walk on the floor without shoes or slippers ■ Trash --- As per front desk - Leave the trash outside of your door as housemen pass by and pick up all trash throughout the day - FYI - A unit down the hall from us set out 2 large bags of trash and it sat there for at least 12 hours - I looked outside the door before going to bed and it was still sitting there but to my surprise it was gone this morning - I admit it was some stinky trash and the stink filtered down the hall - I know this because we passed it every time we headed to elevator ■ Today my husband went to shower and opened the towel to find a spider - YEP! A spider - From one of the towels the girl brought us last evening - So now I have to check the towels before I use them? ■ I bought air freshener at the store the other day and it has come in handy as this unit doesn't smell so great - It's a mix of dirty socks and sweat - How lovely ■ We choose this 2 bedroom unit for the convenience and the ability to fix a light meal or snacks, and maybe breakfast as most hotel breakfast are not great and McDonald's breakfast is a better choice - With the disgusting kitchen here in #: 473 I don't think fixing anything is a good idea ■ I went to the Dollar store picked up some flatware to us to use - At least it wasn't rusty ■ We normally bring along a few things from home and I'm glad I have them and don't have to use Staybridge's nasty "Stuff" ■ As I mentioned in a previous email we choose this Staybridge for 2 reasons 1. the current rating 4.5 of 5.0 2. We had stayed at a Staybridge in Oak Ridge Tennessee and it was great Not only the property but the staff ■ This is NOT a 4.5 rated property I wouldn't give it a 1.0 and for the cost we paid we have been taken!!! ■ I will give the property one thing The air conditioning works great!! But that's about the extent of the "GOOD & FAVORABLE THINGS" ■ On a final note: The offer a boxed/plated dinner Monday to Thursday - So what the heck let's try it - On Monday we did and OMG I wish we DIDN'T!!!!!!!!!!!!!!!!!!!!!!!!!!!!!!!!!! ■ First no one at front desk had a clue what they were serving on Monday evening when I asked around 10:30 AM ■ When we returned from a nice day outside of Syracuse NY - we found out it was Lemon Chicken, Mixed Veggie's, and a side salad - Sounds good Right? WRONG - The salad was rotten Yes Rotten the lettuce was slimy and brown and yes, it stunk a bit like my outside trash can when you opened the lid - Then there was the Lemon Chicken - It was SO over cooked and the edges were hard and a weird shade of yellow orange - It looked like a rubber chicken not something you wanted to eat - What this dinner did conger up was Run, Stick your head in the toilet!! - Yes into the trash it went sat it outside of the door and off to find "REAL' food at a restaurant ■ I will forward the emails I sent to Audra yesterday along with the pictures but NOTE it will be several emails ■ AND NO, I haven't heard anything from her today ■ But Now I feel awful - Does it have anything to do with the unit Don't know - I've had a horrible migraine headache for 2 days, feel sick to my stomach and my sinus' are so stopped up I can hardly breath ■ Been home now 2 days and now my husband is also sick and I can't shake the migraines ● I have had a terrible migraine since Monday and have had to take prescription medicine to try to get rid of the headache – FYI - It is now Saturday and still no relief from the headache ● I have also gotten sick Started feeling bad on Monday 05 July 2021, in the evening - My husband and I had plans for Tuesday the 6th but I felt so bad that I was unable to attend ● I continued to feel worse on Wednesday and Thursday - and NO I do not have COVID ● On Thursday 08, July 2021 in the morning I receive a call from a woman (Michelle) saying she is the General Manager - I honestly felt SO Bad that I could not speak to her and asked if I could call back later ● I tried her back twice and the second time left her voice mail ● After My husband returned from the event we had come to the Syracuse area for we packed up and left for home - We left in the afternoon A day early ● Due to the fact that the luggage carts were in poor condition He had to make several trips from the unit to the car and back again - When is the luggage carts were functional as they should we could have made one trip ● I went to the front desk/reception to check out - At that time I asked if the General manager was available and I was told she had just gone into a meeting - I asked the girl at reception for her name she did give it to me ● This girl took an incoming call and was on the line for a while when she finally finished I asked for a paid in full invoice and the girl at reception said you are not to leave till tomorrow and I told her Can't stay here any longer have to go ● She then said you have charges on your account ● I asked what for? ● She then said to Wait a minute - She then went into the back office and said someone had to look at the bill - I asked what for? Again - She has No answer ● She then comes back out from the back office to say the General manager will be out to speak to you ● So I asked You just told me less than five (5) minutes ago she had just gone into a meeting - So how is it she is now available? ● Deer in the headlights look and she says Oh, she just finished ● So the GM comes out and she doesn't seem so happy to see me ● I asked her what is the problem? And can I have a paid receipt - Answer NO! ● She tells me NO - You booked with Priceline get a receipt from them As this is confidential information between Priceline and the Hotel ● I asked can I see the bill? – Again NO!!!! ● She said Priceline had a credit on the account around $200.00 and I should contact Priceline ● She also said Priceline called the property last evening and would give NO details ● I mentioned to her the numerous issues and she honestly didn't seem to care ● At that point is was pointless to try to continue and it was time to go ● She tells me NO - You booked with Priceline get a receipt from them As this is confidential information between Priceline and the Hotel ● I asked can I see the bill? – Again NO!!!! ● She said Priceline had a credit on our folio/account account around $200.00 and I should contact Priceline I called Priceline and was on hold for over 1/2 hour ● She also said Priceline called the property last evening and would give NO details ● I mentioned to her the numerous issues and she honestly didn't seem to care ● At that point is was pointless to try to continue and it was time to go I called IHG Customer Service @ 888.211.9874 on Saturday 10 July 2021 - An hour later I'm still listening to the same recording and annoying tune - Someone picks up says hello then hangs up - REALLY GOOD CUSTOMER SERVICE I've attached a few pictures
OffWeGoToo
Terrific stay
Reviewed 21 february, 2020
I wrote a review of this property on the IHG page, but I think they deserve another mention here. Everyone here at this hotel was so lovely, especially the front office lady Destiny who checked us in. She gave us the friendliest welcome we've ever gotten from any hotel front desk, and gave us such a lovely room. Couldnt have been more grateful for that. Marie from housekeeping was very sweet too. I had a great stay. And I wished I could have stayed longer.
garreth l
Awesome... nothing less than Awesome
Reviewed 20 january, 2020
My first experience with Staybridge Suites.. and a HOMERUN This property is awesome The staff- awesome The food- very good Weight room could use some better machines (more treadmills) and free weights. Awesome experience!
axecj7
Wonderful & CLEAN
Reviewed 19 january, 2020
Well, we had furnace issues during a blizzard and had received a Gift Certificate from the holidays and figured it'd be a good time to use it. I called and inquired if they would accept it and the clerk wasn't sure so she took my number while she called her manager to confirm (bonus points for great service and sympathy for the situation of being last minute). We arrived to checkin to a warm lobby and very personable agent. Our Studio Suite was impeccably clean, and so cozy & comfortable I wish we stayed longer! The pool was perfect, ordered room service and the food was great, and breakfast was very good. It was just me and my 4 year old hotel-loving daughter. While we live local and this was more of an emergency stay, I will most certainly be back for another Mommy/Daughter night and pay full price. The room was so clean! Kudos to housekeeping! Also, I heard and saw what looked like hotel-staff constantly plowing the lot and sidewalks all night. It didn't wake me up, but I was impressed with the upkeep during the storm.
gleate20