La Cour des Consuls Hotel and Spa Toulouse - Mgallery Collec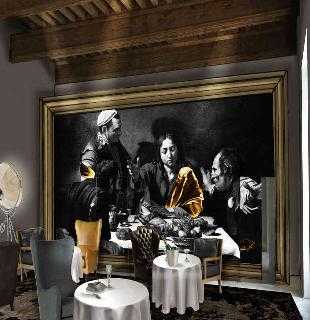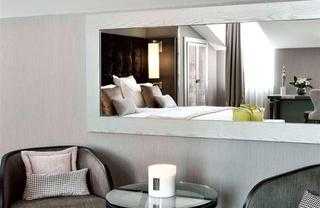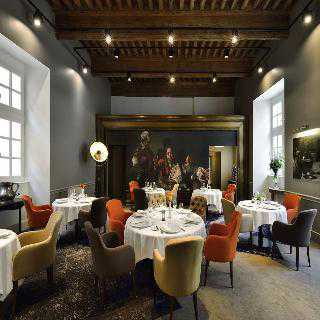 TripAdvisor Review
Based on 524 review
See all
In Old Toulouse, this 5-star hotel's rooms/suites, in a charming 18th-century family home, provide an intimate, cosy setting. Thomas Vonderscher, Michelin- star chef, created the gourmet Le Cénacle's menu. The Club offers champagne- based cocktails, and the Executive Lounge and library invite you to...
More details
Availability
Select the date of your trip
Select the date of your trip to check room availability.
Property Info
In Old Toulouse, this 5-star hotel's rooms/suites, in a charming 18th-century family home, provide an intimate, cosy setting. Thomas Vonderscher, Michelin- star chef, created the gourmet Le Cénacle's menu. The Club offers champagne- based cocktails, and the Executive Lounge and library invite you to linger in surprising ways. Elegant meeting spaces, a spa and gym complement this luxury wellness bracket.
Check-in starts at: 15:00
Check-out ends at: 11:00
Property Amenities
Reception services
Concierge
Electric vehicle charging station
Guest rating
TripAdvisor
Travelers rating
Excellent

362

Very Good

107

Good

37

Reasonable

10

Bad

8
Travelers profile
Business

79

Couples

269

Solo travel

24

Family

67

Friends getaway

34
Scores Summary
Cleanliness

Location

Rooms

Service

Sleep Quality

Value
Disappoints and few COVID guidelines enforced
Reviewed 4 november, 2021
I would have left a review on the AllAccor site but didn't receive the customary email inviting a review after our departure. This is a nice enough hotel but certainly not 5 star quality. The location is fabulous and exterior and common areas are lovely, but the room and hallways could have used upgrading to feel more contemporary and fresh. Rooms service meals are few and there's barely anything under 35 euros other than an omelet or sandwich. Breakfast is limited in its offerings. Staff are not that nice and seemed hassled, and it often occurred that we crossed someone who did not reply to our "bonjour." But what I found most concerning is the fairly consistent disregard for COVID guidelines. Staff for the most party did not wear masks or had them pulled down under their chins (even the person who delivered our room service meal) and we also observed many guests who didn't wear masks for example in the breakfast area (and you can't enforce the mask rule on guests if staff aren't following it). I wouldn't stay here again.
Alexandra K
Cheap Motel Experience in a 5 star hotel.
Reviewed 14 october, 2021
We arrived to the hotel on the 4th of October 2021 and stayed in it 2 nights. The hotel is located in the center of Toulouse and occupies several buildings. Its public areas are nicely decorated and employees at the reception are very friendly. This is the only good things I can tell about the hotel. On arrival after all the formalities the receptionist brought us to a separate wing which you can access through an individual entrance under the arch near the gates for the cars. If one day you will be brought to this wing and the receptionist smiles and tell you in a nice voice - " this is a very special wing, it is very quite" - be sure - it is a trap which may spoil all your stay in Toulouse. The most important thing about the hotel to know is that quality of rooms are very different depending in which building they are located. When you open the door to this "very special quite wing " the first thing you notice is a very special smell of food, rotten wood and cigarette smoke. The reason for this is very simple. This wing has not been restored for many years, it has a very poor ventilation, the kitchen is a part of it and there is a garbage storage nearby. The hotel was declared a non smoking hotel. That is why its employees (mainly from the kitchen) sit down and smoking in the yard behind the windows or on the steps to the entrance to the wing. We stayed in a Delux Suit 312 which faces the yard. The doors to the room is a thin cheap white piece of not very well polished wood without sound protection. The door to the bathroom and to the toilet are of the same quality. The one to the bathroom had several black scratches on it as well as an upper door frame to the sleeping room. The fitting of the make up mirror in the bathroom was broken. The design of the room is minimalistic. There are no decorations at all but several ventilation boxes in the sitting room and in the wardrobe which are used to channelize air from the kitchen. No sound protection was installed. So you may hear a strong sound of a jet plane taking on from time to time. At first I could not realize why they deployed airport in the very center of Toulouse. In some time I found out that this roaring sound is produced by ventilation boxes in dressing room when they switch on ventilation during cooking in the kitchen. There is also a system of ventilation in the room which produced a very sharp noise. I could not either stay in the sitting room or sleep when the sit conditioning was switched on. My complaint about it to the general manager was left without any reaction. He just told me - "Yes, I know about this problem". It is worth to be mentioned that this air-conditioning system was operated by a special device on the wall which protection cover was broken and removed probably by the same vandals which painted the door to the bathroom and a part of door frame with black paint. So I could not use the ventilation as well as did not have a chance to open the windows - employees were smoking behind it and there was a mixture of smells from the garbage storage nearby. The room did not match what was advertised on Accor web site. - there was no hairdryer in it and I have to fight for 1h 45 minutes to get it. - TV panel in the bedroom did not work. - there were no radio in the bathroom - there were no telephone in the bathroom - they did not refill bottles with free water in the room - turn down service took place only once after I complained. I spoke to the members of the stuff and complained several times but it did not look like that they understood what the problem was. The only person who tried to help us was receptionist at the day of our arrival. When I asked her to bring a hair dryer to the room she replied that the hotel was fully booked and they have not had any vacant hairdryer. After our long conversation she proposed to take a hairdryer from her colleague and bring it to my room next day at 08.00. Finally they brought it from some other Accor hotel. Some employees of the hotel did not observe COVID restrictions and did not wear masks inside the hotel and put them only when you tried to speak to them. General manager put his mask in a way it kept his nose fully open when he spoke to me. When I spoke to Matthieu Dellac, the General manager of the hotel he apologized for inconvenience and proposed to reduce payment for the room as a compensation but did not do it. During check out I reminded the receptionist about compensation. She nicely smiled and told me that she would pass my words to the general manager who was passing by at this moment. Generally it looks like that newly appointed general manager did not install any control procedures and ACCOR does not check if they comply with its standards or not. Moreover ACCOR does not check if rooms they sell at its website has all declared features or not. So you have a good chance to pay full price for cheap motel experience.
B3320VYigors
Lovely Reception team but tired in so many ways, avoid
Reviewed 7 october, 2021
The reception team as a first contact were great but sadly the hotel didn't live up to expectations remotely of a 5 star. The location is excellent. We have booked a 'deluxe suite' which was in the loft and was a dark, lifeless room that had sun bleached carpets, a window that overlooked a rooftop with dying cacti on the window sill. The walls were scuffed and the room smelt like a cleaning products. It was a special occasion and they had put balloons etc in the rooms which was a lovely touch however. I called reception and asked for an alternative but there were none and after some tooing and frooing I voluntarily 'downgraded' to a deluxe room which was actually much better. The reception team were great at making this happen 100% and very apologetic. My concern was for a top-priced room why even sell this it was subpar and disappointing. The new room was better but again the walls are scuffed ,the furniture worn and the cleaning is average - dented bins, dust behind bins, shower doesn't drain so well etc but a perfectly ok room. The common areas are fine for a 5 star hotel. Spa was average but treatment (facial was good). We requested a room service while we were out and three hours later returned to the room and nothing had happened so called reception - 'oh sorry we forgot' eventually came and serviced the room but the detritus that was taken out of the room was left on the window outside our room for 24hrs! It was still there when we left. We requested a late check-out which was no problem but re-entering the hotel the key cards weren't rekeyed, then they were rekeyed but only for the lift so after two trips to reception we were back in - just so average. I feel sorry for the reception team as they are great but the rest of the hotel - the service, the attention to details, cleanliness, proactivity were absent. The two words that come to mind for me with this hotel are tired and unloved. The building is tired and I suspect everyone other than the front-of-house team is tired. I would avoid this hotel. Save your money and go to the Crowne Plaza or another generic brand where you know what you get and spend the money you have saved on the gastronomic delights that Toulouse has to offer.
jem10nz
Just Perfect
Reviewed 12 september, 2021
Short 4 nights break in the heart of Toulouse. Very well situated, good service, nice suite... Service was good. Concierge very useful too but could improve a bit (where are Les adresses confidentielles?). Overall excellent. Will definitely come back.
emmanuelflorenced
Overrated hotel, not worth the price
Reviewed 30 august, 2021
From the entrance to the room, nothing about this hotel is remotely close to « 5 stars ». The building and rooms feel run down and designed with cheap furniture. There was peeling wallpaper in the bedroom. The hot water for the bath didn't work. One of the two rooms smelled of cigarettes. Valet didn't bring up luggage—we had to ask. Admin office doors open and the back of reception desk visible with its cluttter and mess. Awkwardly designed "lobby". In short, a mess.
EYJ43