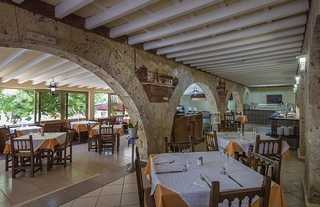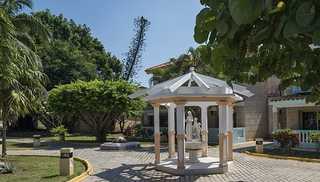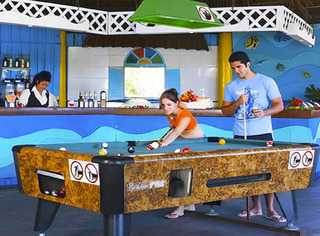 TripAdvisor Review
Based on 2305 review
See all
Built in 1930, this hotel captivates its guests with its elegant architecture and its stunning views over the 3.5 km wide Varadero canal. It is just next to the wonderful beach and 15 minutes on foot from the town, while the Juan Gualberto Gómez International Airport is a short 20-minute drive away....
More details
Availability
Select the date of your trip
Select the date of your trip to check room availability.
Property Info
Built in 1930, this hotel captivates its guests with its elegant architecture and its stunning views over the 3.5 km wide Varadero canal. It is just next to the wonderful beach and 15 minutes on foot from the town, while the Juan Gualberto Gómez International Airport is a short 20-minute drive away. The venue is suited for both leisure and conference tourism as it houses modern conference facilities that can accommodate up to 80 guests. But when it comes to relaxing it is at its best - the outdoor pool with children's section is the perfect place for enjoying an afternoon underneath the sizzli...
More details
Check-in starts at: 15:00
Check-out ends at: 11:00
Property Amenities
Guest rating
TripAdvisor
Travelers rating
Excellent

285

Very Good

671

Good

542

Reasonable

349

Bad

458
Travelers profile
Business

8

Couples

743

Solo travel

176

Family

522

Friends getaway

551
Scores Summary
Cleanliness

Location

Rooms

Service

Sleep Quality

Value
Very pleasant experience
Reviewed 1 december, 2021
Staff members are friendly and helpful. Food is fresh and delicious every day. There is always fresh seafood on the menu. There is a lot of quietness on the private beach. My husband loved the gym there.
406irinab
My favourite hotel EVER in all my travels
Reviewed 14 november, 2021
I have travelled around the world and never in all my years have I ever been treated with such kindness and respect as I was in this hotel. From the second I arrived Leida made sure I was always taken care of. Yasser and Tito in the lobby also always checked in with us and made sure we had anything we needed. Need a car? On it. Need a drink? On it. Heidi was our room maid and she always left us little towel figures and cleaned the room perfectly. The beautiful Jenny was our entertainment hostess and she is spectacular! The dancers....sigh...what can I say about these beautiful boys and girls. A special mention to Frances and Pedro, they danced with us after the show and I got to show them how to jive! The waiters and waitresses in the restaurants are amazing. Special thanks to Gretel, Pedro and Orlando, you always made sure our wine was full and our plates were taken away. And Natasha in the coffee bar, always making sure we got our special coffees. Lastly the bar staff, so many to mention but special thanks to Candido, Miguel, Carlos, I just can't remember all their names. Cuba is devastated from Covid and the loss of tourism. This hotel is not the fanciest, but the beds are comfy, new pillows, the food was very good, Covid protocols were always followed and we always felt safe there. The beach is absolutely perfect and the pool very clean and refreshing. Please be kind and remember what these lovely people have to go thru every day. I am going back in 3 weeks and I can't wait too see my Kawama family again!
bonniel577
Perfect location, beach, staff
Reviewed 9 november, 2021
My first trip back to Kawama in many years. Guests are the first off the bus as it is just past the bridge into Varadero. The hotels now stretch to the end of the 30 km beach paradise which is Varadero. An extra 30 km drive is something to avoid at the end of a long flight. Kawama is all about location and staff. There cannot be a better location on Varadero and I have been to each and every part of it. The amenities at the hotel are excellent. Accommodations are mostly in two level units so there are no elevators to squeeze into. No matter what part of the resort you are on? The beach is between a 30 seconds to 3 minute walk from your bedroom door. The staff? They are beyond accommodating, courteous and kind. The Public Relations Director, Leida Fernandez, has been there for decades and has fine-tuned client relations with fellow staff. Her English is proficient and precise. Nothing seems to be too much bother to her. To use a local phrase "the guests are their reason to be there and not a bother to their being there". I met with another familiar face, Adela Jomolca, who is the Reception Manager. How she and Leida manage to keep all the guests placated? Each and every guest likely wants their bedroom door to be on the beach. They try to fine tune the rooms to meet the guests needs. If a guest has mobility issues? They have them slotted into ground level units. If the guest needs total quiet? They slot them away from the central entertainment area. For return guests there was a private evening reception where the gourmet food and fine wines were laid on. It was hosted by the General Manager Reynol Machin with Leida serving as the Master of Ceremonies. She seemed to know each and every guest personally and how many times they had returned to stay at Kawama. One lady attending had been at this resort 44 (?) times. I thought to myself this has to be beyond. These people typically start their day before 8 a.m. after a one hour bus commute between their homes in Cardenas / Santa Marta / Matanzas and the Kawama so their evening extended into 11 p.m. Yet? Ms Fernandez and other staff were back in the next morning at 6:30 a.m. to make sure early departures had their breakfasts prepared; their sundry vaccination papers organized; and their luggage brought to the pick-up location. The reception showcased a band brought in for the occasion. By chance, I chatted to the band leader. He had performed internationally from Switzerland to Edmonton. He had been spotted by a hotel magnate at a reception in Havana 15 years before and he and his group were flown to Madrid for a twenty minute performance at the magnate's wedding. He went on to perform for extended periods in Munich, London and Spain. I asked a typical dumb gringo question, "Why did you come back?" His answer was immediate "It is my country and I love it" Food in general at the Kawama is quite good and the COVID presentation protocols excellent. I had expected hit and miss because of COVID and economic difficulties but there were always multiple fruits, desserts, vegetables, fish/meat selections. The desserts ran the range from perfectly turned out meringues to traditional rice puddings to more exotic concoctions. There was always a wide assortment of breads and cheeses and fresh butter. I had planned to eat only fruit☹ Oh well. I must have tried a different fresh fish dish every day together with standard fare of turkey, beef, liver, pork, chicken. There was not a large salad selection but there never seems to be in any Caribbean restaurant because of health/safety issues in a sub tropical climate. I didn't participate in any of the tours because I had already been on them all twice. They are all of incredible value. Check out excursions. Goggle "cubatur" The Varadero area itself is a destination unto itself with multiple attractions from the fabled DuPont Mansion which was visible from my front balcony to the extraordinary Bellamar Caves just before Matanzas. There is a lovely lady stationed at the Tour Desk in reception, who is very knowledgeable with the many tour offerings. Currency in Cuba tends to be a moving target. I would advise travelers to take a stack of $1 American bills. A $1 tip in Canada would be insulting. A $1 tip in Cuba would be greatly appreciated. A typical breakfast meal with coffee at a hotel restaurant in Canada would run you $50 for a couple and people wouldn't think twice about leaving a $10 tip but when you get it for free? Tipping would not come immediately to your mind because North America has moved to a cashless society where you add a gratuity to your credit or debit card at the end of the meal and you simply forget to bring cash. When I submit reviews, I try to slot in whatever negatives I can think of for balance. But ….. there were none. The electricity worked throughout; the A/C worked; the TV worked; the check-in was quick and seamless; both pools were clean; my room was clean; the beach area was litter free; there were always many chaise lounges; the food was quite good; each and every staff member was polite, attentive and courteous; there were no long line-ups for anything. The only tweaking I would make to the entire complex? Fixed bench seating areas along walkways and at the crest of the beach. This review is somewhat long winded☹ I almost forgot. I rarely attend resort entertainment events as I find them tiresome but by chance I was passing by rehearsals one day and there was an awesome dance group. I went back to watch their evening performance and it was something one would expect at Las Vegas. The seamless costume changes and the quality of the performers was something you would expect from a Celine Dion extravaganza.
Leonard C
KAWAMA IS THE BEST
Reviewed 2 november, 2021
This was my second (of many to come) trip to Kawama. It is an amazing resort for being one of the oldest. As many of the resorts in Cuba, some of the older structures need some love, but with that being said, the staff, the food, the pool, the beach all make up for that. Very respectful, always wanting to help. Any issues you have they tend to right away. If you want a swanky hotel with 5 star food from home, then maybe Kawama is not for you! But if you want comfort, fun, new friends and new experiences. Kawama is the place!! Close shopping, close fishing, relaxation!! I love this place and gladly call the staff family and the resort my second home!! COME SEE FOR YOURSELF!!
Billiejo330
I go for the beach!
Reviewed 26 october, 2021
This was my second time at Kawama. And, while the AC didn't work for 4 out of the 7 days, my maid was helpful with that every day until it was fixed. I was super impressed with my maid. She was kind, quick, and answered any questions I had. The staff at the pool, bar, and buffet were always so kind and pleasant. My room (1615) was large, clean, and I had a decent size patio I could enjoy in the mornings. All I have to say to those who come expecting a 5 star, this is not it. You come here because of how the staff treats you and the beach; my gosh, that beach. The beach alone is worth the trip. Looking forward to going back a third time.
MsTaxiDrvr