Ocean Varadero El Patriarca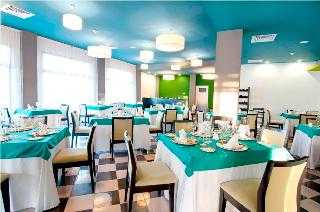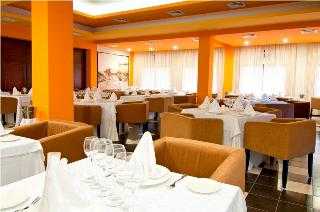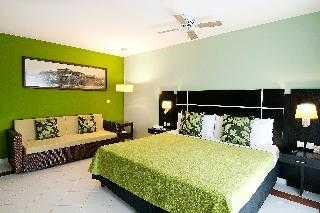 TripAdvisor Review
Based on 5745 review
See all
This five-star resort is located in front of the idyllic Varadero beach, surrounded by extensive gardens that include the legendary 500-year-old Patriarca cactus. With a prime beachfront location and surrounded by the ecological reserve Varahicacos, it stands on one of the best sections of beach in ...
More details
Availability
Select the date of your trip
Select the date of your trip to check room availability.
Property Info
This five-star resort is located in front of the idyllic Varadero beach, surrounded by extensive gardens that include the legendary 500-year-old Patriarca cactus. With a prime beachfront location and surrounded by the ecological reserve Varahicacos, it stands on one of the best sections of beach in Varadero. The hotel features exclusive rooms as well as a wide range of services including theme restaurants and a spa centre. Facilities on offered are currency exchange, boutique and medical centre. There are 2 swimming pools, 2 tennis courts and 2 multisport courts. Room service and laundry servi...
More details
Check-in starts at: 15:00
Check-out ends at: 11:00
Property Amenities
Guest rating
TripAdvisor
Travelers rating
Excellent

2552

Very Good

1765

Good

836

Reasonable

323

Bad

271
Travelers profile
Business

28

Couples

2302

Solo travel

79

Family

1775

Friends getaway

1049
Scores Summary
Cleanliness

Location

Rooms

Service

Sleep Quality

Value
Nightmare Holiday
Reviewed 25 november, 2021
This was my first time vacationing in Cuba. Got to the resort and I found it really beautiful. Pool is nice,beach was clean. Our room was not so nice, its run down. Half the lights didn't work and our safe was broken. Couldnt lock the patio door. The room was dirty and black mold under the sink counter. Couldnt get any water from anyone. I'm diabetic and had to drink Fanta for a week. Food was terrible!! I heard it was not good in Cuba but this was beyond terrible. We ate alot of bread. There were local people at the resort and they were very rude to us and made us feel very uncomfortable. Muttered Spanish insults and dirty looks. They pushed us out of the way and cut us off at the buffet and bars. The workers totally ignored us even though we tipped and the cubans didnt Going on excursions was the only part of the holiday I enjoyed. We actually got to eat food. We went out on three because we wanted to get away from the resort so badly. On day 3 the resort ran out of running water for a whole day..covered in salt water and sand not being able to rinse off was horrible. But It got worse....the local Spanish people started screaming and fighting eachother in the lobby about the water. Almost started rioting. We were scared. The toilets were filled with feces and noone could wash. They still served the sloppy garbage at the buffet with no running water for washing. If you need medical help, forget it ! I cut my hand and they wouldn't look at it or even give me a bandaid!! I felt very afraid of needing any serious medical attention after my experience with the very ignorant Dr. Trying to book a la cartes was hard when you are going out for the day. The reception told us to talk to Blanca in the priviledge office.. that was a scary experience.. she yelled at us "Gournet or Italian??" And she was very mean.. should definitely not be a guest service rep. When I read the reviews for this place I though that maybe the people where just picky complainers. NO it is really bad!!! Believe the bad reviews I'm sure the good ones are fake...
ChantalGk
Worst Experience in Cuba
Reviewed 23 november, 2021
This is my 3rd time in Cuba overall and was the 1st time for my boyfriend. Previously I had been to the Valentin Perla Blanca in Cayo Santa Maria and was blown away by the amazing food and service so I had put my faith in this resort in Varadero. Since I wanted to return to Varadero a 2nd time and the previous resort I went to (Barcelo Solymar) had me sick the whole 2 weeks. Our first day was a disaster. No one had given us water bottles to drink in our room and we were parched. The butler said some were on the way and did not arrive until 3 hours later and that was after more calling and prompting. Our electricity was being wonky as well and it took 2 hours for someone to come fix it. Not a good start after travelling all day. We got the privilege suite as well. We would have overlooked a lot of stuff but the constant begging for drinking water bottles in our room was very disappointing. We had to constantly ask for them and never got any good service until we reminded the front desk or privilege customer service at least 2 times. I found that giving the maid a tip under the empty water bottles in our room got us water the fastest lol. On to the other stuff. Drinks were okay some workers were amazing and I really appreciate their kindness. We tipped very well and made sure everyone was tipped at least once but some workers stood out to us more. At the lobby bar the Cubans/Spanish speaking people would constantly cut us off and would demand in Spanish their drinks and the bartenders would ignore us. The snack bar is a disaster. Again Spanish speaking/Cubans would get served food first and drinks. This bar closed at 6 pm and opened up again at 11 PM - 7 AM so not really 24 hours. Anyways we had an early excursion one day and we left earlier for 6:30 to grab breakfast at the snack bar since the buffet wouldn't be open until after 7. The worker there took our order and after 5 min being in the back came out and said they were done for the night???? If you are open until 7 AM how can you not serve us at 6:30. She was very rude. Again we would have overlooked all of this is we at least had the basic necessity of drinking water available to us. Food was ok overall. Privilege bar lounge/restaurant had better snacks/lunch and drinks throughout the day. I wished they were 24 hours or open later lol. Service there was amazing and the people working over there were very polite. Breakfast was amazing as well. The beach bar was very good as well. We went to the beach restaurant for lunch only once as we had to wait over 2 hours to get our food (1 hour after it closed). The waiter was really apologetic and we do not think it was his fault so we do wonder why it took so long as we were the 3rd last table served in the whole restaurant and it seemed like all the Cubans/Spanish speaking people left and the only 3 tables left were foreigners to serve.. Overall, right not the service is catered to Spanish speaking/Cuban people and we felt like we should not have been there. We still tipped well but it did not even feel appreciated by some workers. Downtown Varadero had nothing to do as well and a lot of places were closed. Again Cubans were favored at the food truck/stalls in the Boulevard and we could not even order food as the ignored us. We stayed November 6 - 13. Very sad that my boyfriend had to experience his first time in Cuba like this. The only highlight were our excursions which was the jeep Safari and Havana Colonial Tour.
olagB4635WA
Excelente choice
Reviewed 23 november, 2021
Valentin El Patriarca is an adults hotel which can provide you the best experience, even more if you are accommodated in the "Privilege Area" - I suggest everyone do- The staff is quite nice and they are always willing to give the best. The beach is awesome and its beachbar and bartenders are so good that if they don't have something, you don't notice it. The buffet is very adequate and wide and luminous, the service is a flasf-service, I can assure that. The food is great. Breakfasts are really good. The Privilege Area is something that you imagine but it is beyond your expectations. People are friendly and extremely nice. We will come back for sure. El Patriarca worth every peny. Thank you for all.
Camilo S
Shortage of quiete a lot. Bad food.
Reviewed 22 november, 2021
We were in the privilege area, we would have been offered a bath-robe and beverages in the mini fridge. No wate was provided until next day. Rooms were spacious and clean. TV and Air condition worked propertly. Safety box was great to have Make suire you bring toilet paper with you as some of the public washrooms in the complex dont have. Food: below awful averge. No tomatoes, no onions,no jam, NO WINE. lobster tasted like a very dried shoe sole; fish was dried and tasterless. Same food served at other resetaurants. We had french fries for 2 days and suddenlly no longer served. Lobby staff and bar not very welcoming, were rude and very disrispectful. Avoid the buffet and other restaurants; pretty awful. Beach was quite small and dirty, specially at the privilege zone.
568flyings
This hotel is not for English speaking Guests
Reviewed 22 november, 2021
We just returned yesterday from Cuba. The property is well maintained and clean. The beach is beautiful, however could do with some cleaning. Lack of staff is evident but understandable due to Covid. Pros The privilege restaurant and bar was excellent. The drinks are great at the privilege bars. Staff all over the hotel were friendly and amazing (except the lobby bar) Cons Everyone speaks mainly Spanish including the staff. It was difficult to communicate with the staff. Even the doctors office staff spoke only Spanish. Priority at the lobby bar and snack bar were given to local and Spanish guests though we were standing at the bar way before them. They were allowed to cut in the line and were served. Though we had privilege bracelets, the bar tenders at the lobby bar would not even make eye contact and service there was terrible. This happened on a daily basis. It was pretty obvious they didn't want to serve Canadians. The food at the buffet was below average. The choices were limited. Ham and Cheese sandwiches are the staple food.
hazeldgama