Hilton Vilamoura As Cascatas Golf Resort & Spa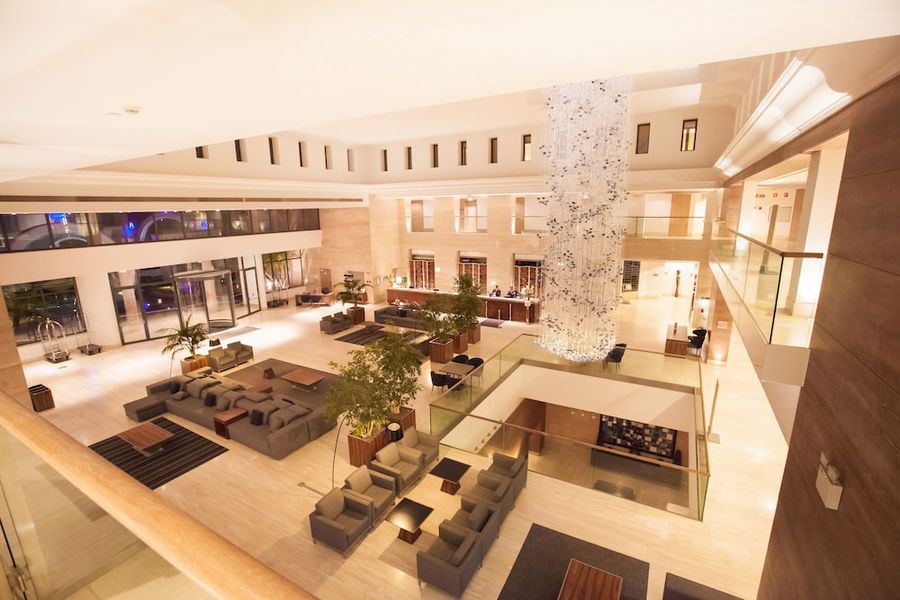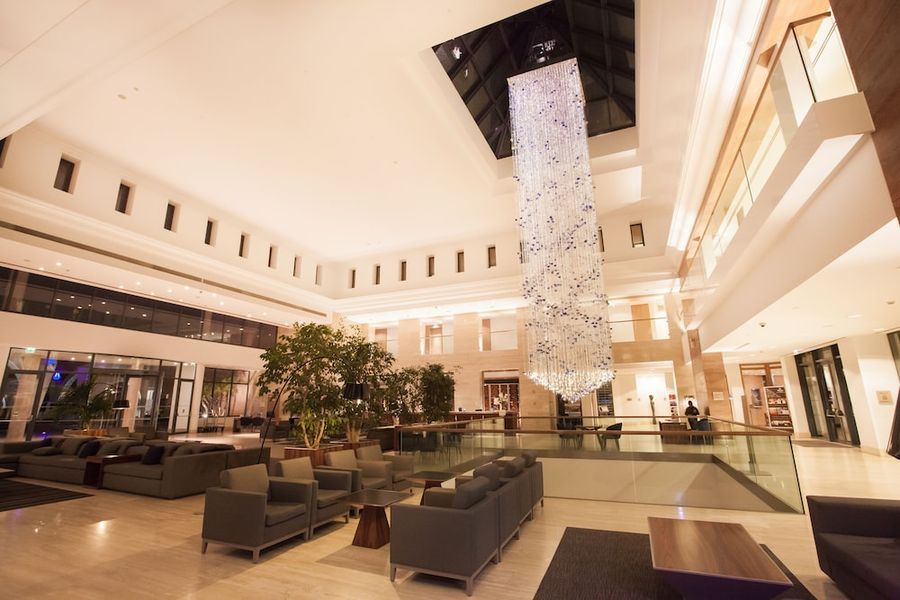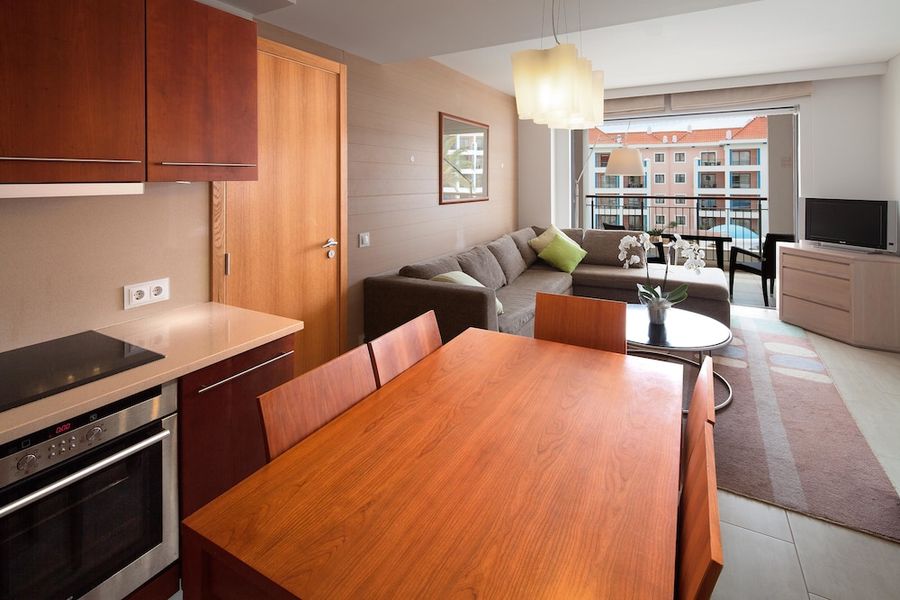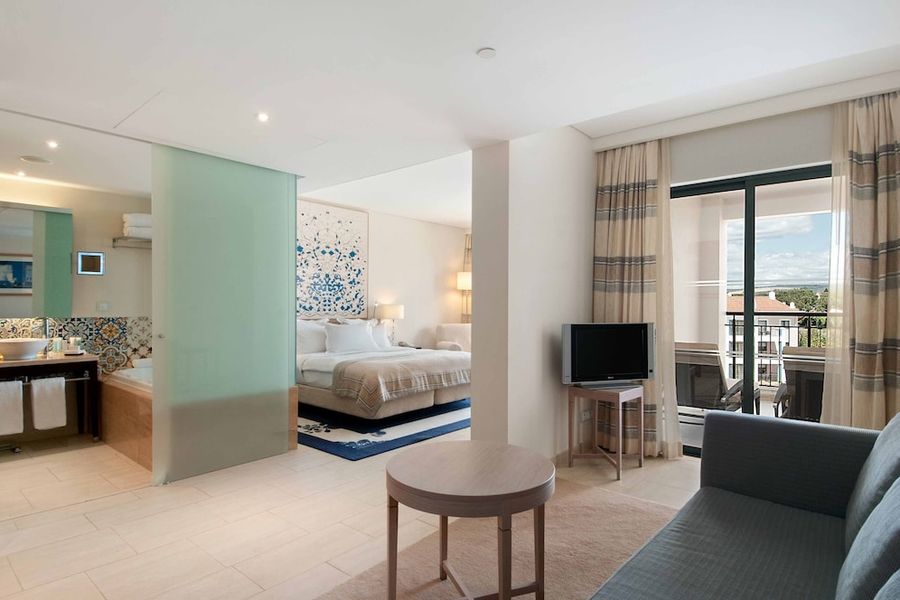 Property Location With a stay at Hilton Vilamoura As Cascatas Golf Resort & Spa, you'll be centrally located in Loule, within a 15-minute drive of Vilamoura Marina and Vilamoura Beach. This 5-star hotel is 7.5 mi (12.1 km) from Falesia Beach and 8 mi (12.8 km) from Praia dos Olhos de Água. Distanc...
More details
OpenWeather
Select the date of your trip to check room availability.
Property Info
Check-in starts at: 15:00
Check-out ends at: 11:00
Property Location With a stay at Hilton Vilamoura As Cascatas Golf Resort & Spa, you'll be centrally located in Loule, within a 15-minute drive of Vilamoura Marina and Vilamoura Beach. This 5-star hotel is 7.5 mi (12.1 km) from Falesia Beach and 8 mi (12.8 km) from Praia dos Olhos de Água. Distances are displayed to the nearest 0.1 mile and kilometer. - Dom Pedro Golf: Pinhal Golf Course - 0.3 km / 0.2 mi - Vilamoura Tennis Center - 1 km / 0.6 mi - Cerro da Vila Archaeological Museum - 1.7 km / 1 mi - Cerro da Vila Ruins - 1.7 km / 1.1 mi - Vilamoura Marina \- 2.2 km / 1.4 mi - Casino Vilamo...
R. da Torre d'Água, 8125-615 Quarteira, Portugal - Vilamoura, Faro District - Portugal - 8125615
Property Amenities
Check-in starts at: 15:00
Check-out ends at: 11:00
Guest rating
TripAdvisor
Travelers rating
Excellent

2056

Very Good

884

Good

278

Reasonable

87

Bad

40
Travelers profile
Business

120

Couples

1352

Solo travel

70

Family

1203

Friends getaway

280
Scores Summary
Cleanliness

Location

Rooms

Service

Sleep Quality

Value
Our new 5 star standard
Reviewed 3 august, 2022
A truly fantastic hotel. My husband and I have just returned from an 8-night stay at the Hilton in Vilamoura and we are still buzzing from it. We arrived at Faro airport and got a private transfer and the journey is very short (max 25 minutes). The building is very grand, well kept and it was magical pulling up in front of it. The staff member who checked us in (Pedro) was excellent. Easy to talk to, very informative and we were very lucky to have a room ready for us at about 11am despite being hours before the usual check-in time (4pm). This was a total life saver as we'd been awake since 3am - so a quick power nap really improved the quality of our first day. The pool at the hotel is excellent. There are two areas - the adults only or 'romantic pool' ideal for couples like ourselves. The pool has bubbles! We spent a couple of days by this pool and alternated with the other. The main pool is where the majority of the sun loungers are - It is extremely clean and you see staff maintaining it. If you want a sun lounger it really is a case of 'the early bird catches the worm' and you'll need to claim a lounger by around 8am. The main pool is where the bar is and where you get your towels. We have so much praise for the bar staff who were fantastic. One morning we asked for water before they were open and the lovely team member apologised for not being open which isn't his fault anyway. He still remembered us like an hour later and brought us some water without being asked/prompted to do so. It was so attentive and it shows how much the staff care. I saw his name on his name badge and I've forgotten it! This was on Monday (01/08/22) morning. We dined in the pool-side restaurant (Aquarela). The evening menu is a little 'posher' but they offered a main menu and purely vegan menu - this was ideal for me a as a vegetarian. Food was great. The hotel has a second restaurant, Rubi's, where we dined more often as you do not need a reservation and the menu is a little more suited to us. I thoroughly enjoyed the pizza, veggie burger and ravioli alongside my daily pineapple mojito. What made this restaurant even more special, again, was the fantastic staff. We were big fans of Alexander who took our order nearly every time we dined there. He was funny, attentive and all round excellent at his job. The other members of staff were also really attentive. The Hilton private beach is the nicest beach I've ever been to. Great parasol coverage from the sun (for fair skinned people like me!), superb restaurant/bar behind to get drinks or ice creams while at the beach. The toilets are in the bar for beach users (Hilton only though) are incredibly clean. I will really miss reading my book on the beach with my caramel magnum. The beach itself is immaculate and litter free. Sometimes people try to sell you things but as soon as you say no, they won't badger you and will move away. The Hilton also provide a shuttle bus which does the rounds to pick you up and drop you off. We used it a few times to go to the beach/ Marina and it is super helpful. We did walk a few times but would recommend not doing this in the peak sun as it is a knacker. We sometimes used Uber if the shuttle bus was busy or if it was a particularly hot time of the day. What really stole the show for us though was the exquisite breakfast this resort offers. It was quite literally one of the highlights of our trip!!! I wish it was open all day! Heavily recommend getting there as early as possible to avoid when it is busy. We aimed to arrive at 7:30am each day. We grew very accustomed to the custard tarts. There was plenty available: everything for a full english, cereal, fruit, yoghurt, meat, cheese, pastries, pancakes. What made it for us though, again, was the great service we received. Front of house breakfast man was Carlos who was the star of our stay. He greeted us every day, asked us if we wanted drinks bringing over, asked us what we were up to today etc. every correspondence with Carlos was a delight. His team around him, were also extremely hard working and helped allow an environment where guests could receive this specialised treatment. Finally, our room (4220) was perfect. The housekeeping team, who we never saw, always left our room as good as new. We were very grateful for how clean they left things and how they left our face towels in the shape of a flower! This was our first ever trip to Portugal and our first beach holiday so we had no idea what to expect. We absolutely loved every second of our stay and would love return to this resort. We know when we come back to Portugal we would not consider staying at any other hotel because this hotel offers not only a beautiful place to stay but incredible, caring and hard-working staff. This hotel will always be what we compare anywhere else to as this place is totally deserving of it's 5 stars.
Ash D
Large hotel, friendly staff
Reviewed 31 july, 2022
The Hilton Vilamoura is a large, family-oriented hotel, and, as expected, it is quite busy and noisy in the summer period. The location is great, and the complimentary shuttle transfers to the marina and the beach were frequent - a nice service indeed. As diamond Hilton member, we received a nice upgrade - the room was spacious and clean. The hotel's facilities were nice, clean, and well-maintained. The breakfast was very good, though quite repetitive after a few days. The Aquarela restaurant was beautiful. The extras (e.g. drinks by the pool) were rather pricey, but this is somewhat expected in a luxurious hotel. The staff of the hotel were friendly and professional - I would like to make a particular reference to Carlos (guest relations - duty manager), who was very friendly, helpful, and really helped to make our stay special. He is a real asset for the hotel. Constructive recommendation: more attention is needed to ensure that guests do not 'reserve' pool sunbeds/ umbrellas, leaving their towels and leave for many hours throughout the day, making hard for other guests to find available sunbeds. I understand that this is not the hotel's fault (and, in fact, happens in most hotel resorts on peak season), but since you have the '1 hour' policy (explicitly stated in the pool areas) you must monitor its implementation. Overall, we had a nice time. The standard of the hotel is high throughout. Despite the size and the large number of guests, it is well managed. Well done to all the team at Hilton Vilamoura. We will return soon.
N_Tzempelikos
Not enough sun beds for the size of the hotel
Reviewed 28 july, 2022
Our family of four (children 10 & 12 years) has stayed in the hotel in the last week. The 2-bedroom apartment is very clean and spacious, with a large balcony, ideal for a family with older children. The breakfast is what you would expect from a 5-star hotel- good selection of fruit, cereal, yoghurts, continental and hot breakfast, as well as pancakes and freshly made omelettes. We didn't eat in the hotel restaurant but the bar food is good. There is a shuttle to the marina up to 9pm but this gets very busy and as you tend to eat later on holidays, 9pm is a bit early. We ended up walking back one night and it was about a 20-25 min walk. The reason for 4 stars is that there aren't enough sun beds by the main hotel pool and although the sign says not to reserve them, most of them have towels on them by 8am (without anyone on them or grandparents reserving the entire row of seats for their extended family) - as the hotel staff doesn't do anything about it, we had no choice but very reluctantly "join the game" by getting up early and doing the same on the days we wanted to stay by the pool. There is an adult only pool which doesn't get as busy but an option for a family. The hotel runs a shuttle to the beach up to 6pm, they have plenty of reserved sun beds for hotel guests, great facilities and the beach is stunning. Other disappointments was the games room advertised on the website as being suitable for older children which was closed for maintenance. Other than pool/beach/golf, there is not much for older children to do, so having the games room open would definitely provide a lot of value to families like ours. The pool area is mainly occupied by the same (extended) families with very young children. There is a mini golf near the marina which is good and open until 1am and marina has a lot of restaurants. Avoid Albufeira - very touristy and nothing to see there - we were looking for a nice place to walk around/have a drink for a change but ended up disappointed. We also checked out the kids club at the hotel - if has a nice play area with a zip wire but only had a few young children in, our 10 year old would be totally bored there.
Cruiser594208
Nice but grumpy!
Reviewed 23 july, 2022
I do like the fabric of this hotel. I like the foyer, I like the room, I like the bed, I like the breakfast and the staff at breakfast, I like the food in the restaurant in the evening, I like the pool facilities, I like the cleanliness in the rooms and common parts. However, if you have the choice of going anywhere in the world why would you choose a hotel where the default mode of communication at the front desk, bar and restaurant is grumpy and abrupt. I don't think I would choose to come back.
intrepidtravellerL
Top Algarve hotel
Reviewed 21 july, 2022
Family holiday. Three generations. Hotel is now 15 years old . Fabric of hotel still pristine and facilities really great . But what makes it excellent is the quality of the staff. All really fabulous. Reception, shop , spa, restaurant , bar , pool , housekeeping . Just so pleasant and hardworking . Such a treat and frankly so unusual to be met with a wall of efficiency from so many departments .
Ian R