Xi'an Impression Nanhu Lake Homestay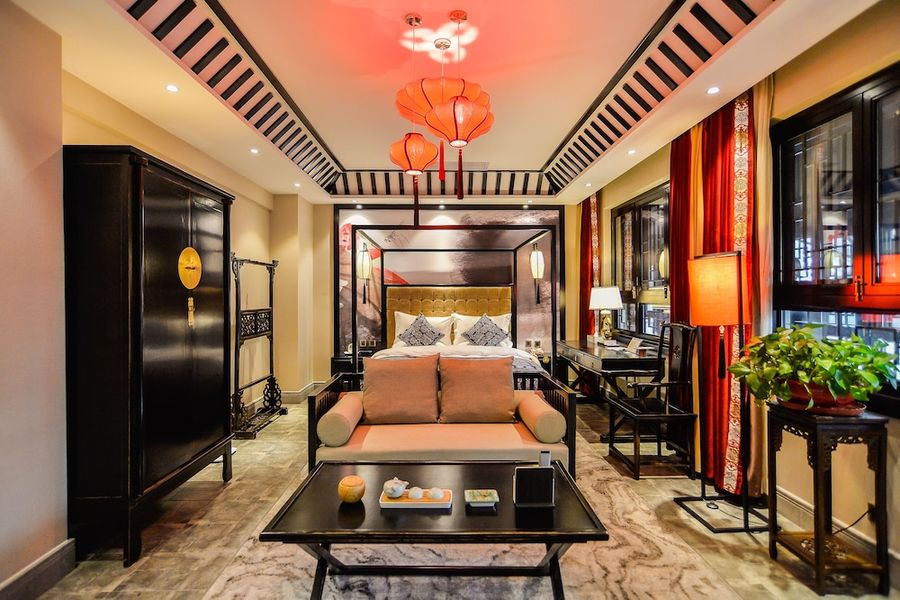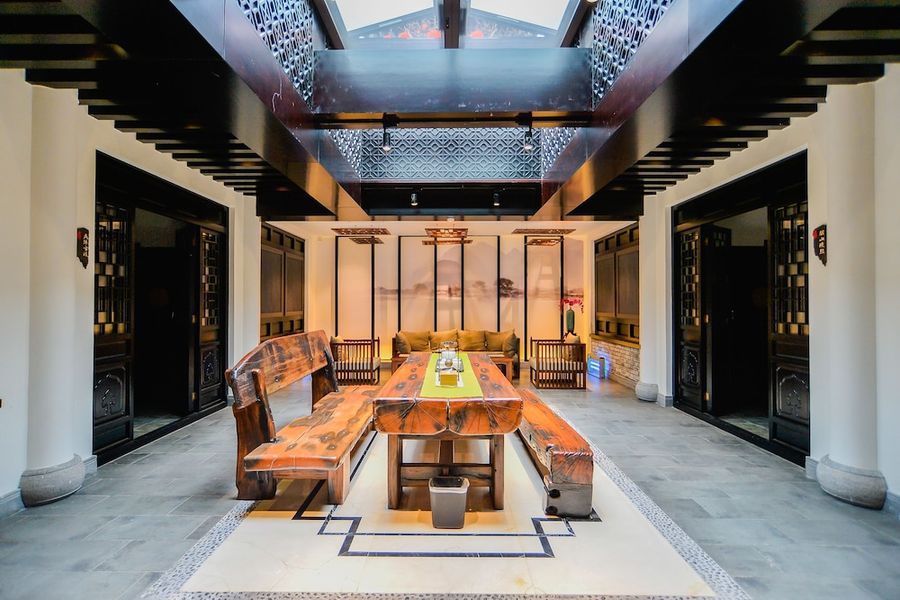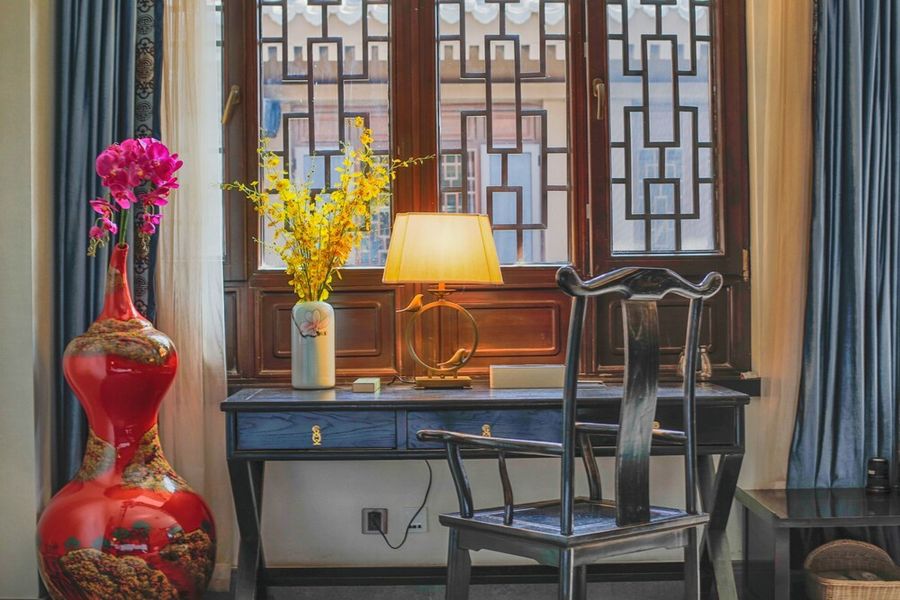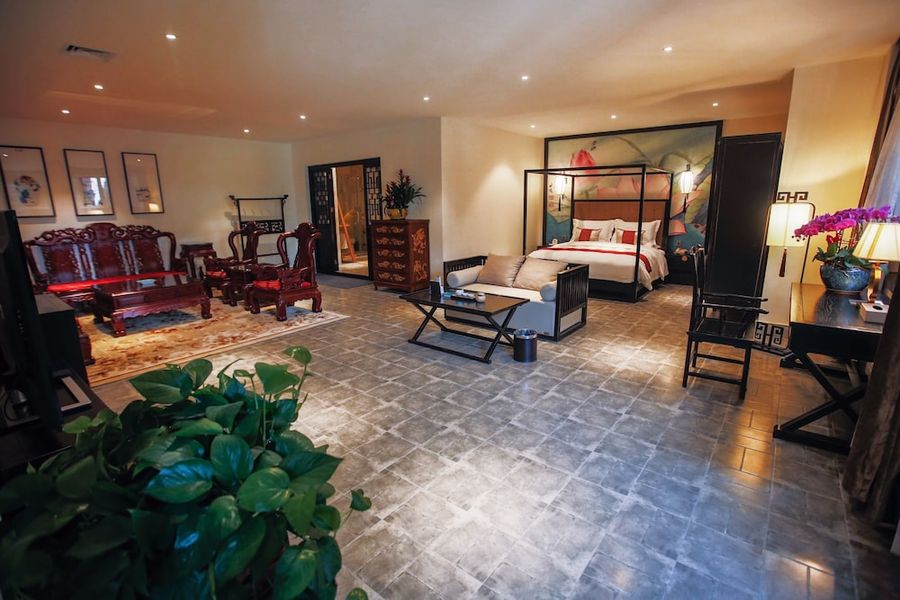 Located in Xi'an (Qujiang New District), Xi'an Impression Nanhu Lake Homestay is within a 5-minute drive of Xi'an Qujiang Haiyang World and Tang Paradise. This 4-star hotel is 7.3 mi (11.8 km) from Xi'an City Walls and 4.6 mi (7.4 km) from Xi'an Jiaotong University.Make yourself at home in one of t...
More details
OpenWeather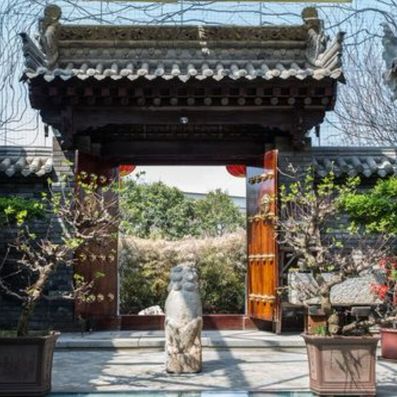 Casa geminada sênior
Max. 16 adults and 15 children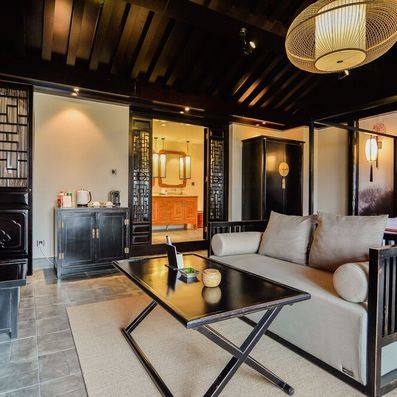 Suíte premium
Max. 3 adults and 2 children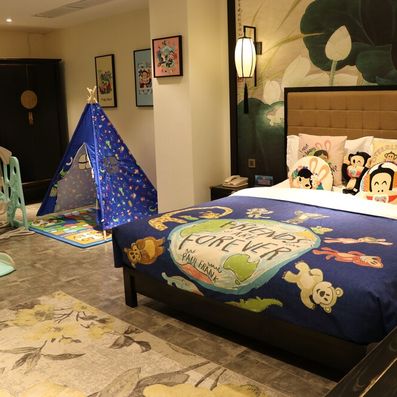 Quarto quádruplo com design assinado
Max. 2 adults and 2 children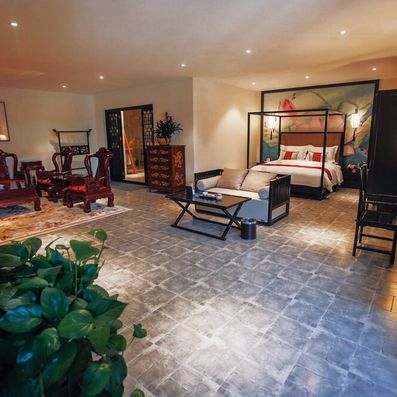 Quarto casal real
Max. 3 adults and 2 children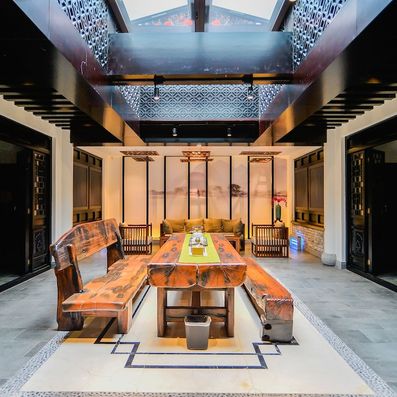 Casa geminada júnior
Max. 16 adults and 15 children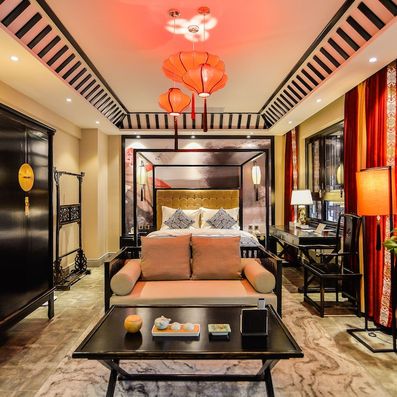 Quarto casal galeria
Max. 3 adults and 2 children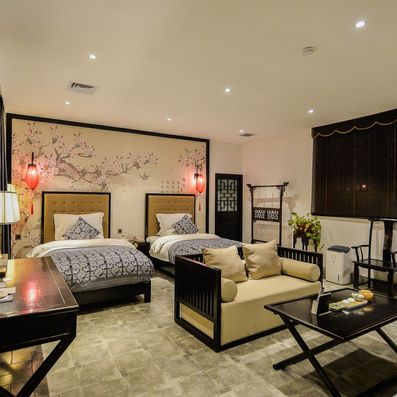 Quarto duplo com design assinado
Max. 2 adults and 1 child
Property Info
Check-in starts at: 14:00
Check-out ends at: 13:00
Located in Xi'an (Qujiang New District), Xi'an Impression Nanhu Lake Homestay is within a 5-minute drive of Xi'an Qujiang Haiyang World and Tang Paradise. This 4-star hotel is 7.3 mi (11.8 km) from Xi'an City Walls and 4.6 mi (7.4 km) from Xi'an Jiaotong University.Make yourself at home in one of the 16 air-conditioned rooms featuring heated floors and LCD televisions. Complimentary wireless Internet access keeps you connected, and cable programming is available for your entertainment. Conveniences include safes and desks, and housekeeping is provided daily.Grab a bite at one of the hotel's 2...
Yard 7, Qujiangchi North Road, Yanta Fenghuangchi Business Area - Xi'an, Shaanxi - China - 710000
Property Amenities
Check-in starts at: 14:00
Check-out ends at: 13:00
Guest rating
TripAdvisor
Travelers rating
Excellent

4

Very Good

1

Good

0

Reasonable

0

Bad

0
Travelers profile
Business

2

Couples

1

Solo travel

0

Family

1

Friends getaway

0
Scores Summary
Cleanliness

Location

Rooms

Service

Sleep Quality
A Lovely Tranquil stay
Reviewed 10 december, 2019
It was an ideal hotel in an ideal location for me. The hotel is beautiful, very spacious but cosy, located in South Lake park and we have a perfect holidays there. I do like its breakfast, not a buffet style but set Chinese menu which cooked in healthy way. We also enjoy Nespresso capsule coffee machine which we had both morning and evening. Thoroughly recommended and I would definitely stay here again.
Knock_Kanokwan
Lovely people
Reviewed 27 april, 2019
We stayed in a twin room which in the traditional style was below the courtyard with a central ventilation shaft. This made it feel a little airless. Also the traditional style hotel is not so private - only windows facing the communal area. It is though a truely beautiful traditional style bed and breakfast with Chinese breakfast included. It is probably best suited to Chinese speakers however because when they say no-one speaks English that means no-one so trying to contact by phone when we needed to was impossible. This needs to be altered on the various booking services ( we used Lastminute which said they spoke English and Chinese). However the staff were just lovely - so friendly and really went out of their way to help - they even refunded us one night when we arrived one day late. The rooms were comfortable and well appointed but finding this by taxi is simply not possible so don't even try - the Chinese address here in TripAdvisor can't get you there by cab. Best to use the map and walk from the metro . Essentially it's not really accessible by taxi unless the hotel organises a car service for u. The entry door is from the lakeside and with the traditional high bar at its base ( to keep out evil spirits) really doesn't look like an entry - u need to call on the intercom there to get in. If you are a Chinese speaker and you are after the traditional style B and B this would really suit an elegant weekend away.
casstef
Why this place only has 2 reviews is beyond me - its FANTASTIC!!!
Reviewed 4 april, 2019
I travel in China frequently and have been to Xi'an multiple times in the past few years, usually staying in the higher-end business hotels, which are very cookie cutter although nice. The Impression Nanhu Lake Homestay far, far, far exceeds any of the other hotels I have stayed at in Xi'an. First: Location, its South East of the Walled City directly between the North and South Lakes of the Old Tang Dynasty Palace Gardens. The only way to the front door is by walking through the gardens and they are beautiful, serene and full of people flying kites on the weekends and evenings. Your car can drop you off at an underground car park and the hotel staff will meet you to guide you through the park to the hotel itself. I recommend having a car pick-up from the airport to bring you here as a taxi may struggle. The hotel staff arranged for the pick up of a private car which cost 120 yuan payable in cash to the driver. As there is no parking lot for the hotel the driver had to call the hotel to guide him into the parking garage which is well hidden. The hotel is a 5 minute walk from 2 different malls, 10 minute walk to the Metro station (25 minutes and 3 Yuan to get you to the city centre/Bell and Drum Towers) and you can have the staff call you a taxi anytime. Its on the side of the city closest to the terracotta warriors museum which takes about 45 min to get there if you are going in the morning (longer in the afternoon due to traffic) Second: The Hotel Structure - the building is probably less than 10 years old but done up in a faithfully recreated style of a traditional Chinese Courtyard home. The stone work, tiles, doors, windows, everything matches the aesthetic. The Door from the Garden into the hotel is a beautiful Red Door set back from the walking path of the Lake Gardens which opens only by Key Card. You immediately step foot into a Private Small Chinese Garden. The Path then leads you to the next door which leads you into the COurtyard of the house. The rooms on this level enter and exit directly onto the courtyard which is beautiful decorated and covered with a glass roof. Many people had their breakfast in the courtyard each morning. The Second floor rooms all have private courtyards complete with tables and chairs for private dining. The Rooms themselves were beautifully decorated in Traditional Chinese Styles. The Furniture was all new, and well choosenh. The bathrooms were completely modern, extremely clean, with Heated Toilet Seats, Bath tubs and showers, all which were spotlessly clean. The Staff: Amazing, Smiles everywhere! No one on the staff speaks English, however, WeChat, the free communication app, has an easy to use translation feature for all conversations, which I used to communicate with the staff and it was perfect. I highly recommend downloading and setting up WeChat before you arrive in China as it made all communication very smooth. Google translate app does work, but not quite as well, I have often encountered dead spots where it just struggled to find the correct words. We Chat was much better and translating the language into sentences which did not sound like gobbly-gook. The staff met me at my car, carried my luggage up to my room, showed me how to use WeChat for translation, and made sure the room was cleaned and set up every day. A few things to note: TV was all in Chinese, I think. I didnt make much effort to watch anything on it, but bringing your own shows downloaded on your gadgets is probably easiest. There are no elevators, the hotel is only 2 stories high, so everything is stairs, Including at the front door. You can request a room on the first floor (ground floor) if you do not want to deal with stairs The traditional Chinese homes have a board crossing all the doors to keep out 'bad spirits' because this hotel is built as a traditional home all the doors have these boards which cannot be removed from the door ways. The main entrance board is around 40cm (18 inches) high while the bedroom doors are only a few cm high. Getting into and out of the hotel for a Wheel Chair or someone with bad Hips or a stroller may be impossible. Make sure you have downloaded WeChat before you arrive so you can begin communicating right away. Also set it up with your contacts back home for easy communication The hotel does not put up their phone number or email in easy to find places but I highly recommend contacting them once you have booked the room to work out transportation or any other requirements you have. I simply emailed them my questions in English, then Copy/Pasted my email in Chinese using google translate beneath and sent it off. They replied back in Chinese, which I copy/Pasted back into google translate and everything worked perfectly. Hotel.com was how I booked it and they have a lot of pictures. I wasnt able to find other ways to book into this hotel
Elionwye C
A Perfect Oasis
Reviewed 4 september, 2018
I recently enjoyed a wonderful stay in this truly charming hotel. If you want to stay in a traditional hotel in Xi'an then there can be no better. The rooms are spacious and well equipped and the service is wonderful. I enjoyed my stay there very much and I'm sure you will too.
kelvin732
Best Chinese traditional style room ever found in China!!
Reviewed 4 september, 2018
My hometown is Xi'an and this time my family invited two colleagues to enjoy a short stay in Xi'an. This hotel is amazing and pity there is no Tripadvisor reviews yet. Open in 2017 and Impression South Lake (Nanhu) has welcomed several Chinese celebrities at their stay in Xi'an. The rooms are beautiful - same traditional ancient Chinese style like those expensive rooms in Beijing Hutong area. On the first floor every room has a small private yard/baloney where you can enjoy your own quietness with tea. Toilets are Japanese smart toilet. Customer service can be 7-star as they use WeChat to provide 24/7 tour guidance. You can pay deposit by Alipay or WeChat and they will refund you instantly after check-out, which is much better than credit-card holding your money for months to release. The tea in the room is amazing - my UK colleagues now have new habit of drinking Chinese tea from here. The location of this stay is beautiful - in the south lake park and you can have an enjoyable morning run (the hotel has a mini gym as well, even a KTV/movie room!). Breakfast is amazing and pretty designed - reminds me of Kyoto's Kaiseki. I recommend this hotel to everyone and will firmly choose it as my friends' future stay in my city!
Annabel H