Hotel Alba Suites Acapulco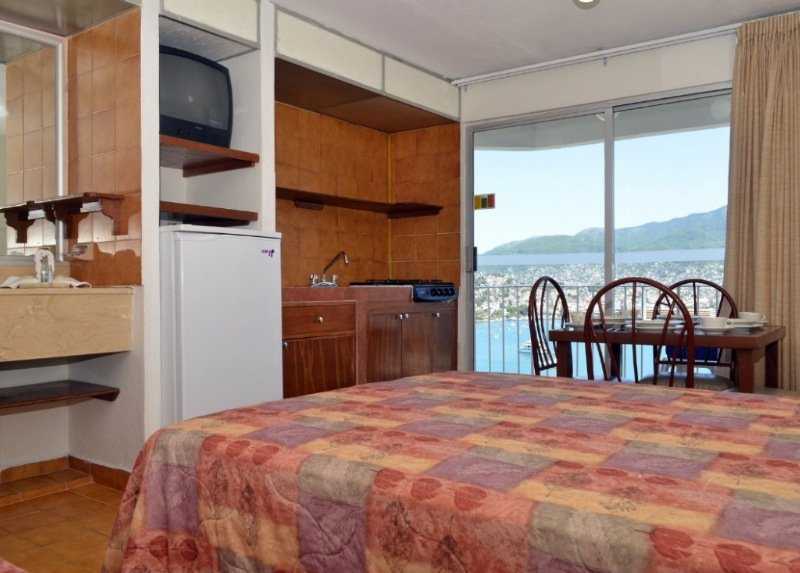 TripAdvisor Review
Based on 100 review
See all
Alba Suites has a great family atmosphere, located on a hill in a residential area, adjacent to the spectacular marina yacht club, where you can admire the wonderful view of the Acapulco bay. Alba Suites facilities include five swimming pools, one with a waterslide, and you can savor delicious dishe...
More details
Availability
Select the date of your trip
Select the date of your trip to check room availability.
Property Info
Alba Suites has a great family atmosphere, located on a hill in a residential area, adjacent to the spectacular marina yacht club, where you can admire the wonderful view of the Acapulco bay. Alba Suites facilities include five swimming pools, one with a waterslide, and you can savor delicious dishes and drinks at the restaurant and bars. All units have air conditioning, cable TV and telephone. Facilities: Playground, Pool (s), Event Room (s) , Beach Club, Parking, Restaurant (s), Bar (s) ($), Elevator (s), Services, Internet ($), Doctor ($), Child care ($), Safe, Laundry ($), ($) Involves an ...
More details
Check-in starts at: 15:00
Check-out ends at: 11:00
Property Amenities
Food & Beverage
restaurant
Pool and wellness facilities
.
Reception services
Safe box
Luggage storage
Guest rating
TripAdvisor
Travelers rating
Excellent

31

Very Good

41

Good

11

Reasonable

6

Bad

11
Travelers profile
Business

3

Couples

18

Solo travel

1

Family

63

Friends getaway

7
Scores Summary
Cleanliness

Location

Rooms

Service

Sleep Quality

Value
Think twice before booking...
Reviewed 4 january, 2017
Look: normally I don't complain if a "regular" hotel gives you what they promiss. In this case I knew upfront that the hotel had some deficiencies, but I anyhow decided to stay there for some convenience reasons of the ocassion and accepted a lower-end stay. Unfortunatelly the hotel was worse than expected, bad quality of infrastructure and installations, photos on the website are clearly an artist "hook" with no relation to the reality, eventhough I knew the year-end high season could justify higher costs, their actual value promiss was non-existant so the cost-bennefit ratio was not true. Due to the above I requested an immediate talk with the manager and asked for a cancellation and for my money back. Knowing that there were some penalties I expected a sound "NO", but hearing my reasons the manager accepted my demands and was charged only for the first and only night. I got the rest of my money back. In a nutshell, the hotel is not what you expect. One positive element though was the staff: oriented to provide good service (thumbs up) knowing that their hotel is not what you might expect. Finally I have to say that the manager was very professional dealing with the complaint (thumbs up).
MSalazarH
dont go here
Reviewed 4 may, 2016
Looked good in photos, however to get to the room there were 62 steps, three ramps and then the elevator for two floors. In the heat it was a struggle to get to our room, and my wife has a bum leg so this was misery each day. No bar! Yes you can buy a beer at the cantina, and rum and tequila, but you go back to your room to drink it. Resturaunt is a joke, food is terrible, staff doesn't speak English, one day there were no desserts at all available, limited menu, not good selection. Front desk is absolutely no help getting a taxi or anything else, and again, no English. The National Police (Federales) at staying at this hotel, so on the second night, there was a gunfight between the police and the cartel. No one could tell us anything about it, taxi driver had to inform us what happened. Again, no English channels on TV, no papers or magazines in English, kept us in the dark. Federales were everywhere, eating, on look out, washing, etc. This aged Hotel is on an almost deserted street, taxi warned us not to walk outside the hotel, Front desk said to walk to main street to get taxi, thankfully we did not have to. Found a service to take us places and to interpret for us so we had a somewhat enjoyable few days there. If going, pay more than the $345/week and go to the "Diamond" district with the new Hotels.
token2000
Great budget friendly hotel!
Reviewed 31 august, 2013
Awesome ocean view or the price! If you are on strict budget, this is the one! We read previous review about loud music on weekends, so we asked for a room away from the noise and it worked! We got the top floor. But there was rain storm the first night and it leaked in the room, and they moved us to a better room the next day, and we were happily ever after! We saw tiny little ants around the sink tho but no big deal - they just stayed at the sink. A/C worked great! We slept good all 9 nights! I give low rating on location because it's located on a hill - we had to walk up/down for commuting, catching a bus or getting back to the hotel - unless you have a transportation. Overall, it was great and we would go back! (Lord willing...)
Ada R
Could have been good :(
Reviewed 17 august, 2013
To start off, the hotel was well maintained and the pictures on the site did not lie. The rest is where the trouble starts. I booked the rooms with "complimentary breakfast included." They fought me on giving me the vouchers because they said it wasn't on their reservation, though my confirmation had it under "additional information" I went to the front desk around 8am, they told me they would call me back soon when the manager would arrive. By 9:30 I hadn't received a call, so i went back to the front desk which was quite a walk as the property has 7 or 8 buildings with a lot of steps and ramps. They made me have a seat, and 15-20 mins later, they gave me the vouchers. Very frustrating to begin with. Secondly, the rooms come with a kitchenette however you have to go pick up the utensils and pots and plates at a separate building, again, another trek, but manageable and not a big point to complain about. When we tried to return the items upon checkout, they tried to charge us for items that were not listed on our carbon copy receipt, telling us that we had taken out more things that were listed. Thirdly, the hotel was filled with Mexico's Federal police. The police were everywhere in full uniform carrying their large weapons. on the balconies, the parking lot, the restaurant, everywhere! We were told they stay there while stationed in Acapulco. Regardless, not what i like to be around all day, especially on vacation. Not to mention they took up all the parking, with the hotel calling my room at 1, 2 in the morning saying i had to move my car because i wasn't allowed to park there! Also, they say they offer free wi-fi, but even if you can find it, or get on, its not strong enough to do anything with! Finally comes the biggest problem. I have stayed in hotels across the US, Carribbean, Canada and Europe and have never had so many issues with the service or attentiveness to my needs. With that said, i wasn't asking for anything other than what i paid for. If the following had not happened, i probably wouldn't have spent the time detailing everything above. We were at the pool and when we arrived back in our rooms, several items had been stolen. A few electronics and a wallet. When we reported the incident, we were treated very poorly, told by a night manager that he didn't care and pretty much said it was our fault. There was no form of apology or plan of action. Not only was personal items stolen from our room, but now our time was being wasted dealing with incompetent one night a week manager. We had to return the next two mornings. We dealt with a professional manager who tried to represent the hotel in a better light. However, by than the damage was done. First time in acapulco, beautiful city and beaches, hopefully it can come back from its bad reputation. Alba suites had the facilities to be great, but failed miserably on service and hospitality. Not to mention, if i hadn't studied spanish, i don't think there was anyone there who could have attended to me in English.
David R
Nice place for the winter !
Reviewed 21 march, 2011
Since 6 years, I am coming at the same hotel in Acapulco, at Alba Suites, for a stay of 1 to 2 months between January and March. A lot of Canadians are coming back also since many years. The hotel is located on a magnificent site above the bay of Acapulco. There are 5 swimming pools, in the shadow or in the sun, depending of the orientation and the time of the day. There is also a very small beach giving access to the bay nearby the marina. I like very much being far from the town center which is hot, noisy and polluted. We have access at all the services and restaurants of the city center by a shuttle bus (free with air conditioning) on regular schedule from the hotel that brings us in about 20 minutes. We can also go downtown by public transportation or by cab (not expensive). We are living in one of the small studios apartment equipped with a kitchenette. It gives us a minimal comfort: Gas stove (4 cooking places); Kitchen sink; Fridge; Microwave stove; Toaster; Coffee maker; Plates, Sauce pans and cookery. We have also access to WiFi Internet. The hotel is rather quiet during the week but there is more animation during week ends with a show, dance music and lived orchestra. The air is good because there is almost constantly a good wind and the sunsets are beautiful. Nice place for the winter ! Quebec Canada
SergiN84