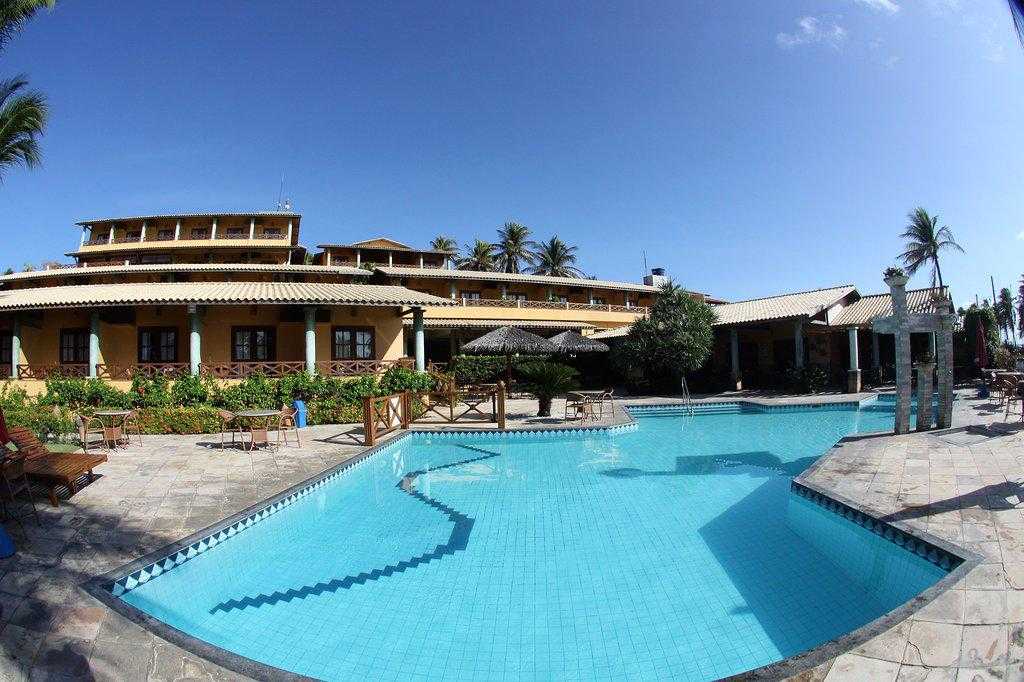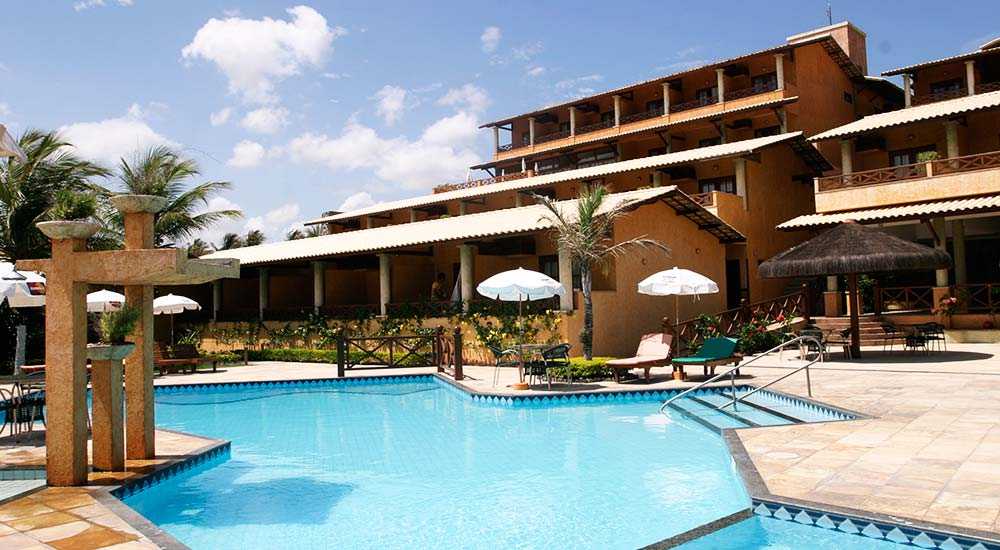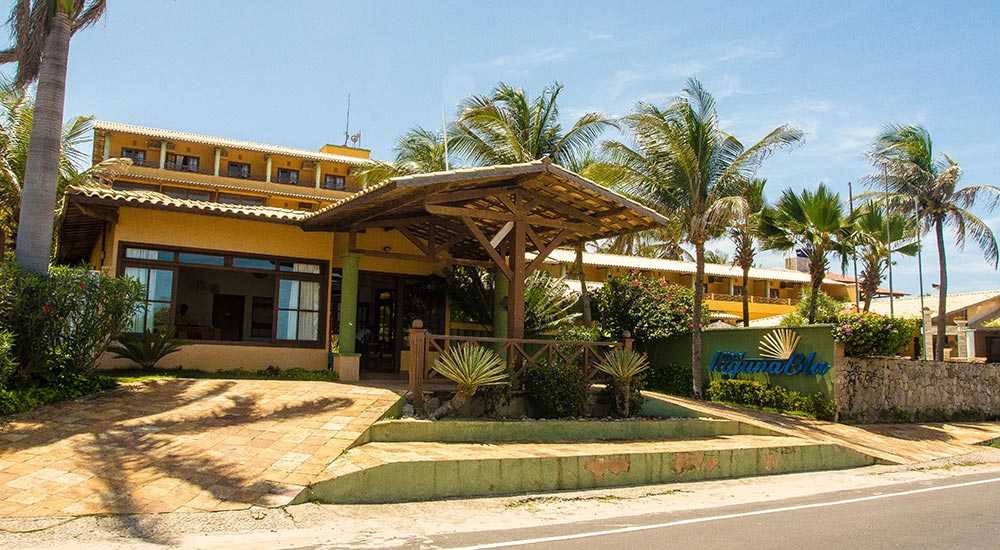 TripAdvisor Review
Based on 185 review
See all
With 39 apartments, located on Prainha beach in the municipality of Aquiraz, 24 km from Fortaleza, close to famous sites such as Beach Park and the Aquiraz Riviera Golf Course. The access to Fortaleza is made by duplicate highways that allow a fast and safe transfer, it is possible in a few minutes ...
More details
Availability
Select the date of your trip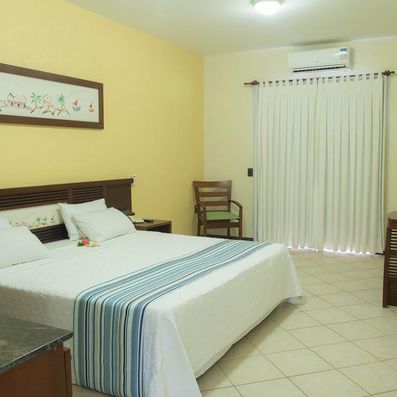 Suíte Premium
Large apartment with balcony facing the sea, double bed. Large bathroom complete with hot tub, hot and cold water. Bath products....
See more details
Cancellation Policy
Amenities in this room: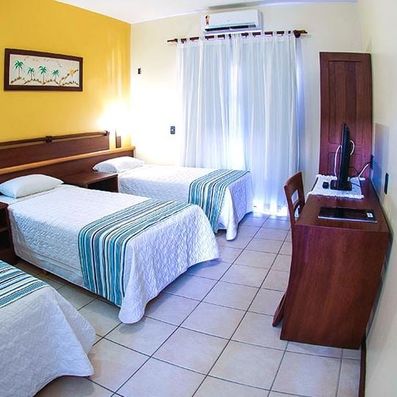 Quarto Standard
Apartments without balcony, side view, with three single beds or one double and one single bed, located on the 4th level of the Hotel. Large...
See more details
Cancellation Policy
Amenities in this room:
Max 3 adults
Max 2 children -
by 4 years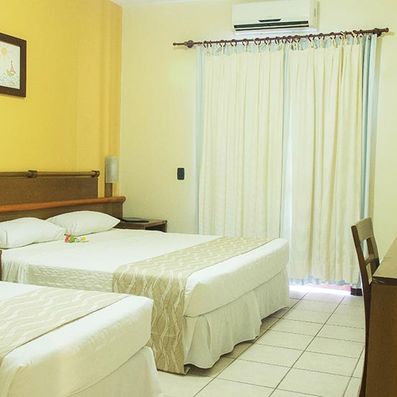 Suíte Júnior
Apartments with a balcony facing the sea, a double bed and a single bed. Large bathroom complete with shower and hot and cold water. Bath pr...
See more details
Cancellation Policy
Amenities in this room:
Max 3 adults
Max 2 children -
by 4 years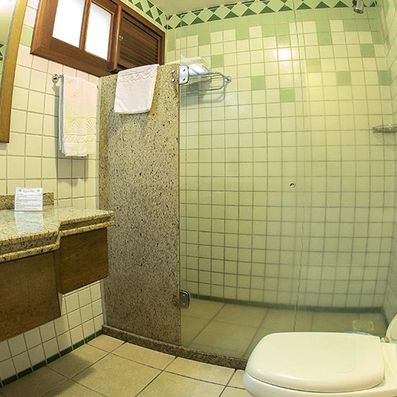 Suíte Master
Large apartments with 2 single beds and 1 extra large double bed. Large bathroom complete with shower and hot and cold water. Bath products....
See more details
Cancellation Policy
Amenities in this room:
Max 4 adults
Max 3 children -
by 4 years
Property Info
With 39 apartments, located on Prainha beach in the municipality of Aquiraz, 24 km from Fortaleza, close to famous sites such as Beach Park and the Aquiraz Riviera Golf Course. The access to Fortaleza is made by duplicate highways that allow a fast and safe transfer, it is possible in a few minutes to leave the city for the relax on the beach, in the Hotel Laguna Blu. Located at the entrance of the beach, facing the lagoon formed at the meeting of the River Catu with the Sea, with stunning views of the lagoon, the sea and the dunes. Free Wi-Fi throughout the hotel, 24-hour reception, adult and...
More details
Check-in starts at: 14:00
Check-out ends at: 12:00
Property Amenities
Cot available on request
Rooms for the disabled
Accepts major credit cards
Polyglot Team
Electric Kettle
Wedding Service
Playground
Reception services
Exchange
24 hour reception
Cleaning / Laundry Services
Laundry / Dry Cleaning
Bowling
Accommodation
Apartment for smokers
Hair dryer
several
Broadband Internet
Hair dryer
Wheelchair Accessibility
Business Facilities / Facilities
Photocopies
Take in the views from a rooftop terrace and make use of amenities such as complimentary wireless Internet access and concierge services. This cruise ship also features complimentary babysitting/child
Sauna
Auditorium
Food & Beverage
restaurant
Public Restaurant
Cocktail Services
Transport options
Bowling
Bar
Pool and wellness facilities
Enjoy a range of recreational amenities, including an outdoor pool, karaoke, and bicycles to rent. Additional features at this Baroque hotel include complimentary wireless Internet access, concierge s
Babysitting on Request
Massages on Request
Guest rating
TripAdvisor
Travelers rating
Excellent

64

Very Good

71

Good

35

Reasonable

9

Bad

6
Travelers profile
Business

9

Couples

66

Solo travel

1

Family

77

Friends getaway

13
Scores Summary
Cleanliness

Location

Rooms

Service

Sleep Quality

Value
Nice from outside, some troubles within
Reviewed 20 august, 2011
Me and my wife've chosen this resort alike hotel in Aquiraz/Prainha from an internet search, whose focus was location and price. Among all choices, Laguna Blue appeared as the best one. Fair room rate and suitable location. We reached the Hotel after a short trip from Fortaleza Airport, where we rented a car. It's a 30' trip, lacking directions signs along the roads. BR 116 and CE 040 were the roads wh traveled on. Despite of that, it was a relatively easy trip, once we used a GPS on my blackberry. At first sight, the Hotel is goodlooking, charming. Simple, but has a mediterranean architecture and careful design. It is Italian owned. The check in was flawless and fast. And we had help to take our heavy luggage to the upper floor room. Short after we entered the confortable and large room, the smelt of sewage coming from the bathroom broke our brief first good impression of it. We'd to open the windows to make it vanish. Hopefully Ceará is a all-day-long windy place. However, everytime we close the room to go to the beach, the nasty smelt returned. The air conditioning also had to repaired: at start, it didn't cool the place. The maintenance guy had to see into it. Good news was that has there that day and the problem was solved. Little trouble with hot water, but it was also fixed. The bed had a king-size mattress, good pillows. There was no need of blankets, only sheets sheltered us from any kind of chill - only my wife can feel chill of a temperature of 26ºC.... but it was enough for her too. There is no hair dryer in the toilet. only on request. The TV set is ridiculous: 14" old tube television, whose remote control is a small keyboard ond the headboard. Was hard to operate it. We stayed in "suite junior", with a porch and gorgeous view. Dawn was at our sight, over the delta of a small river, and the white sand contrasting the green shaded sea. We had 4 fully sun shined day there. No surprises at that region. Other downside is the services on site. You have to be patient and forget about the rush. They have their own pace, wich is definetively not like ours. Heart attacks should be rare on this place - at least not among the staff of this hotel. They are attentious and simpathetic, tough. The food is fair and the price not too expensive. The beach is vast with white sand, however, due to the no stop wind that comes relentlessly form the ocean, the sea doesn't invite us for a dive, its full of small waves. Paradise for kite surfers. Breakfast is not remarkable, could be better served with more options. Appeared to be like budget business hotels. Swimming pool has good location and size, but not well cleaned. As overall assesment is a good place, away from city buzz, not too far from the beach (400m) and a cost effective place to stay.
Jan W
Nice hotel but not a lot of things to do!
Reviewed 14 july, 2011
The hotel is nice but there are not many things to do... either for kids or adults!
Janaina M
Péssimo!
Reviewed 20 november, 2021
Estive no Laguna Blue e tenho reclamações a fazer sobre a estadia. O café da manhã não é tão ruim, opções de bolo diversos e sucos, mas os sucos bem pouco doces. Em certo dia, o suco de acerola estava salgado (?). São geralmente três opções de suco. Um detalhe péssimo que ocorreu foi sobre a tapioca: eu pedi uma tapioca ao rapaz bem magro que prepara as tapiocas, e ele disse que iam repor o queijo e presunto. Nessa, trouxeram o queijo e presunto e ele disse que prepararia e levaria na mesa. Quando depois de uma demora infernal achei por bem ir buscar a tapioca, o rapaz estava entregando tapioca pra outras pessoas e a minha não tinha sequer preparado ate aquele momento. Eu disse então pra ele que não queria mais. Uma falta de noção absurda, e isso que ocorreu tem um nome bem claro. No entanto, a funcionária Renata, que também prepara as tapiocas, é bem simpática e atenciosa e a tapioca dela é super melhor. Outro ponto deplorável é que quando peguei os talheres para comer eles estavam SUJOS. Se até a sujeira grossa não tiram, imagina as bacterias, micróbios e sabe se mais o que tem nos talheres desse hotel? Deu nojo. Sobre os quartos: são adequados em estrutura, mas não são nem minimamente higienizados, fora o fato de o quarto estar cheirando xixi logo que se entra nele. Quem gosta de ter o quarto organizado diariamente, nesse hotel não se sentira bem, pois nesses termos, eles não limpam propriamente falando antes de período longo de estadia. O chuveiro é outro ponto lamentável nesse hotel. Pense em um chuveiro ruim, péssimo. Que demora um monte pra esquentar e é um chuveiro que nao é potente, praticamente so cai agua do chuveiro no centro dele, provavelmente por estar sujo. O detalhe de não haver amenities nos quartos também é no mínimo um absurdo. O que tem nos banheiros dos quartos desse hotel é um dispenser de sabonete e um dispenser de shampoo 2 em 1 com condicionador. Certamente dirao que é em razao da pandemia, mas é SUPER mais nojento esses dispenser que é manipulado por cada um que se instala naquele quarto, que se fossem amenities descartáveis. Eu realmente não entendo as economias que varios lugares atualmente fazem, totalmente desnecessário. Outro ponto é o fato desse hotel ser longe de td. Não se tem um ÚNICO restaurante perto, nem pra receber por ifood, se for necessário comer algo de madrugada, por exemplo, eles simplesmente NÃO TEM COZINHA DE MADRUGADA. Em certo momento de madrugada, eu queria apenas um SUCO de latinha que fosse, ou algo pra beber, e liguei pro hotel pra entregarem no quarto e simplesmente ninguém atendeu. Tive que ir, altas hrs, até a recepção e la estava o homem, que disse depois se chamar Dantas, dormindo no quartinho ao fundo da recepção, deu pra ver ele dormindo em frente o ventilador, e chamei, chamei, chamei, inúmeras vz e o homem não acordava. Até que tive que berrar, então ele acordou no susto. Pedi um suco ou algo pra beber ele disse que a chave que é da cozinha não estava com ele. Ah entendi: se for uma EMERGÊNCIA de alguem precisar urgente comer qualquer coisa que for, não da, ne? Pois a precariedade do hotel é absurda. Continuei insistindo com esse tal de Dantas que algo eu precisava beber, era necessário! Um suco, qualquer coisa. Então ele disse que ninguém preparava isso aquela hr. E eu ja tinha reforçado pra esse sujeito que suco de latinha ou qualquer coisa ja estava ok. Após inúmeras insistências, eis que ele pega uma chave e abre a geladeira de refris. Se eu realmente estivesse precisando de algo pra beber por uma emergência, o hotel em nenhuma hipótese deu alternativas. PÉSSIMO ATENDIMENTO. Fora o fato de eu perceber que esse hotel não tem a mínima segurança, ninguém sente-se seguro nele. Ja que a pessoa responsável pela recepção encontrava-se dormindo. Uma vergonha! Ridículo! A atitude desse funcionário foi absolutamente péssima, ele não foi nem um pouco proativo em me ajudar, pelo contrário, não moveu uma unica palha pra encontrar uma alternativa pro fato de eu querer beber algo de madrugada. O hotel é no meio do nada, um lugar ermo e notoriamente perigoso. Outro ponto deplorável nesse hotel é o quarto cheirando a xixi, isso é o cumulo do absurdo. Se alguem passar mal e precisar de ajuda, não contem com ninguém nesse hotel, pois nao tem, o cara da recepção estava simplesmente dormindo! E em um determinado dia quando retornamos ao hotel, ele estava novamente dormindo!! E não acordava em hipotese alguma quando chamava ele, realmente foi necessário berrar! Resumindo: hotel sujo, com mal atendimento, PÉSSIMO! Não recomendo de modo nenhum.
Supeer_Bee
Estadia maravilhosa
Reviewed 2 november, 2021
Hotel bem localizado, com uma linda vista. Um ótimo atendimento de todos os funcionários, bem receptivos. Indico, principalmente para quem quer tranquilidade, da pra ir casal ou com família que irão gostar.
Andréa M
Ótimo hotel
Reviewed 27 october, 2021
Estive no Laguna Blu hotel em outubro de 2021, foi uma hospedagem de 6 dias. Ótima estrutura, ótimos atendentes, frizando o atendimento de Renata do bar, Aylon no café da manhã com sua maravilhosa tapioca e a moça da recepção. Vista exuberante. Para quem quer paz e sossego um excelente lugar. Porém para quem vai fazer passeios no entorno, fica um pouco fora da rota, mas nada que um Uber não resolva.
K4336ALlaurar