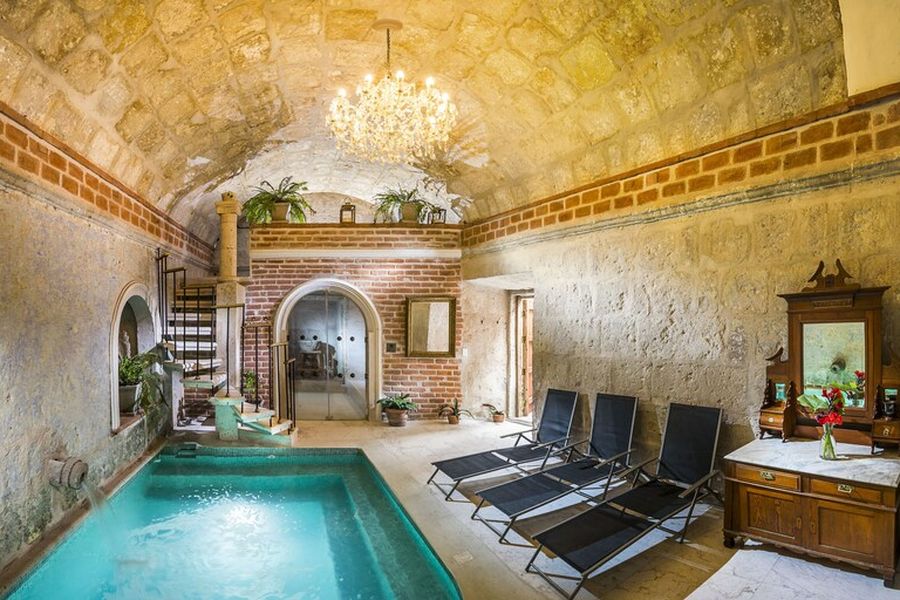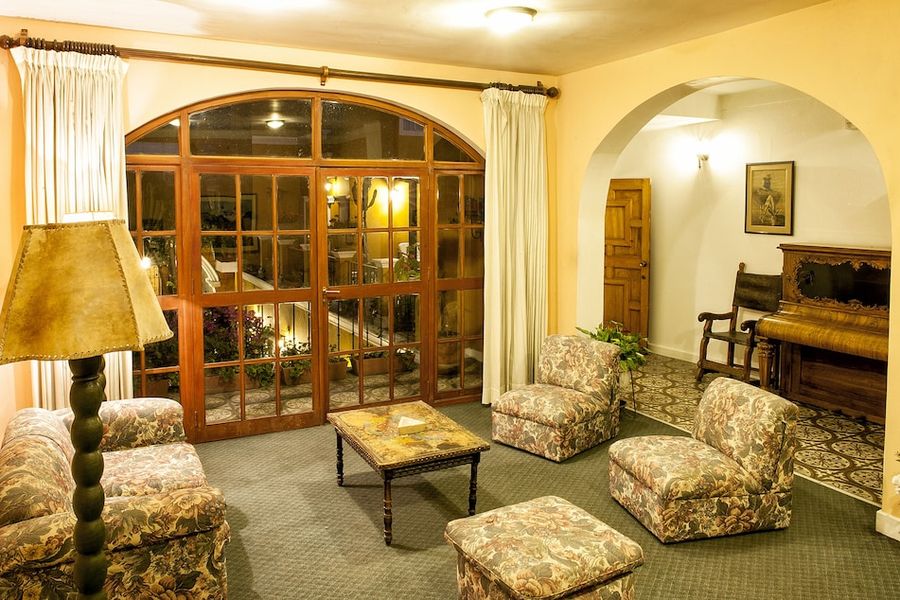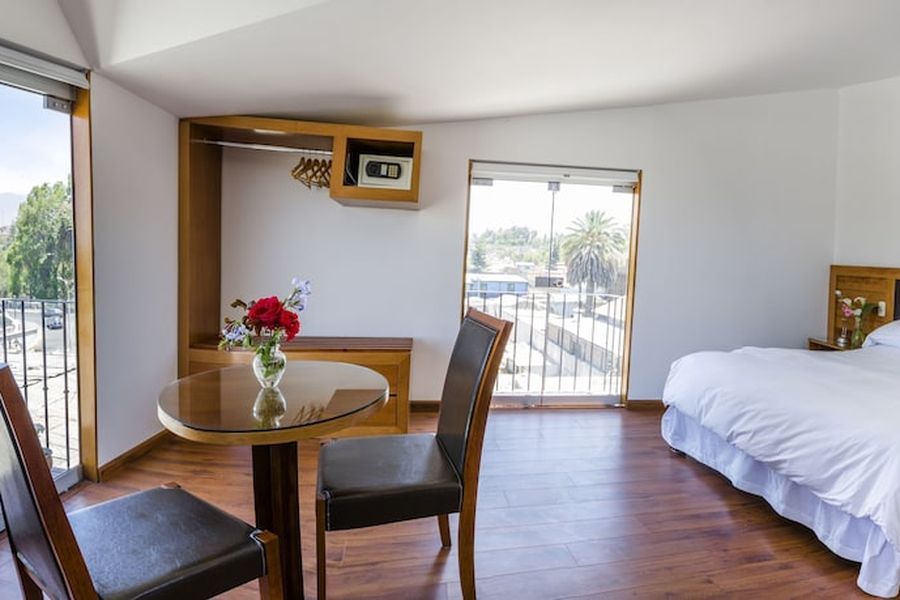 Property Location A stay at La Hostería places you in the heart of Arequipa, within a 5-minute walk of Museo Histórico Municipal and Mundo Alpaca. This hotel is 0.4 mi (0.6 km) from Casa de Moral and 0.4 mi (0.6 km) from Casa Ricketts. Distances are displayed to the nearest 0.1 mile and kilometer....
More details
OpenWeather
Select the date of your trip to check room availability.
Property Info
Check-in starts at: 15:00
Check-out ends at: 11:00
Property Location A stay at La Hostería places you in the heart of Arequipa, within a 5-minute walk of Museo Histórico Municipal and Mundo Alpaca. This hotel is 0.4 mi (0.6 km) from Casa de Moral and 0.4 mi (0.6 km) from Casa Ricketts. Distances are displayed to the nearest 0.1 mile and kilometer. - Museo Histórico Municipal - 0.3 km / 0.2 mi - Mundo Alpaca - 0.3 km / 0.2 mi - Arequipa's Historical Museum - 0.3 km / 0.2 mi - Puente Grau - 0.3 km / 0.2 mi - Iglesia de San Francisco - 0.4 km / 0.2 mi - Casa de Moral - 0.4 km / 0.2 mi - Museo Santury - 0.4 km / 0.2 mi - Santa Catalina Monastery...
Calle Simon Bolivar - MistiBus (SIT) 405, Arequipa, Peru - Arequipa, Arequipa - Peru - 4001
Property Amenities
Check-in starts at: 15:00
Check-out ends at: 11:00
Guest rating
TripAdvisor
Travelers rating
Excellent

167

Very Good

164

Good

57

Reasonable

14

Bad

10
Travelers profile
Business

13

Couples

193

Solo travel

30

Family

76

Friends getaway

53
Scores Summary
Cleanliness

Location

Rooms

Service

Sleep Quality

Value
Not a good experience
Reviewed 4 april, 2022
I stayed at La Hosteria for 1 night when in Arequipa with my wife, infant son and father. The Hotel has a rustic charm to it and the room we got was quite nice. The location is also very good in the historic center of Arequipa. However, there were multiple cats in the common areas in the hotel which triggered a strong reaction of cat allergy. If this wasn't enough we also got an unwanted wakeup call at 3 am from reception that woke up our infant son and totally ruined the night.
BjornsAdventures
Worst experience ever, do not book this hotel.
Reviewed 15 january, 2022
If I could leave 0 stars, I would. La Hostería boutique hotel review One of the worst hotel experiences I have ever had. For the price we paid, everything was lack luster. From the staff's friendliness,to the quality of the food, to the size of the room, the amenities. This hotel is a tourist trap, there is no better way to explain it. All the photos are obviously not in season or are photoshopped and have filters. They are completely misleading. Out of everything the only positive thing was the decor of the hotel which was very sheik. However almost everything wasn't maintained as well as it should be. The garden was a disaster and so was the room, I had to kill 4 spiders within the first 2 minutes of checking into my room. The front desk agent kept rolling her eyes at me when I challenged the Peruvian national hotel tax, because I am from the USA. Her attitude was appalling. Breakfast is included, but don't expect much. The eggs tasted of sulfur, the coffee tasted like it came from an American prison. The avocado was unripe, and hard. The sausage was decent, and they told us they were out of a specific kind of bread, when 10 minutes later, we saw a couple sit down after us, receive the bread we had asked for. They only offer one type of juice per day, and almost everyday I have been here, it's been papaya, which I hate, and they give the minimum amount of food per request. 1/4 of an avocado, one egg, we ordered sausage, they brought us 1, and not even 1/4 of a link of chorizo. The tea was all bag tea, which is not what I've seen from all the other hotels in Peru. Also, the only server for breakfast was either walking around while texting or being on phone calls, we had to knock on the kitchen doors to get service repeatedly. The hot tub access is not included and they wanted to charge 17 dollars an hour per person for access to the hot tub. It's completely over priced for the stay, compared to other hotels that will literally charge you 1/5 of the price with better amenities, a larger room and better service. The only reason why I didn't cancel my reservation was because they were going to charge me half of the cost of the reservation. They did nothing to accommodate any of my complaints, and basically told me to deal with it. They charged me 3 times the cost for a bottle of wine and chocolates. Let me make this very clear, I have never been treated so poorly in a Peruvian hotel. The walls are hollow even though they are stone, and I could hear 3 different rooms having sex and all their conversations while we were trying to sleep, also there is no way to avoid the loud noise from the street. If you take the time to look over the walls of the common areas, all you see is garbage, scraps from construction that was never finished, and the smell of sewage and garbage everywhere you go. There is a serious bug problem in this hotel, walking through the common areas means you have to walk through clouds of mosquitos and flies. In the room I paid 80 dollars a night for, there wasn't enough room to walk around without banging my knees or feet on the bed or surrounding furniture. I've stayed in hourly hotels for prostitutes which were more accommodating than this hotel. I literally had to go out and buy my own juices, and was about to go buy my avocado if they told me it wasn't available again. Also, we requested room service because I notice stains on the sheets of the bed when we first checked in. Instead of changing it, they just kept the same sheets and made the bed. This stay has truly impacted my opinion of Arequipa and it's left a sour taste in my mouth both literally and metaphorically. This hotel is truly awful and I pray that no one has the same experience I have had. DON'T EVEN RESERVE HERE, BECAUSE IF YOU DON'T LIKE IT, AND WANT TO CANCEL, THEY WILL STILL CHARGE YOU HALF OF YOUR ORIGINAL RESERVATION COST. If you are looking for a positive note, the bell-hop from Columbia was the highlight of the stay because he was so genuinely kind. Update- after trying to go through the proper channels and asking to speak to the general manager, they finally scheduled a meeting for me at 10 am tomorrow morning. Forcing me to stay another night. Instead of being apologetic, she called me disrespectful for being honest about my experience and stay. They still charged me full price for the nights I stayed, and were not apologetic at all. To add, the safes in both rooms didn't work. There were no bath mats, or drains in the bathroom, it got so humid in our room, that mold literally grew on the outside of my shoes.
AdamOdetallah
Excellent Location
Reviewed 24 january, 2020
Great hotel in perfect location. Set on different levels with internal court yard. Some rooms have balcony's looking into the courtyard. Friendly staff, good breakfast only problem was no hot water for a shower when we arrived after a long journey and no one to fix the problem until the next morning. Pizza service in hotel closes at 23:00 , unfortunately we were not told this when checking in .
DaRayman
Excellent and Beautiful hotel
Reviewed 9 january, 2020
I stayed here over New Years 2020 and really enjoyed the visit. First, the hotel is beautiful, especially the courtyard. The rooms are very well sized and comfortable. The location is also very good right between a really nice walkable neighborhood and the Plaza de Arms. I think others have mentioned in the reviews about the Roman Bath, which is also really great. If you're not booking a 2 hour session every day of your visit you're just missing out. It will be the best $12 per person per hour you've ever spent. The staff is very friendly and even if the rate was twice the price it would still be a great value. Even the mini bar was reasonably priced! So why did I rate a 4 instead of 5? Well, I think there are some very minor things this place can do to become a phenomenal place. The hotel doesn't have a laundry service, not a huge deal because there are several inexpensive nearby, but still. The hotel breakfast and breakfast service is a little underwhelming. I also don't think they are utilizing the hotel services like the Roman Bath to the full potential, they really have an opportunity to put on an unforgettable show with an almost unique property feature. Also, outside of the hotel's control there is some minor noise issues like barking dogs, which I found is not uncommon in Peru. With that being said, I will definitely be booking this hotel again on my next visit!
BrianR_USA
Cute Colonial Hotel
Reviewed 3 december, 2019
We absolutely loved this hotel. I would definitely recommend reserving the "Superior" room. The cost difference was minimal, but the rooms seem to be leagues different based on the reviews from others. The sheltered courtyard was a very nice, quiet, and relaxing reprieve from the hustle of Arequipa. We reserved the Roman Baths for 12 soles pp (4 USD) and it was the best use of our soles of the entire trip. The sauna was very refreshing, but please make sure to bring your own water to not get dehydrated. The staff was extremely helpful and had no issues with speaking English.
Cassie B