Arraial Bangalo Praia Hotel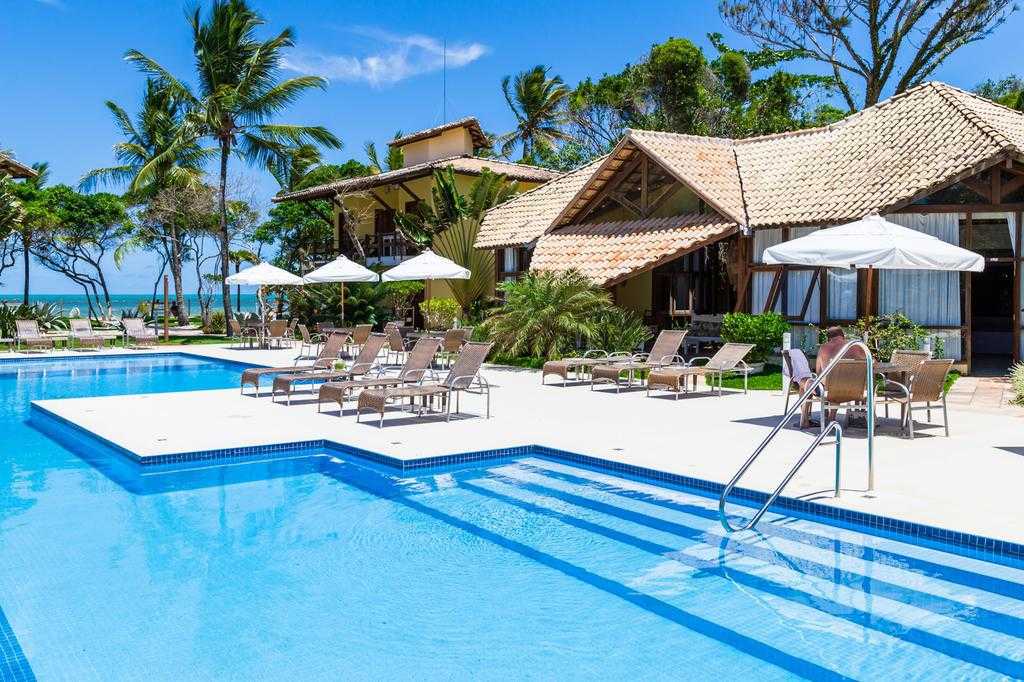 TripAdvisor Review
Based on 520 review
See all
On the beachfront, Arraial Bangalô Praia Hotel has a large adult and children's pool, sauna, card room, TV room, lounging and reading room, games room, bar, restaurant, business center, Fitness center, parking and free wifi internet. Not to mention the excellent location, where it is situated on one...
More details
Availability
Select the date of your trip
Standard
30m², sleeps up to 2 people, has a balcony, air conditioning, individual safe, wardrobe, TV, telephone and bathroom....
See more details
Cancellation Policy
Amenities in this room: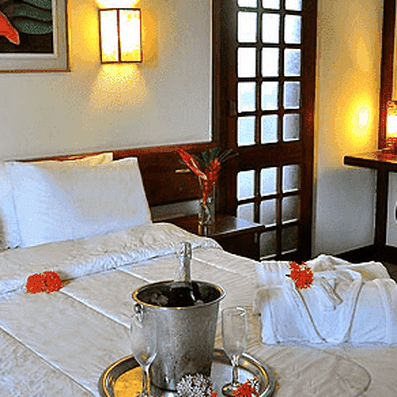 Chalé Luxo
36m², sleeps up to 4 people, has a balcony overlooking the pool or garden (the location of the chalet will be confirmed upon availability), ...
See more details
Cancellation Policy
Amenities in this room:
Max 3 adults
Max 1 child -
by 7 years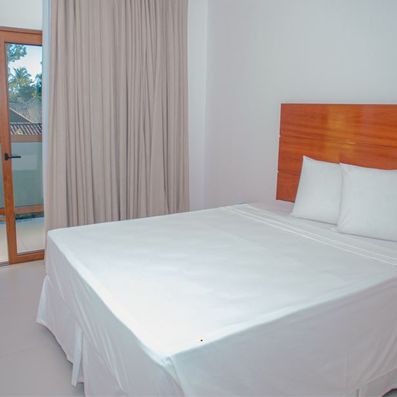 Chalé Arraial
Accommodates up to 3 people, has a balcony, box bed, air conditioning, individual safe, TV, telephone and bathroom....
See more details
Cancellation Policy
Amenities in this room:
Max 3 adults
Max 1 child -
by 7 years
Property Info
On the beachfront, Arraial Bangalô Praia Hotel has a large adult and children's pool, sauna, card room, TV room, lounging and reading room, games room, bar, restaurant, business center, Fitness center, parking and free wifi internet. Not to mention the excellent location, where it is situated on one of the most beautiful beaches of Arraial d'Ajuda (* FIRE EXHAUST). All apartments have individual safes and balconies, TV, air conditioning, minibar, telephone and wardrobe, hairdryer. Undoubtedly a charming hotel, 800m from the ferry and about 4km from the center of Arraial. * Apaga Fogo Beach: Lo...
More details
Check-in starts at: 14:00
Check-out ends at: 12:00
Property Amenities
Free Wifi
Accepts major credit cards
Cleaning / Laundry Services
Laundry / Dry Cleaning
Online check-in
Common areas
Gimnasio
Playroom
Reception services
Terrace
Food & Beverage
Bar
restaurant
Transport options
Pets not allowed
TV
Wellness facilities
Servicio de lavandería
Free fitness center
Direct beach access
Activities
Bath/Shower Combo
Business Facilities / Facilities
Spa
several
Special diet menus (on request)
Smoking area
Guest rating
TripAdvisor
Travelers rating
Excellent

184

Very Good

190

Good

87

Reasonable

35

Bad

24
Travelers profile
Business

10

Couples

172

Solo travel

17

Family

215

Friends getaway

48
Scores Summary
Cleanliness

Location

Rooms

Service

Sleep Quality

Value
A Bad Hotel Experience - Misleading Hotel Photos/Description/Promises Lead to Disappointment
Reviewed 16 january, 2020
We arrived and were taken to our room at Arraial Bangalô Praia Hotel. It was bad! To give you a picture of the risk in booking at this hotel I have included a long explanation, which might help save some disappointment and a traveller losing their holiday savings at this hotel. The room did not match the pictures on the website nor the description on any website. Our booked room was described as 'Luxury Chalet' and this room was in no way luxury, in fact, it was not even inhabitable. It was bad! A smelly, musty, worn, damaged room, which was dark and unpleasant. The thought of staying for five nights in this room at a very high price was not possible for us. We went back to reception and talked politely with the manager. He responded by saying, 'Eu entendo o que vocês estão falando, eu também ficaria chateado se isso acontecesse comigo' [I understand what you are talking about, I would also be upset if that happened to me]. He seemed very understanding and reinforced, 'Eu entendo vocês, eu também não ficaria feliz com isso' [I understand you, I wouldn't be happy about this either]. We were told there were no more rooms at the hotel. The manager said, 'O hotel tem alguns quartos renovados e outros não e eles vendem dentro da mesma categoria' [The hotel has some renovated rooms and some that are not and they sell in the same category]. All of this was polite and amicable, we are reasonable people who just wanted to have a pleasant new year in a hotel. So, the manager telephoned a partner hotel to enquire about us getting a room there. Actually, we had researched other hotels and we already knew there were very few rooms left in the area, as this was high season. The manager came back and apologised but this was not possible, there were no rooms at the partner hotel. My partner and I sat on the sofa in the reception area and tried to work out what to do. The manager then offered to show us some alternative rooms [these rooms were not an option a short while ago, but now they were presented to us]. We were shown another 'Luxury Chalet' which was flooded [not a joke] and a room right next to the busy road [which a previous reviewer has written about…it's noisy!]. We explained we could not stay in these rooms, this was a special holiday for us and the manager said, 'Eu não tiro a razão de vocês' [you are speaking within reason]. By this point we were worried, feeling a little lost and a little unsure what to do. However, we remained polite. The manager then offered something we had not considered a possibility. The manager said, 'Se vocês quiserem procurar outro hotel eu vejo o reembolso completo para vocês' [If you want to look for another hotel I can see the full refund for you]. We actioned this and returned to our room, took our things and booked another hotel. It was twice the price, but needs must. On return to reception the manager had gone home, I mean within minutes he had left the building! So, we had to bother the poor boys on the counter, who had witnessed all that had gone on, heard all the promises and were caught in a tricky situation between us and chaotic management. Here began hours of phone calls and waiting at the reception counter. The boys telephoned head office of RedePortoFirme, to which this hotel belongs. We spoke with the very abrupt and disrespectful commercial manager, who explained himself as the most important person we could speak with. He told us we would not get a full refund, explaining in a raised voice, 'Eu discordo plenamente de tudo o que você está falando. Tudo!' [I strongly disagree with everything you are talking about. Everything!]. He shouted over my partner, 'Eu falei com o [manager's name] e ele me disse que ele não falou nada disso pra você. Você está mentindo' [I talked to [manager's name] and he told me he didn't say any of this to you. You are lying]/'Você não tem a menor ideia do que está falando' [You have no idea what you're talking about]/'Você não tem a menor razão em falar comigo' [You have no reason in speaking with me]/'Eu estou te fazendo um favor em falar com você' [I'm doing you a favor by talking to you]/'Você está louca em pedir o reembolso completo, os quartos são excelentes como constam nas fotos. Você está mentindo em dizer que eles são diferentes. É a mesma categoria' [You're crazy about asking for a full refund, the rooms are excellent as shown in the photos. You are lying in saying that they are different. It's the same category]/ 'Você claramente não entende nada. Eu sou a maior pessoa com quem você vai falar aqui e não tem nada pra ser resolvido porque você não tem nenhuma razão em nada do que está falando e você claramente não entende o favor que eu estou te fazendo' [You clearly understand nothing. I am the biggest person you are going to talk to here and there is nothing to be resolved because you have no reason whatsoever you are talking about and you clearly do not understand the favor that I am doing to you]….etc… Then he disconnected our phone call mid conversation. This became quite stressful. However, by this point we had paid money and we needed hundreds of pounds returned to pay for the alternative hotel. So we asked the boys on reception to call the manager of Arraial Bangalô Praia Hotel to see what he could do, as he had not long told us, looking us in the eye we would get a full refund. The response was 'Eu falei aquilo (sobre o reembolso completo) sem verificar antes com a central' [I said that (about the full refund) without checking with the central office first]/'Entenda bem, eu sou apenas um gerente operacional. Eu não tenho esse poder. Eu não posso ajudar vocês. O meu trabalho é ficar aí no hotel, falar com os hospedes, eu não tenho esse poder' [Understand well, I'm just an operational manager. I do not have this power. I cannot help you guys. My job is to stay at the hotel, talk to the guests, I don't have that power]. The manager admitted he had offered a refund and contradicted the words of the commercial manager above him. We lost out! We lost hundreds of pounds to this hotel. They did not honour our verbal agreement. They have still not responded to my emails and I hope to let other travellers know 'there are great hotels in the area' [the words of the hotel manager] and these are the best option, not this hotel. You could roll a dice and hope for one of the few nice upgraded rooms by the sea, but unfortunately you are more likely to get a shockingly bad room. The true character of a person and a hotel is shown when things go wrong. I hope to have shared enough to stop others making the same mistake I made. Choose your hotel wisely!
michaelmM6939LU
Beautiful garden resort
Reviewed 26 november, 2018
The hotel location was good, not too far from Porto Seguro port and there's Water Park near by. The garden is so huge surround the area with the exotic plants and beautiful flowers. And it's very well maintained. The staff are friendly even though most of them don't speak English but they solved our problem with the room. There was one person who could speak English at the reception that makes the communication become easier. The breakfast display was good, sadly they don't have proper coffee. So we decided to have breakfast everyday at the coffee shop that 5 minutes driving from the hotel since we rent a car during our stay so it's easier to go everywhere surround. About the water in the bathroom and sink has a strong smell of iron and the color is not clear. Maybe it's because the soil there was an iron content that is too high. So make sure to buy a few bottles of mineral water at least for brushing the teeth. Overall it was an interesting and challenging but also beautiful experience.
Ninabonita81
ARRAIAL BANGALÔ NOBILE, Arraial da Ajuda, BA
Reviewed 13 november, 2012
Good hotel in Arraial do Cabo, BA, in the road to the city, around 500 meters of the ferry boat from Porto Seguro. In the same road, 700 meters ahead the Arraial da Ajuda Water Park. Rooms are simple but very clean. Small swimming pool and recreation area. Good restaurant, breakfast, lunch and dinner with lots of typical food. Natural juices of local fruits. Bartenders and waiters are very friendly. Very good music all day long, not only Axe music. In the back of the hotel is the beach, but there are some rocks close to the beach that makes difficult for kids and old people. Walking to the right or to the left sides of the beach are some beach bars very good to stay and the water is clear and warm.
NewtonSViannaJr
O Axé atrapalha !
Reviewed 20 january, 2022
Boa localizacao , boas instalações , bpa piscina e praia com corais...mas dá para nadar há 30 metros do Hotel. Bom servico ( nos.padrôes locais ...). Se deseja descansar e ouvir o Mar procure outro lugar ! Axé rola o dia todo , alto - te obrigando a ouvir estas musicas das 10h00 as 20h00 horas de uma forma contínua em todos os locais da pousada ! Deveriam reduzir o.horario da musica ou deixar uma dos locais "livres" destas musicas que incomodam quem deseja descansar !
Marco Antonio N
Atendimento
Reviewed 10 january, 2022
Passamos 10 dias maravilhosos no Hotel. Gostaria de de agradecer principalmente a Adriana e a Veronica pelo atendimento super carinhoso com a minha família. Elas realmente fazem toda a diferença no hotel. Se precisarem de qualquer coisa, podem procurar por elas no café da manhã ou no bar da piscina.
530marcellaa