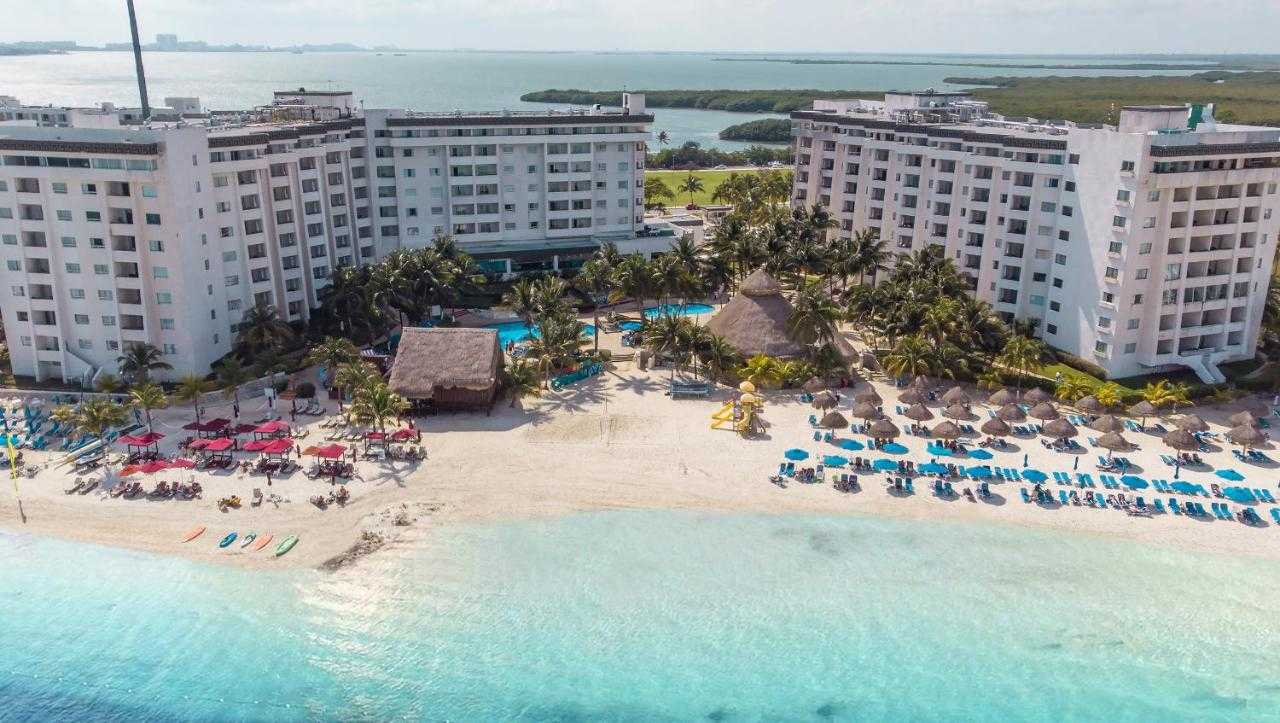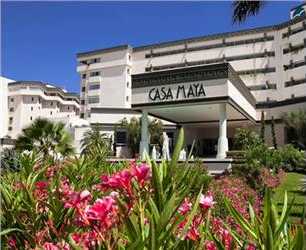 TripAdvisor Review
Based on 1872 review
See all
Stay with us here at Hotel Casa Maya, a family-friendly Cancun accommodation with a serene view of the Caribbean. Enjoy the convenience of being near the places where you can spend hours of recreation. This is what you get when you stay at Hotel Casa Maya, the best place to be to enjoy the sights an...
More details
Availability
Select the date of your trip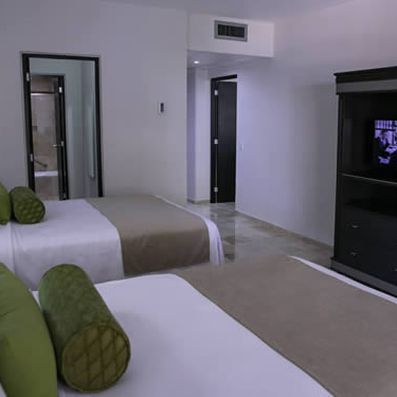 Estandar
The standard room always has double beds, Wifi Internet access, Air conditioning, private dressing room, bathroom with tub and watering can,...
See more details
Cancellation Policy
Amenities in this room:
Max 3 adults
Max 2 children -
by 5 years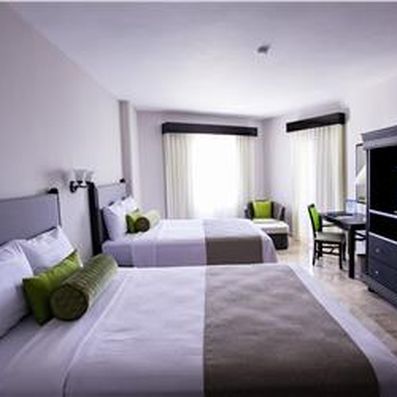 Suite Embajador
The habitacion Suite Embajador has a main bedroom in a private environment, bathroom with tub and watering can, dressing room, planchar tabl...
See more details
Cancellation Policy
Amenities in this room:
Max 4 adults
Max 2 children -
by 5 years
Property Info
Stay with us here at Hotel Casa Maya, a family-friendly Cancun accommodation with a serene view of the Caribbean. Enjoy the convenience of being near the places where you can spend hours of recreation. This is what you get when you stay at Hotel Casa Maya, the best place to be to enjoy the sights and activities of Cancun. Seek shelter from the warm Caribbean when you stay in our hotel's complete accommodations. Our rooms' furnishings and amenities provide total privacy and relaxation. Staying just within the premises of our hotel in Cancun is still enjoyable. Casa Maya in Cancun complete faci...
More details
Check-in starts at: 14:00
Check-out ends at: 11:00
Property Amenities
Family entertainment and services
Nanny
Reception services
Services / Luggage Storage
24 hour reception
Tourist Office
Cot available on request
Accepts major credit cards
Bus parking
Gymnasium
Stage
ATM
Bus parking
Jacuzzi
Cleaning / Laundry Services
Laundry / Dry Cleaning
Daily maid service
several
Broadband Internet
Free Wifi
Smoking area
Business Facilities / Facilities
Photocopies
Business Center
Food & Beverage
Pub
restaurant
Public Restaurant
Buffet Restaurant
Cyber Point
Private Restaurant
Transport options
Pool Bar
Parking
Free Parking
Valet Parking
Garage
Pool and wellness facilities
Pool
Outdoor Pool
Babysitting on Request
Free fitness center
Massages on Request
Direct beach access
Massage Service
Children's outdoor saltwater pool
SPA
Stores
Gift Shop
Shops / Shopping
Guest rating
TripAdvisor
Travelers rating
Excellent

566

Very Good

743

Good

303

Reasonable

125

Bad

135
Travelers profile
Business

9

Couples

599

Solo travel

48

Family

742

Friends getaway

220
Scores Summary
Cleanliness

Location

Rooms

Service

Sleep Quality

Value
Mediocre hotel with many minor problems and crap WIFI
Reviewed 14 november, 2021
This hotel can be had cheaper than most in the hotel zone. This was our first trip to Cancun. We didn't get the cheapest hotel and we didn't want to spend tons of money. The reviews here are pretty good but we really didn't enjoy it here. The hotel staff is friendly. You walk in to check in and everything is wonderful. Then as soon as you check in, they don't give you your room keys until they have someone try to talk you into going and seeing their timeshare presentation. Everything is a hustle in Cancun. But I don't drop almost a thousand dollars for a week to get harassed. I'm not sure if most hotels in the area do this, but I did not like that. Check in mid afternoon, and we connected to the wifi. Perfectly fine speeds. That didn't last though. Evening and morning the wifi is basically unusable. You can hardly load a basic static webpage. You certainly can't do a whatasapp call or something over it. Completely dead. Book direct and get a free cold drink on check in! Well, we didn't get a free drink. I didn't remember until after we got to our room. Maybe we had to remind them or something. Oh well. The AC in our room, the fan was very loud and it would randomly squeak. It was terrible. Usually the squeaking in the fan would be when it turned back on after cycling which happened more frequently at night while we were sleeping. The fridge made a loud pop every time the compressor kicked on. Something else to wake us up. The beds aren't very comfortable. The room was okay and clean at least. Room service did a fine job swapping out towels and what not when needed. The walls are paper thin and the doors slam easily. People coming in and out late you hear the doors crashing all evening and morning. Kids running around in the rooms to the side and above us. It's not very sound proof at all. Only 1 of 2 of the elevators worked our entire stay and the one that worked had water that leaked down through the ceiling! Beautiful view of the ocean though. We had that going for us. Drinks are sweet but not very strong. 90 peso for a small drink isn't awful but nothing to be adding stars over. If you can get this place cheap and don't need wifi, spend a couple of nights here and then go some place a little funner and nicer. Otherwise, keep looking. oh, and why are the toilet seats so bad? They don't stay standing up. I've seen that in other reviews here. Seems like a terrible oversite and a simple fix that they know about. The only reason this gets 2 star instead of 1 is that the staff really does their best for what they're working with. We did our laundry on site and it was affordable and so convenient.
Uniquedavidm
Trash place, trash service
Reviewed 28 october, 2021
This place is plain trash. From parking, to the longest check in and CHECK out in the world!!!! The parking lot was full so they tried sending us to who knows where to park our vehicle, like a block down, with all our luggage too!! No one could give us the proper name of the lot, and better yet the spelling!! It was HORRIBLE!!! The check in took over an hour, OVER AND HOUR!!!! This is insane!!!! Never in my life did I wait over in hour to check in, not even in Vegas!!! This place isn't worth it, stay at the Westin, MUCH MICH BETTER!!!!
moniskar2021
casa maya
Reviewed 27 october, 2021
casa maya is a budget, family friendly hotel, but of late is looking very tired and old. The staff is great and try their best to to provide efficient and friendly service, but the food this year was not very good and the merlot wine was pretty bad . The beach is next to a public beach so we did not feel safe leaving our palapa to go in the water and leaving our values behind. The covid restrictions were very good but also meant that services were curtailed particularly at the pool bar. We left after three days due to the almost non-existent wi-fi.
lwitTryon_Nc
Family oriented resort
Reviewed 19 september, 2021
We've been staying at this resort for countless years and never had a bad experience. If you want a 25/7 party/booze free for all stay elsewhere. Keep in mind this resort is part hotel and part timeshare with owners given priority for remodeled rooms. And that there are different types of lodgings ranging from two bedrooms, one bedroom, and studios book what meets your needs. If you made a mistake by booking in Casa Maya instead of Royal Maya of course you'll be disappointed bc it's not what you intended ro do. And of course you have to pay extra for transportation and Covid test this hotel doesn't inflate prices to include this extras. That being said I wish they'd change the upholstery of the bar furniture from red to a more soothing color. Aside from that it's a plus to have a kitche on premises, be near a bus stop, and friendly personnel who aren't always w a stretched hand waiting for a tip.
2061
Gorgeous place, wonderful staff!
Reviewed 19 september, 2021
Spent the week of hurricane Grace here. We arrived on the Saturday before and left the Saturday after. It was my first time in Cancun, first time in Mexico. The staff was fabulous! Very helpful! A huge shout out to Miguel, Isaiah, Anna,Elena and Vanessa. Also a big thank you for Brandon at the towels on the beach. He was so polite and gracious. I would recommend them to everyone. Nice, clean, family oriented, so wonderful!
Suzanmharris