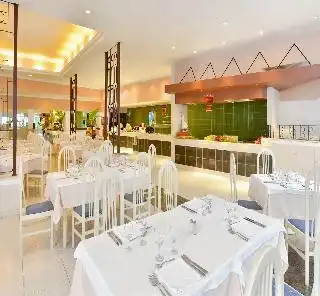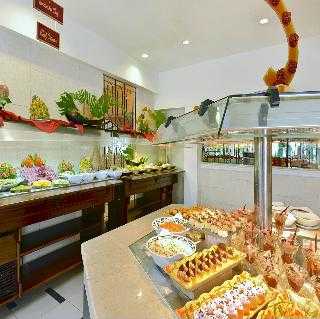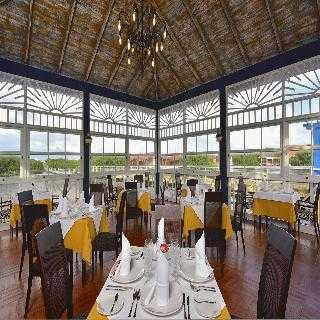 TripAdvisor Review
Based on 4164 review
See all
Surrounded by lush, tropical vegetation and brightly coloured colonies of flamingos, this hotel is located right on the shores of the Caribbean Sea in the northern part of Cuba. The hotel is also very near a 250-mile coral reef, the second largest in the world, making it ideal for a holiday of snork...
More details
Availability
Select the date of your trip
Select the date of your trip to check room availability.
Property Info
Surrounded by lush, tropical vegetation and brightly coloured colonies of flamingos, this hotel is located right on the shores of the Caribbean Sea in the northern part of Cuba. The hotel is also very near a 250-mile coral reef, the second largest in the world, making it ideal for a holiday of snorkelling and diving. Cayo Coco airport is just 24 miles away. During their stay, guests will enjoy comfortable rooms with beautiful views, a wide range of buffet and a la carte dining options, and entertainment programmes designed for the whole family. There are activities and games for children and a...
More details
Check-in starts at: 15:00
Check-out ends at: 11:00
Property Amenities
TV
TV
Concierge
Luggage room
Luggage room
Towels and bed linen
Concierge
Gym
Luggage room
Garden
Garden
Clothes dryer
Concierge
Luggage room
Towels and bed linen
Towels and bed linen
Towels and bed linen
Concierge
Transport options
Towels and bed linen
Reception services
Concierge
Guest rating
TripAdvisor
Travelers rating
Excellent

1290

Very Good

1628

Good

655

Reasonable

346

Bad

245
Travelers profile
Business

11

Couples

1536

Solo travel

152

Family

1104

Friends getaway

685
Scores Summary
Cleanliness

Location

Rooms

Service

Sleep Quality

Value
Official rating for this hotel is pretty accurate. Not the best option for vacation
Reviewed 13 january, 2022
Originally we booked another hotel in Cayo Guillermo which was supposed to open starting December 8th but it did not happen so our vacation provider bumped us into this hotel. We stayed at Mojito from Dec 25th 2021 until Jan 8th 2022 and after we are back we have pretty mixed feelings regarding it. There are so many reviews saying something like "3 star hotel with 5 star service" which does not carry any useful information to me. So I decided to write a long and in depth review. Let's start with the staff. STAFF: My wife and I are kiteboarders so 3 weeks before coming to this hotel I tried to contact the hotel representative (over their Facebook page and via email) asking if there is any chances to locate us as close as it possible to the beach and avoid 3rd floor as we will be carrying somewhat heavy equipment back and force to the beach everyday. Waited for a response for about a week and got one saying that they are very busy but they will try their best to fulfill our accommodation request and asked us to remind them 4 days before the arrival date which we did. Upon arrival we found that we were located at building #20 (furthest from the beach) and on the third floor!!! So it feels almost like the rep just made a practical joke locating us to the most remote and inconvenient place.Ok, we settled there. Next day when I was heading to the beach I could see the cleaning lady cleaning the room to the right of ours. When returning from the beach I see that the lady is cleaning the second room to the left. So I assumed that our room was clean. Opened the door to find out that it is not. Ok, maybe they have a special schedule or something like that so I did not say anything and went to the beach. Came back in the evening. Room is not clean. Since that day I had to ASK the lady to clean the room. Otherwise she was just skipping it despite the fact I was leaving tips on the bed every day. Another thing - we stayed here for 14 days and bed sheets got changed only once on the 11th day of our stay.Towels also were changed irregularly and not every day. I also had to ASK so they changed it. When we settled in the room I noticed that the light in the bathroom was not working. Told about it to the reception, they said they will make a note and will fix it shortly. Next day it was not fixed. Told one more time. Same thing. On day 4 when I went to reception to refill my internet, a guy asked if there was anything not working in our room so I said - "Yeah, light in the bathroom and I reported it twice already". He put a note and assured me that it will be fixed ASAP. Guess what? It was not working when we were leaving the hotel :) Another funny staff-related thing. We like to start our day earlier which means we are trying to get our breakfast as early as possible. So the official breakfast time is 7am. Needless to say, it never opens at 7am. It is Ok, we are not expecting such punctuality while in Cuba but it rarely even opens at 7:15am. 2 times out of 13 breakfasts it opened after 7:30am! Then after you walk into the kitchen you have to wait another 10-20 minutes for a cook to show up and make an omelet! I was in Cuba many times in many different hotels but never ever experienced such unpunctuality on a regular basis.  FOOD: Food is below average. Poor selection of fish, meat and anything else. I know that part of it is because of the COVID thing but in November 2021 I was at Grand Muthu (Cayo Guillermo) and food was much much better compared to this hotel. Also they often put fruits/vegetables from the previous meal (or maybe from 2 meals ago) because there are lots of rotten melons/grapefruits etc. Good coffee/cappuccino at the bar.  ROOM:  Rooms are Ok. No balcony but very spacious. Not new but I did not notice anything rotten/leaking/not working (except for the bathroom light). We had no problem storing all our kiteboard equipment in the room and it did not feel crowded. Water stream in the bathroom was not very strong but I guess it is due to the third floor.  BEACH: Beach is beautiful with almost no weeds. Water is a pretty nice color when it is calm and sunny. There is a bar and some entertainment right at the beach which is really nice and convenient.  Due to the beach erosion there are very few beach umbrellas left so if you like to have shade when you are on the beach you have to come over rather earlier. When entering water you have to watch out for rocks and corals under the water which are within the first 20 meters from the shore. Then it is a nice white sand.  Swimming pools look nice and clean. ENTERTAINMENT: There is actually entertainment in this hotel. There are some shows happening in the disco area some nights and musical band playing at the lobby some other nights. Band is awesome! They have a guitar player who really knows how to play! Doing such beautiful solos! Just unbelievable! We enjoyed it a lot and were waiting for the nights when they were performing! WILD LIFE:  We were very surprised that there are virtually no mosquitos in the resort. Very strange considering the fact that there is a big pond between hotel rooms and the beach. Last time in November at Grand Muthu we were covered in these little bloodsuckers when stepping out of our room at night. Nothing here.  There are some corals right at the beach and you can snorkel right there. Few tropical fishes will be right at your feet :) Or you can book a catamaran which will take you to the reef nearby for better selection. VERDICT: It is a real 3 stars hotel with 3 stars accommodation and 3 stars service. We still had a good (not the great) vacation time but definitely not planning on coming back as there are so many better and similarly priced places in Cayo Coco/Cayo Guillermo. 
Gennady P
Amazing Experience
Reviewed 30 december, 2021
All staff extremely great , very friendly . ( other than waiting for PCR tests, what a nightmare (they should do more promptly , not have results/ paperwork the day you go home ) Raynis and Loanny at front desk are a blessing to any resort , very good english /communication . Roberto makes the best cocktails at the beach, heavenly , and Freddy at his bar is a delight ! Alan at main bar with exectional service and always a smile . Rooms are very spacious, clean We look forward to coming back to this resort , very soon
104mrj
Mojito is like home. Amazing Staff = Vacation - highly recommend this place
Reviewed 20 december, 2021
We visited December 12-19th. This is a 3.5 - 4 hotel with 5 star staff. These beautiful people make up for whatever the hotel may be lacking. Once you visit once, you will become part of the family and feel like you are returning home each visit.
Janice T
Sand in our toes and sun in our eyes! What we needed!
Reviewed 19 december, 2021
We returned to the Mojito to visit our home away from home to visit all of our Cuban friends (family). Our room was clean and the shower was amazing. The food was fantastic. The jacuzzi was working and the previous times I had been there it has never worked. That was a great addition. Everyone communicated about our PCR tests. Yosvel, Juan Carlos Morales, Alex (Cata), Roberto and Freddy, thank you for making our vacation even better. We always appreciate everything you do for us. It was a great time away with the most beautiful beach and I love the bathroom at the beach. Allows you to hang out for the day at the beach. We were there the first week after opening so not everything was opened yet, but they were working on it. Highly recommend this resort. We were blessed with a bunch of fun and friendly Canadians too! One of my favourite trips I have had to the resort. We will hopefully be back in July.
SherryAnn B
Another amazing vacation
Reviewed 5 december, 2021
We love this hotel - everyone works so hard to make your vacation comfortable and make you part of the family. Food was delicious-even tho they just opened and not at full capacity they are getting there in bringing this great hotel back to pre covid days. Beach is absolutely gorgeous and the snack bar is right there lunch was great hamburgers and fries and a fabulous drink made by Roberto is just perfection. Nightly entertainment and the dancers are just amazing. Yadyr you are wonderful !! Entertainment staff Coca cola, Milly and DJ Arien love you guys Thank you to everyone for an amazing vacation - we will see you soon for sure!!
Nancy M