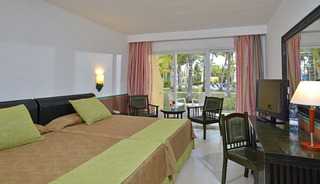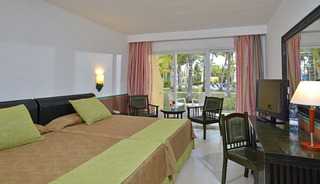 TripAdvisor Review
Based on 6764 review
See all
The Tryp Cayo Coco All Inclusive resort is located in the archipelago of Jardines del Rey, in the central region of Cuba, between a natural coastal lagoon and a long stretch of beach. The modern and spacious rooms feature a well-equipped bathroom, satellite channels and a small terrace overlooking t...
More details
Availability
Select the date of your trip
Select the date of your trip to check room availability.
Property Info
The Tryp Cayo Coco All Inclusive resort is located in the archipelago of Jardines del Rey, in the central region of Cuba, between a natural coastal lagoon and a long stretch of beach. The modern and spacious rooms feature a well-equipped bathroom, satellite channels and a small terrace overlooking the sea or the gardens. The hotel also offers a varied dining and a full program of daytime and evening entertainment. It is recommended for families, diving fans and other water activities.
Check-in starts at: 15:00
Check-out ends at: 11:00
Property Amenities
TV
TV
TV
TV
Concierge
Luggage room
Luggage room
Towels and bed linen
Concierge
Towels and bed linen
Gym
Garden
Garden
Concierge
Garden
Luggage room
Towels and bed linen
Concierge
Transport options
Towels and bed linen
Reception services
Concierge
Guest rating
TripAdvisor
Travelers rating
Excellent

2430

Very Good

2503

Good

959

Reasonable

489

Bad

383
Travelers profile
Business

22

Couples

2316

Solo travel

346

Family

1861

Friends getaway

1173
Scores Summary
Cleanliness

Location

Rooms

Service

Sleep Quality

Value
Great staff,beautiful beach and pool.the room was very clean and the maid always left a beautiful arrangement on the bed
Reviewed 16 january, 2022
Hotel was kept very clean. The restaurants had great food especially the Italian. The games by the pool were great. Thanks to Steve and all the staff. Drinks were great especially cafe con leche from Naymi and Yosvany Customer service always did their best to accommodate thank you Joiquin and Alejandro
Coastal61079425606
Cayo Coco Tryp
Reviewed 15 january, 2022
Another great vacation in Cayo Coco. Resort had everything we needed. Sun, beach and great friends. Juoquin made sure we had a room we liked, arranged a beautiful birthday dinner and was always available to chat. Muca and Liane entertained us by the pool, we didn't win any rum but loved playing the games. Naymi and Yosvany were our exceptional lobby bar tenders that made sure we always had great service and drinks. Raul and Alenay at the front desk reception were always geared to top up my wifi card, arrange a taxi for us. Food was great, never went hungry, Maikel in the buffet makes delicious food and always ate what he made on buffet. Had a terrific time and going back in 5 weeks.
Carina S
perfect holiday
Reviewed 11 january, 2022
I would like to share with everyone how incredible this hotel is, I was here for 1 week with my family and it was truly the perfect week, the food was very good, especially that of the Italian restaurant, clean beach and the animation boys always found them everywhere with different activities, the girls in the lobby bar are always very attentive to us (Thank you girls) the truth is that you always feel the affection and love of all ... I would like to highlight the work of the girl at the reception Alenay because when we arrived she was not the one who She received us, however we had some problems in the room and she was in charge of finding us another to move in and thanks to the truth we loved this new number here we spent the entire stay in a beautiful room in the building in front of the main pool, thanks to this girl my mother had no problems with the stairs ... Thanks to tryp for all your love I hope we can come back soon
phillat
Proceed with caution
Reviewed 6 january, 2022
Our family decided to go to Tryp Cayo Coco for the Christmas holiday after a long debate based on the ratings, reviews and multiple people saying how great this hotel was. We arrived December 22, 2021, which was my birthday. We went to the check in counter, the one women checking everyone in could barely speak English. She handed me a form to fill out and then handed me keys. That was the extent of the check in. No map, no information, no assistance in navigating the resort. She was incredibly rude to the other guests checking in as well. We took our luggage to a gentleman with a cart that drove us to our building. He dropped us off, family of 4, with our luggage to which we needed to carry up four flights of stairs with no assistance after tipping $5 euro. We got into our room which was plain but clean. Our kids were in the room next to us. Both of our rooms had moldy ceilings that were leaking in the bathroom. We returned to the front desk where we were told there were no rooms available and to come back later. The resort had roughly 500 people where they typically have over 3000. After waiting around for a few hours, we were given new rooms in building 14 which is on the far far side of the resort. We got into our rooms and went to celebrate and have dinner. We returned to the room where neither key worked. We walked all the way back to the front desk about three more times as they stated that the keys had been reset. The electrician later worked on the door and got us in. However, the door lock was defective so we went to the front desk and tried to explain our situation to the lady that had checked us in. She made no effort to correct or care about the situation. We found a wonderful customer service rep who was incredibly helpful and understanding. After two hours, we were put in the room just above us which was clean, no mold and the key fob worked. We were given a free bottle of rum for our troubles which was appreciated. However, as a person who has been in sales and customer service for the last 20 years, I was appalled that there was no offer to upgrade the room to a suite, no offer for additional a la cartes or any follow up to ensure we were happy. This was our first day there. We did our best to enjoy the rest of our vacation. The beach was beautiful, we lucked into great weather, the staff at the Grill Bar and the downstairs bar were incredible people with whom we spent quite a bit of time with. However, the entire resort lost running water for a whole day. We could smell sewage through the whole resort. The public bathrooms were disgusting, the grounds reaked and once again the resort workers didn't seem to care that any of the guests were inconvenienced. The pool with the swim up bar was closed and emptied for the last three days of our trip, the nautical Center was closed 4 out of 7 days and the amenities were seriously lacking compared to what the site offers. Other Canadians that were there had 400usd stolen out of their room and security/resort workers took a report and reprimanded the guest for not using the safe. That was the extent of their assistance. Other guests had issues with their key fobs, rude staff at the a la cartes and the lobby bar. There were many Cubans visiting the resort over the holidays to which they were always served first and treated much better than us Canadians. We went there as a family of four over Christmas and I was beyond disappointed with our vacation. It was heartbreaking actually given that we took so much time deliberating on where to spend our Christmas and we ended up with this experience. We went on an excursion which was fantastic but we went to other resorts to pick up guests and wow!!! The Pullman, Grand Muthu, and even the Playa Pilar were stunning compared to Tryp. We chose Tryp due to the 4.3 rating but please note, this rating is based on old reviews. This resort is nothing comparable to the other resorts and it certainly isn't a 4.3. Not even a 3!!! I have been to other resorts in Cayo Coco so my expectation wasn't unreasonable. We are not the type of people to complain nor are we high maintenance or pick at the little things. Our goal was clean rooms, nice weather and a beautiful beach. In the end that is what we got but we had to fight for it. Tryp needs a complete overhaul on all buildings, pools, grounds and front desk staff! We will never return and I will never recommend this resort nor will any of the 20+guests that we met on our trip.
542lindsayb
below expectation - thorough review
Reviewed 5 january, 2022
I have been to Cuba ten times. So I have some comparisons to make. I had been to Cayo Coco and stayed in Memories Flamenco before. I had a better experience there. However, I am not sure if the disappointment was caused by the hotel or the time I travelled. I will give details. Hotel ground - over all very old. No holiday decoration for Christmas. Not even a Christmas tree. Rooms - old, mini fridge empty and never gets filled; telephone broken; water leaking from toilet all over the bathroom floor; safety box not working; hot water not available sometimes. Service - asked technician to fix telephone three times, finally they told me there was no technician, thus telephone was not fixed and we had to walk to the service office for anything broken; water leaking was not fixed after three service calls and we gave up Buffet restaurant - not enough plate, people have to reuse their dirty plate to get food; Table mats do not get washed, they get reused by a simple wipe; a lot of flys going around the food station and the servers do not bother if they land on food; very limited and repetitive menu (always chicken). Many local Cubans jump lines. One Cuban will bring 4-5 friends to cut in front, and those might bring more. It is a culture thing I think. A la carte - Great service! But there is always one item not available from any category. Basically if the menu says pork, shrimp, or salmon, the waiter will tell you it's not available. Maybe this is a national thing, not specific to this hotel. Bars - Generally good service. No mojito, maybe another shortage of ingredients in Cuba? Activities - limited, less than any hotel in my past experience, mostly around the pool Pool - the main pool is green. There is a algae outbreak. I do not see people checking water at all. Instead, they just shut down the pool on the 4th day we arrived and started scraping the algae for the rest of the week. Why? No chlorine or algaecide? This is really badly managed as Christmas break should be their most important time to satisfy customers. Beach - beautiful, long beach for the first day. Then it was piled up with seaweed. There is not enough effort to clean seaweed. The last big problem - bugs! The bugs do not bother the local Cubans, but for visitors, most people is covered by bites all over their body. I counter 30 bites in one arm. These are not mosquitos, they are a tiny bug called "jay jay". I saw other hotels spread sprays around 5pm in the past, not sure if it is this hotel or a national shortage of spray. I think 70% of customers are local Cubans now in this hotel. Nothing wrong, Cubans deserve to stay in their own hotels, But it is the culture that I can not fit in - line jumping, littering everywhere, and speaking loud. I gave 3 stars mainly for the workers in this hotel, they work hard to satisfy our needs.
SUVrider