Brisas Sierra Mar All Inclusive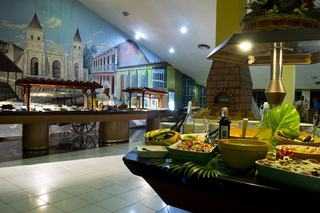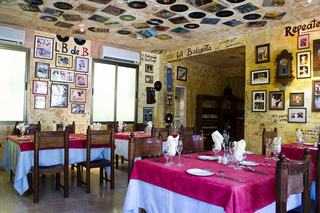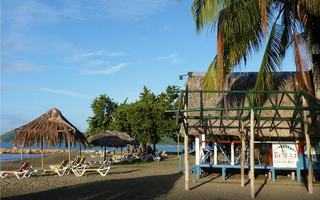 TripAdvisor Review
Based on 758 review
See all
Set in an idyllic setting overlooking the Caribbean Sea, this luxurious resort is the perfect choice for a romantic getaway or holiday with friends. Antonio Maceo International Airport is 70 kilometres away while the city of Santiago de Cuba is some 62 kilometres from this outstanding establishment....
More details
Availability
Select the date of your trip
Select the date of your trip to check room availability.
Property Info
Set in an idyllic setting overlooking the Caribbean Sea, this luxurious resort is the perfect choice for a romantic getaway or holiday with friends. Antonio Maceo International Airport is 70 kilometres away while the city of Santiago de Cuba is some 62 kilometres from this outstanding establishment. Boasting an excellent service based on attention to detail, guests will find here the traditional Cuban ambience and hospitality. The guest rooms offer a functional décor and include a furnished balcony with breathtaking ocean views. The fresh water swimming pool with children's area is surrounded ...
More details
Check-in starts at: 15:00
Check-out ends at: 11:00
Property Amenities
Guest rating
TripAdvisor
Travelers rating
Excellent

135

Very Good

310

Good

185

Reasonable

73

Bad

55
Travelers profile
Business

4

Couples

251

Solo travel

63

Family

173

Friends getaway

131
Scores Summary
Cleanliness

Location

Rooms

Service

Sleep Quality

Value
Beautiful view, horrible service
Reviewed 14 march, 2020
My thoughts on the hotel. The view is beautiful! The rooms are nice and clean. The beaches are not that nice. Dark sand with many sand fleas! There is a shortage of supplies so they were reusing plastic cups and only rinsing them, not washing thoroughly which was disgusting. The cleaning lady for our room did not replenish our toilet paper for 4 days, even though I repeatedly asked at reception and still never got any, so one of the guests we befriended got me toilet paper from the public washrooms in the foyer. Also, the variety of food was lacking. Hardly any fresh fruit and no fish considering we were surrounded by water. Tips never seemed enough. We hired a taxi to take us to the city and I wanted to see San Pedro de la Roca Castle which was 25 minutes from Santiago and he said it was too far. This seemed unreasonable to me as we were paying him 100 CUC for the day considering the government pays them less then 20 cuc a month. I know that the quality of life there is horrible. One of the employees told me she had to rip up her shirt for her daughter as they had no feminine products. For me this is a necessity and no women should have to experience this! In Santiago de Cuba, there were so many starving people begging on the streets. It was so sad. For me this was not a vacation! I left feeling sorry for the people, wondering why the government won't provide a better life and not happy with the service I received. We spent over 500 cuc on tips and the service was still unpleasant. Also, between the singers, the wait staff and bartenders it really didn't seem we had enough money. I read a post that said the individual felt like an ATM machine to the Cubans and it is very true. The only thing that is hurting the tourism in Cuba is the way the Cuban government is starving and depriving their people. I also do not see why they don't work on developing themselves. There is so much land there and they can do more farming and manufacturing. The government seems to want to keep the country from development which is very backwards thinking in my opinion! In conclusion, now is not a good time to visit Cuba. With no supplies reaching the Island and the people starving for basic products such as hygiene and food, it leaves you feeling unsatisfied and frustrated. There is only so much you can do to help!
A3555TXanah
Great entertainment, but in a great need for updating.
Reviewed 12 march, 2020
Sierra mar was fine, a lot of return guests rave about this place, I have travelled extensively through Cuba so I knew what I was getting into but for people that are expecting it be like other resorts in varadero will be definitely disappointed, the theft from Locals on the property on the weekends is ridiculous, the elevator was broke most of the time, and I was once stuck on it for 40 minutes before it was fixed. They ran out of water for around 16 hours from mid afternoon through to the next morning which made things very difficult as you could not even flush your toilet, when I approached the front desk the manager on hand who had already been very rude and short with me already about simple requests told me that she had other more important things to worry about than the fact that there was no water, there was a snack bar that would start cooking in the afternoon around 330 but they would let the food sit cold until they opened at 430, I twice went there and was declined food, the pro's the entertainment they had was some of the best I've experienced the pool bartender and house magician Alberto was amazing and Jose upstairs at the sports bar made one of the best mojitos in Cuba, they have a 24 hour lobby bar that also has amazing entertainment Daily. If the price is too good to be true it usually is.
Joe G
A year later - lots of shortages Jan 29 to Feb 11 2020
Reviewed 4 march, 2020
Returned from two week trip and there are not many changes to report since a year ago. With Transat and Hola Sun having their own packages it causes a lot of problems getting on the separate buses upon arrival and leaving the Hotel to go home, Air Transat is the carrier/plane but people don't seem to understand that when they book. So many people had to remove their suitcases from the wrong bus which causes a big delay. Reception at the Hotel had a problem handling the client because the Transat representative didn't provide the package or proper documentation. Hotel reception arguing with you and refusing to check you in because the rep didn't give you "a package" even though your name is right there on the sheet in front of her. There were many shortages while we were there and this is what we experienced : no Coke, Sprite or Tonic, limited watered down juices, more like fruit drinks, no Tomato juice. Ketchup and Mustard were hit and miss, the first week there was none, the second week the condiments showed up. Many days we had no tomatoes or cucumbers, no fresh fruit except some canned fruit cocktail and canned Strawberries, only saw fresh pineapple two days, couple of days grapefruit showed up and three days there were bananas. No milk for coffee one day, currently this seems to still be an ongoing issue. There was a shortage of Soup spoons and coffee cups in our second week. There is no canned beer to be bought but plenty on tap, VIP package are provided with Crystal beer. they have lots of beer on tap. The store was bare with limited supplies, no rum to be bought till the last few days of our trip. Some days the buffet was very good, other days the options seemed to be sparse. People on the beach were selling Mangoes, Passion fruit, Guava and Bananas, further down the beach a women was selling Watermelon, some oranges could also be bought near the river. We were lucky to be supplied lots of fruits and vegetables by our friends which made the stay not so bad. There were a few cases of food poisoning which could be from cross contamination at the grill station where they grill fresh meats like pork and chicken. There was plenty of pork including tasty pork ribs being served during our stay. Many locals come in on the weekends, good time to go out of the Hotel on a tour, many tourist had things disappear or towels stolen around the pool area during this time. Staff were helpful as usual, maids did an excellent job of taking care of us. Rooms have not been updated, some painted only, newer mattresses on the first floor. Our room had many issues but the maid took care of them by the third day. Internet cards and change for tips were sometimes hard to obtain, you may be able to purchase internet cards at reception, not all the time but there is a girl that comes from town and sells them at the reception area. The Cadeca had limited change for tips but we had changed our money at the Airport. Overall for what we paid $1200 for two weeks the stay was ok. On the Beach there were less loungers then last year and of the ones they had many were in bad condition, by 10 am most mornings there were none available. Weather was great, hot and humid, ocean warm with a few red flag days, only good for snorkeling a few days.
crannie
Don't understand why good reviews given for this hotel
Reviewed 4 march, 2020
Several times to Cuba at different locations. First time at this hotel. This hotel is in a great location and the staff mostly are very nice. But the hotel itself is a POS. Only access to rooms (hotel is built into a hillside) is by elevator or stairs with 100+ steps. Twice in one week elevators were out of commission affecting people with mobility issues and trapping a couple we spoke with for over an hour because doors wouldn't open. Internet is lobby only. For 2 days you couldn't buy a card at the front desk because their system was down. Payment by credit card at the shops is not worth the trouble - takes a long time. No fruit at the restaurants until the last day when a few bananas were laid out and quickly snapped up. Plastic cups at the bars were washed and re used. Shortage of glassware meant a beer would be poured in anything from a tumbler to a wine glass. Beach furniture is old, dirty and mostly worn out. In our room we had maintenance come twice during the week for a noisy airconditioner, broken toilet. We still had to fix the toilet ourselves. Patio doors had a 2 inch gap at the bottom which we couldn't fix. Lots of little bugs. This hotel we were told is owned and run by the government and perhaps that is the reason for the problems. We have stayed in 4 other locations in Cuba and mostly had no issues. For a first time visitor to Cuba this hotel leaves a very bad impression
clike
Family Vacation February 2020 without Luggage
Reviewed 1 march, 2020
this is not so much a review of Brisas (I call it home...), but the whole travel experience with Sunwing. We flew from Toronto to Santiago, were at the airport 2 hrs prior, stood in check-in line for ever. 3 suitcases and a bike to check so we could not just use the machines, plus i have a german passport so i had to separate from my family and wait in another lane. we have been to Brisas 9 times before, and this was all new to me, same as that Sunwing and I believe Air Transat do not fly from this airport building, you have to take a shuttle bus to another building (~10 minutes). we made our flight but none of our luggage did. we were initially told that it would probably arrive in a couple of days (going to hoguin and taxied down as no other carriers come til we leave). didn't happen. we received a credit card to buy necessities. there is very little to buy at the resort and we could not even use them to purchase a tour with sunwing - they need internet access to have payments go through. the resort store had very bad connections and it took up to 2 hrs to pay for anything. days went by with no luggage, but through the generosity of other guests and the staff (of which we know many for years) we got by, we looked like poor people though as we had one summer outfit each in the end. my husband had a choice of Hooters or Tim Horton's camp day t-shirts and only his street shoes from home. We still had a great time, met old and new friends and the food was good enough (and i'm pretty picky as i love cooking). but as far as Cuba goes, it's better than a lot of other places. The Sunwing rep told us that they have frequently issues with missing luggage in the recent past. so I learned, next time - which is in 10 days - as we got the trip refunded and we spent a lot of time/money to collect all the gifts for our Cuban friends there - we just drag it all down again - I will make sure hat my carry-on has a bathing suit, underwear, my meds etc. so if this happens again, I won't be that uncomfortable. We booked Air Transat though, lets hope they have less issues. If you are thinking of going, go, it's very beautiful, if you are not too picky about outdated resorts, I never seen so many return visitors anywhere than there. Please don't feed dogs/cats - they are not allowed at the resort and will be destroyed during vacationer switch over. If you like bats, the bat cave is very nice (about 10 min by car towards Santiago). Restaurants in Chivirico are nice and not very expansive. there's no beer to be purchased at the airport in Santiago anymore since they have more issues with the US I was told. Please don't give the Cuban's stuff you wouldn't wear, they won't either (i know cause they gave them to us lol). Mojito at sunset bar is the best if it's done by the man (the lady just can't do them) - make sure to be there around 5:20 pm for the sunset. Chino at the beach bar is the greatest!!! he was so nice and the first to help us. Santiago is worth a trip, very interesting and beautiful city. Just enjoy - even without luggage...
merlineaton