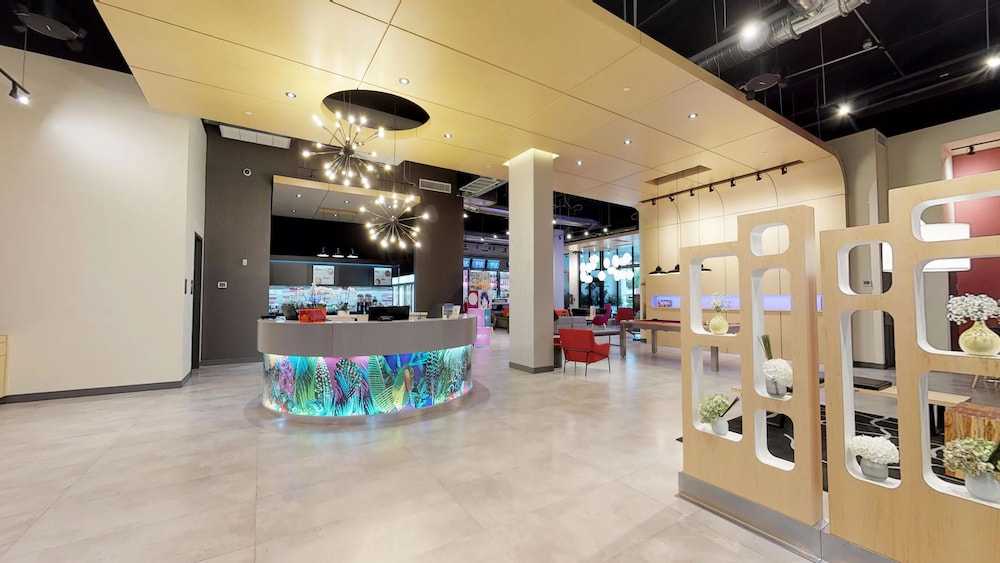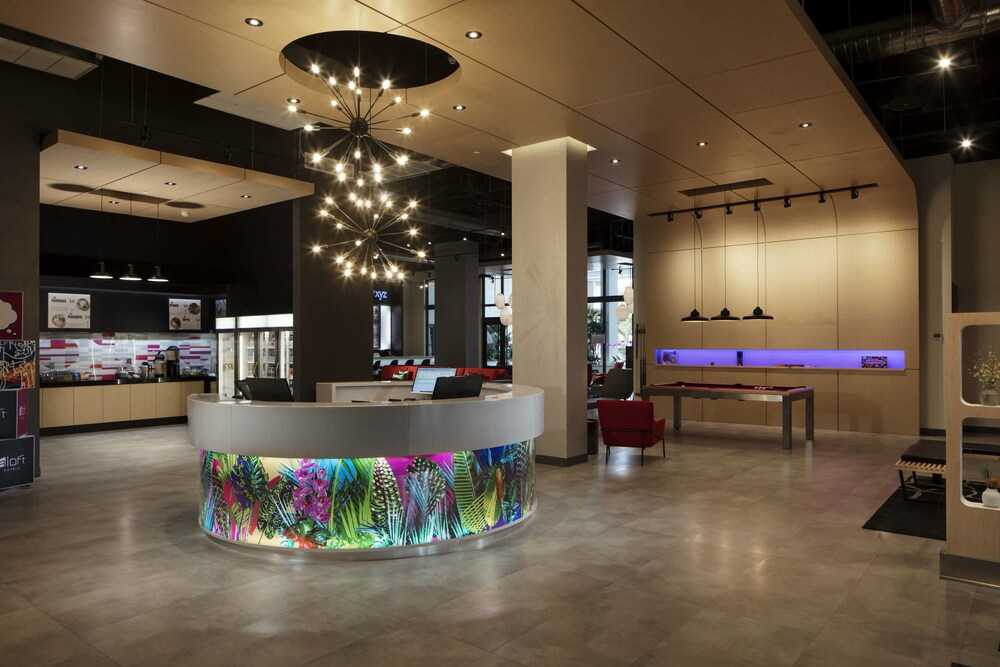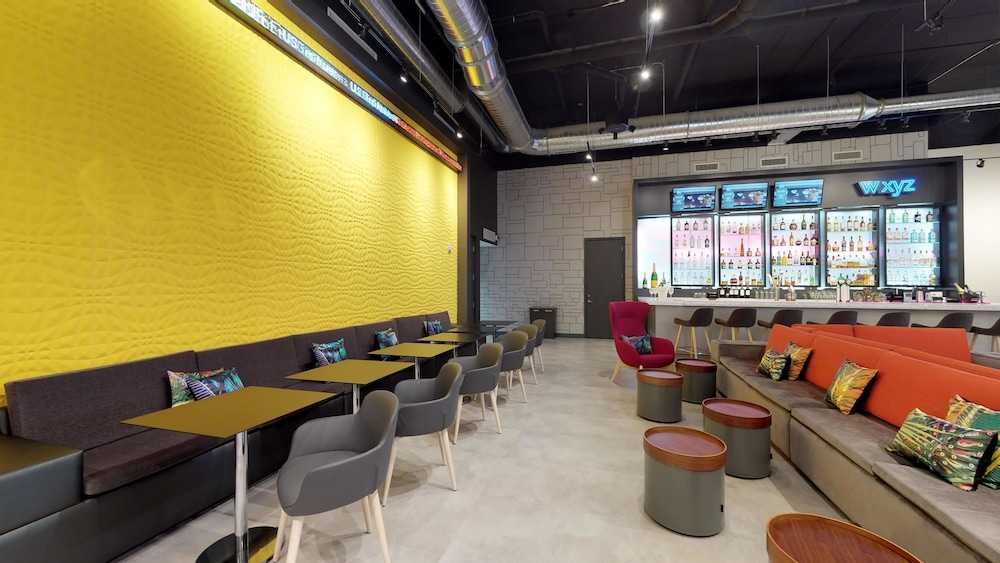 TripAdvisor Review
Based on 76 review
See all
This lovely hotel is set in Coral Gables. Customers will find the airport within 5. 5 kilometre(s). Celebrate your style at this hip new hotel that's near trendy Miracle Mile, University of Miami and intriguing historical destinations. We offer easy-breezy access to the sand and surf of Coconut Grov...
More details
Availability
Select the date of your trip
Select the date of your trip to check room availability.
Property Info
This lovely hotel is set in Coral Gables. Customers will find the airport within 5. 5 kilometre(s). Celebrate your style at this hip new hotel that's near trendy Miracle Mile, University of Miami and intriguing historical destinations. We offer easy-breezy access to the sand and surf of Coconut Grove, and Miami International Airport (MIA) is 6.5 miles away. Meet & mingle with friends at our W XYZ Bar, grab a sweet, savory or healthy snack from re:fuel by Aloft, our 24/7 pantry, or play in our re:mix lounge. Plus, you can always stay connected with free hotel-wide wired and wireless High Speed ...
More details
Check-in starts at: 15:00
Check-out ends at: 11:00
Property Amenities
Food & Beverage
restaurant
Pool and wellness facilities
Pool
Outdoor Pool
Reception services
Luggage storage
Guest rating
TripAdvisor
Travelers rating
Excellent

27

Very Good

18

Good

13

Reasonable

10

Bad

8
Travelers profile
Business

24

Couples

15

Solo travel

9

Family

19

Friends getaway

1
Scores Summary
Cleanliness

Location

Rooms

Service

Sleep Quality

Value
Overpriced But Clean Enough
Reviewed 24 august, 2021
The hotel was mostly clean. My daughter and I slept really well here because the noise doesn't bother us (thin walls). The beds were really comfortable and the room gets really dark if you want to sleep in. The hotel is within walking distance to a healthy place called Carrot where they have awesome food to go and great smoothies. I just think this hotel is overpriced by about $70 per night, based on comparable places. I found it hard to book my room with the special discount I was supposed to receive as a parent of the University of Miami because the booking agents would not or could not apply my discount. This hotel is close to the airport which is a plus, but it's so very basic that it seemed weird to pay over $200 per night in August.
744alyciab
Bugs inside the bed
Reviewed 1 june, 2021
Terrible experience in this hotel. As soon as we entered the room we noticed a musty humid smell, just after half an hour in the room, while I was sitting in the bed I see a crawling bug, a few seconds later a second one. This is when I think, I will check the bed. To my surprise, after immediately opening the bed I see more crawling bugs. Here is when I decide to pick my bags and to find a new hotel. I think the sheets were not clean, they had yellow stains and a few hairs. Utterly disgusting and a nightmare.
MariaPiaM_12
The Dirtiest Hotel Room I Have Stayed In
Reviewed 4 may, 2021
This review will be detailed because the price didn't match the alleged quality. When you see hotels such as these online, you think it is going to adhere to a higher standard than the Comfort Inn, Hampton Inn, or a random reliable branch. I was wrong. I experienced issues in Aloft Coral Gables, which I have never experienced. I was so disgusted with my room, I went to Publix, purchased Lysol wipes, and cleaned. I had to wipe the sink, counter, phone, and desk. It was dusty and there were crumbs everywhere. As I first came into the room it has this smell. You know when you leave your wet laundry out without properly drying? That's how the room smelled. My first reflex was to open the window. The window is glued shut. You can smell no one vacuumed. I have a routine to flip the bedsheets over, to see if I need to request more sheets or if there is an infestation. There were brown straight hair strands and green particles and multiple stains. White sheets can't keep a secret. You can see the difference between a fresh soaked iron sheet, versus a used sheet that was flattened. I opened the door to speak to a room service worker and they can't speak English. None. This part I'm going to emphasize because, there is a difference between language barrier versus, they don't understand. The maintenance man, security, and room service workers didn't speak even a simple phrase. If you come to this hotel, I advise you to point to what you need or use Google translate. The reason why I'm saying this is because I asked for bedsheets and a new pillowcase and they gave me towels and one sheet. It's my solo vacation and my goal is to relax so I removed the bedsheets from the bed and redid my bed. When I removed the bedsheets, the mattress pad had yellow and orange stains. Don't worry, I have pictures. I was so disgusted and it states that room service is from 9AM to 3PM and it was after 3PM. I slept on top of my towel. In general seeing dirty bedsheets is grimy but in the current state of the environment with COVID-19, I felt disrespected. I paid $200+ per day and had to request 3 times for new sheets. Each time the sheets were dirty. Let me tell you something. I have been to countries where they had no electricity and their sheets were 100% stain-free. What type of management allows that type of habit to persists in an establishment. May I add that room service can come into your room even when you have the "Do Not Disturb" sign? When I travel alone, I'm big on scheduling room service at times when I know I'm not going to be in the room for hours. I came from lunch and saw the sign I have put on the door was removed. I opened the door and my shoes were organized, clothes were folded, and the bed was done. This would be an amazing feeling if they did it without my authorization, took my wet clothes (swimming on the shower rack) and my plastic bag (dirty or used clothes) in my suitcase with my clean suit and clean items. So guess who had to hand wash and use a blow dryer to dry her clothes. I'm not even done yet, the new bedsheets were dirtier than the last one. I'm not done yet, there was a domestic dispute for 4 hours next to me and the front desk wasn't responded to anyone's call. It was to the point someone had to leave their room and 7 911 calls had to be made for them to come.
SoloBellaTravels
ALoft Coral Gables
Reviewed 26 february, 2021
This hotel has gone way downhill. Drunks up all night wandering the halls, paper thin walls, police being called to thrown out late night unruly guests...avoid it like the plague. Phone to call the front desk never worked, sporadic maid service and next to no amenities. You're better off sleeping on a park bench in Coral Gables....too bad because it used to a nice hotel.
Kfitz7506
Filthy rundown
Reviewed 22 october, 2020
Not up to Marriott standards. I'm an Elite Marriott member and rarely see a hotel this rundown. Dirty room, old shower with dirty caulk, fingerprints on moire or in bathroom, marks on paint and walls. Really upsetting especially for business in such a nice place like Coral Gables.I checked out immediately and checked into another Marriott down the street.
Global303615