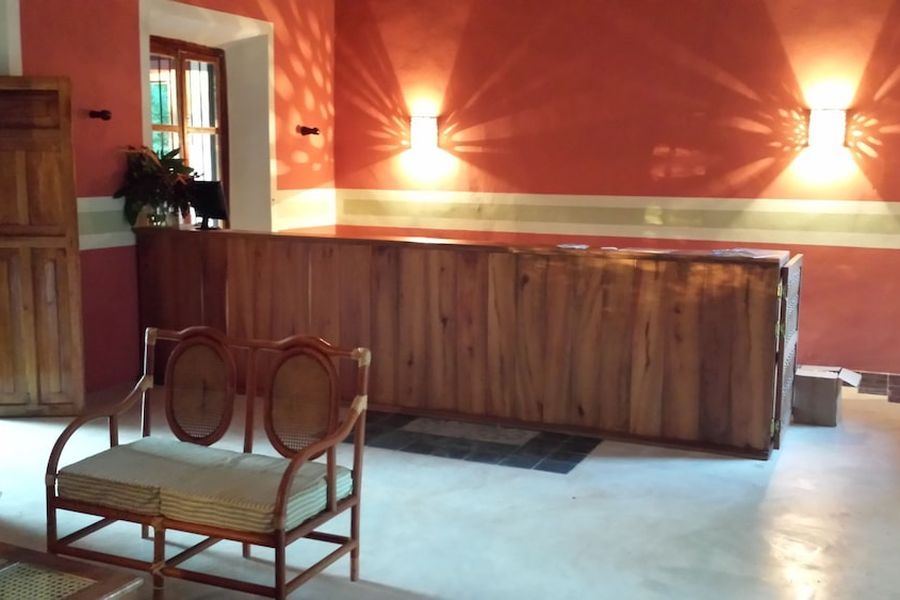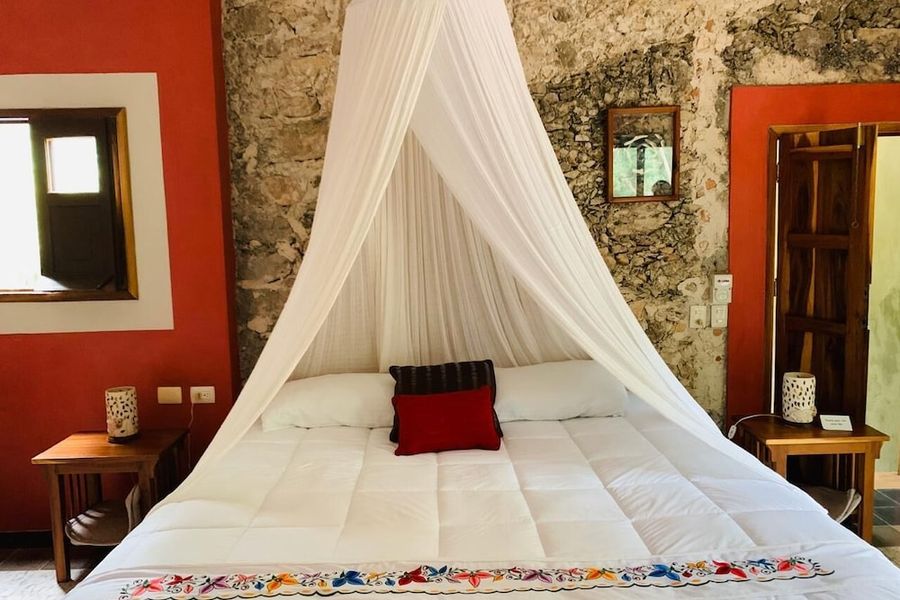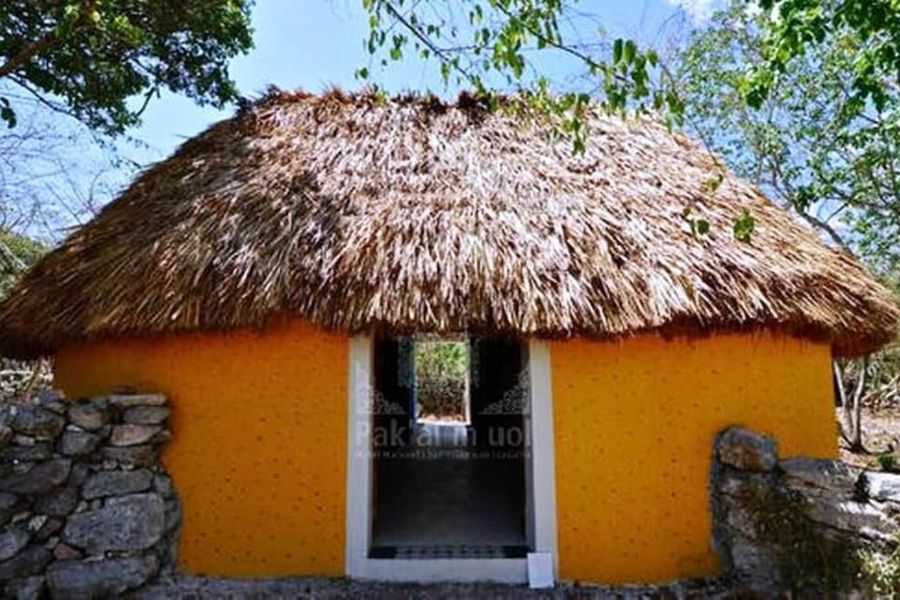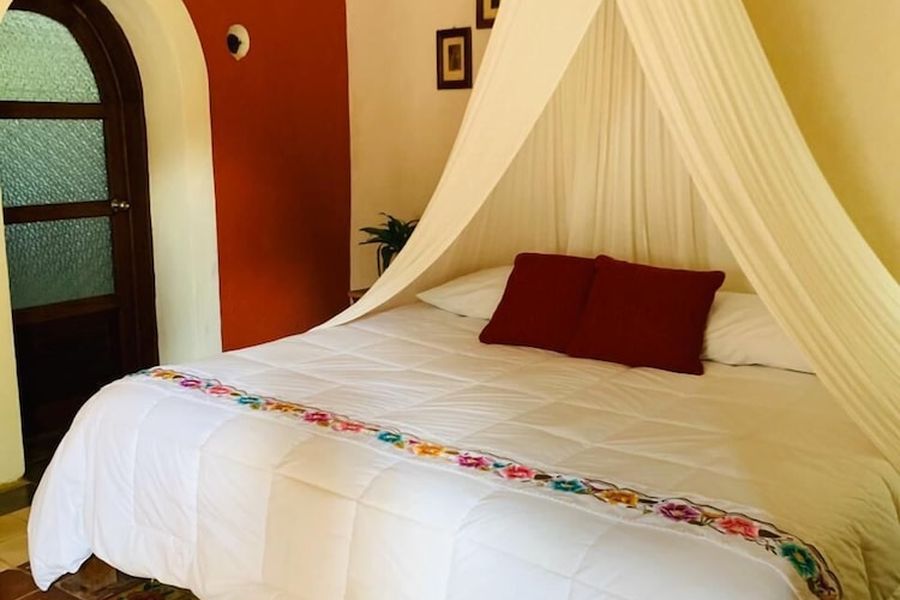 With a stay at Hacienda San Francisco in Dzidzantun, you'll be within a 15-minute drive of Iglesia de Dzidzantún and San Francisco de Asis. This historic hotel is 24.3 mi (39.1 km) from Telchac Puerto Park and 24.4 mi (39.2 km) from Telchac Puerto Lighthouse.Make yourself at home in one of the 21 g...
More details
OpenWeather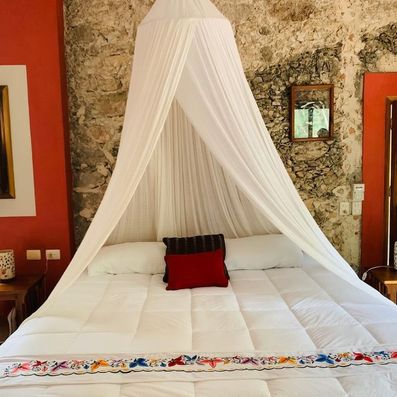 Suíte família, várias camas
Max. 2 adults and 1 child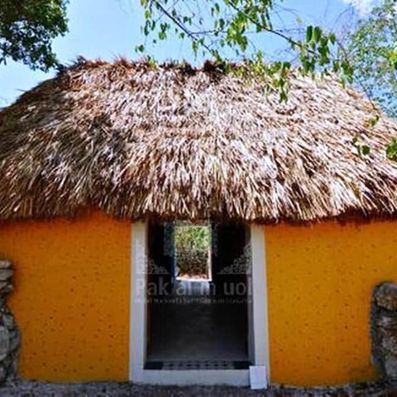 Bangalô standard, 1 cama Queen
Max. 2 adults and 1 child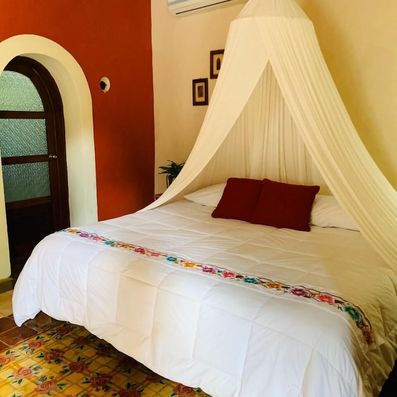 Vila júnior, 1 cama Queen
Max. 2 adults and 1 child
Property Info
Check-in starts at: 15:00
Check-out ends at: 13:00
With a stay at Hacienda San Francisco in Dzidzantun, you'll be within a 15-minute drive of Iglesia de Dzidzantún and San Francisco de Asis. This historic hotel is 24.3 mi (39.1 km) from Telchac Puerto Park and 24.4 mi (39.2 km) from Telchac Puerto Lighthouse.Make yourself at home in one of the 21 guestrooms, featuring kitchenettes with refrigerators and stovetops. Rooms have private balconies or patios. Conveniences include separate sitting areas and microwaves, and housekeeping is provided daily.For lunch or dinner, stop by La Bodega, a restaurant that specializes in international cuisine. Y...
San Francisco Manzanilla - Dzidzantun, Yucatan - Mexico - 97500
Property Amenities
Check-in starts at: 15:00
Check-out ends at: 13:00
Guest rating
TripAdvisor
Travelers rating
Excellent

26

Very Good

7

Good

3

Reasonable

0

Bad

0
Travelers profile
Business

1

Couples

20

Solo travel

3

Family

5

Friends getaway

3
Scores Summary
Cleanliness

Location

Rooms

Service

Sleep Quality

Value
Great potential, but not ready for prime time.
Reviewed 18 january, 2019
We booked a room here based on the glowing reviews in TA and Booking.com. We're still scratching our heads to trying to figure out if this is the same place, as we had a much different experience (new management?). We have stayed at multiple hacienda hotels in our three trips to the Yucatan and this one was, well, just different, to say the least. Some have described this as a family-run business, but they need to hire a professional manager, IMHO. For example, when checking out a "Thank you for staying with us!" would have been nice instead of an indifferent shrug. When we arrived no one offered us a welcoming drink as others have described. The receptionist gave us a campers headlamp, I suppose to navigate the stone driveway (BTW, it's not cobblestone as some other reviewers have described), but our room was so dark (even with the small lights on) we had to use it there as well, and you will need it to read the menu in the restaurant. Shortly after we checked in a male receptionist came to our casita and in a rather testy tone told me our room had not been pre-paid, even though I gave them the Booking.com invoice clearly marked "paid" during check in. We went to the office to try to sort it out and when he logged on to the Booking.com page (hotel's version) it clearly stated (in Spanish) that the reservation had been paid for. The guy still refused to concede his error or issue an apology, but at least the young lady receptionist agreed with me. The room descriptions in Booking.com are a little confusing and the pictures are not always in sync with the rooms themselves. We had booked a two-bedroom "villa" but it was just another casita with a poor layout. BTW, the majority of the rooms are casitas along both sides of the stone driveway seen in so many pictures. After realizing our mistake I asked if we could switch to another casita that had a better floor plan, but the young lady insisted we couldn't be moved because the other rooms hadn't been cleaned. Seriously? We were the only guests that night in a rather large complex. We peeked in the windows of several vacant casitas and they all had fresh linens, towels, etc. About our "villa." It just didn't have a comfortable or efficient floor plan; the first room had two beds and two exterior entrances, but only one door had a lock. The second bedroom had a king-size bed and could be locked. It had a small, galley style bathroom with a sink that only had cold water. Fortunately, though, the shower had hot water and the pressure was fairly decent. The small outdoor "kitchen" area had a sink and dish soap, but it too only had cold water (so much for washing dishes if you were cooking for yourself). Our "kitchen" had a small cabinet and an old-fashioned hot plate and a refer. Conversely, the casita next door had a nice wide kitchen cabinet, microwave, coffee maker, and refer, plus a glass-walled wind breaker. Likewise, its bathroom was very large and bright unlike our narrow bathroom. And you have to love the "Thank you for your tip" sign left on the nightstand; that's pretty tacky. Another oddity, the bed was pulled away about a foot from the wall and didn't have a headboard, so that meant your pillows were bound to fall off the bed during the night. I fixed that with a little elbow grease. And another nit-noid was the terribly noisy ceiling fan; we didn't have a choice but to leave it turned off and use the almost as noisy air conditioning unit. This hacienda, unlike most in the Yucatan that are set back well from main roads, is right off a main road, so we heard trucks, motorcycles, and barking dogs most of the night. And for certain times of the day, you may have to put up with smoke from burning garbage and debris from neighboring properties. Other reviewers raved about the restaurant, but since we were the only guests that night I suppose they had the B-team working. The food wasn't bad and was fairly priced, and the mesero was very pleasant, but the overall experience was just not that great. BTW, the "dining room" is actually a large, dark roofless warehouse filled with empty tables; nice views of the sky, but that's about it. Next, we showed up for breakfast at 8:00 AM the next day as we were told, but no one was there except a young lady sitting in an outer room reading text messages. We went back to the office and asked the young lady if she would call the cook and see if he was coming to work. He showed up a few minutes later and we went through a slow process of trying to order breakfast. Granted, my Spanish is not that strong, and as other reviewers have noted, it works best here if you have some degree of fluency in Spanish. But it all worked out for the best and our omelets were among the best we have had in a long time in Latin America. While it's easy to be critical of the hotel management (or lack thereof), this is a beautiful place. The majority of the buildings have been renovated or at least the ruins have been painted. There was some type of restoration taking place at the "casa principal" and it would be interesting to see the finished product. This appears to be a family-oriented hotel, as there is a tennis court, basketball court, a game room (ground floor of the casa principal, and plenty of bicycles were seen around the property. There are no "gardens," per se, but it is an oasis of sorts in the normally hot and dry Yucatan. Given the uniqueness of the property and fairly close proximity to Merida and the gulf, you may want to give it a try. We just didn't have a good time overall, but perhaps you may have better luck.
73Duck
Nice experience, we liked it
Reviewed 22 may, 2017
We stayed here for one night on our roundtrip. The Hacienda is very nice and we passed there a wonderful evening with good food (i don't know if this was normal or organized for our travel group). We slept in a palapa (the living room was in the palapa and attached to it was a bedroom and a bathroom. Everything was clean and it was very charming.
Fak3V
One of the best kept secrets in Haciendas in Mérida plus a great dinning experience
Reviewed 16 april, 2017
If you are looking for the real deal to experience how Haciendas might have looked liked back in the day, this is the place to visit. You can tell management is working hard on the remodeling without losing the original flavor. They are also combining the old machinery and workshops with modern detailing and architecture so the final result looks great. There is plenty of things to do, you van go biking around the property, you can spend the day in the pool or just relaxing and reading. They also have a ceramics workshop run by Isabel Ruz who works amazing handcraft which you will not find anywhere else. If this was not enough to convince you I need to tell you about the dining experience there, the chef Erick Reyes, a "graduate" from Ku'u'k (best restaurant in town and one of the best in Mexico) runs this place with humility, allowing the experience to surprise you. His mastery in local ingredients and produce from the local garden and getting poultry and fish from local farmers and fisherman allows him to create amazing dished with a unique hacienda flavor. You need to go for the four times dinner and ask for Negrillo fish or Squash Ice Cream. The cooking is even more remarkable if you think the chef is not using the high tech other places use (like thermomixers, vacuum pumps, etc). Hats off to Erick's work!
ChiefExecVoyager
Beautiful and peaceful hacienda with great food
Reviewed 5 march, 2017
This is one of the least known (it is not part of a hotel chain) but one of the best Haciendas in the Yucatan. It is situated about an hour from Merida close to the Gulf Coast and is the perfect place to stay if you are travelling around this part of Yucatan. It is a family-owned, large property that has been lovingly and tastefully restored. The bungalows are lovely and the grounds are beautiful and peaceful. In addition the Hacienda has a young chef, who is creating innovative and wonderful food using local ingredients and Mexican flavours in new and exciting ways. This is not a slick and sophisticated operation like some of the better known Haciendas but is well worth checking out.
Alanmtate
Perfect place for enjoy nature and peace
Reviewed 5 january, 2017
The hotel is surrounded by gardens and nature; it is located in a central part of the north of Yucatan coast, near to the beach, natural protected areas and Xcambó (archaeological site); by car it takes less than an hour to arrive from Mérida. The owners are excellent hosts, they take care of every detail; and the complete hotel is decorated with excellent sense of elegance. The rooms are lovely: one called "ripios" and the other are "villas", all of them are well equipped, clean and with option to hang a hammock. There are different amenities for spend the time like free bikes, an area for play games (pool table, ping - pong, tv, etc), also a tennis court, basketball court and a fresh water pool. By night the hotel has a cultural activity for the gest, in our case was a show of Jarana, a traditional dance in Yucatán and for the New Year Eve it take place a show of Mexican music and an excellent presentation of a young mexican tenor. The restaurant offers good and delicious meals prepared by a chef but also the villas count whit kitchen. One detail to consider is that ripios are located a little far from the lobby and both the pool towels and remote air controls are requested there, so I suggest asking them since your registration. You can also ask for help to bring the suitcase to the room, if it´s required. This hotel is comfortable for all, you can visit with your kids, there are a lot of space for run, play and explore; but also for couples and friends. We spend 3 days in absolutely peace and joy. I definitely hope to come back soon!
Flor R