Ramada Plaza Fort Lauderdale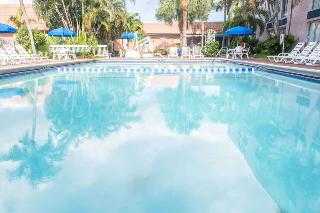 TripAdvisor Review
Based on 186 review
See all
This hotel enjoys a central location about a 10-minute drive from downtown Ft. Lauderdale, the nearest nightspots and the tourist centre, with Ft. Lauderdale Beach also just 19 km away. Within some 10 minutes of the hotel, guests will also find the Greyhound bus station and the Amtrak railway statio...
More details
Availability
Select the date of your trip
Select the date of your trip to check room availability.
Property Info
This hotel enjoys a central location about a 10-minute drive from downtown Ft. Lauderdale, the nearest nightspots and the tourist centre, with Ft. Lauderdale Beach also just 19 km away. Within some 10 minutes of the hotel, guests will also find the Greyhound bus station and the Amtrak railway station and it is around 15 minutes by car to the shops at Sawgrass Mills and 25 minutes to Port Everglades Cruise Port. Miami is about 30 minutes' drive from the hotel and Miami South Beach is roughly 45 minutes away, while the Orlando theme parks are only some 3 hours' drive away. The resort is the perf...
More details
Check-in starts at: 15:00
Check-out ends at: 11:00
Property Amenities
Reception services
Concierge
Guest rating
TripAdvisor
Travelers rating
Excellent

3

Very Good

6

Good

11

Reasonable

41

Bad

125
Travelers profile
Business

14

Couples

48

Solo travel

17

Family

54

Friends getaway

19
Scores Summary
Cleanliness

Location

Rooms

Service

Sleep Quality

Value
Worth what you pay for
Reviewed 17 january, 2022
I snagged this hotel as a steal for our trip to Florida. I booked a "upper floor with a view" from their website. At checkin we were asked "is first floor ok?" I said "I booked upper with a view" and the lady said "Ok that's fine but we don't do any sort of room choosing until checkin". Why is it an option then? We managed a room on the top floor and immediately saw the "view" was old tennis courts and if you looked way off and to the side you could see the skyline (we didn't even notice it was there until night) We immediately noticed that the tv only had a few channels. We had no idea that there were still hotels without full cable. When we saw the direct tv logo on one channel and called the desk to see if maybe our tv wasn't working properly. The desk said "it's pretty limited so if that's all you have that's all it's got". Do all the rooms not have the same channels?? We never went out to the pool, so can't comment on that. It wasn't truly "poor" but it was definitely a bit more low-scale than we expected.
AutumnSkye13
WORST HOTEL IVE EVER BEEN TO
Reviewed 16 january, 2022
Me and my boyfriend found this place online and figured it would be nice by looking at the pictures and that it seems well kept. but oh was i wrong. the pictures did not do it justice. i thought it was very odd that the front desk asked the both of us for our IDS and once we got to room i knew something didn't feel right everything was rusted and the whole place just creeped me out. the bed even felt like a brick. let alone will probably never get back my $200 deposit. PLEASE PLEASE don't ever stay here. worst experience i've had yet.
Venture24727703372
Horrible experience....
Reviewed 6 january, 2022
Dirty, old, dingy, cigarette smell and butts are just to name the worst. Worst experience, this hotel deserves 0 stars!!! They collected a $200 "hold" and said it would be released and it was returned and then recharged to my account.
shaneemesq
Pending my 200 USD security deposit
Reviewed 27 december, 2021
I stayed at the hotel on December 13th, I was informed that the rate for that night would be 78,67 Usd, and also a security deposit of 200 USD on my credit card would be hold, and that the amount would be refunded within 3 to 7 business days, but the amount has not yet been credited! Nobody answer my emails, I called the hotel but no one was able to give me a solution. It passed 9 business days since them and I want my money back!!
rafaelvalle899
Where do I start-Rm 416
Reviewed 27 december, 2021
Let me start with the best part...the Hot Shower--hands down amazing. Worst/The most egregious: Everything else. My son the entire time wanted us to use the stairwell, the whole time we were there whenever we left our room. Let me say that the stairwell smelled, (someone did pee in the stairwell discovered the puddle our second day there) and a cup with a drink in it stayed there in place (on the 3rd floor) for the time of our stay there from day 1 to day 4 check out (so employees/staff do not clean that area). So this one time, my son recommended us going up to our room, using the stairs...I didn't want to but decided why not...WELL, when we got to our floor, we could not open the door. The door handle simply spun in circles. Walked down to the next level (3rd floor), could not get in...no door handle--which made me concerned in event of fire how would anyone get out...unless there is another stairwell on the other side or there is a handle on the other side of the door to get out. Had to walk down to the lower level (2nd floor) to take the elevator up to the 4th. Our first night/check-in: Drove past the hotel, the sign was not truly visible--two reasons poorly lit, and trees were around it. Also at night, not enough lights on the road to highlight the turn-in to get into the hotel. The check-in staff was friendly and speedy, she did a great job. Note...a 200.00 dollar security hold will be placed on your card...will be returned upon checkout unless they discover damages to the room. Which I did get back. Upon one suggestion for them to make, on top of my others...the drive-up area that passengers can unload and load...is super tight--it looks as if 4 cars can pull up and park...but truly two can only get in and that's lined behind each other, not side by side. After check-in got the kiddos and we parked and headed towards our room on the 4th floor. Note: there are no gondola carts available...to bring luggage up and down, so pack light. When we first got on the elevators, a couple of drunk partiers was on there with me and my kids (no biggie--to be expected during holiday times). As we got off on the 4th floor, trash was on the floor in front of the elevator--not a lot, but enough--lol. The hallway smelled like cigarette smoke at some points, and weed smoke at other points. Got to the door of our room, the handle is dang near to the ground (my daughter brought that to my attention)...and the card kept slipping through, so had to hold it in place so the card would stay to unlock. Upon entering the room, can tell it was an older room...nothing over the top, wow factor. The room needed TLC and major upgrading. The sink...was difficult to turn off...it lacked a stop, so had to swing the on/off faucet handles in just the right position so water would not keep running. The bed was firm, to be honest, I thought I would have hated that, but got a decent night's rest...may not be pleasant for those staying longer than 3 nights. The overall stay was somewhat quiet, had some points where you could hear the surrounding neighbor's tv, and the ac unit made a repetitive clunking noise on the tail end of our 3-night stay. I would like to point out, that we were in and out of our room for the course of the days we were there...so cannot review, the daytime noise level and traffic. Parking was okay. I was able to leave our Christmas gift in the car with no problems (however, I covered everything with blankets and pillows...and the car looked chaotic). The elevator, was a bit nerve-wracking because it took longer to open up once we got to the floor selected, so my anxiety was a bit rattled on that point. So, I would recommend staying on the first floor... Speaking of which, the first floor looked more remodeled than the other floors. The reason I say that I accidentally went to the front lobby the back way, and felt as if I was walking through the lobby of an exquisite hotel...they had jewelry cases with expensive looking jewelry lining the path...and a shopping store you can get souvenirs...really felt out of place considering the rest of the hotel. Would we stay there again...absolutely not. There were too many other drawbacks that would prevent me to come back.
datao957