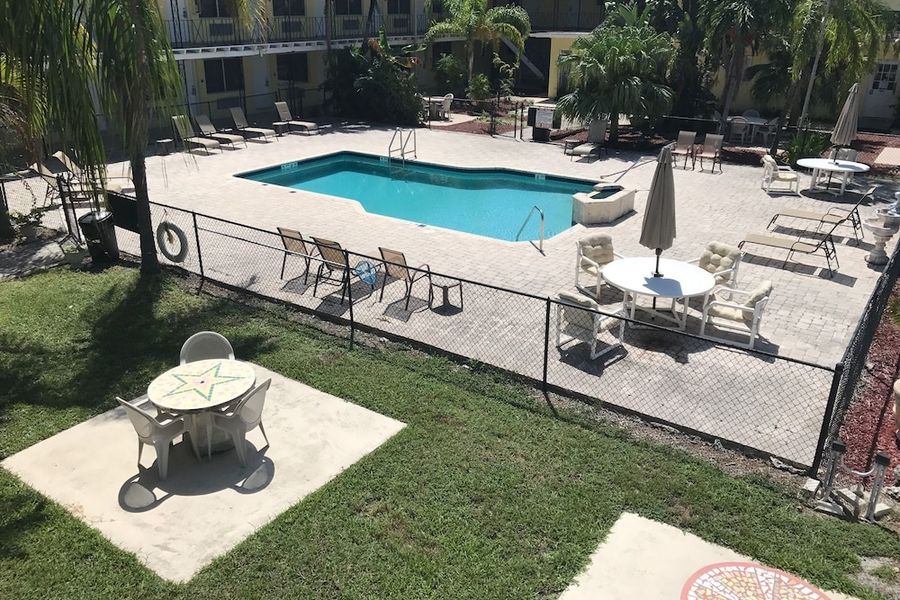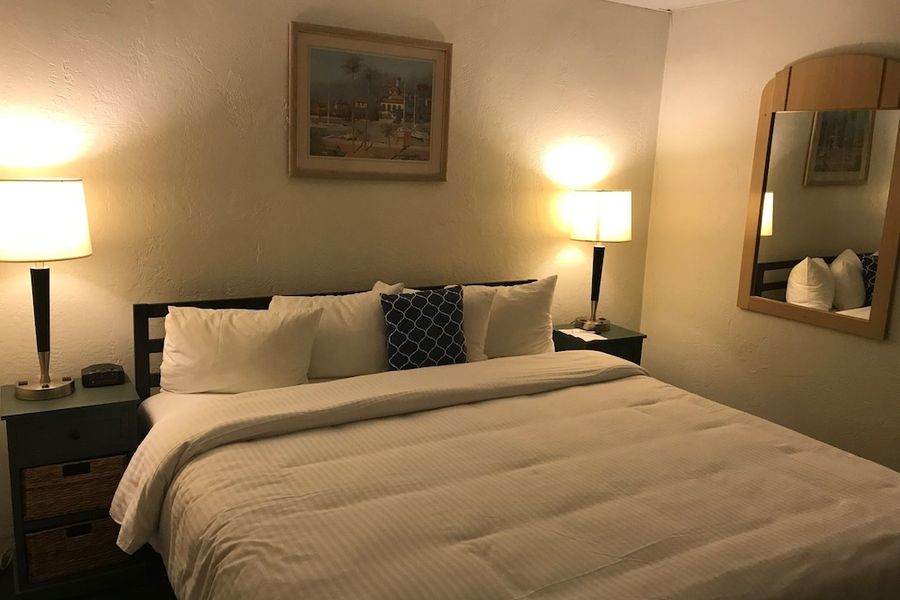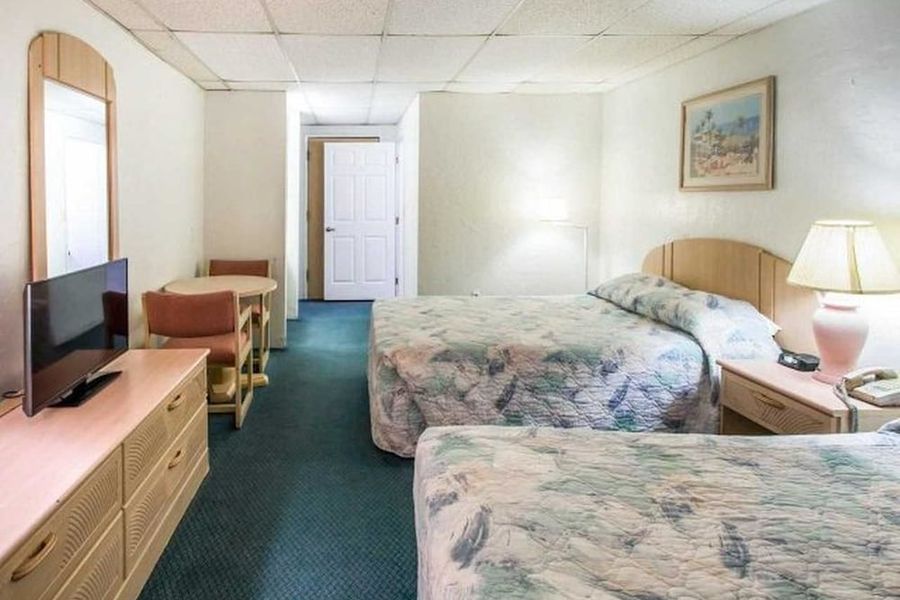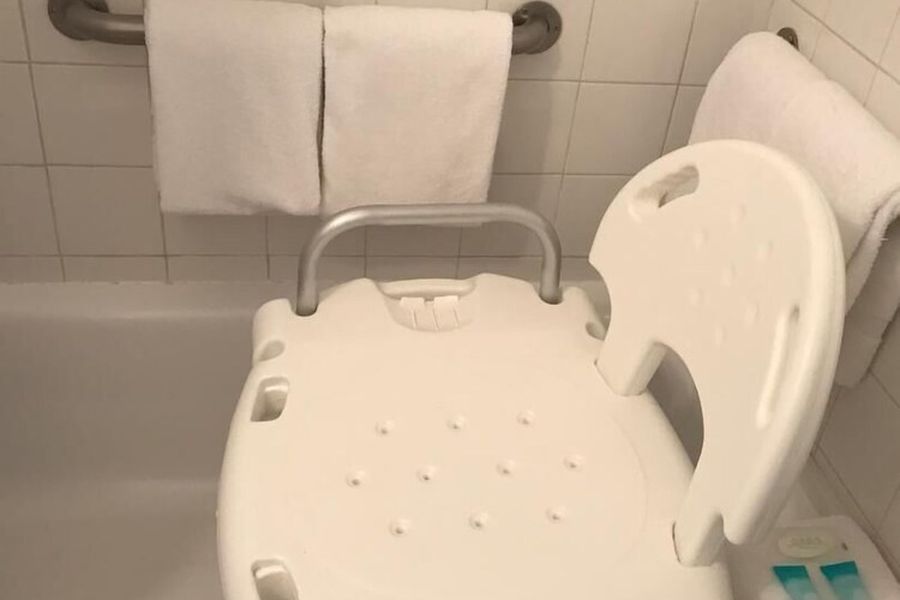 Property Location With a stay at Key Largo Inn in Key Largo, you'll be just steps from John Pennekamp Coral Reef State Park and Baker's Cay Resort Beach. This hotel is 1.9 mi (3 km) from Bluefin Rock Harbor Marina and 2.1 mi (3.3 km) from North Nest Key. Distances are displayed to the nearest 0.1 ...
More details
OpenWeather
Select the date of your trip to check room availability.
Property Info
Check-in starts at: 15:00
Check-out ends at: 11:00
Property Location With a stay at Key Largo Inn in Key Largo, you'll be just steps from John Pennekamp Coral Reef State Park and Baker's Cay Resort Beach. This hotel is 1.9 mi (3 km) from Bluefin Rock Harbor Marina and 2.1 mi (3.3 km) from North Nest Key. Distances are displayed to the nearest 0.1 mile and kilometer. - John Pennekamp Coral Reef State Park - 0.1 km / 0.1 mi - Baker's Cay Resort Beach - 0.1 km / 0.1 mi - Harry Harris Park - 0.1 km / 0.1 mi - Bluefin Rock Harbor Marina - 0.1 km / 0.1 mi - Lower Sound Point - 0.1 km / 0.1 mi - Key Largo Undersea Park - 0.2 km / 0.2 mi - MarineLab...
99202 Overseas Hwy, Key Largo, FL 33037, USA - Key Largo, Florida - U.S - 33037
Property Amenities
Check-in starts at: 15:00
Check-out ends at: 11:00
Guest rating
TripAdvisor
Travelers rating
Excellent

16

Very Good

30

Good

63

Reasonable

42

Bad

115
Travelers profile
Business

6

Couples

113

Solo travel

25

Family

46

Friends getaway

29
Scores Summary
Cleanliness

Location

Rooms

Service

Sleep Quality

Value
Our stay
Reviewed 4 may, 2022
We chose to stay here because it IS the cheapest accomodations in Key Largo and we were planning on being here for five days to experience what the Keys have to offer. I didn't read the reviews before booking, my bad. Upon opening the door, I discovered that what I thought I'd booked and what was here were not the same (obviously cameras make everything larger including hotel rooms) The room was clean but there was a sickeningly sweet smell in the room that I came to discover was a plug-in wall fresher that was unplugged immediately. The "bedroom" is in reasonable condition but I found it odd that there were twin headboards on a king size bed. I'll get back to this after I've commented on the bathroom. The bathroom is in poor shape. I realize that humidity takes its toll (especially when there is no fan) affecting the condition of the room but peeling paint, cracked tile, a tub that drains poorly and no storage or area to set up for our bathroom needs (fortunately there is a space (formerly a closet) with a clothing bar in it where we could hang our bathroom bags) make it in need of some changes/improvement. It is quite obvious that there have been upgrades made to the bathroom. A low flush toilet, a small "marble" vanity and a new tub. The tile around the tub is in atrocious condition, from large cracks to areas around the faucets that have been recovered, poorly. A tub surround would properly cover all of these sins and leaving the tiles over the sink and around the toilet intact (as this is what the proprietor seems to believe is part of the charm, no argument). The paint is peeling as it is covering what I would assume is the original paint that would be an oil base with lead in it, as that would have been the practice at the time of construction. Adding to the construction issue is the fact that the walls were made containing asbestos another common practice at the time of the construction. This is where I'll address the headboards as removing them would release asbestos into the air making this unusable as this requires special procedures to repair. The travertine tiles on the floor are in relatively good condition and definitely better than the carpet that had been commented on, on the second floor. Room cleaning could use regular inspection as there is dust, detritus and dead bugs under/around the bedside tables. This was an accidental find. The paint is not peeling in the main room except for around the door (the wear and tear of the area makes this understandable as well as the salty air that it is subjected to, also causing the door hinges to rust). The key card system also functions poorly, probably another salty air issue but might be resolved with a new 'tap' system. So changes that could be implemented to improve the poor reviews that might be worth considering are: -drilling holes in the concrete directly in front of the air conditioners where the condensate is draining to allow that to percolate into the sand avoiding a slip fall accident. - improving the door lock system (as this is the first impression of the room) -regular painting around the door frame -stop the use of the plugin air freshener (find another way to improve air quality if it is necessary or figure out why this is necessary) -a tub surround to cover the awful condition of the tile (upgrading the tub fixtures at this time would be a good choice as well) -shelving in the bathroom (would also double as improved towel storage) -a larger fridge would be a great improvement. Breakfast is advertised but it is actually only what has been in the past called a continental breakfast and therefore should be advertised as such. All in all, the linens were clean, the sheets fit and the bed itself was very comfortable. This room did meet its purpose as it provided the spot to tour the area, it could just do with some sprucing up. Hopefully this will provide some food for thought and help improve the reviews that have been poor to very poor in the past. These are my thoughts on the condition of this facility. I hope that it is helpful and that you will enact some of these suggestions. Patrice Wood
Dbludblod
Beware!
Reviewed 17 march, 2022
The good news: the air conditioner, which kicks on often because it's old & inefficient, mostly drowns out the all-night traffic noise. The rest of the news: dry rot, stained linens, delayed (or completely ignored) maintenance. The owner has been here a long time, which manifests as surly, unreasonable, inhospitable & rude. (That's the good points.) Certainly no one needs ice after 10:30pm (or whenever before then it's all melted in the cooler in the office), a towel bar in the shower, or clean floors.
JaneL6996
Nice for cost
Reviewed 8 march, 2022
If you want the Hilton don't stay here. Before the cost of this hotel is clean, staff is very friendly and helpful, pool is clean, and parking accessible and free. It is dated but fairly quiet (on the highway). Centrally located. I'm very glad I was here And didn't listen to all these negative reviews. It's not nearly as bad as they make it sound.
rhondah870
Manager cancelled my reservation and left me stranded
Reviewed 28 january, 2022
I had a confirmed reservation but when the manager/ owner saw that I came by bike he immediately cancelled my reservation even though I agreed to keep it outside the room with a lock he offered. He was completely unwilling to reconsider, even a phone call with Expedia/ Orbitz customer service could not persuade him. He left me stranded at night as a female solo biker, exhausted from just having pedaled 90 miles, and knew that all other hotels around his were sold out or would be $300+ per night. Do not book, manager is unreasonable.
BikersBest
Worse hotel I've checked into since college
Reviewed 21 november, 2021
Don't stay here. We booked thru Hot Wire and we're able to get a refund. This place is out of Psyco! Poorly lit, rotted moldings in room. Hotwire said 3 stars, i say one. The ice was in an igloo cooler in the office which closed at 10:30. Awful. Felt like a prison.
barbarasS4645DA