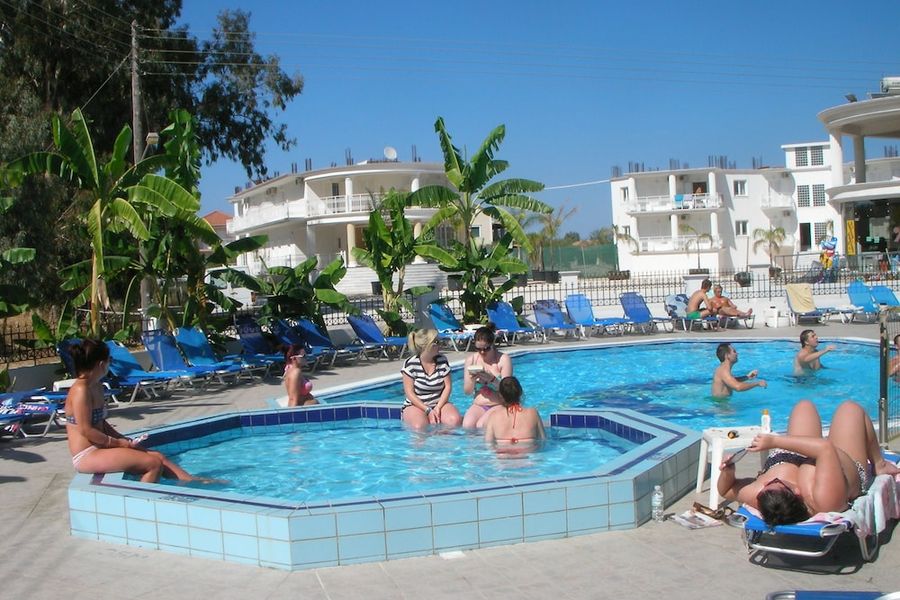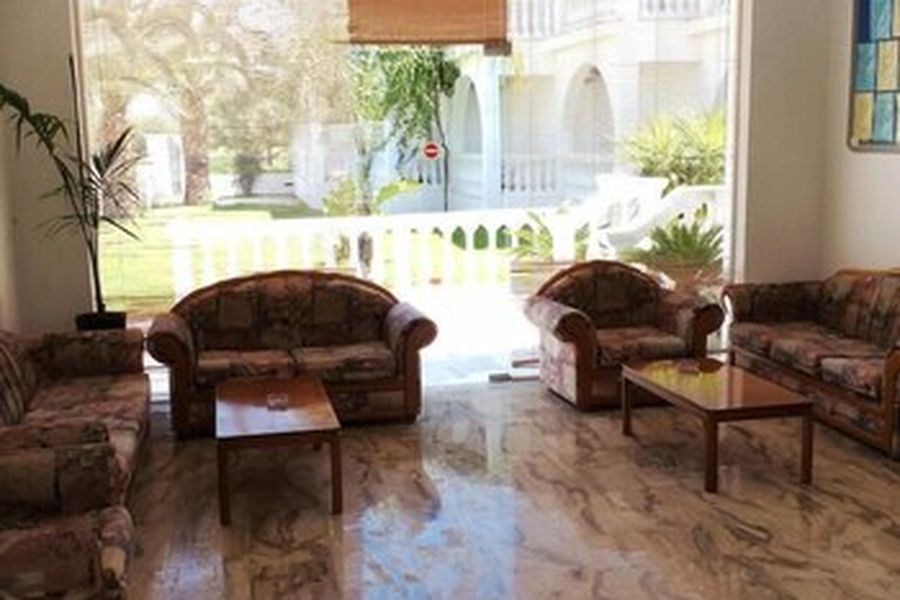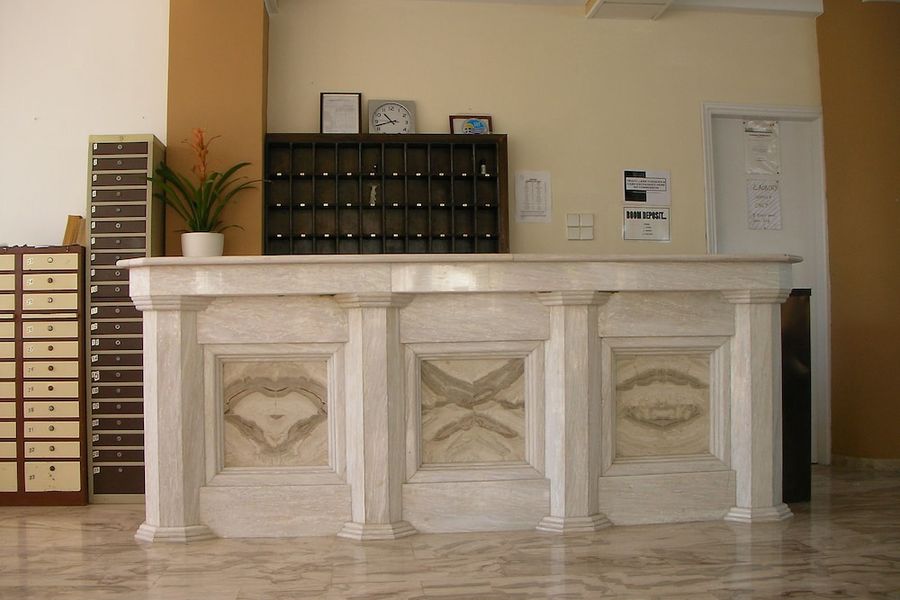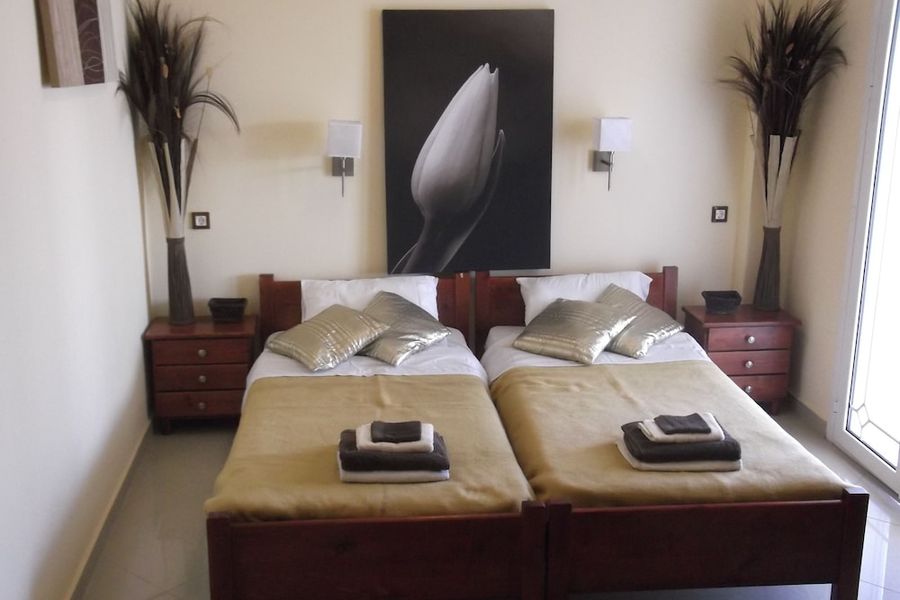 Property Location With a stay at Mariana Hotel in Zakynthos, you'll be near the airport, just a 1-minute walk from National Marine Park of Zakynthos and 13 minutes by foot from Ionian Sea. This beach hotel is 1 mi (1.6 km) from Kalamaki Beach and 1.2 mi (2 km) from Laganas Beach. Distances are dis...
More details
OpenWeather
Select the date of your trip to check room availability.
Property Info
Check-in starts at: 15:00
Check-out ends at: 11:00
Property Location With a stay at Mariana Hotel in Zakynthos, you'll be near the airport, just a 1-minute walk from National Marine Park of Zakynthos and 13 minutes by foot from Ionian Sea. This beach hotel is 1 mi (1.6 km) from Kalamaki Beach and 1.2 mi (2 km) from Laganas Beach. Distances are displayed to the nearest 0.1 mile and kilometer. - National Marine Park of Zakynthos - 0.1 km / 0.1 mi - Ionian Sea - 1.1 km / 0.7 mi - Laganas Beach - 1.5 km / 1 mi - Kalamaki Beach - 1.6 km / 1 mi - Cameo Island - 3.3 km / 2.1 mi - Agios Sostis Beach \- 3.6 km / 2.2 mi - Kalamaki Crazy Golf - 4 km / ...
721, Main Street, Laganas 290 92, Greece - Laganas, Ionian Islands - Greece - 29092
Property Amenities
Check-in starts at: 15:00
Check-out ends at: 11:00
Guest rating
TripAdvisor
Travelers rating
Excellent

2

Very Good

2

Good

5

Reasonable

7

Bad

35
Travelers profile
Business

3

Couples

12

Solo travel

1

Family

9

Friends getaway

20
Scores Summary
Cleanliness

Location

Rooms

Service

Sleep Quality

Value
Keep away from this place!
Reviewed 9 september, 2022
Daylight robbery. On arrival charged €50 per person which you won't be getting back no matter how tidy and clean you keep your room. The woman with huge lips is extremely rude, witnessed her being condescending to a woman who couldn't speak English. The Australian man is a nasty piece of work and may as well have threatened me. Whatever you do, don't book this hotel, there are much better options for around the same price. Completely disgusting with the way me and my girlfriend was treated. Not only are the staff rude but the hotel is half built, there is no signal in the rooms, the doors are left open at night so any stray animal can just walk in (which was 2 cats fighting in my experience). They also charge you €12 a day for air con which is a joke. The cheek to charge you a deposit and for air con when the building isn't even fully built.
Cameron M
This hotel RUINED our holiday!
Reviewed 2 september, 2022
PLEASE seriously consider these bad reviews as this place is not to be trusted!! This was my 3rd time in Laganas after a first 2 great experiences at different hotels, however this hotel has made me NEVER want to step foot there again! Please do not be fooled by the cheap prices and otherwise good location. This hotel is one big scam and full of violent and aggressive staff who seek out vulnerable people and exploit them! Myself and a friend came here and upon arrival we were asked to give a 50 euro deposit - you can kiss that goodbye as you will never see that again! They also charge for wifi (we didn't pay) and 12 euro a day for air con (which we paid 60 euro for) - so before we'd even stepped into our room we had paid 110 euro! We may as well paid an extra 100 euro at the time of booking and stayed somewhere where we knew they was not going to scam us! The room was not great and not at all like it was advertised - however, cleaners came every other day and they were the only staff members that were polite and courteous. Bar food and drink was crazy expensive and looked horrible, however we daren't try it. On our second evening (bare in mind this was not in the middle of the night, more so around 9pm after a full day at the beach with dinner) myself and my friend walked back with one of our other friends from home who was also on holiday in Laganas. As we arrived back into the Ground Floor Foyer, we asked our other friend to wait for us while we went up to our room got changed. The so-called 'security' (who is there to make CUSTOMERS feel safe) chased up after myself and my friend as us 2 were going back to our room and started screaming at us, telling us we couldn't have guests - meanwhile the 'guest' was stood waiting for us to get ready NO WHERE NEAR OUR BEDROOM! He then proceeded to shout at us and call us names, and once we had calmly explained she was waiting for us downstairs, this man gets inches away from my friends face, lifts a hand as if he is going to hit her (!) and threatens to shut off all of our power! He also said he was going to kick us out of a room WE paid for in the street, there and then for NO reason. At not one point did we react aggressively, we asked to see cctv footage the next day so we could show this to our booking agents and apparently it 'didn't work' which is VERY convenient for them! Please note this security guard is a Kiwi/Australian man named Peter, short and caucasian so PLEASE watch out for him as we will not hesitate to hit you or be aggressive, even if you are 2 young girls like us! When we spoke to the reception the next day and explained the situation, telling them we were shaken up and upset that we had been treated in such a way, she did not offer any solution, and THEN continues says that we have had a noise complaint from someone, who was (also VERY conveniently) the same man who was playing snooker downstairs the previous night with his friend Peter the aggressive security guard! The second man who 'claimed' we were up being loud at 4:30am (we have photo evidence of us getting home at 2am, and my friend even has a video of me fast asleep at in our room 2:15/2:30am at the latest, and there was only 2 of us so there is fundamentally NO CHANCE the noise was us). This man asked what our room number was (22), then proceeded to say that it was us, as his room is number 20 - however upon later inspection (we have video evidence of all of this too) room number 20 is NO WHERE TO BEEN SEEN NEAR OUR ROOM! Not next door, not above us, not below, NO WHERE NEAR! The manager then claimed we had to 'pay for HIS (the guest) holiday' for the inconvenience!! In what world is that normal - even if the noise by some miracle was us (which it absolutely wasn't)?!?! We flat out refused and said that we knew it wasn't us and we were not going to pay, as to which the manager started becoming aggressive as did the man, pointing in our faces and screaming, as to which we ended up walking away and said if they had anything relevant to say they should come find us as we were going off to try and enjoy our holiday. It became obvious that management and this so-called 'guest' conspire together as part of this elaborate scam as it is clear they are all friends! They will do things like this and more as a bid to get money out of you, hence why the price is so cheap - and it seems like they do this to everyone - its crazy how they're still in business! We saw so many people leave during our stay from similar issues!! Any 'good' reviews on here which discount the negative reviews on here, please take with a pinch of salt as to me it looks like friends of the hotel trying to save it's dying reputation. We spoke to other Greek locals in restaurants and bars during our trip and EVERY SINGLE PERSON said this place is not to be trusted! PLEASE don't do what we did - don't waste your holiday because you saw 1 or 2 'good ish reviews' DO NOT WASTE YOUR MONEY! My last 2 stays in Zakynthos/Laganas I stayed in Aeon Hotel and Atlantis Hotel, miles better and I have no complaints - spend your money wisely and be safe! We are taking these issues we've had with our travel agents and looking to take this further legally as these people need to be shut down. Disgusting.
phoebemaycoles
family holiday
Reviewed 18 august, 2022
please believe all of the bad reviews the mariana is the worst place i have ever stayed.we are a mature family 4 adults and our 17yr granddaughter.from the moment you arrive to the day you leave there isnt any pleasure staying here at all the staff are unfriendly and the australian man who was lording it round all week well i dont know where to start with he constantly caused trouble and has an extreme dislike for the youngesters.my 45yr daughter had an accident damaging her finger which needed a hospital visit for dislocation and stitches they did however ring for help but showed no real concern ,i could go on and on .the room states self catering forget that no kettle no toaster just a 2 ring hob .jut 1 plus we had 2 upgraded rooms but that compensated for nothing .stay away
autos123
Bad Experience
Reviewed 4 august, 2022
This was the worst hotel I have ever been. They will ask money for everything and a deposit of 50 euros for no reasons. There was no Wi-Fi and you need to pay for air conditioning. The receptionist was very rude, lier and unprofessional. I do not recommend at all!!!! I checked out after 1 hour without a refund as I was traumatized by what I saw.
VantelaG
AVOID AT ALL COSTS
Reviewed 1 august, 2022
I never write reviews however if I can stop just one person from booking here I'll be happy. AVOID AT ALL COSTS. I'll start with the positives though… - The pool was very nice, clean and it wasn't busy which meant getting a sun-bed for the day was easy. - The actual architecture of the hotel is beautiful. - The hotel is situated in an ideal area not too far from the strip (about a 5/10 minute walk) but far enough that it was relatively quiet. - free wifi around the pool. Now onto the not so great parts - to start with 80% of the staff were rude and very unwelcoming. (The young woman on reception and one of the cleaners were lovely though). The man believed to be the owner is Australian and is so rude. Myself and my friend asked to sit around the bar around 11pm to use the wifi but we were told we were dressed inappropriately and it wasn't fair on the other residents (one of us was wearing a pyjama set and the other shorts and a sports bra on) oh and we had a bottle of water which wasn't purchased from him. He was very patronising and the whole thing just seemed very unnecessary. - you're not allowed any food or drink that hasn't been brought from their bar not even water even though they were charging between 2€-4€ per small bottle. - every day we were charged different prices at the bar for the same drinks and snacks even when being served by the same person. - you have to pay 20€ a day or €80 for 7 days for the air con which was pretty useless anyway. And 50€ for wifi in your room. - the beds are rock hard in every room (we spoke to other guests) and one of our sheets had rusty staples in which actually cut me in the night which left a small bit of blood on the sheet. When departing they check your room for damages and take anything they can from a 50€ deposit you have to pay upon arrival. I was told I would be deducted 20€ for the bloody sheet and after showing the woman a picture of the staple she tried to tell me it wasn't their sheets. I had to argue my case and found the sheet and showed her the staple, only then did she say she'd let me off with the deduction. - we paid for bed and breakfast and oh my goodness the breakfast was awful. There was a whole menu but we were told we had the choice of a 'full' English or continental breakfast. We had continental which consisted of a slice of cheese a slice of ham and a slice of toast with jam. Safe to say we didn't have breakfast there again. - on the 5th day we went back to our room from the pool and found the cleaner smoking a cigarette whilst 'cleaning' our room. - the room- wow it was awful, so unclean and outdated. We paid extra for a triple room thinking it might be bigger but we were wrong! The bathroom was awful, I'm sorry but if you're on the larger side you've got no chance of fitting in the shower. - we met a lovely pair of lads who we went over to one evening and their room was beautiful - the complete opposite to ours, we couldn't believe it! They had also paid less than us but for some reason we seemed to have one of the worst rooms. We understand we probably should've complained at that point and maybe they would've swapped our room but we were around 4 nights in and honestly couldn't be bothered for the hassle and rude service we'd more than lively receive as a result. I'm sure I've missed a lot but I imagine you've got the idea! Stay well away if you can!
ellieg589