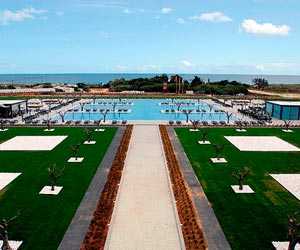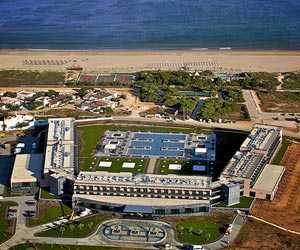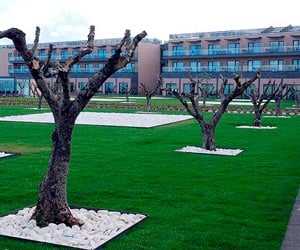 TripAdvisor Review
Based on 1952 review
See all
Located on the beach front, along the sandy Meia Praia beach, the Hotel Vila Galé Lagos is the new reference on the Western Algarve coast.   Portuguese style inspired the decoration of Vila Galé Lagos, and renowned Portuguese decorators participated in the project.   The four star resort consists of...
More details
Availability
Select the date of your trip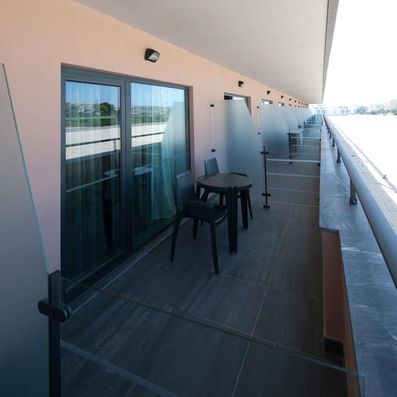 Twin Standard
This room offers views of the countryside....
See more details
Cancellation Policy
Amenities in this room:
Max 2 adults
Max 1 child -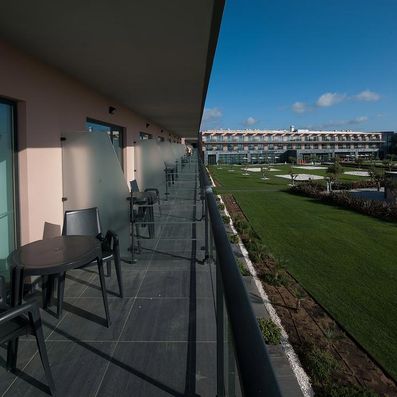 Twin Standard Vista mar
It includes a private balcony with panoramic views of the Atlantic Ocean....
See more details
Cancellation Policy
Amenities in this room:
Max 2 adults
Max 1 child -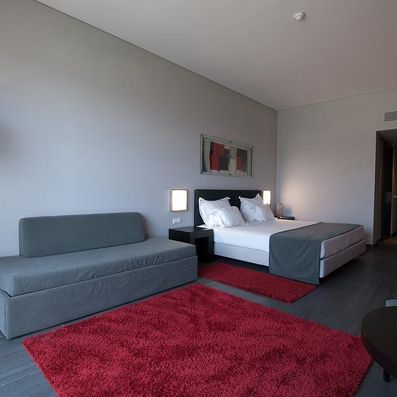 Familiar
This room includes a balcony, a minibar and a seating area....
See more details
Cancellation Policy
Amenities in this room:
Max 3 adults
Max 2 children -
Property Info
Located on the beach front, along the sandy Meia Praia beach, the Hotel Vila Galé Lagos is the new reference on the Western Algarve coast.   Portuguese style inspired the decoration of Vila Galé Lagos, and renowned Portuguese decorators participated in the project.   The four star resort consists of 170 rooms, 77 suites, convention centre and Spa, being the ideal location for holidays and corporate events.   The hotel will also have two restaurants, one being an "Inevitável restaurant" which is without a doubt unavoidable with their creative and savory gastronomic menu.   The hotel also compri...
More details
Check-in starts at: 14:00
Check-out ends at: 12:00
Property Amenities
Reception services
Services / Luggage Storage
Exchange
Terrace
Free Wifi
Accepts major credit cards
Polyglot Team
TV
Playground
Cleaning / Laundry Services
Laundry / Dry Cleaning
Online check-in
several
Broadband Internet
Free self parking
Smoking area
Common areas
Gimnasio
Playroom
Transport options
Paid garage
Pets not allowed
TV
Accommodation
24-hour room service
Playground
Food & Beverage
Bar
restaurant
Public Restaurant
Buffet Restaurant
24-hour room service
Private Restaurant
Cocktail Services
Wellness facilities
Con una piscina al aire libre y muchas otras instalaciones recreativas a tu disposición, no te quedará ni un minuto libre. Tienes también una terraza y jardín donde sentarte a contemplar el paisaje. S
Online check-in
Wheelchairs Access
Spa
Activities
Bath/Shower Combo
Business Facilities / Facilities
Con una piscina al aire libre y muchas otras instalaciones recreativas a tu disposición, no te quedará ni un minuto libre. Se ofrece también conexión a Internet wifi gratis y una zona para barbacoas.
Conference Center
Coffee/Tea Maker
Family entertainment and services
Coffee/Tea Maker
Guest rating
TripAdvisor
Travelers rating
Excellent

852

Very Good

734

Good

253

Reasonable

79

Bad

34
Travelers profile
Business

45

Couples

765

Solo travel

39

Family

802

Friends getaway

154
Scores Summary
Cleanliness

Location

Rooms

Service

Sleep Quality

Value
Extremely disappointed !
Reviewed 14 january, 2022
I am extremely disappointed! I've been traveling all over the country (Portugal) and I am staying in numerous hotels. From 3 stars to 5 stars, and I have never been so disappointed with a hotel as I was with Vila Gale. Upon arriving at the 4-star hotel, my mother and I (I am currently pregnant) had to climb the stairs of the hotel with 4 suitcases because there was no one to help us with our bags. No one at the front desk or any other staff who works at the hotel offered to help. We then took the luggage trolley to put our bags and enter the lobby. While we were checking in, the man who helped us was extremely grumpy. Clearly, he didn't want to be working. He gave us 1 room key and didn't explain anything about the hotel. Neither the opening hours of the SPA, restaurant, swimming pool, nothing. After going up with our bags, we went down to get information and how to get around the city and get to the center. The woman who helped us was very friendly. When we arrived back at the hotel, we wanted to go to the SPA, it was already 7:30 pm, we went to the reception to ask how it would work, as we wanted to rest in the sauna. Another man at the reception who helped us was very rude. He told us that we would have to make an appointment but it would close at 8 pm. Therefore, we did not enjoy anything at the hotel. We went up to the room, and I called reception asking for a fork, the man who answered wanted to charge me 10 EUROS to bring a fork to my room. As I mentioned, I have stayed in countless hotels in Portugal and around the world, and this has NEVER happened. Mainly because this is supposed to be a 4-star hotel and treat its customers well!!! Finally, I felt disrespected and the lack of customer care was HUGE. I felt like they didn't want the guests there. We were going to go back to this hotel but decided to go to Tavoli instead. I DO NOT recommend this hotel! The view is beautiful, the location is good, the breakfast buffet is also very good, but the 5 employees I talked to (except Susana) were extremely rude and rude.
Taynasb
Big bedroom and lovely breakfast and swimming pools
Reviewed 23 november, 2021
Really nice experience, the breakfast is really nice, swimming pools are amazing and the spa is perfect!! We had to book in advance and it was good cause we had the spa just for us! It has jacuzzi, sauna and a big pool. I recommend you to bring your own shower caps cause if you don't, you will need to pay for it and is 4 euros each. I hope I can come back soon
besrm
Lovely spacious hotel with amazing pool area.
Reviewed 6 november, 2021
Visited this hotel for five nights with my partner for a chill out time. First impressions was the spacious areas of the hotel. Huge reception area. Everywhere was immaculately clean. Our room was clean and overlooked the pool and sea. Only issue with the room was the shower over the bath. Walk in showers should be offered. The lifts were excellent. The pool area is huge with plenty of beds and always quiet as many chose to walk the beach which is just over the road. The pool area would benefit from a happy hour early evening. Breakfast was really good with lots of choice. The bar area at night lacked atmosphere but was OK for a night cap. Location is a good 15 minute walk into town and nowhere really to call into to break the journey. The negatives. The staff in the Spa need urgent training in customer service. They were abrupt and I witnessed several angry guests. Guests have to visit the spa if they need pool towels. All other staff in the hotel were pleasant and helpful. This does not extend to the Spa area. Very rude. Water is left in your mini bar. Be aware! It comes at a price. I had been advised that the water would be replenished daily free of charge in our room. Surely this is a given in this day and age in a 4+ plus hotel. So were upset when we checked out and found a bill consisting of the water used in the room. Would we return? Yes Vila Gale is a lovely hotel but we would not be stung for water again. However there are always other hotels to choose from.
7carolp
Good but not great
Reviewed 29 september, 2021
Vila Gale is a lovely looking hotel! Chic public areas based on fashion. Our room was lovely. Spacious and comfortable with plenty of room. The down side was no tea or coffee making facilities. Which I found strange? Staff were friendly and helpful especially at reception, who were a great help with return test paperwork. We only ate in the restaurant for breakfast and it was standard international fare. Fresh and constantly refreshed. Covid precautions were excellent glove and sanitizer everywhere. The shining light of the hotel is the pool area! Massive pool and plenty of beds, although the beds were old and uncomfortable and could do with an upgrade? My only issues were we felt the hotel leant towards the Portuguese clients and being picky the Wi-Fi was rubbish and unsecured. I would return but later in September
355timp
Lovely hotel, BUT....
Reviewed 23 september, 2021
This is a very difficult review for me to write as I would love to be giving the hotel more stars, but to help others with choice I have to be honest. The location is great - across from the beautiful Meia Priai beach which we walked every day, and far enough out of town to be quiet while still within pleasant walking distance. The staff are very important in a good hotel and I thoroughly commend the staff here. We were looked after so well and had a great rapport with all. A special mention to Liliana who runs the pool snack bar and always remembered our preferences - even to the point of getting my husband olives from the Italian pizza place. Also to the tiny but formidable Claudia in the Fashion Bar, who waited on us hand and foot each evening. The reception staff were excellent as well and no request was too much trouble - even directing me to a local shoemaker when I needed one. The pools and grounds are what really make this place stand out and we never had an issue with getting sunbeds, although the hotel was relatively quiet when we were there, nor was there an issue with getting pool towels replaced each day. We had paid for sea view rooms and I would recommend these. To waken up to the sun shining on the sea each morning was a tonic. The rooms are a good size with plenty of storage space and the bathrooms very nice with liquid soap & shampoo provided, also a wall mounted hairdryer which is ok for a man but I recommend bringing your own. Shower caps & body lotion would be a welcome addition. Now for the BUT and it is a big but! We decided to go AI as we felt it was a safer option in this Covid climate, being the first holiday abroad since lockdown. The hotel does take the situation seriously, sanitisers abound and the mask wearing is strictly enforced in the restaurant, plus plastic gloves are provided for handling food. Now for the downside! We are two couples who eat out a lot and love to cook, so with hindsight we should never have taken an AI package. However you will see from my other reviews that I have stayed AI a couple of times and felt it was value for money - you're not expecting Michelin quality! The problem is that this is quite an expensive hotel so I expected better. The buffet food is cold, bland and varies little each day. Breakfast is standard fare and they do have a lovely terrace to eat on. There are two other restaurants, an a la carte and Massa Fina pizzeria which you are entitled to visit once in the AI package. After our first disastrous meal in the restaurant we complained to Eduardo, the hotel's assistant manager, who courteously listened and said he would speak with us again after the next night's dinner, a special Portugese meal. Unfortunately this was no better and he did take our complaint seriously, to the extent that we were free to use the other restaurants any night, which I thought was very good customer service. The next night we went to the a la carte and enjoyed our meal so were hopeful that this was a solution, only to have another disaster on our next visit. The prawns as a starter appeared to be just defrosted and the steaks were presented to us "blonde" with the insides still cold, which of corse we sent back - need I go on? Sadly the food in the pizzeria was also very poor, to the extent that instead of looking forward to dinner we dreaded it, and started to eat out. I have to commend Danielle from Jet2 who took our complaints seriously and followed up. I also commend Eduardo and the general manager Anibal Costa who really took our complaints on board, but I'm afraid that they could not provide what wasn't there. There appears to be a problem with getting decent chefs, and the staff themselves are aware of complaints about the food. At the end of the day we came to a compromise on our package and were able to go out at night and enjoy decent food in town (defeating the original purpose) but at least we were able to look forward to the evenings. Would I recommend this hotel? Absolutely, we loved it, but unless you are a person who just eats to live, I would suggest staying B&B. The pool bar provides decent lunches and is very reasonable, without having to uproot yourself too far from the sun lounger! I do hope that these comments are helpful to the hotel management and potential customers.
fufty